Resetting after Hard Mode doesn't give you any sort of guilt trip or fourth-wall break or anything. So, back to business.
In the middle of Flowey's introduction speech I realized I didn't have my screen capture software running, so I backed out of the game. Flowey calls you out on it if you do that, too.
The first neutral ending I got, I killed Toriel. Undyne became the empress and swore to hunt me down, since I couldn't befriend her. What happens if you get a neutral ending where Toriel survives?
I mean, I
could
go through the game without killing anything and just not date Papyrus, Undyne, or Alphys. That'd get me the neutral ending. But what's the point of playing through again if I'm just going to do the same thing over and over?
So I'm going to kill everyone except important story NPCs. As it turns out, the number of monsters in any given area is finite, and as you ruthlessly murder them, the encounter rate goes down. Until...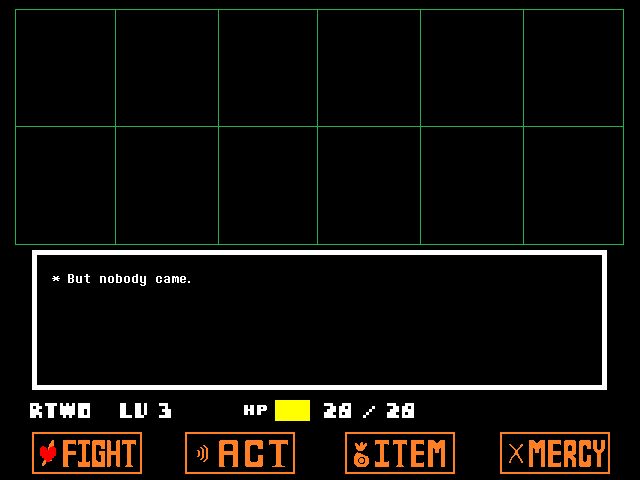 You start having encounters with no one at all. This replaces whatever background music was playing in the area with
But Nobody Came
, a bleak and desolate and ominous bit of background effect that really only sounds like any sort of melody when it's
sped up to twelve times its usual tempo
.
Going on a murder rampage is enough to out-spook Napstablook. He disappears from his napping spot as soon as you approach.
We've seen me not kill Toriel enough already, haven't we?
:
You think you're really smart, don't you? In this world, it's kill or be killed. So you were able to play by your own rules.
:
You spared the life of a single person. Hee hee hee. Froggit, Whimsun. Vegetoid, Loox. Migosp, Moldsmal. Think about those names. Do you think any of those monsters have families? Do you think any of them have friends?
:
Each one could have been someone else's Toriel.
:
Selfish brat. Somebody is dead because of you.
Flowey laughs and laughs before diving underground again.