Music: back to
Waterfall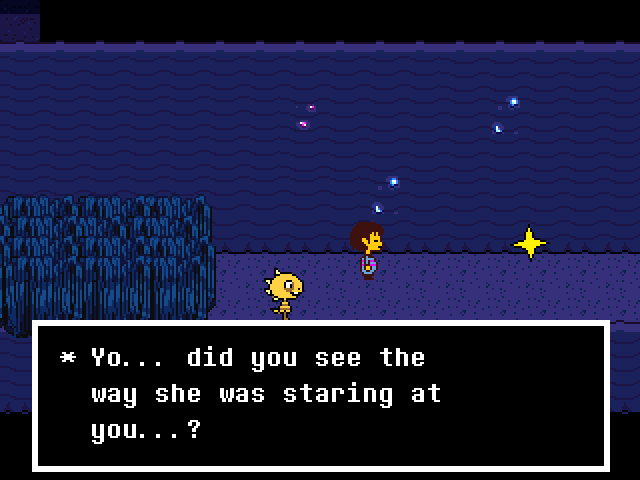 Monster Kid
, who never gets a portrait:
That... ...was AWESOME! I'm SOOOO jealous! What'd you do to get her attention...? Ha ha. C'mon! Let's go watch her beat up some bad guys!
It's hard to keep your balance without arms, and Monster Kid faceplants on the way out.
There's some time-consuming water-crossing puzzles up ahead. The flowers only bloom into a bridge if you get four of them in a row, and the water configurations can make figuring out where to put them tricky.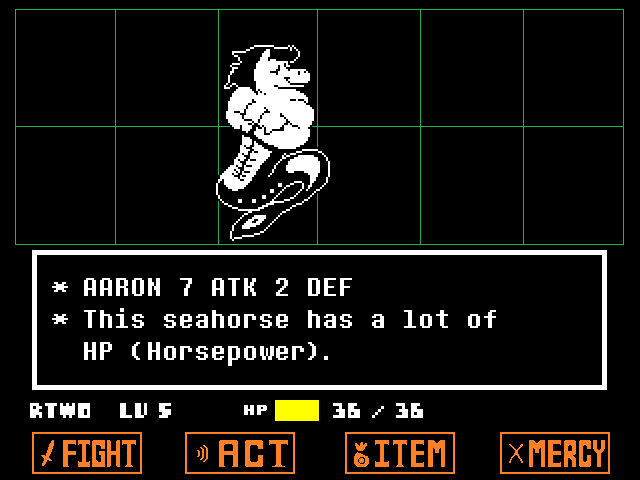 There are new monsters in the new area, of course. Aaron is a bodybuilder seahorse, wh--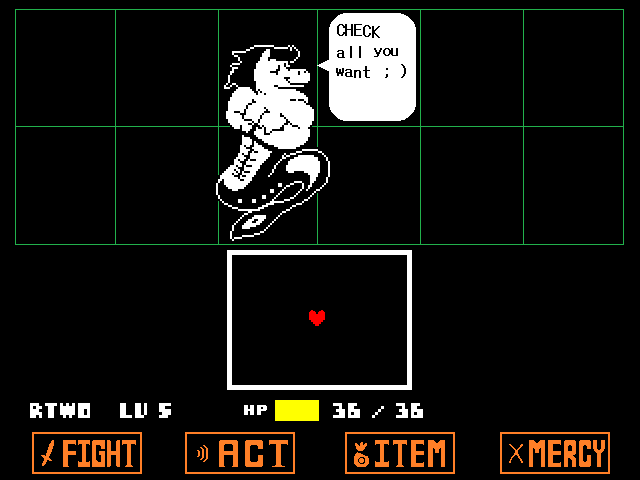 --who's kinda creepy about the whole thing, and winks at the end of every text box.
The nonlethal win is to give him tickets to your own GUN SHOW, until he gets so wrapped up in the contest that he flexes himself right out of the room.
:
HELLO! THIS IS PAPYRUS!!! HOW DID I GET THIS NUMBER...? IT WAS EASY!!! I JUST DIALED EVERY NUMBER SEQUENTIALLY UNTIL I GOT YOURS!!! NYEH HEH HEH HEH!! SO... WHAT ARE YOU WEARING...? I'M... ASKING FOR A FRIEND. SHE THOUGHT SHE SAW YOU WEARING A DUSTY TUTU. IS THAT TRUE? ARE YOU WEARING A DUSTY TUTU?
Uh, yeah.
:
SO YOU ARE WEARING A DUSTY TUTU... GOT IT!!! WINK WINK!!! HAVE A NICE DAY!!!