The ACT options for , are Mystify, Hum, Pray, Clean, and Pick On. All options I've seen before, but which ones are effective?
Like the Memoryheads, its dialog is too garbled to be of any use.
As a small mercy, its first turn is harmless to you. Probably less so for the guy getting his face eaten by moths.
Subsequent turns have the moths fly at you, and they hurt like usual.
Alternately, the guy -- sans moths -- throws copies of his head instead. Toby Fox labelled him "Everyman" in a Tweet, but to my knowledge this is the only time he ever appears.
Those moths look awfully familiar. Whimsun and Whimsalot attack with them (inasfar as anything Whimsun does can be called an "attack"). So the ACT command to disable Whimsalot works okay.
And the , body looks a smiiidge like a Final Froggit's, when it pulls its legs up out of the dialog box to attack.
And when it's not spinning its beak around or blinking its eye like a set of jaws (as in the "Hum" screenshot above), its head looks a bit like Astigmatism.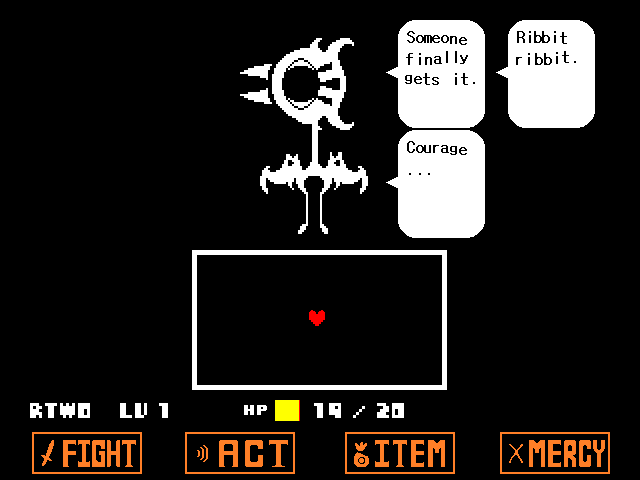 So... it's a combination monster? Three things all fused together? What kind of lab
is
this?
Once the Reaper Bird is Mystified, Prayed about, and Picked On, it remembers its name and can be let go. Everyman plagues us no more.