Before we start, I'd like to point out that this is the 19th update. My DW2 LP had 19 updates total. It's not an exact measure by any means (and DW2 didn't have class selection or the B team) but, dang.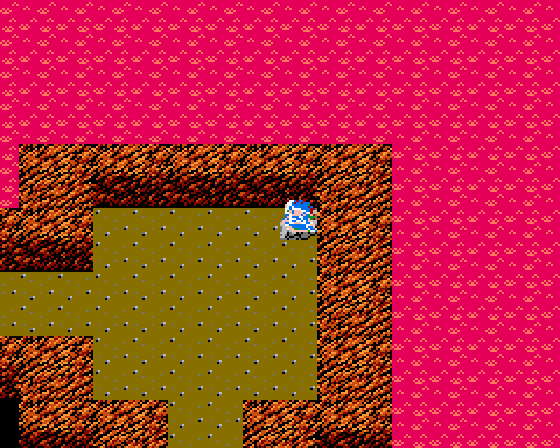 : ...ugh!

: I suddenly miss Muor and Noaniels.

: Heck, I miss Assaram and Isis.

Lava Bashers are about as strong as Sky Dragons, but with a fair bit less HP and defense; they have a 1/8 chance of using a weak fire breath (like Flamapedes) and 1/4 chance of using a stronger Dragon-grade breath weapon. They're predictably immune to fire and weak to ice, and other spell resistances are low or nonexistent. Alvaro can already one-shot them at this point.
Zofia levels up from this fight, for 2 Str, 1 Agi, 4 Vit, 1 Luc, 2 Int, 7 HP, and 5 MP.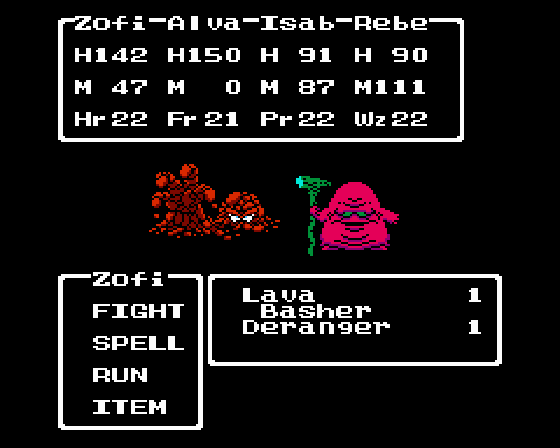 Derangers are about as durable as Lava Bashers, but fairly weak. They take two moves every turn, but they have a special non-random AI that makes them follow a specific sequence of actions. Every round causes them to waste an action assessing the situation, but then they'll follow that up by casting Chaos on the first round, Healmore on the second, Chaos again on the third, and delivering a standard attack on the fourth. Needless to say, that can get ugly fast. They're slightly resistant to elemental damage and Limbo, and highly to everything else.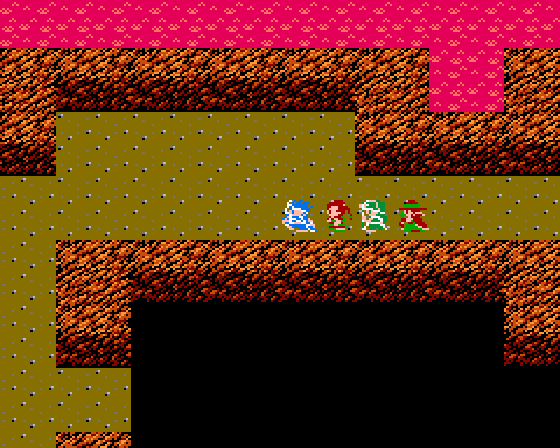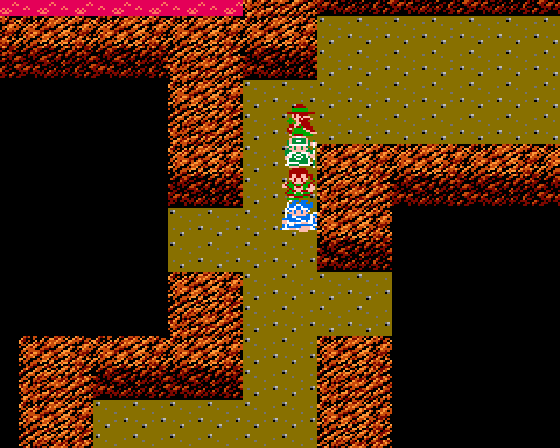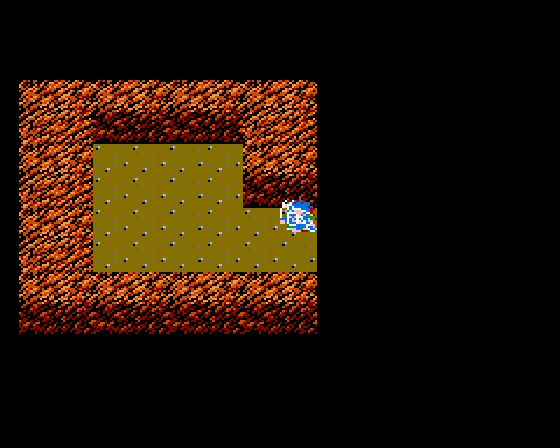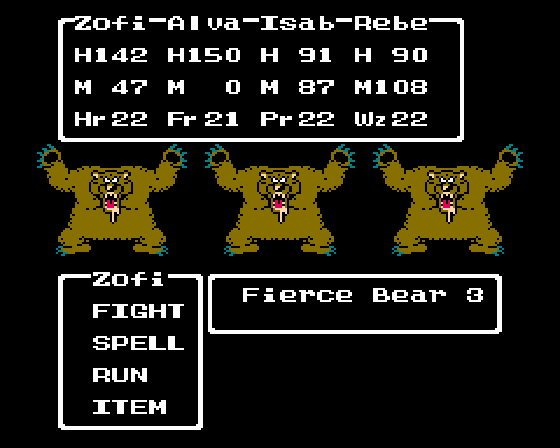 Fierce Bears are a bit stronger than Lava Bashers, with a lot more HP; they ignore formation but only have standard attacks available. They're immune to Surround, but only slightly resistant to Sleep and Beat, and completely vulnerable to all elemental damage. They're definitely worth MP expense to take out before they inflict too much damage on our back lines; I'll be going for both Sleep and Snowblast for this one.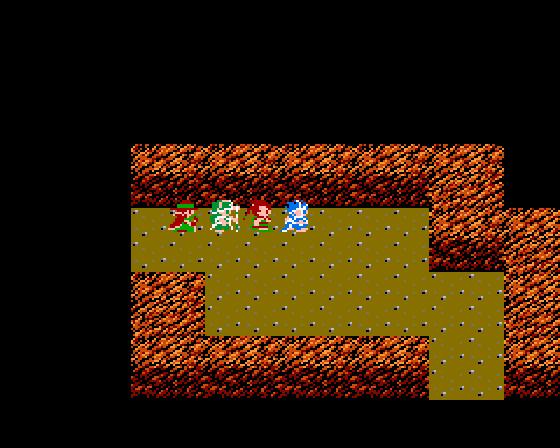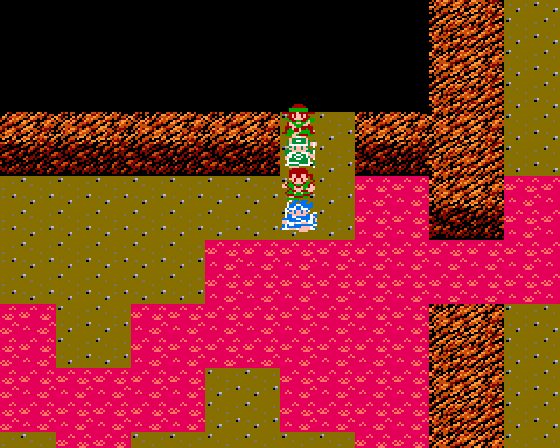 : I think we now know why nobody wants to come down here and take care of this Orochi.
Despite the superficial similarities with the DW2 volcano dungeon where Zed, Glynn and Gwen found the Eye of Malroth, the lava here isn't a damage trap: it is completely impassable, probably because it would kill us.

Welp, it's go time.



We take a bunch of Blaze casts to the face, but Alvaro manages to crit two of them. Nice!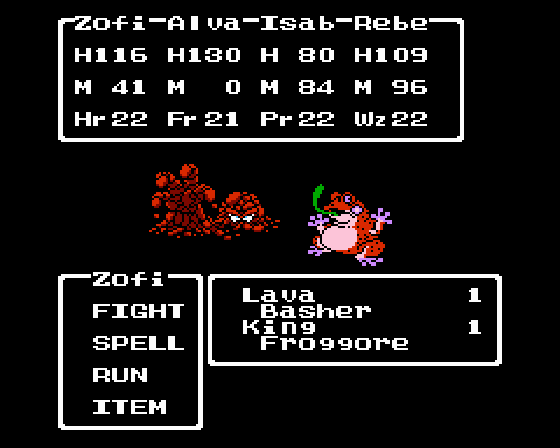 Huh, King Froggores are making a comeback. Their Sleep spell is still easy to underestimate but better one of those than a Deranger.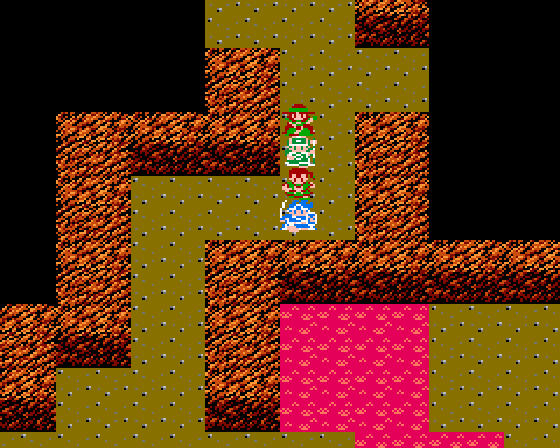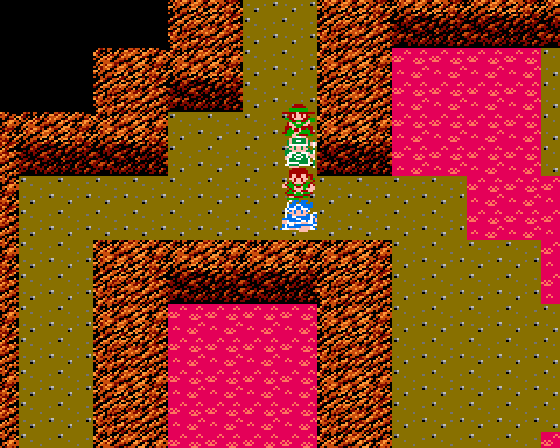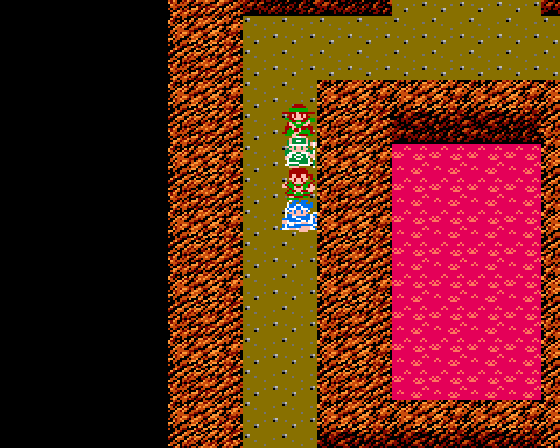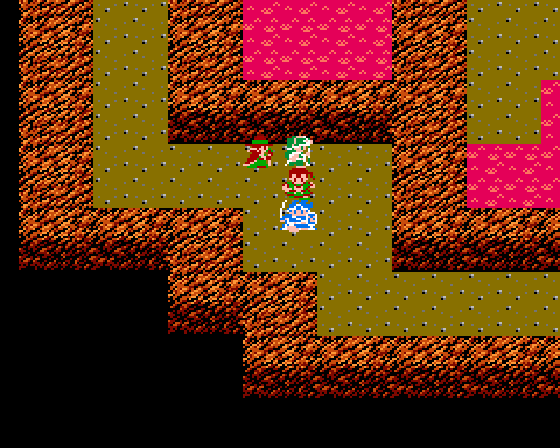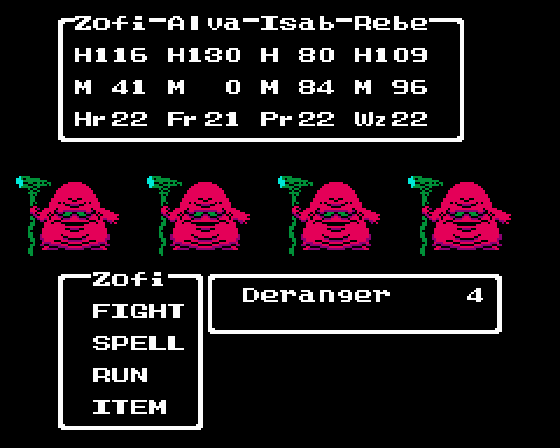 Four Chaos casts in the first round, and any survivors will cast Healmore on the second; better bring out the big guns early for this one. Isabel does get confused here, which is especially worrying now that she knows Beat and Limbo. Fortunately she only gets off an Infernos this time.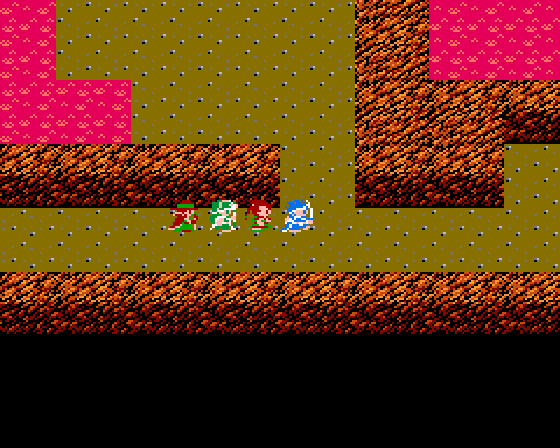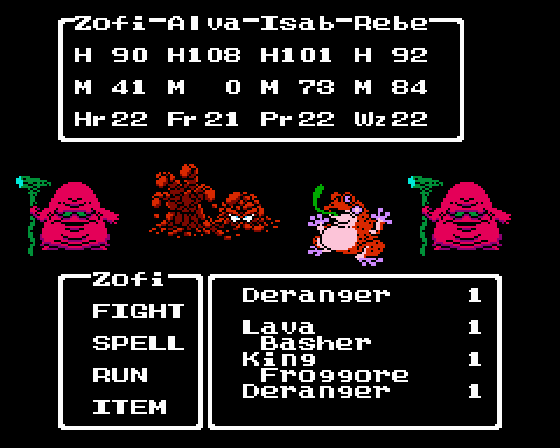 This is a tricky sort of fight. The King Froggore is most able to disable all of us, but Derangers of course are extremely dangerous, and while it's easy to decide to leave the Lava Basher for last, they have a powerful fire breath. It's worth the risky expense of a Blazemore to take out one of the Derangers on the first turn at least.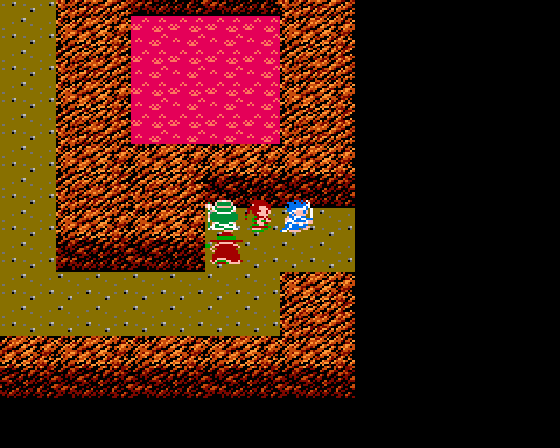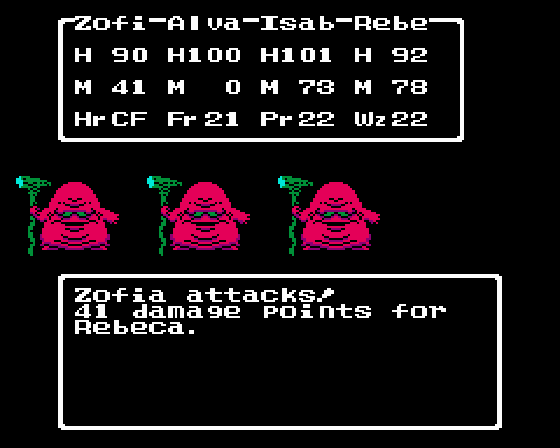 Gah! We don't want to see that happen very often!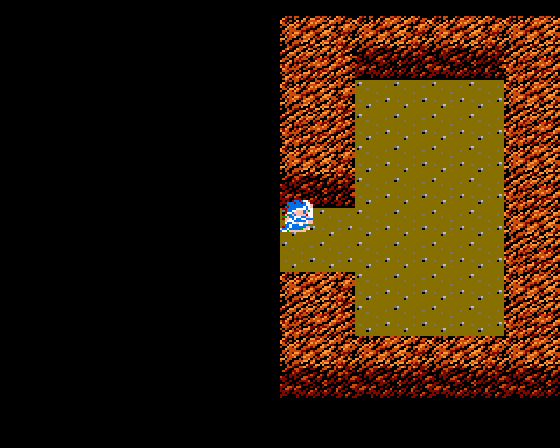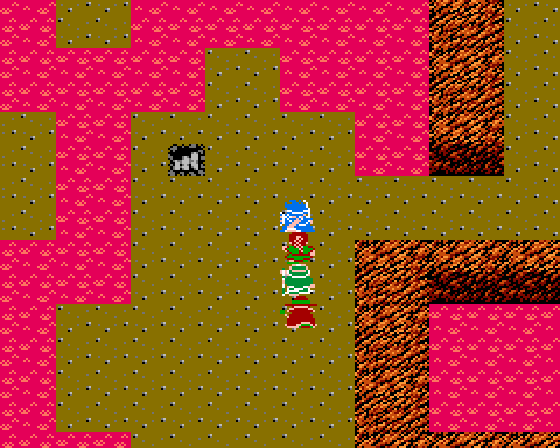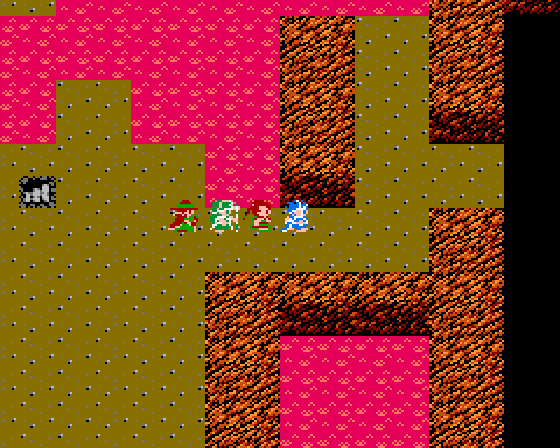 I'm curious about these stairs, but let's check out that room to the east first.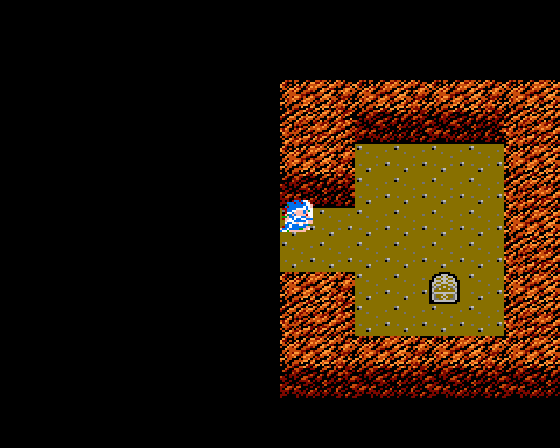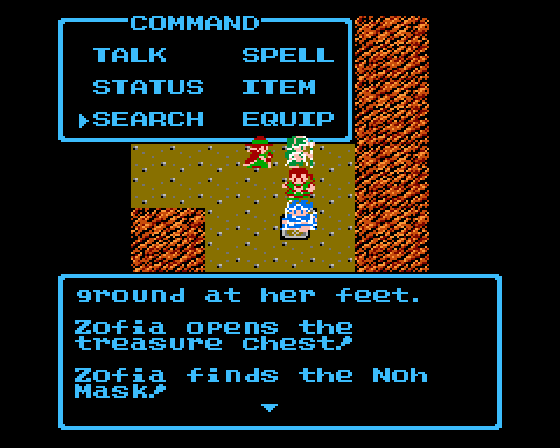 The Noh Mask is a helmet that anyone can equip, and it offers a +255 defense power bonus. It is also extremely cursed, as you probably guessed. I vaguely remember that it makes its wearer permanently confused, but either way I'm not keen on testing it. It sells for 1 gold, so either drop it here, or vault it as the unique souvenir that it is.
On the way back, a Deranger confuses Rebeca, and she drops Bang and a Blaze directly on Isabel.

: Ha! Pay up!

: ...bah.
Rebeca levels up in the following fight, for 1 Str, 2 Agi, 2 Vit, 2 Luc, 3 Int, 3 HP, 7 MP, and two new spells: Bikill and Boom.
For 6 MP, Bikill buffs one ally for the rest of the battle (or until they die), causing the damage of their Fight command to be multiplied by 2. No ifs, buts or maybes, just straight up double damage. It's easily one of the strongest Wizard spells in the game, and in fact if someone intends to change their Wizard to a melee class, waiting until they get their mitts on Bikill is a decent strategy.
Boom is an upgrade to Bang; for 9 MP, it attempts to deal 52 to 67 fire damage to all enemies regardless of grouping. Against equivalent resistances, it's even stronger than Snowblast (42-57 ice damage).
Rebeca could have learned Bikill two levels ago, but this is the first level Boom is available at.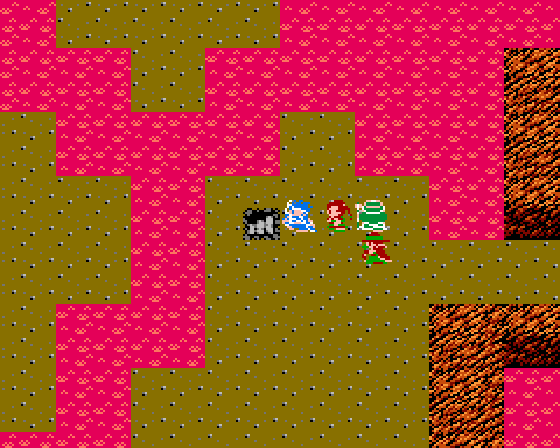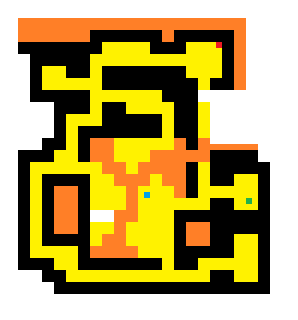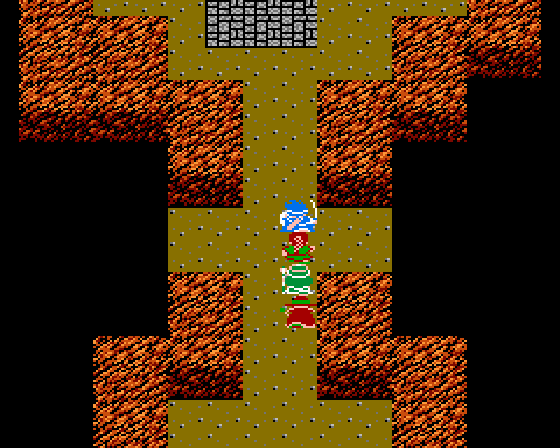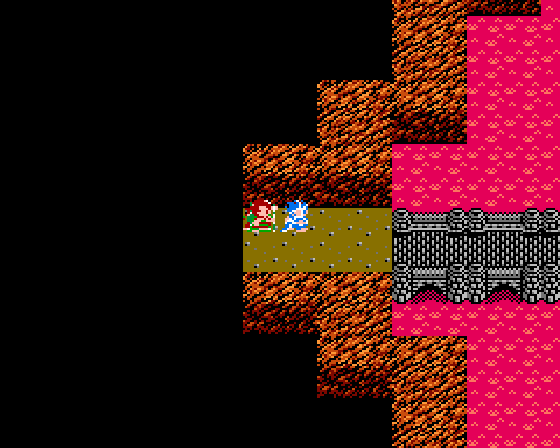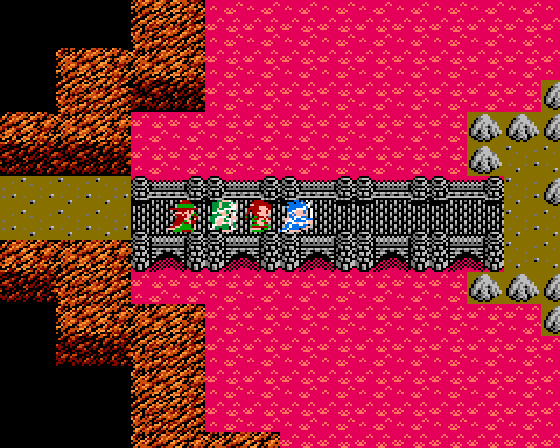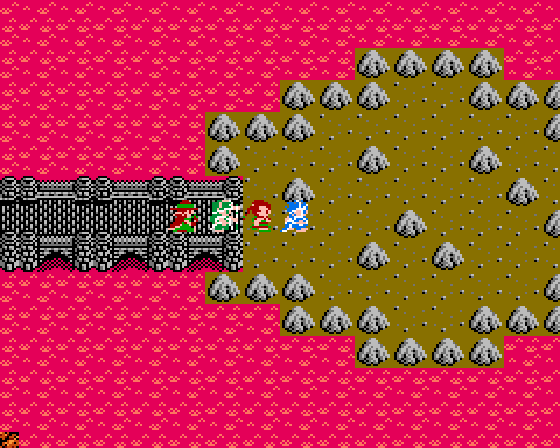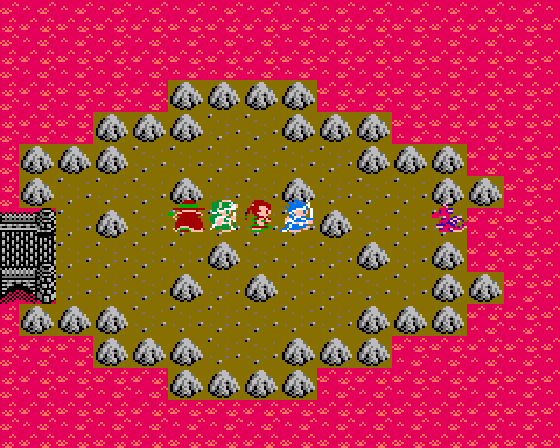 : Guys, I think we've found Orochi.

: ...huh.

: What a monstrous being!

: I call it a test run for Baramos. Come on!

: Ha! Let's go!
Orochi initiates the battle as soon as we get close. Alvaro falls early on to its multiple attacks, but a Bikill-powered Zofia and Rebeca's Snowblasts prove more than equal to the task of ending the battle while Isabel does her best to keep them alive. Once the fight is over, Orochi flees through a Travel Door hidden behind its lair.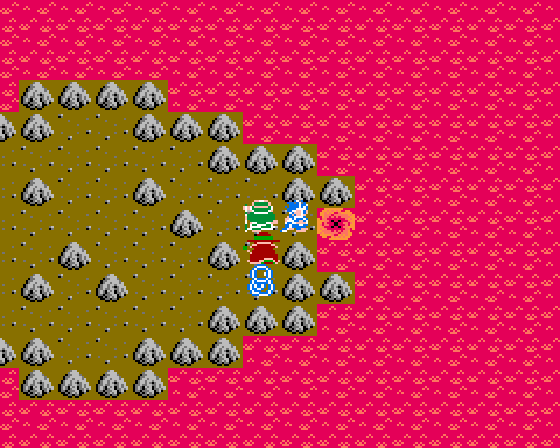 : Aw crap, Alvaro...

: If this is a test run for Baramos, we'll have to learn from our mistakes.

: And we will. Come on, let's follow that thing through.
Orochi comes in at 120 attack power, which is much more than Kandar but less than a Man-Eater Chest, up to 300 HP and 68 defense, which is higher than most creatures around here but not extraordinarily so. It does get two actions per round, and will either attack or breathe fire as a Sky Dragon would for each. On top of that, it regenerates 90 to 109 HP per turn!
It's immune to fire of course, but only slightly resistant to Sleep, Surround and Sap, and vulnerably to ice and wind.
The Orochi Sword is a unique guaranteed drop, a +63 weapon that Heroes, Soldiers and Sages can equip. It's two points weaker than a Zombie Slasher, so I let Zofia have it, and give her Zombie Slasher to Isabel. It's certainly the Ame-no-murakumo-no-tsurugi, the sacred sword found inside the beast's body, according to Japanese legend. It would later be renamed the Kusanagi-no-tsurugi and become one of the three treasures of the Imperial regalia.
On top of that...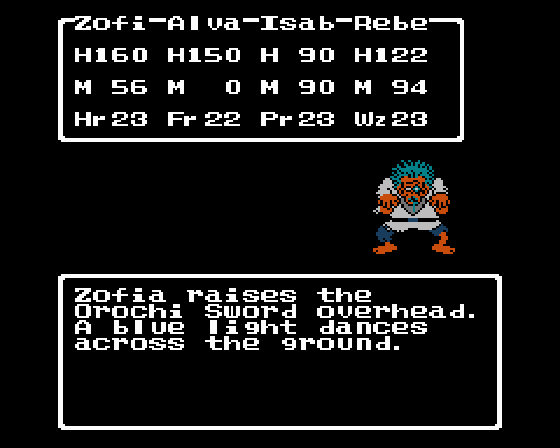 ...using the Orochi Sword in battle casts a free Defence effect, attempting to reduce a group's defense power. That'll come in handy for sure.
Oh, and we got a couple levels too. Isabel earned 1 Str, 3 Agi, 2 Vit, 4 Luc, 1 Int, 3 HP, and 3 MP. Zofia earned 4 Str, 3 Agi, 4 Vit, 4 Luc, 2 Int, 6 HP, 4 MP, and her own Firebane spell.
It's a shame that Alvaro missed out on all that experience, but that's how the evil maiden-eating Japanese hydra crumbles.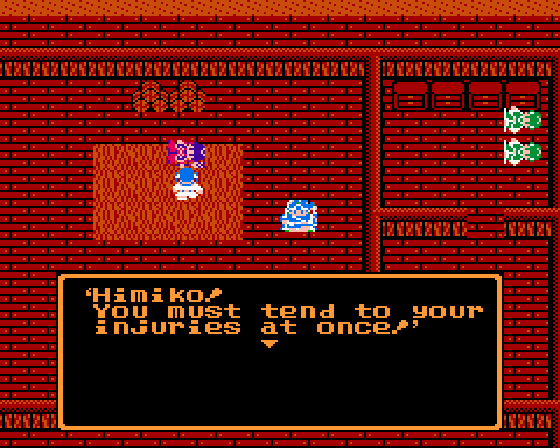 : You have got to be kidding me.

: Wherever did you get into such a fight?

: We've got bad news for-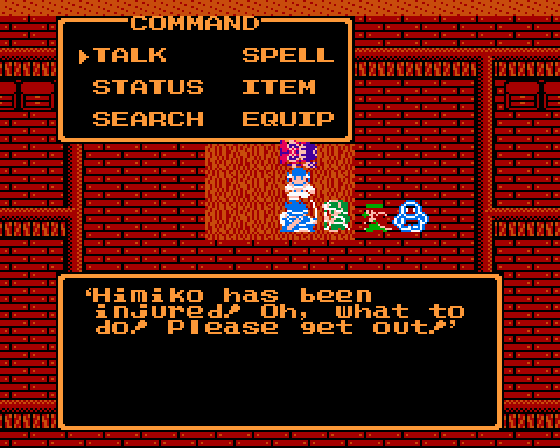 : We are not going ANYWHERE.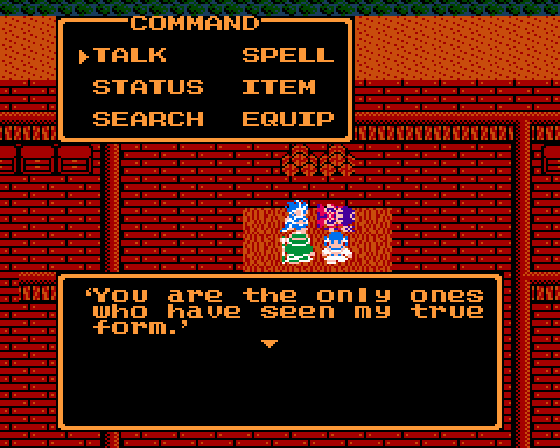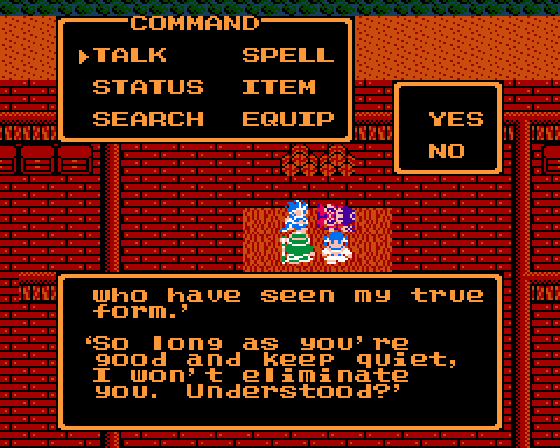 : HOW DARE-

: Isabel... Alvaro's in bad shape.

: But...!

: We got you, chief. No harm no foul, right?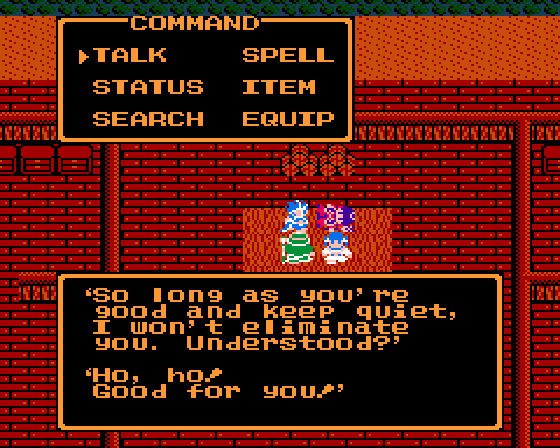 : No! This doesn't-

: Shhh!

: Right, let's go let's go.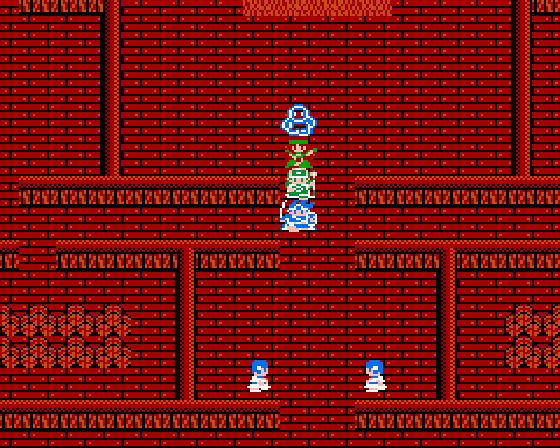 : WHAT are you DOING? If they're monsters, it doesn't matter if they surrender!

: We've got the snake-bitch by the gonads, Isabel.

: We can just get Alvaro taken care of, and nothing will keep us from finishing off Orochi afterward.

: And we're both definitely running out of juice besides.

: ...right. Right, okay. But we need to move before it gets its next sacrifice!

: Absolutely.
If we had the Final Key we could pop in the inn on the mainland, take the Travel Door to the House of Healing in Western Africa and get Alvaro revived there, but we have to Return to Baharata instead.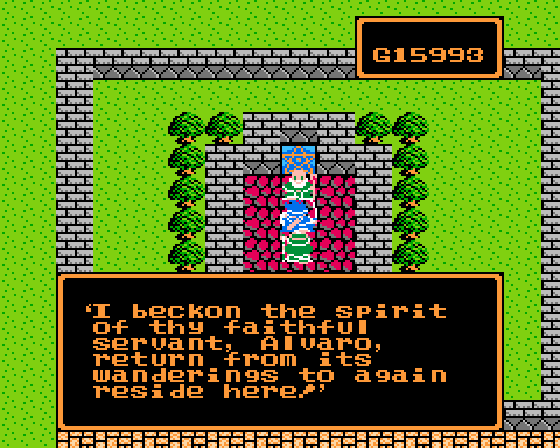 That's a 450 gold charge.

: ...huh? Did we win?

: Yeah, kinda.

: Almost.

: We need you for the final act, young man. Get ready!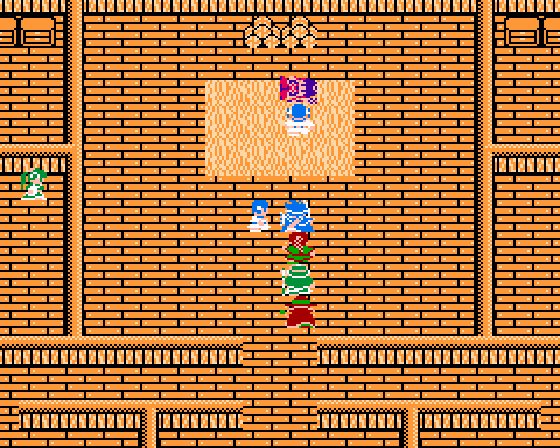 HimikOrochi will remain wounded indefinitely, so you can come back to finish her/it off whenever you like.

: Deal's off, chump. You've been had. Prepare to die.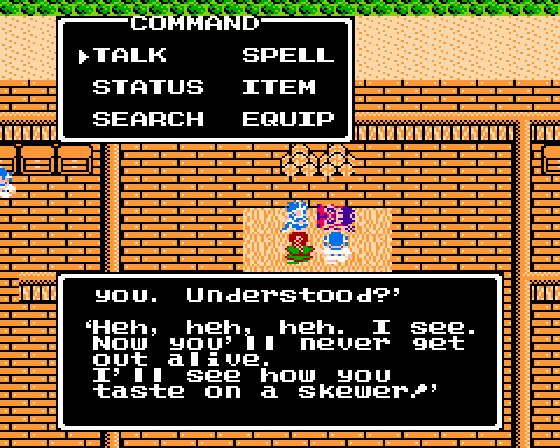 We win again. "Himiko is the Orochi! That rumor has spread throughout the country like wildfire. And so the day breaks..."
The fight goes much the same way as the last one, except Alvaro survives to reach level 22, for 1 Str, 9 Agi, 4 Vit, 5 Luc, and 7 HP. It's kind of a dick move to have to fight the same boss twice, but you can attempt this second fight at full strength without having to wade through the lava caves, so it's not as dangerous.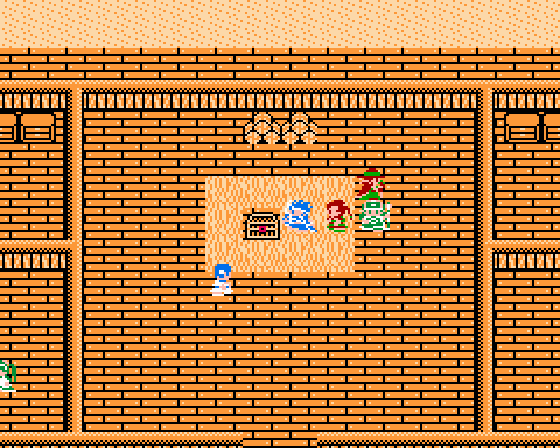 There is also a treasure chest left where Orochi was slain.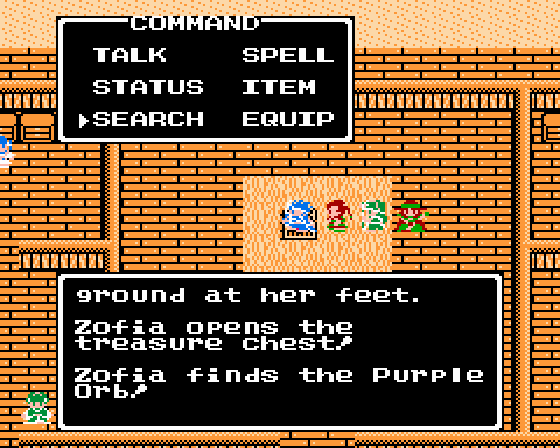 : I figured assassination was gonna come back on the table sooner or later.

: So... this is one of the Orbs, then.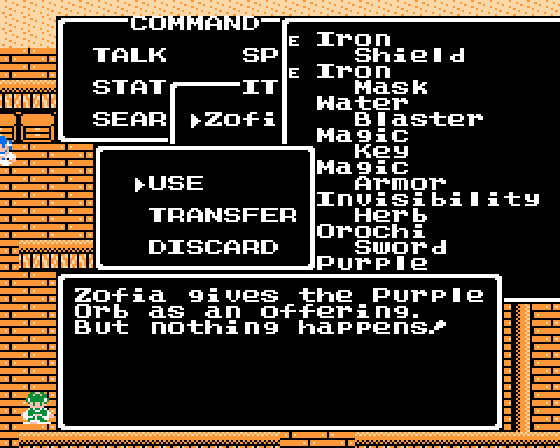 : It's pretty, but it doesn't do anything.

: Not on its own, at least.

: Right. Anyway, I think this'll count as mission accomplished!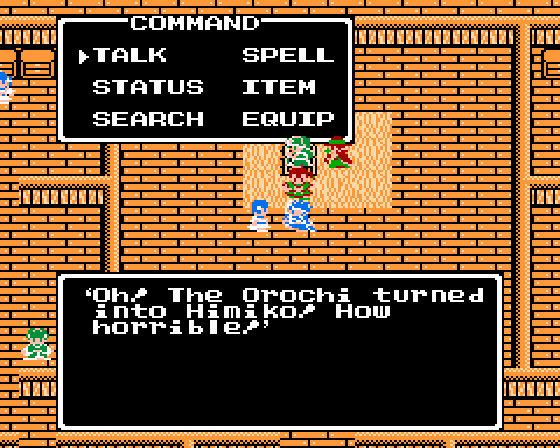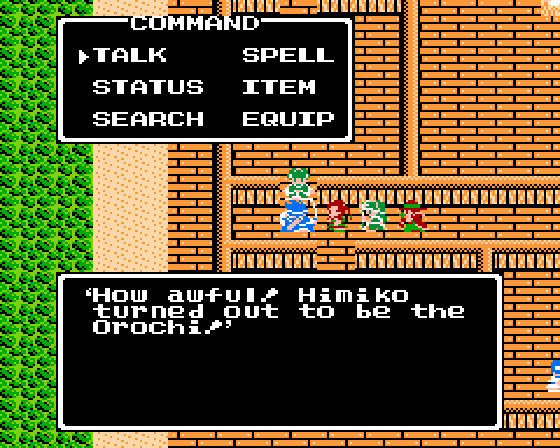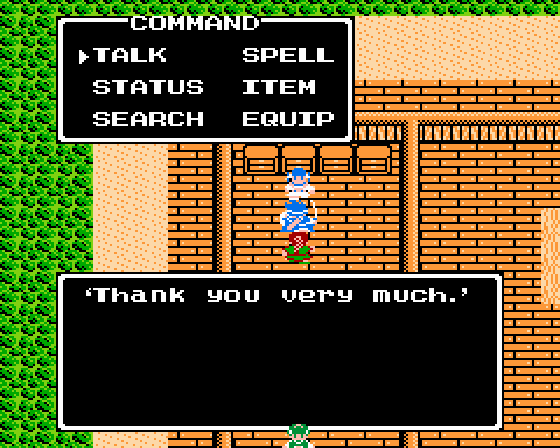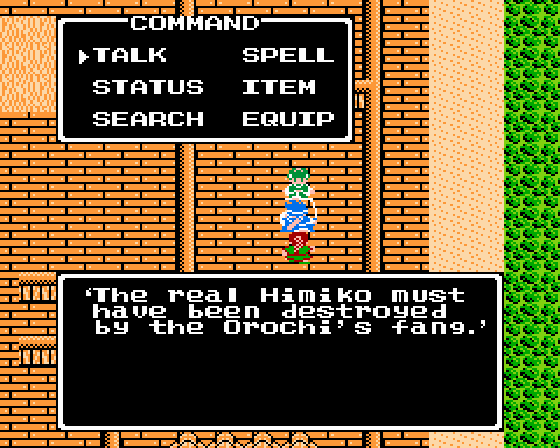 : Oh... That would explain why everyone was so keen on following this monster taking her place.
The "real" Himiko herself is a possibly-mythical shamaness-ruler of ancient Japan, from the 2nd and 3rd centuries AD. There are Chinese records of her existence (if you're familiar with the era that the Romance of Three Kingdoms book is set in, it might mean something to you that there are records of diplomatic interaction between Queen Himiko and the Wei kingdom under Cao Pi's rule), but the major Japanese historical texts make no clear mention of any such ruler. So either the Chinese made her up, or she was purposefully erased from history by her own people.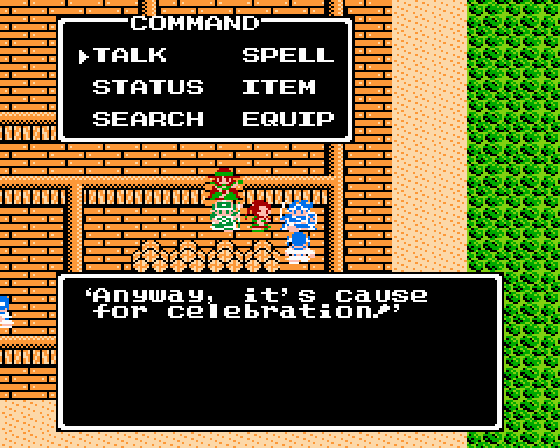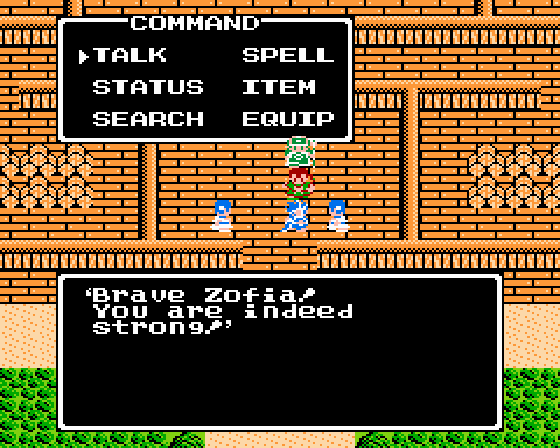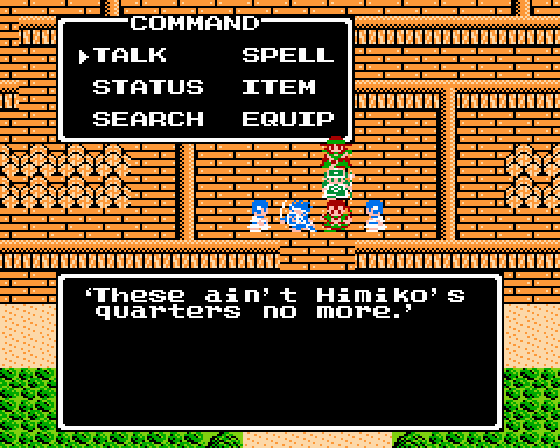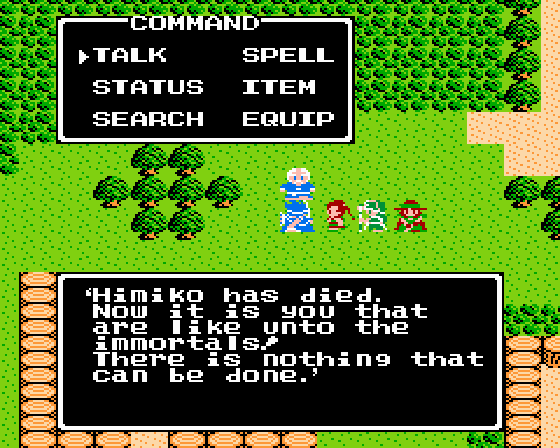 : Ha, sorry?

: Zofia, like unto the immortals! I can't say I disagree.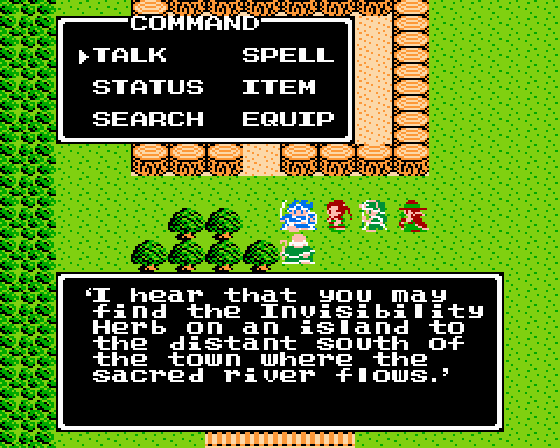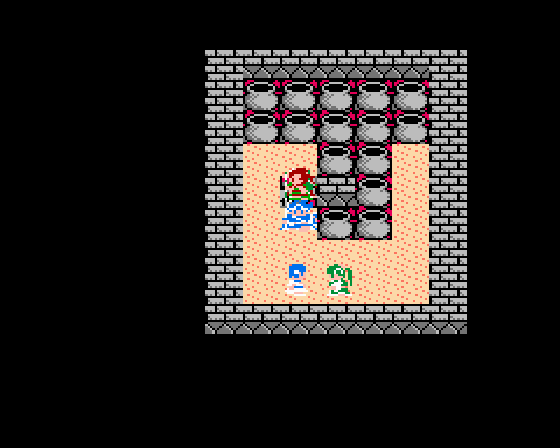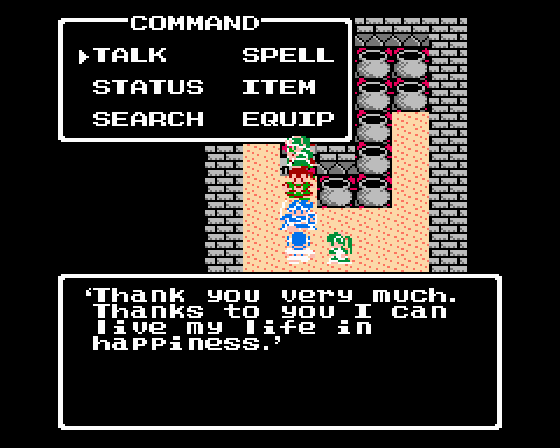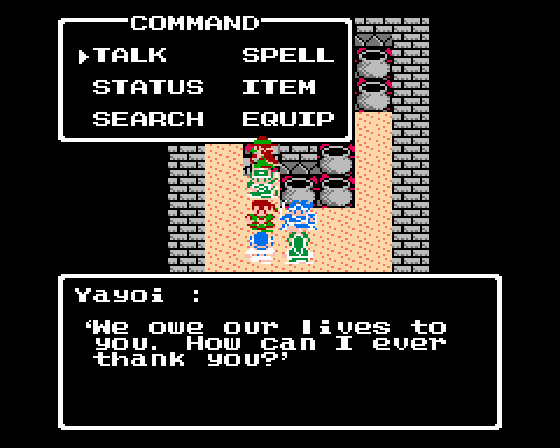 : Surround yourself with people you love, and make each other happy.

: Hmm!

: If that's my only reward, then it's been worth it.

: ...

: Heh, I guess I'm beginning to understand why dad didn't have any money in the Vault.

: At least we got a cool sword and an Orb out of this.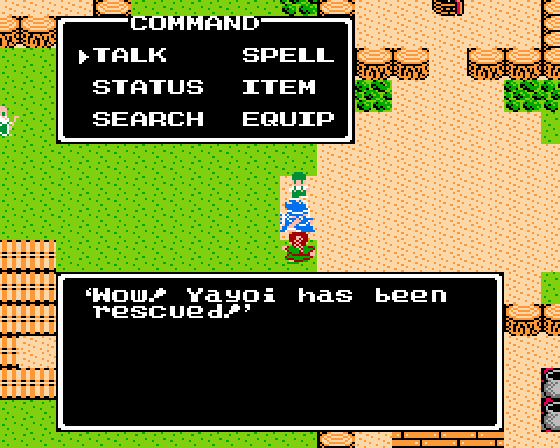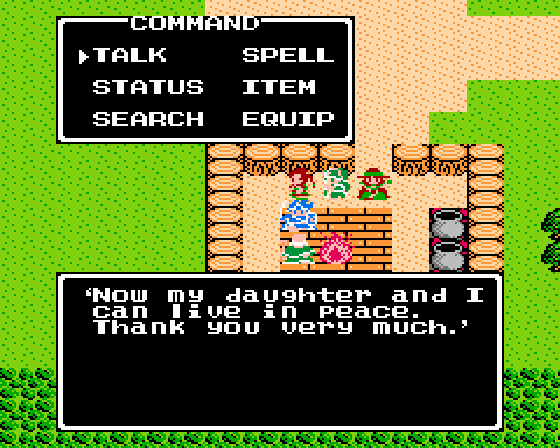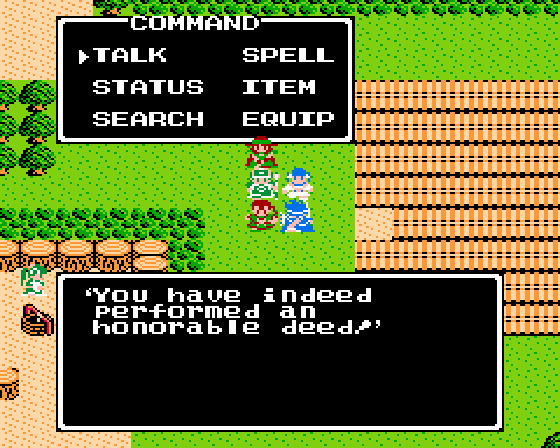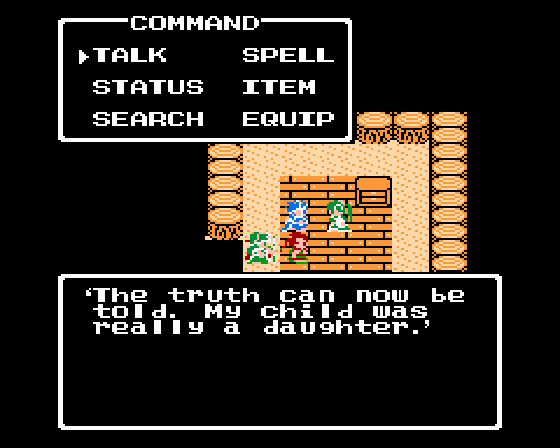 : ...huh.

: I understand why you did what you did, but...

: Well, I hope she turns out alright.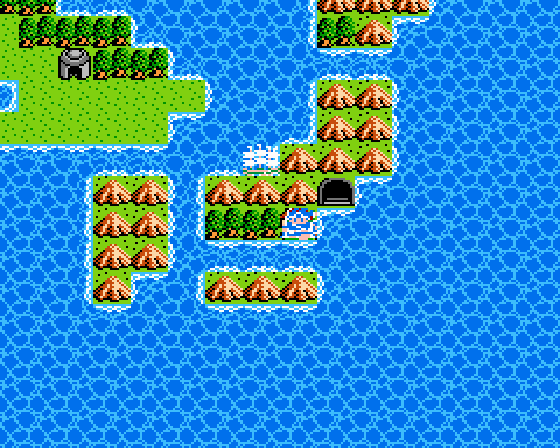 Aaaand that's it for our Nippongese adventure! Or... almost it. There were a few paths in Orochi's cave we didn't get to explore, so let me get to that right quick.

Well I'll be! A Lava Basher dropped a Leaf of the World Tree! Just as it was in DW2, this consumable will raise one ally from the dead. This is a 1 in 128 drop, so that's pretty cool.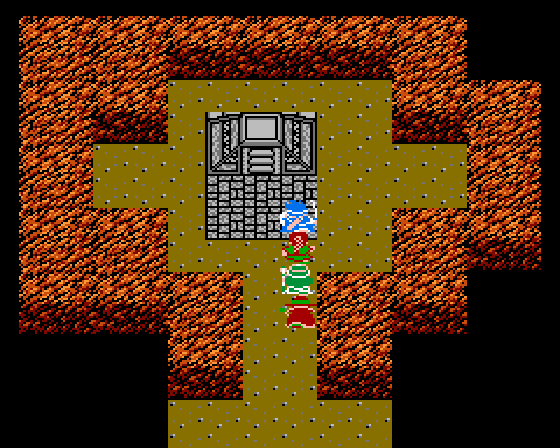 This fancy altar has nothing special on it.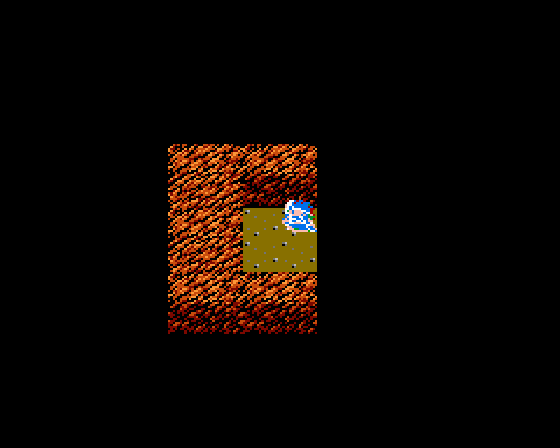 Aaaand that's a dead end.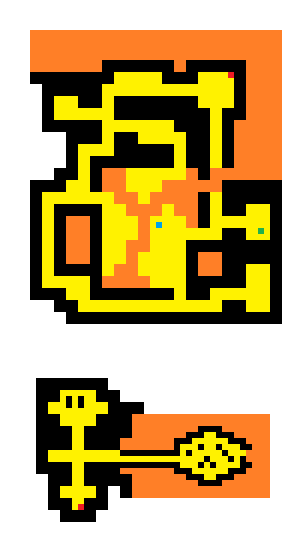 We didn't miss anything after all, but that Leaf made it worth coming back for sure! Rebeca takes us Outside, we Return to the Vault in Aliahan, drop off the Purple Orb and the Noh Mask, and Return again to Portoga.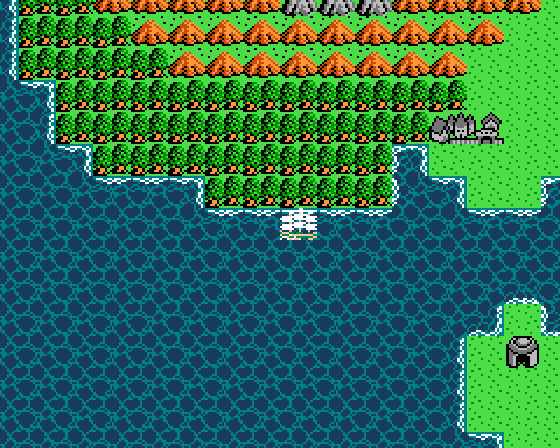 : So, Eginbear!

: You ever been, Isabel?

: Not even once! In fact, you've all been everywhere I've been by now.

: Huh. That feels a little strange to hear, to be honest.

: Have you heard anything about the place, at least?

: Oh I knew it by name, I traveled with a few warriors from there a while back, but they didn't speak of it much.

: It must be kind of a hole.

: I suppose we'll see.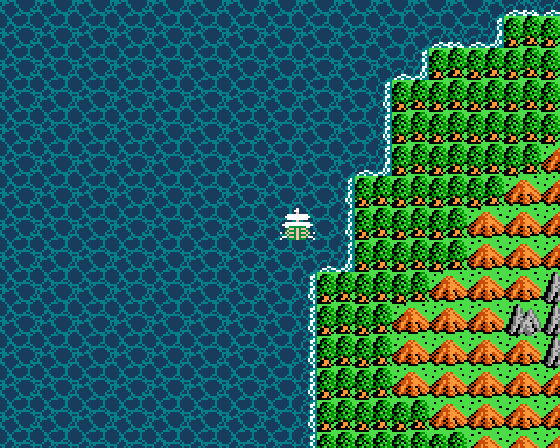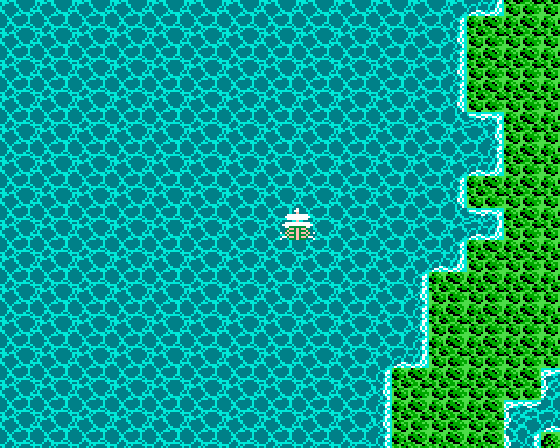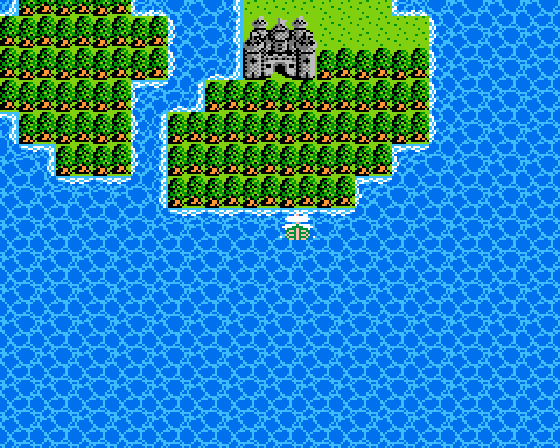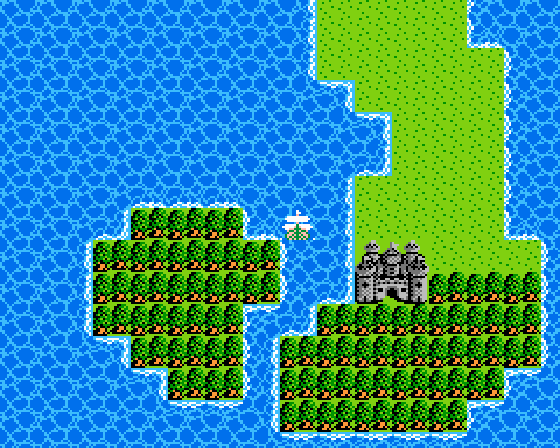 Yep, that's Great Britain and Ireland right there.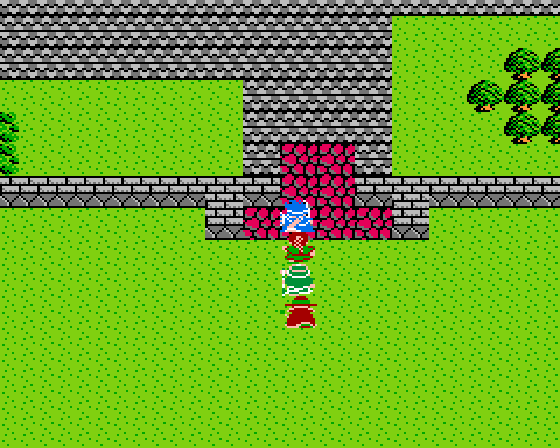 : Huh, it's not such a hole after all.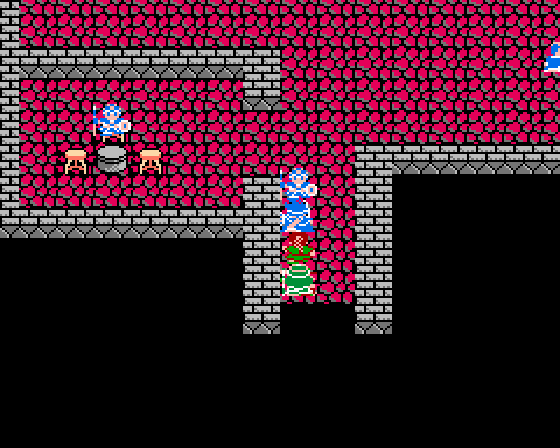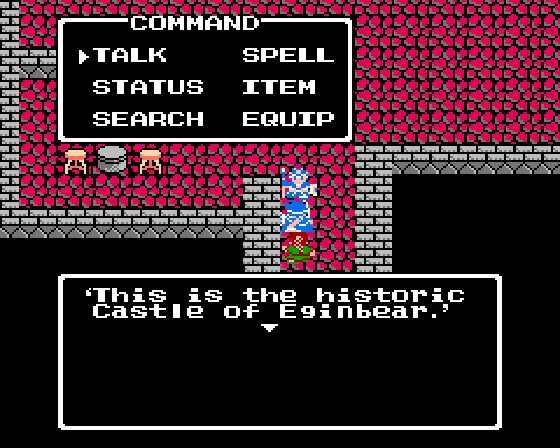 : I wonder what makes it so histo-

: Yokels aren't welcome here! No sword, no shield, no service!

: ...what?

: Are you for real? Do you have eyes in your head? Get out of my way!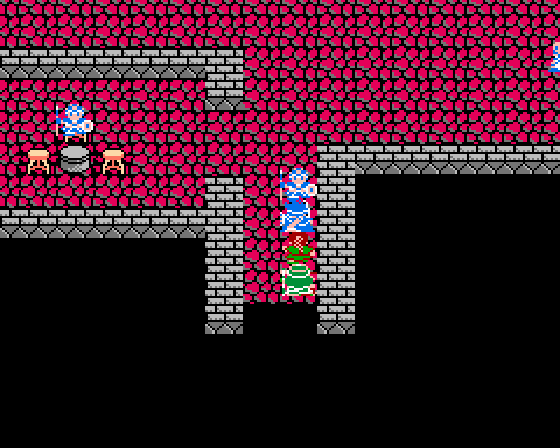 : You're lucky my comrades are making me soft, or this place would already be a blazing inferno!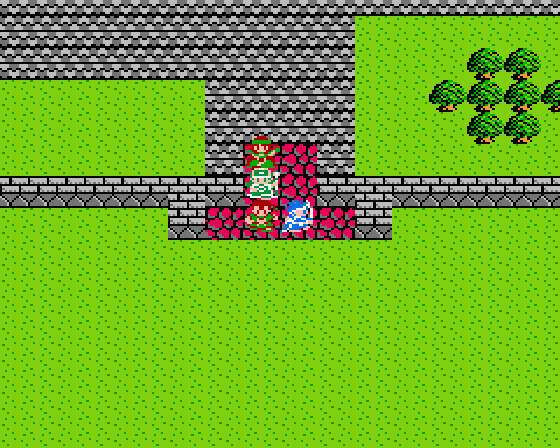 Despite what the guard says, your entire party can be covered in swords and shields and swordshields, he still won't let you in.

: What a twort.

: I suppose now we know why we brought an Invisibility Herb.

: I still can't believe that old man's ghost knew we'd need this. The visions of the dead... how frightening.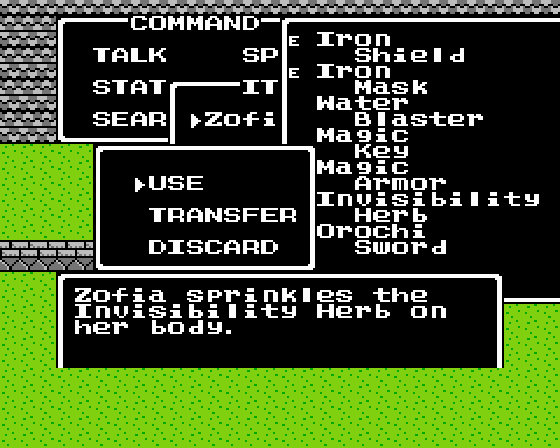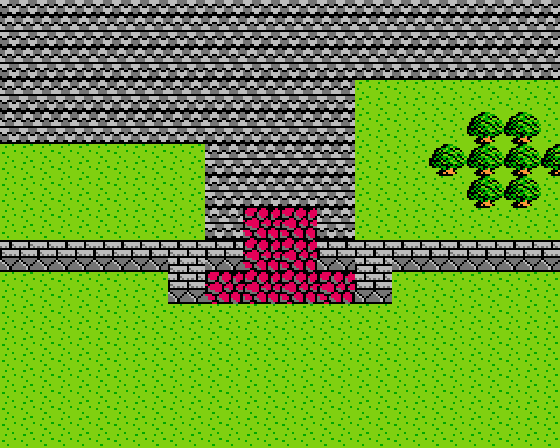 We are now completely invisible, even to ourselves, which makes walking around a touch difficult. But we only need to bypass this one stubborn sentry.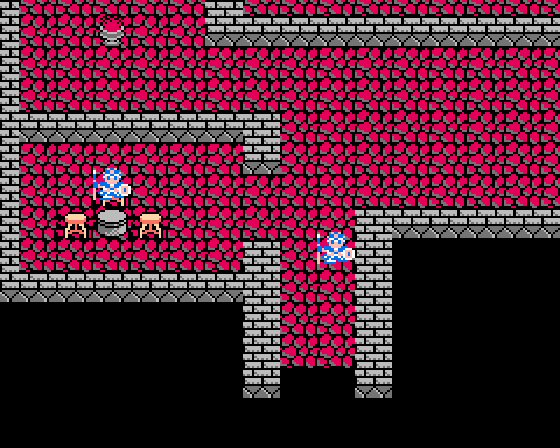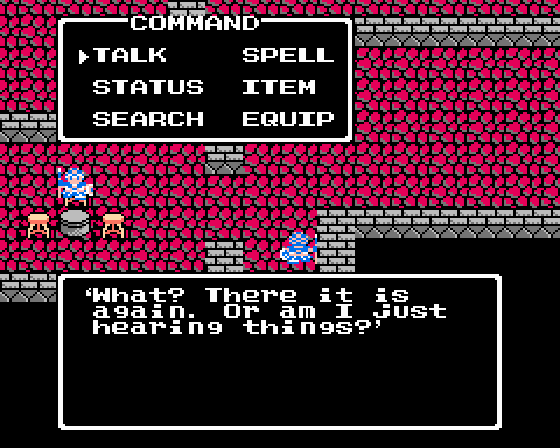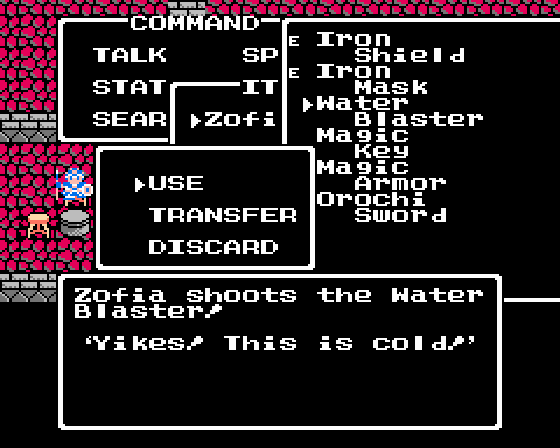 : Heheh.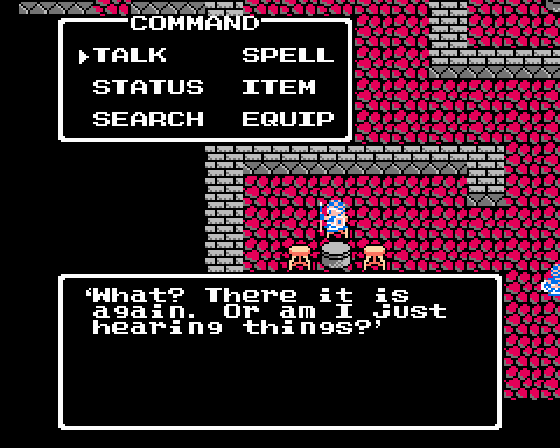 We'll have to wait for the Herb to wear off before we can accomplish anything in here.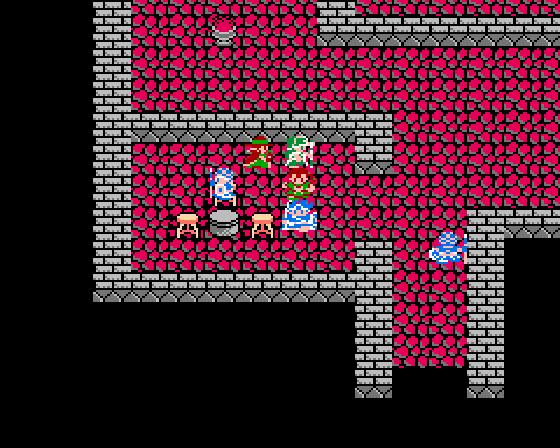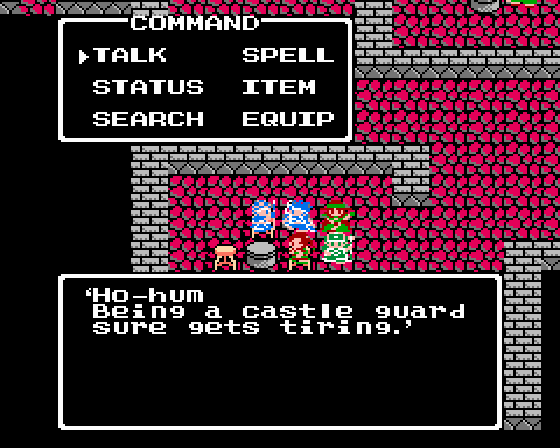 The guard at the entrance says nothing different even though we're clearly on the side that means he's getting fired. He'll let us leave, but not come back in.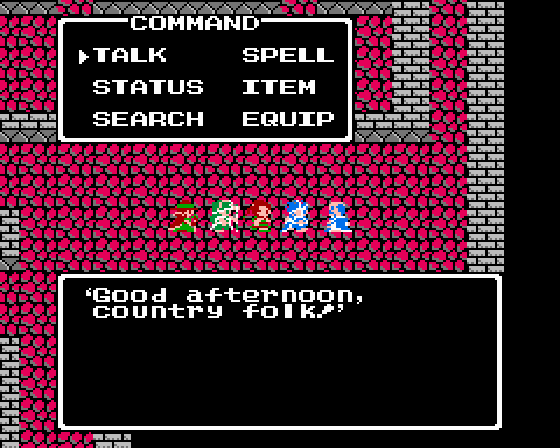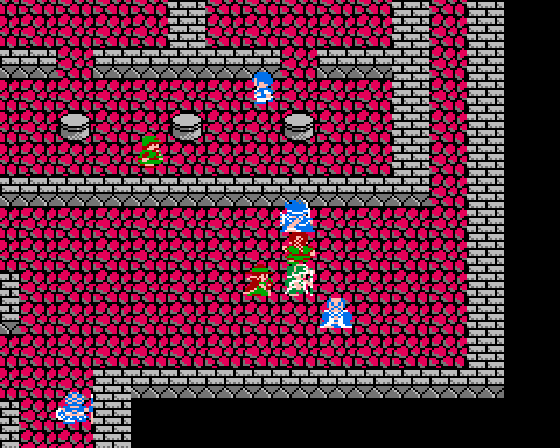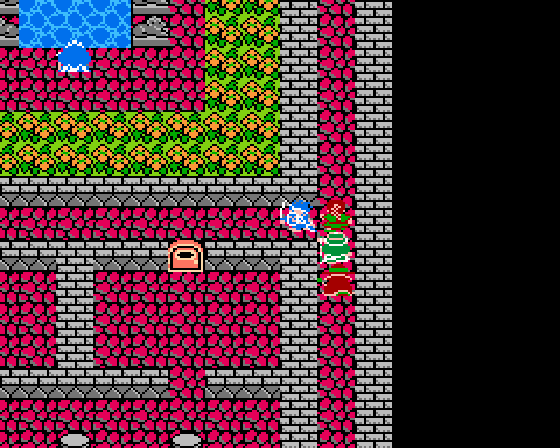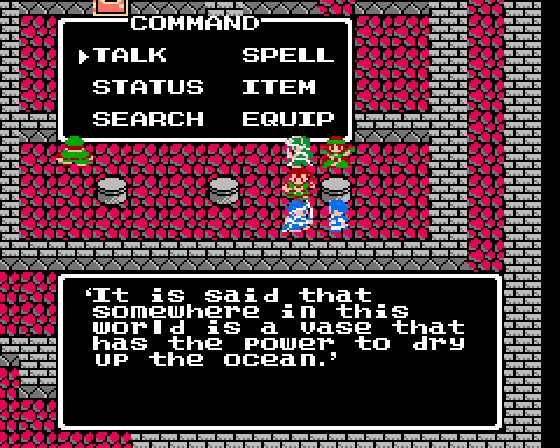 : It better not be in some other place. We did hear it was here, right? Not just to come here for another clue?

: Pretty sure, yeah.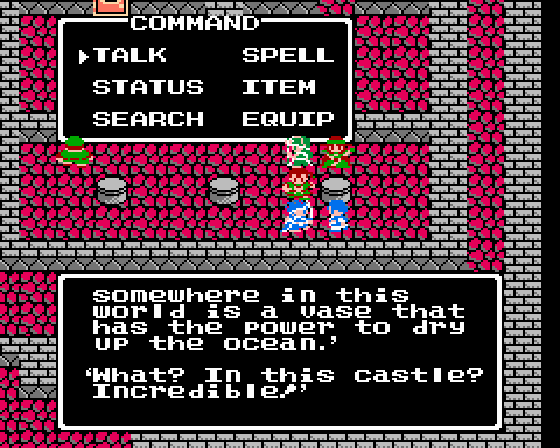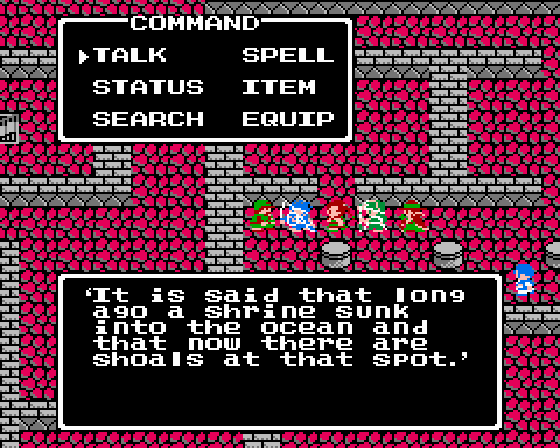 : Ah, maybe that's what the Vase is for.

: It would be nice to have slightly better directions than "shoals in the ocean", though.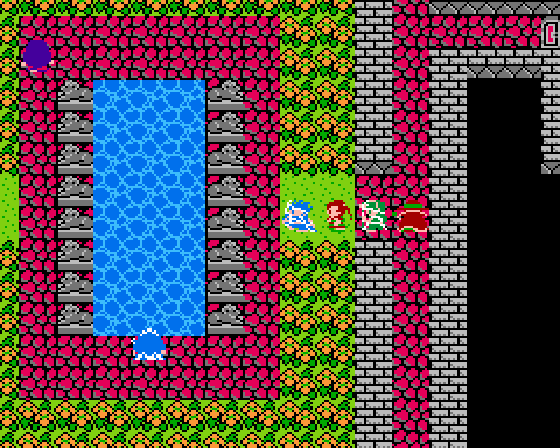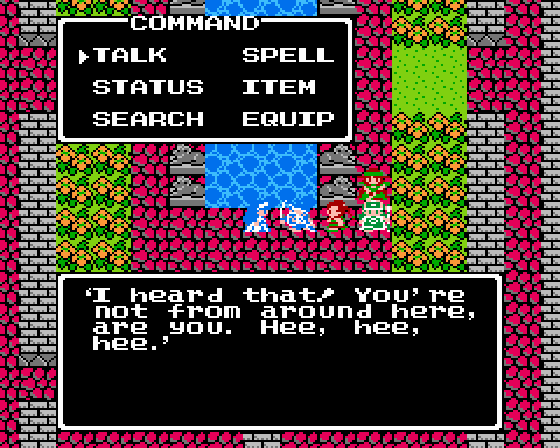 : We actually know what swords and shields look like, so yeah, we must be foreigners.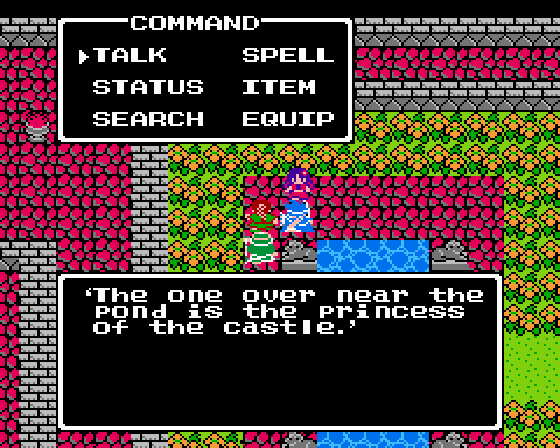 : No duh.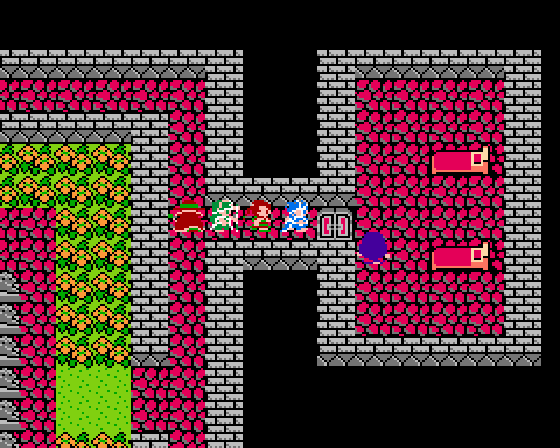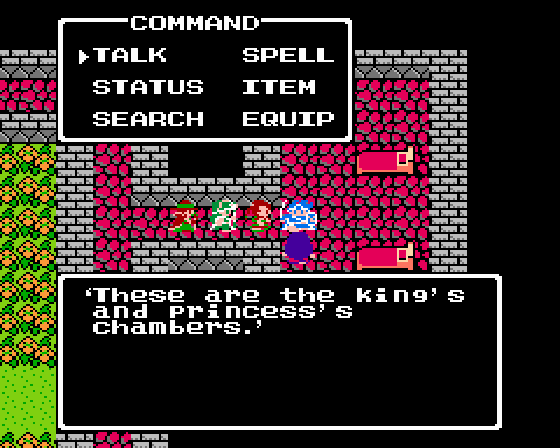 I think this is the first castle in the series with a bed for a king. (The Queen of Isis had her bed, of sorts, and of course Princess Halla of Cannock had her own bedroom as well.)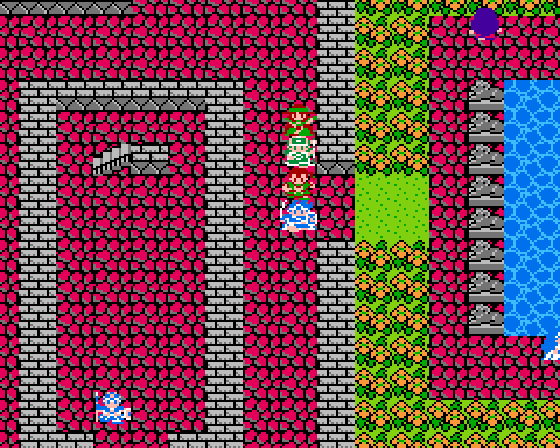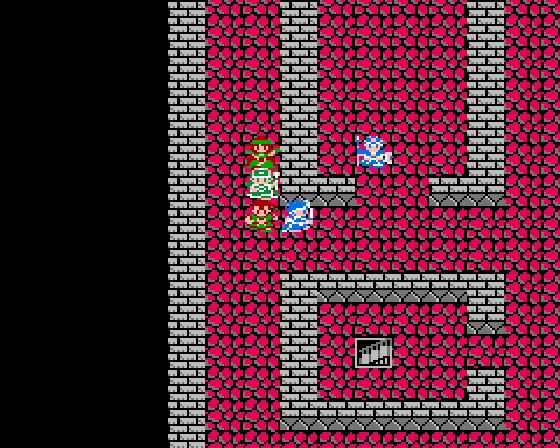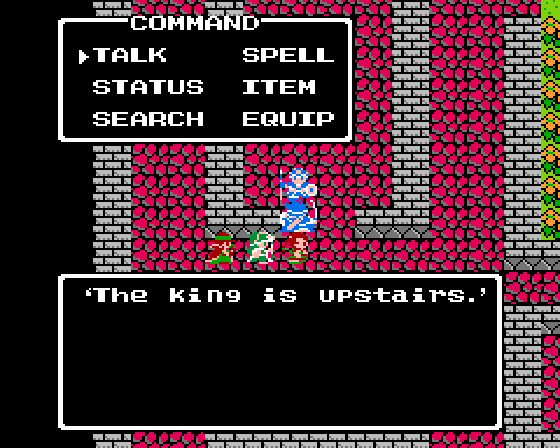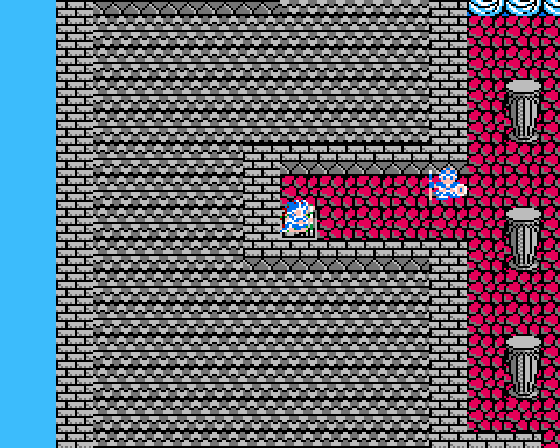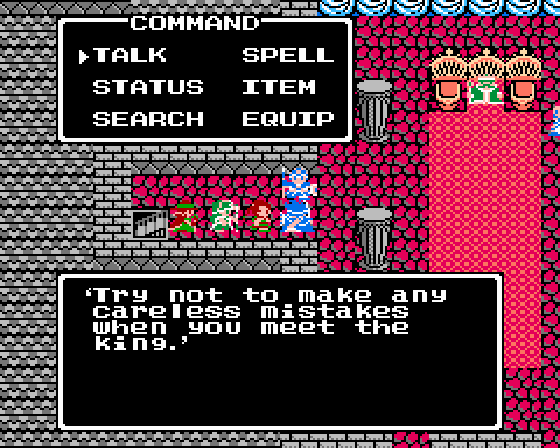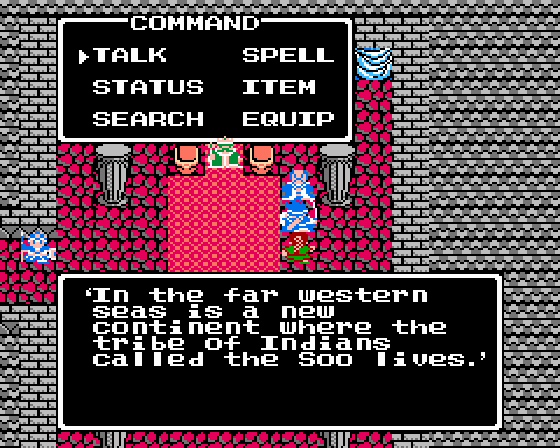 Which is to say, the Sioux, of course.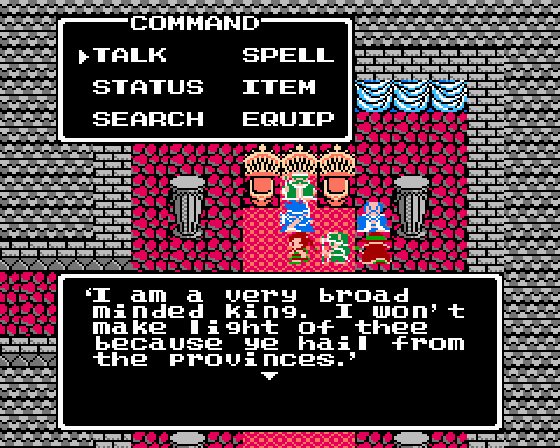 : How nice of you, yer Majesty.
This snooty-ass king has access to the Imperial Scrolls of Honor, which is good because Portoga's king is still high on pepper and didn't save for us.

: Be off with you then Zofia!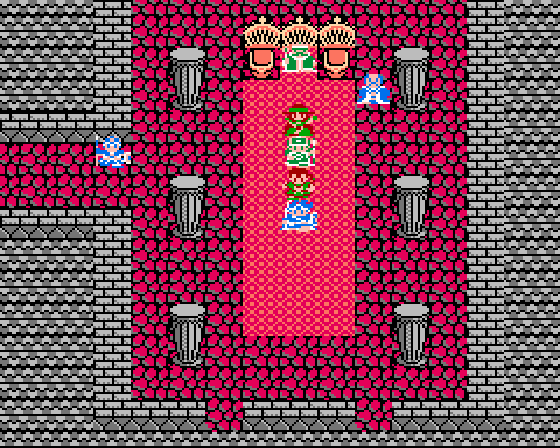 : At least it's refreshing to meet a king who doesn't want me to do odd jobs for him.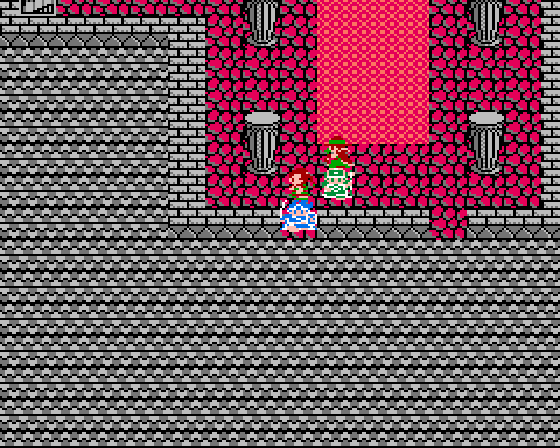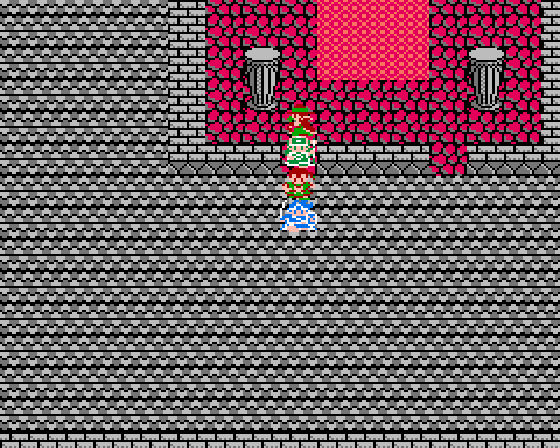 Huh, that's new.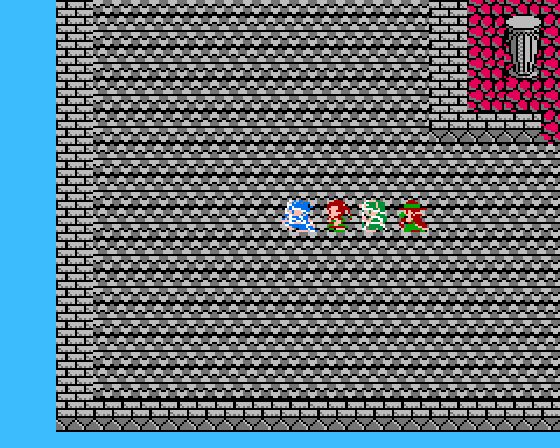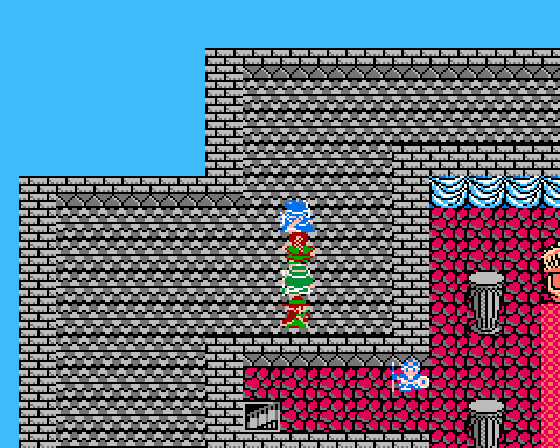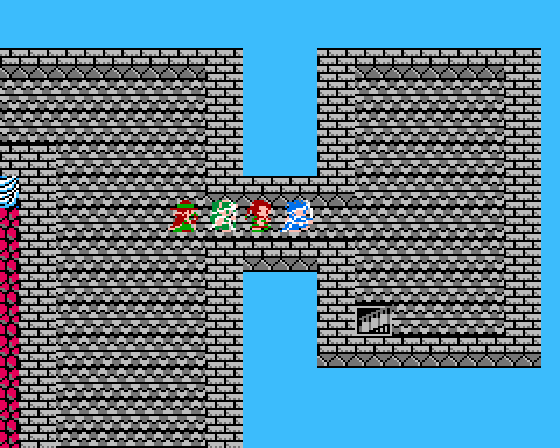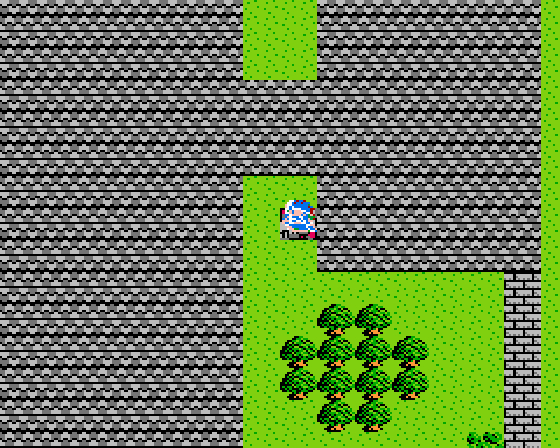 The room directly to the east is the king and princess' chambers. Let's check out this garden.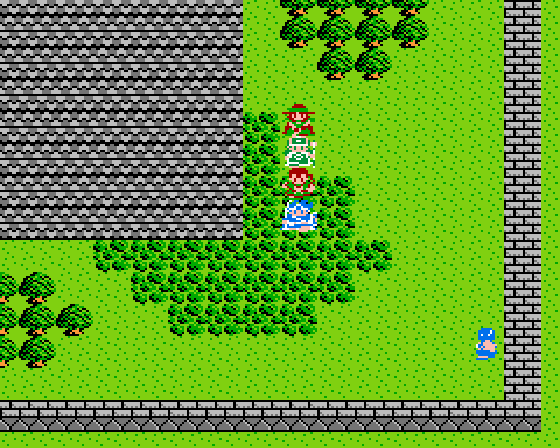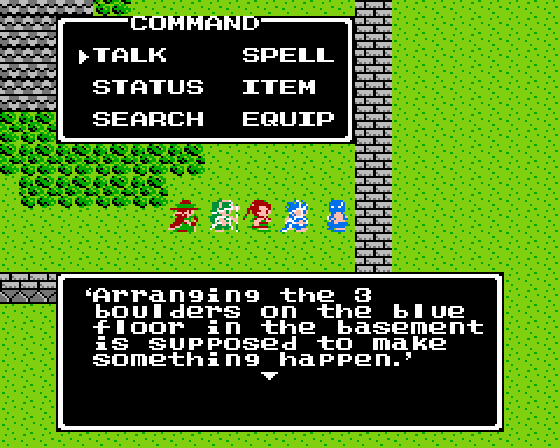 : If you fail, you should go out of the basement and try again.
Remember that boulder we pushed all the way back in Reeve? Yyyup.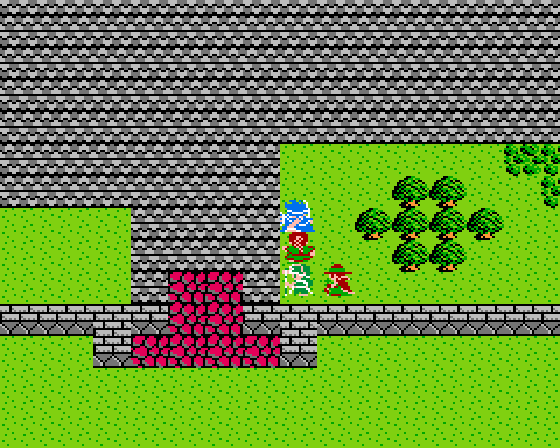 Welp, dead end, let's head back.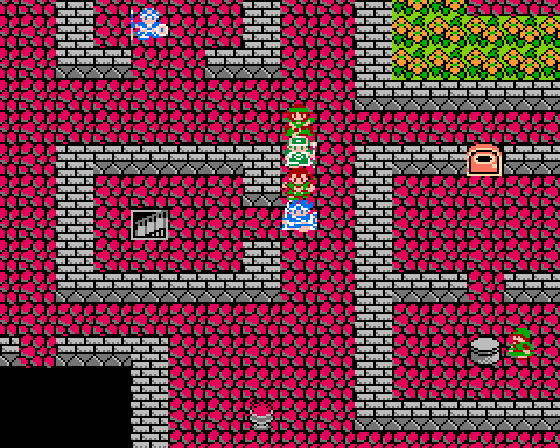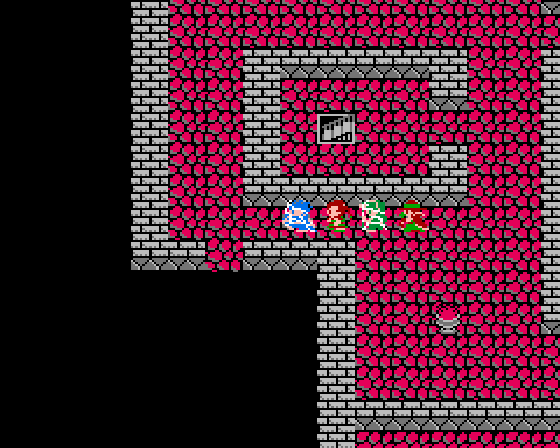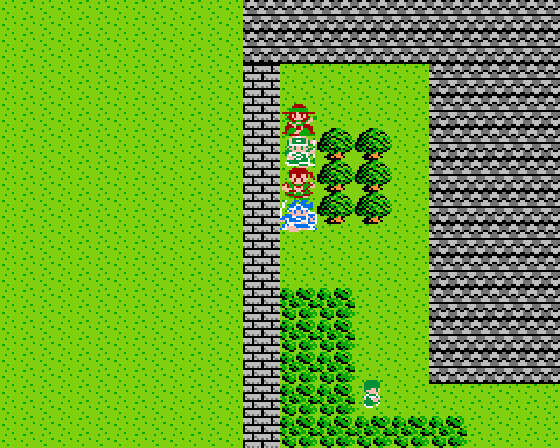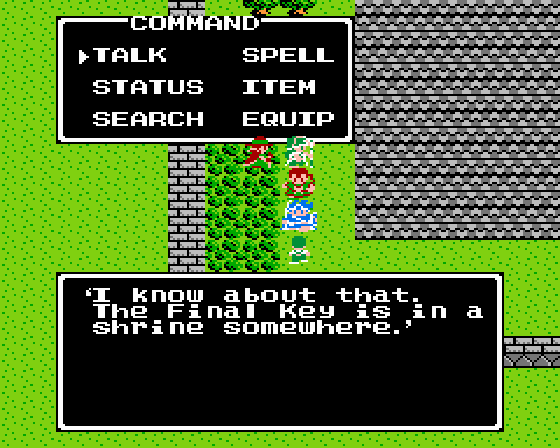 : Not the shrine in Lancel for sure, though.

: Right, it must be that sunken shrine somewhere in the ocean.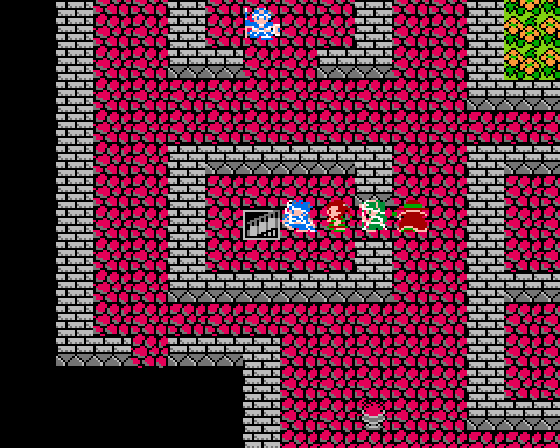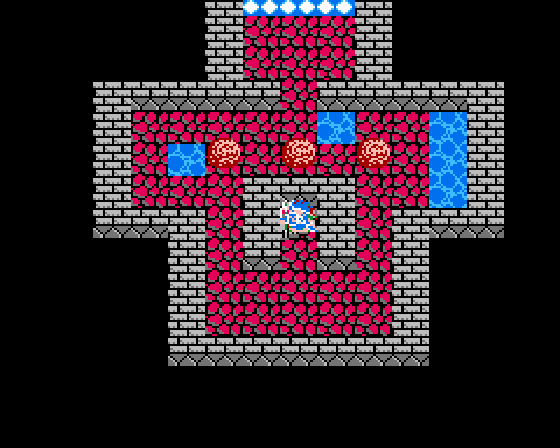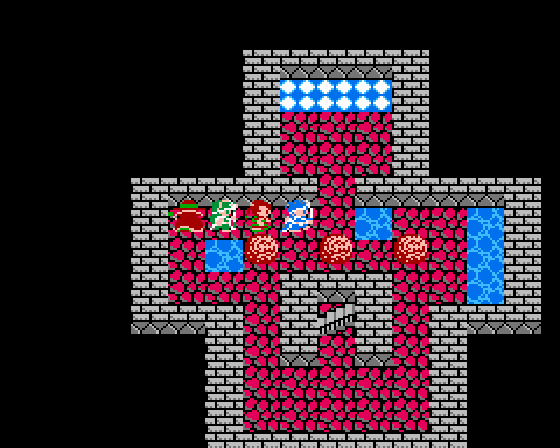 Ah, that's some basic Sokoban right there. Let's see...
We maneuver the three boulders around so they each cover one of the blue and white tiles in the north. A secret passage opens.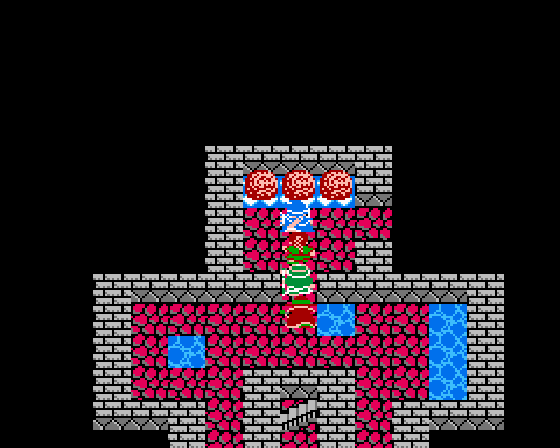 : Hmm! Nice work, Zofia!

: Decent pushing, too!

: Ha, don't mention it.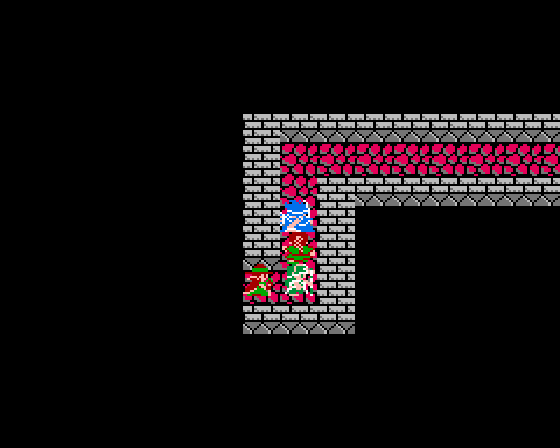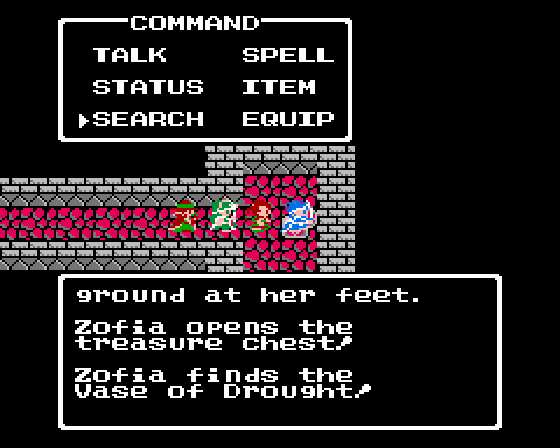 : Well I'll be. We didn't even have to kill anything to get it!

: That's nice and all but we still don't know where to use it.

: In due time, I suppose.
I don't expect we'll ever have a reason to come back here, so we might as well see if anything's different at night right away. However, using the Lamp of Darkness warps us to the entrance of the castle, so we actually have to Return to Lancel for another Invisibility Herb. Both Lancel and Eginbear are on the Return destination list though, so it doesn't take long.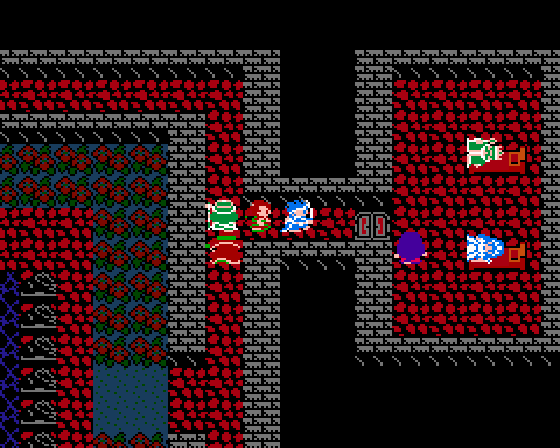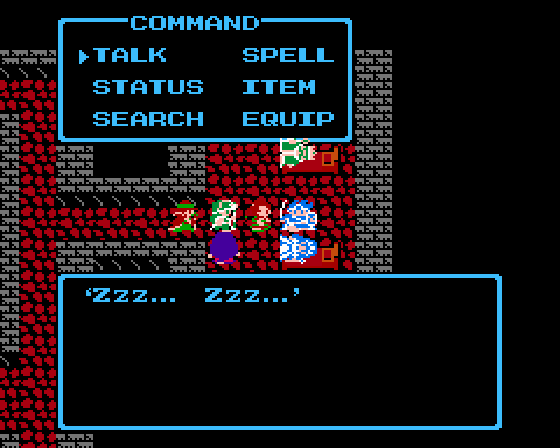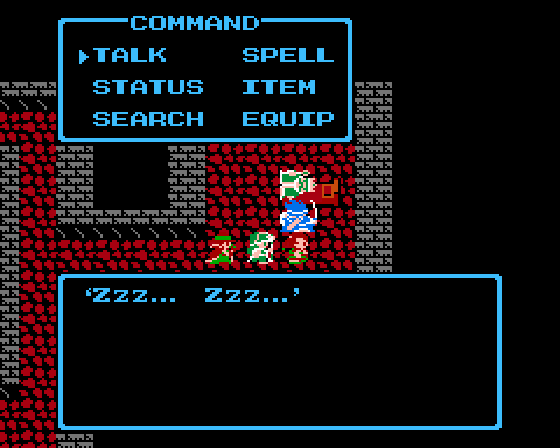 : Isn't it a little strange that they're both sleeping in-

: Yup.

: Hmm-mmm.

: Maybe more than a little.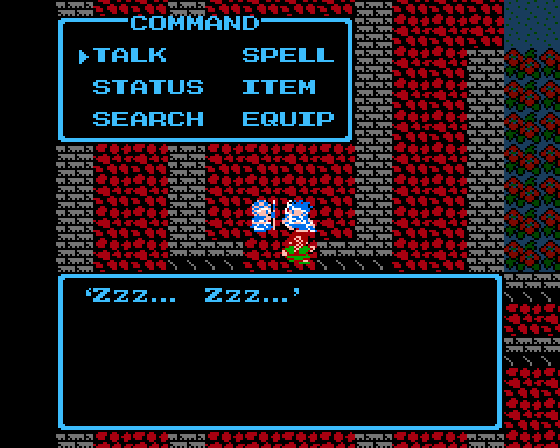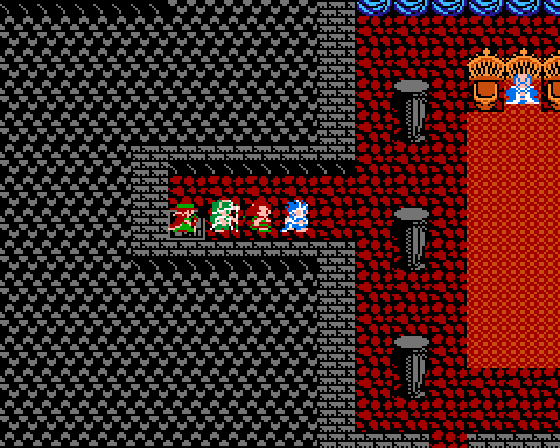 As we enter the throne room...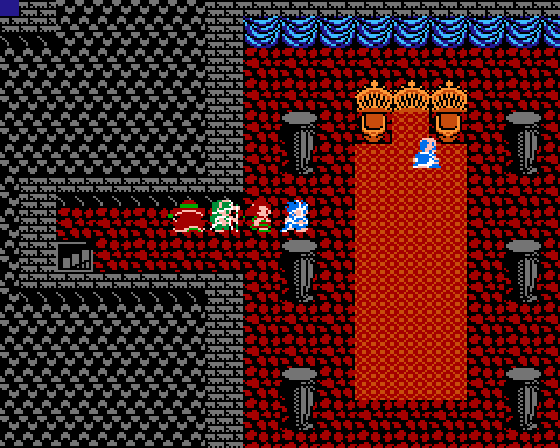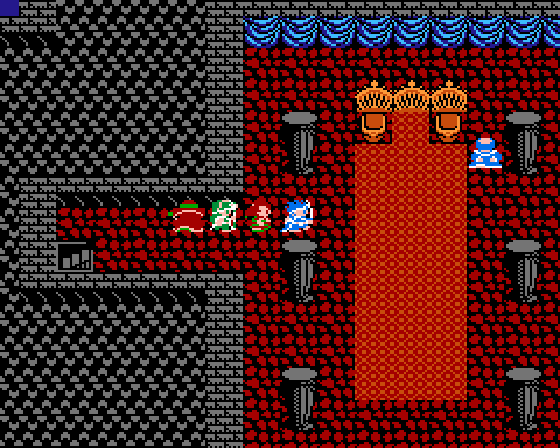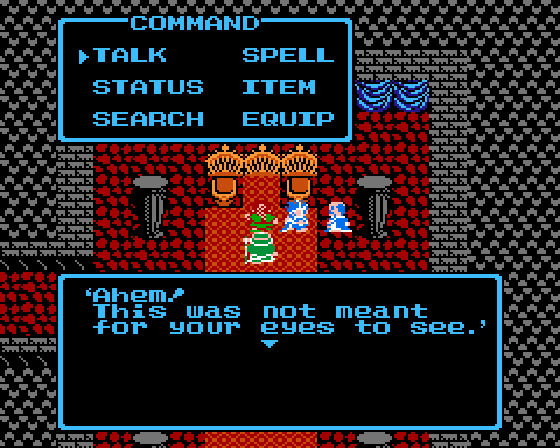 : Easy there, we don't actually care.

: Can you keep it to yourself?

: Sure.

: If you do, I'll tell you this instead. On the shore of the continent to the west is a small field surrounded by trees. I'd go there and see what I find.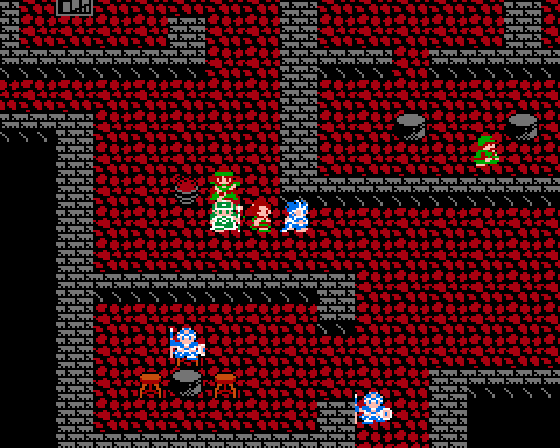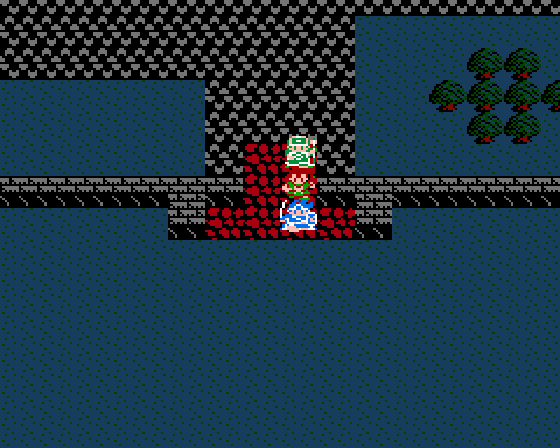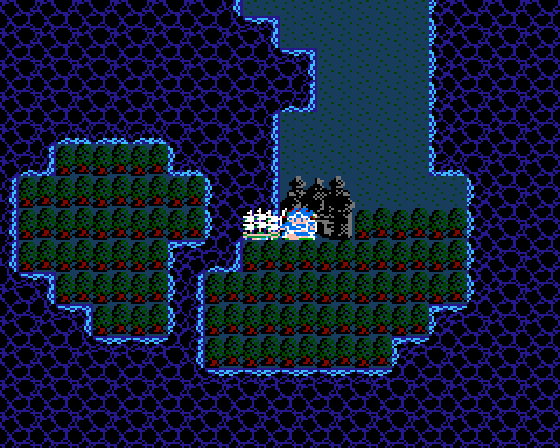 So! We still don't know where exactly we need to use the Vase of Drought, but we'll have it whenever we do find the place, and we got ourselves a few nudges towards exploring America besides. With only a single Orb in our hands, and with the mystery of the volcano unsolved, we can only hope this new continent holds answers for us.