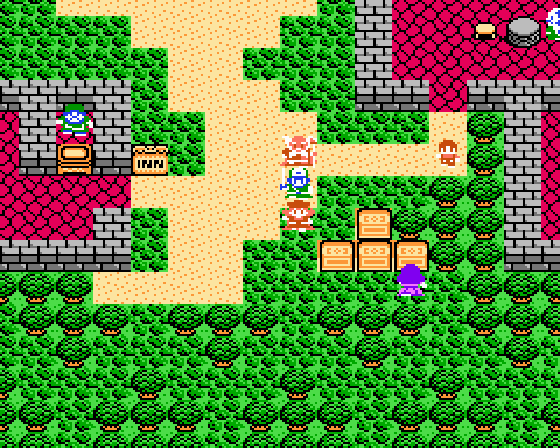 : So, a monster, then.

: There are monsters everywhere nowadays, this is no surprise.

: All the more reason to thin their ranks a little.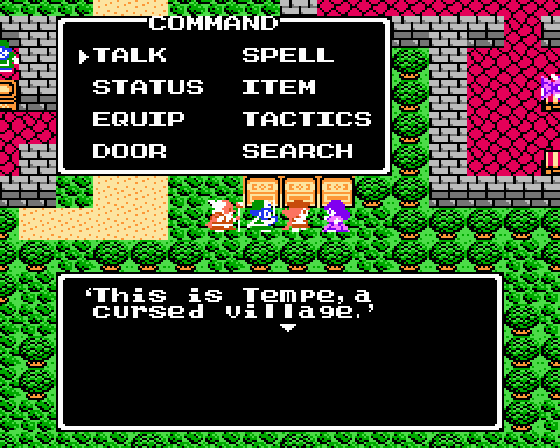 : Whatever do you mean?

: If my daughter hadn't been born here, she'd still be alive.

: Brey, why is there a cursed village within a day's travel from home and why hasn't dad done anything about it?

: Hmm, ah, well... Maybe if they had sent word...

: I don't think much of this answer.

: At any rate, we're as close to a royal envoy as has been here in a long time. It can't hurt to find out what's happening.

: You're not helping, boy.

: Actually, he is. And so are we.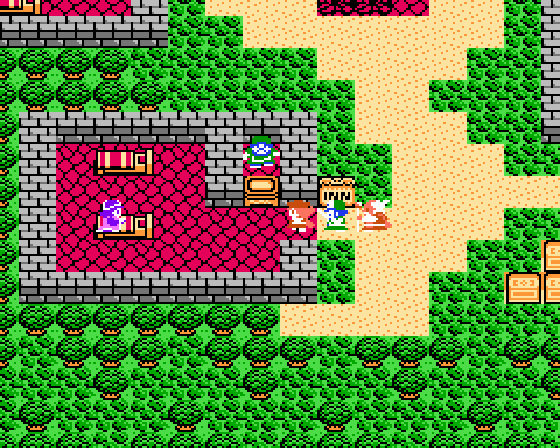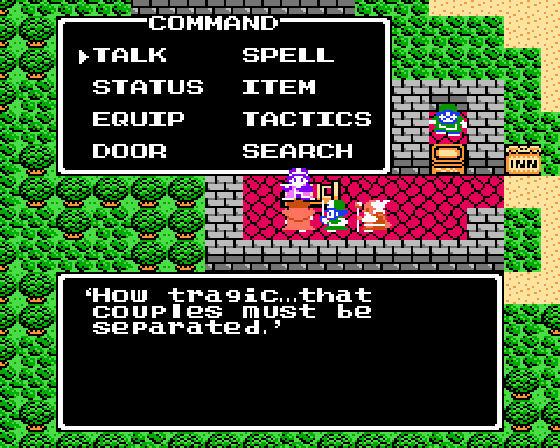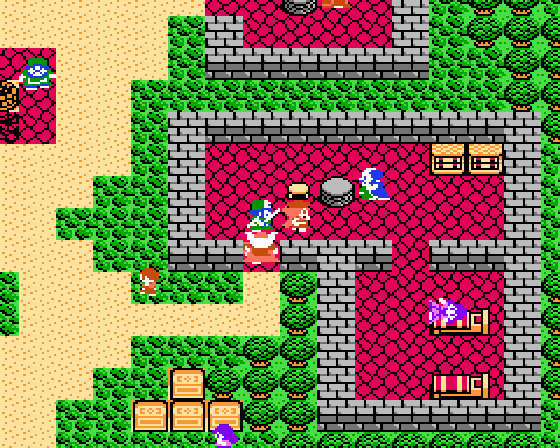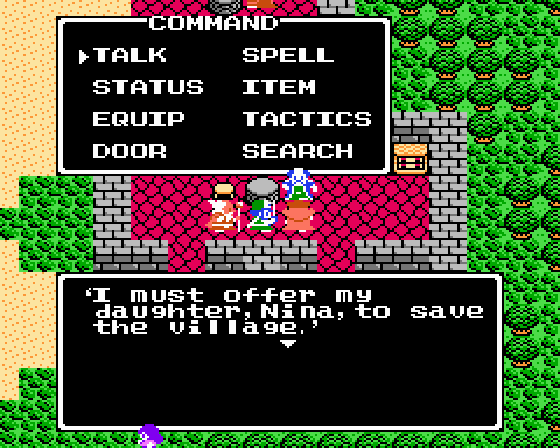 : Eh? That's nonsense.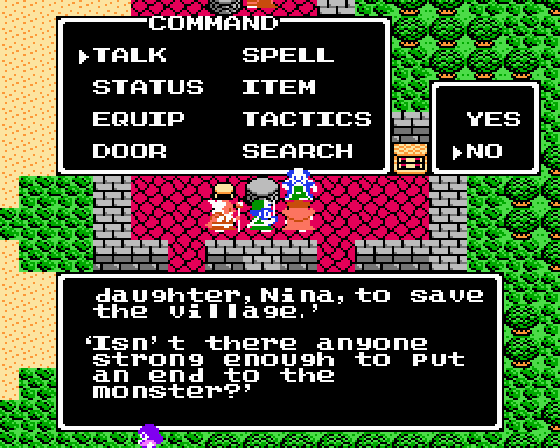 : I-

: Princess, we really should find out what we're up against first.

: Brey, we're doing this.

: Give me one day. Please.

: Ugh. Fine.

: I understand...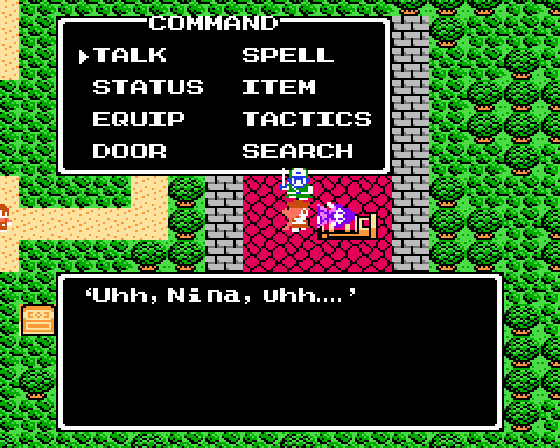 : One day, Brey.

: ...
This merchant is aimlessly going around the well.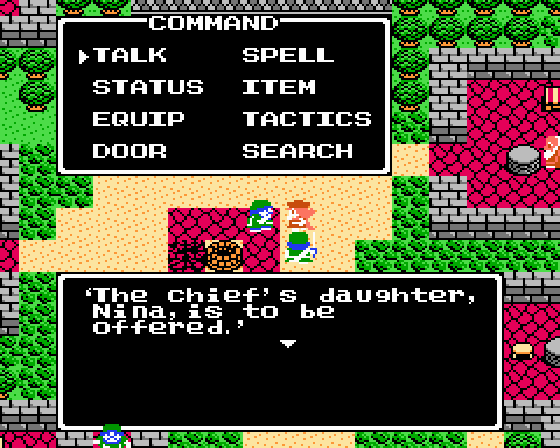 : My son was going to marry her...

: So, an Orochi situation, then.

: This girl is strong but she wouldn't be a match for Orochi.

: Well, this small village doesn't compare to Jipang. Hopefully the creature will also be less threatening.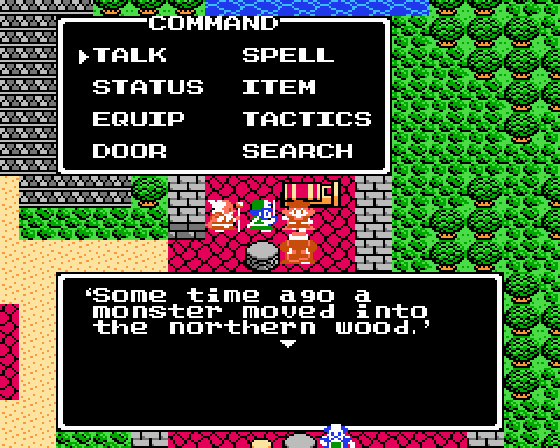 : He threatens to destroy the village if we don't offer him young girls.

: That's despicable!

: Which is why we're doing something about it.

: ...

: Even you have to agree. This can't continue.

: Ah... you may have a point there. Still, to put you in such danger...

: What kind of princess am I if I can't even protect my people?

: That's your retainers' job.

: I don't see any of them around here, do you?

: We're with you.

: We'll suffice, then.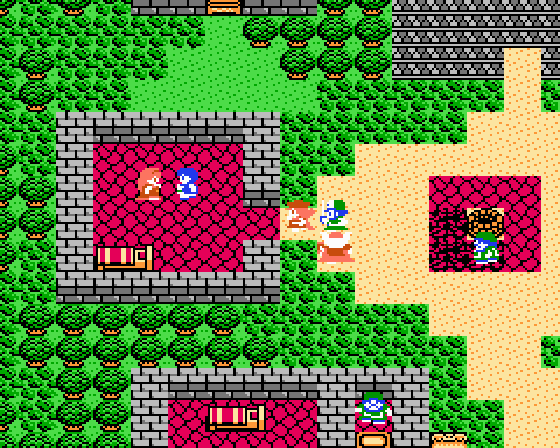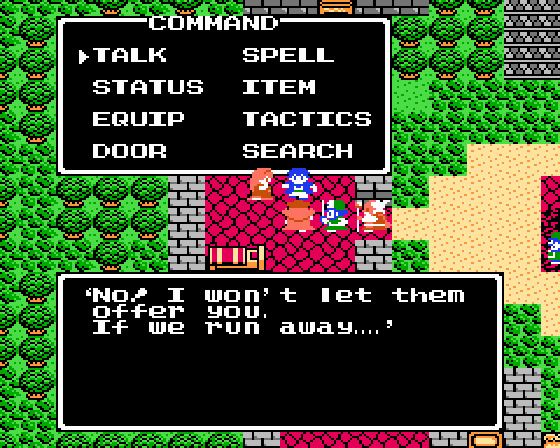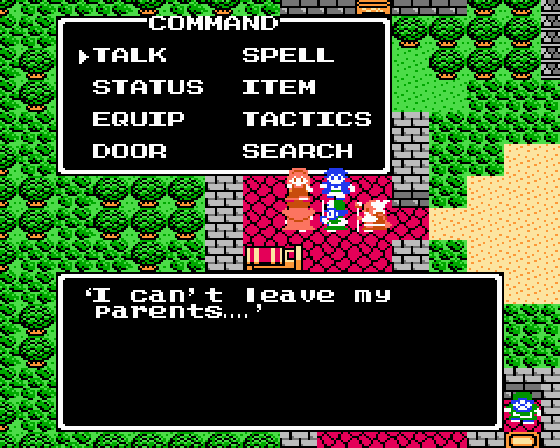 : What a brave and dutiful young lady.

: Nah, her boyfriend has a point.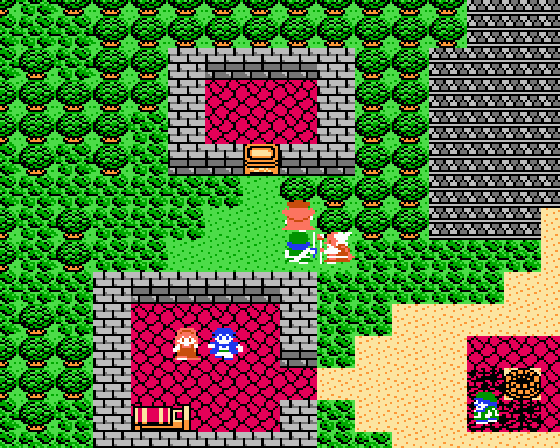 The shopkeep is obviously too distraught by this monster situation to man his business right now.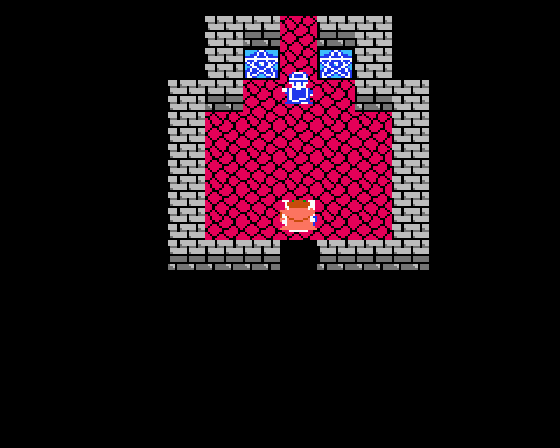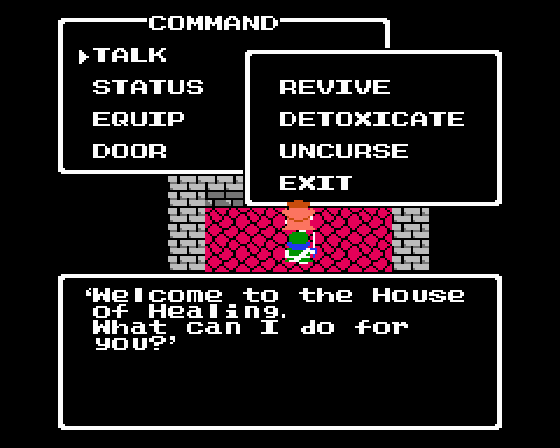 Huh, this House of Healing doesn't offer us to save. Aaanyway, let's get into a few tussles until sundown.
We get in a fight with a bunch of Kaskos Hoppers, and they seem to exclusively target Brey. I wonder if there's an AI routine that causes certain monsters to pick on our back row. Anyway, he levels up from it, for 2 Agi, 1 Int, 3 Luc, and 5 MP. The extra IceBolt casts are welcome, but it's distressing to see him fail to gain any HP.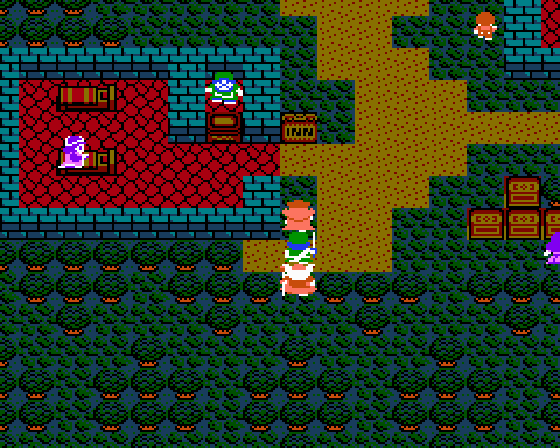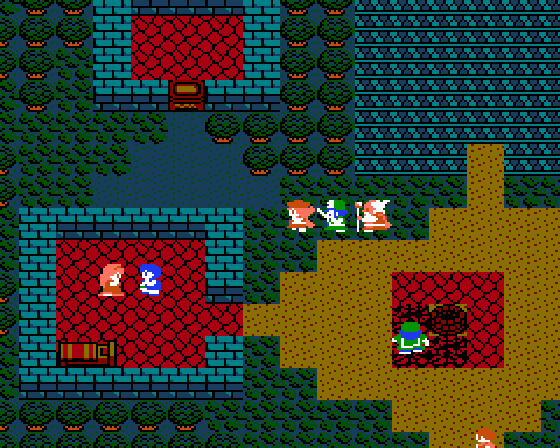 Tempe's pretty much the same at night. The next step is to pledge our assistance, but we have 191 gold in our purse at the moment, which is enough to buy Alena a Leather Armor in Surene. And I do believe we'll need it! Maybe we'll even pick up a level from the round trip as well.

Yup, all Kaskos Hoppers definitely have it in for Brey. Good thing we got him that shield!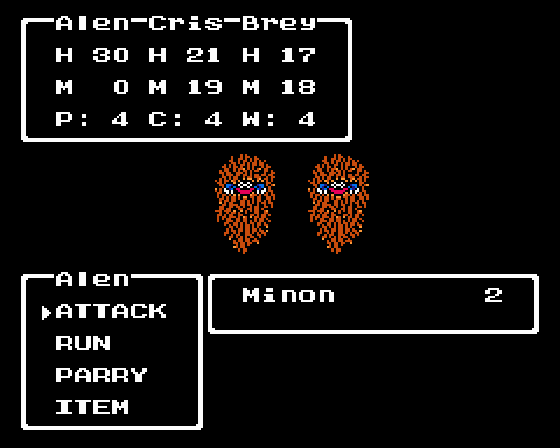 Minons have up to 16 HP, 8 attack, an unusually high defense of 22, and 8 agility. They also come with the Lethal Gopher's build up ability, compensating for their low attack. You'd think they're here to teach us how effective magic damage is at dealing with high-defense monsters, but they resist two IceBolt casts, so I presume they're here to teach us to use Sap instead.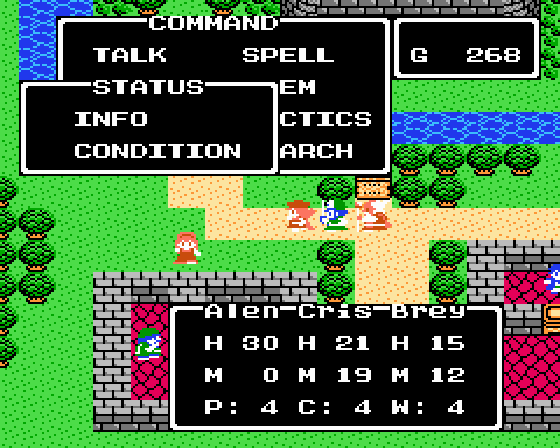 We have 268 gold by the time we reach Surene again, so we actually get Alena a Thorn Whip first, taking her attack power from 25 to 32. Selling her Club and her Silk Robes will almost get us back to 180, so we pick a couple fights outside and earn enough for that Leather Armor as well.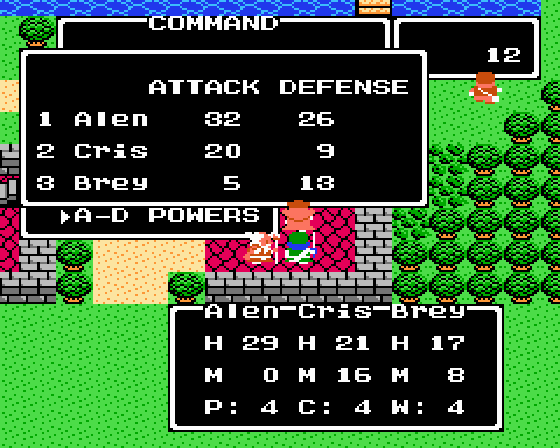 Cristo could really use a defense upgrade at this point, so he's next in line for a big purchase. Let's see if we can do without for now, though.
On our way back to Tempe, Alena levels up, for 2 Str, 2 Agi, 2 Vit, 1 Int, 1 Luc, and 6 HP. Cristo follows again, for 1 Str, 1 Agi, 2 Vit, 1 Int, 3 Luc, 4 HP, and 2 MP. And just before we reach town, Brey gets 2 Agi, 2 Vit, 1 Int, 2 Luc, 2 HP, and 3 MP.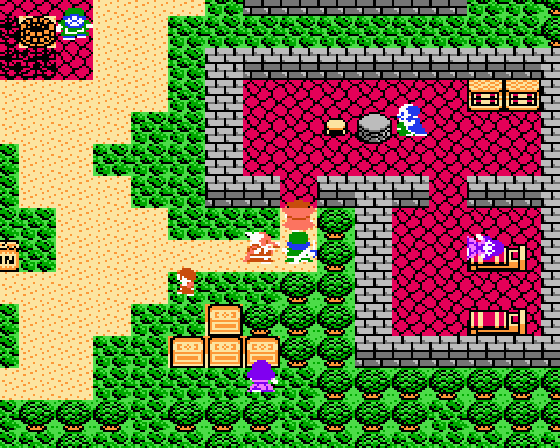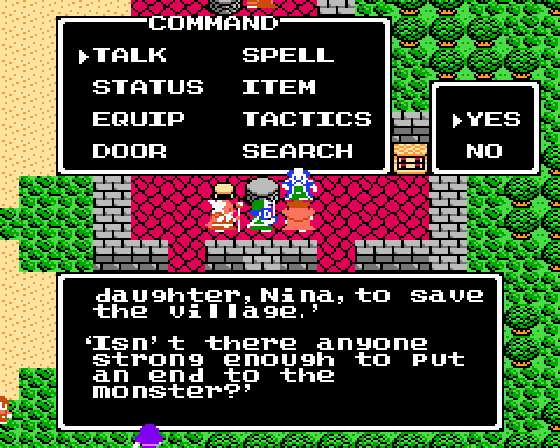 : We'll do it!

: Oh! You will? If that's true, please go see the shaman!
That's... the House of Healing attendant. Which is to say, the priest. Huzzah.

: Alright then, are you the man to see about that monster?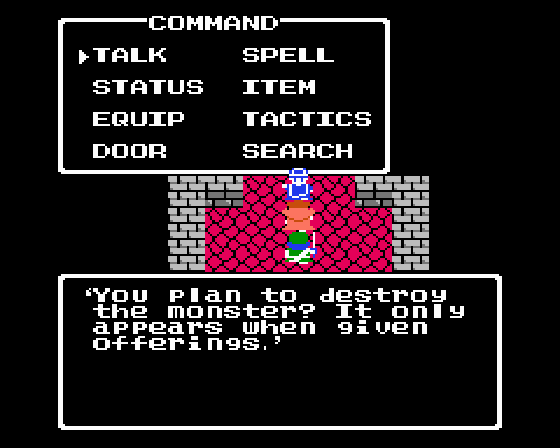 : Are you willing to be given as an offering?

: Are you quite MAD?

: Sir Brey, it would put us in prime position to make the first strike!

: Yeah, we're doing it. What's the procedure?

: You are? Please wait awhile. The offering litter will arrive soon.

: The... off...?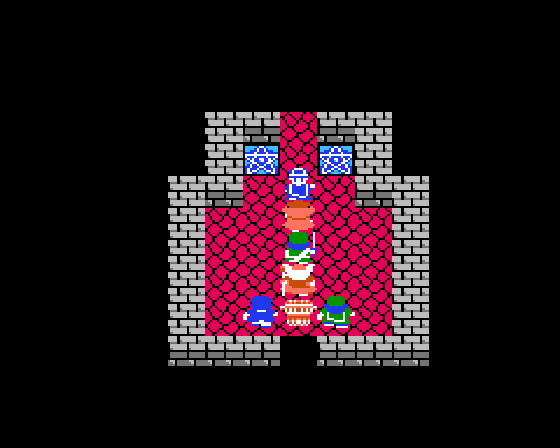 : Get in the offering litter, please.

: Oh, what joy it is to have lived a long enough life to hear someone tell you to get into an offering litter.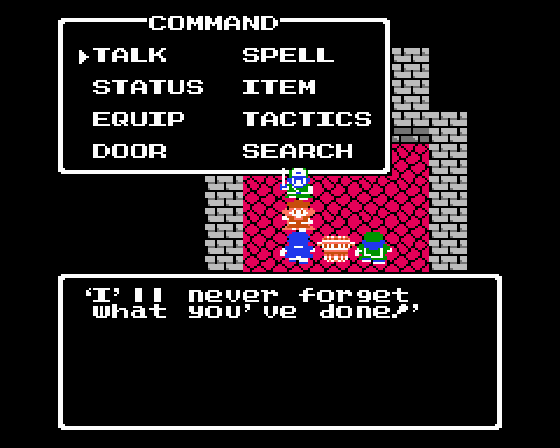 : Neither will my spine, I wager.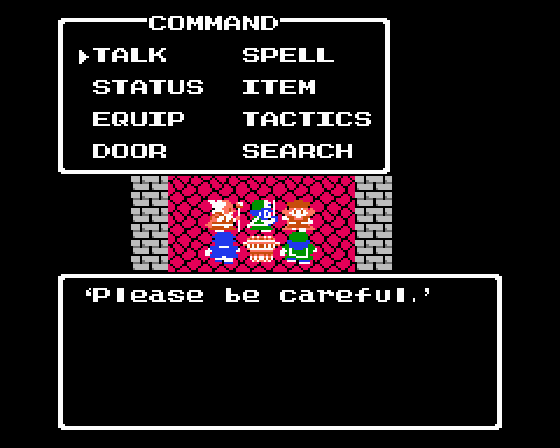 : Words could hardly fall on deafer ears!

: Less complaining, more tucking yourself in. I need to come out first, so I'm getting in last. Come on!

: This... this wasn't built for three people! There isn't much... Ah! Oh dear.

: Oof!

: Alright, we're all set in here. Do your thing.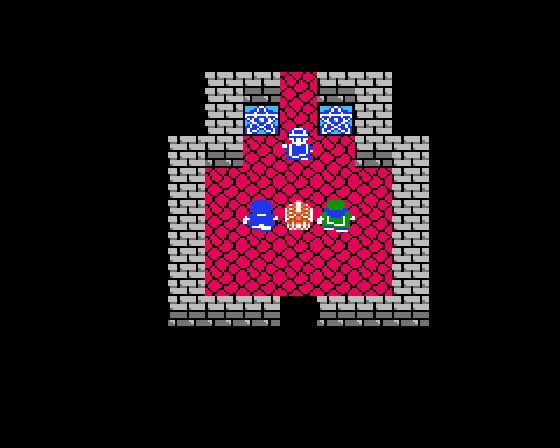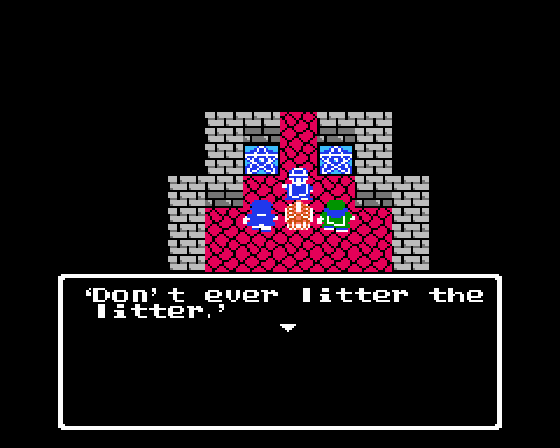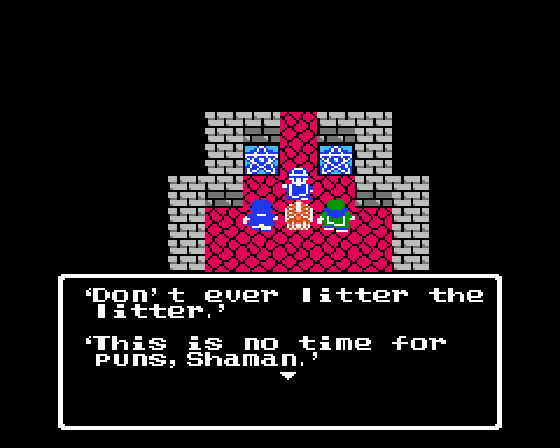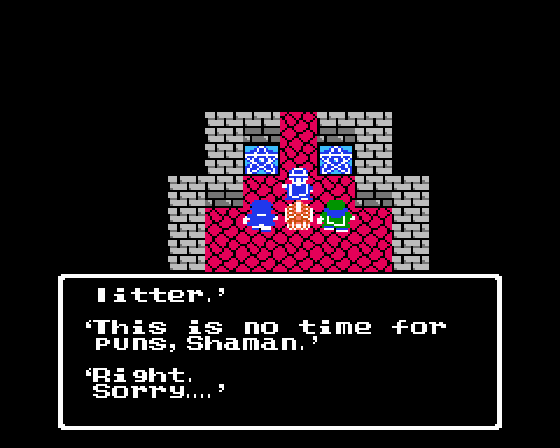 If later games in the series have taught me anything, it's that it is in fact always time for puns.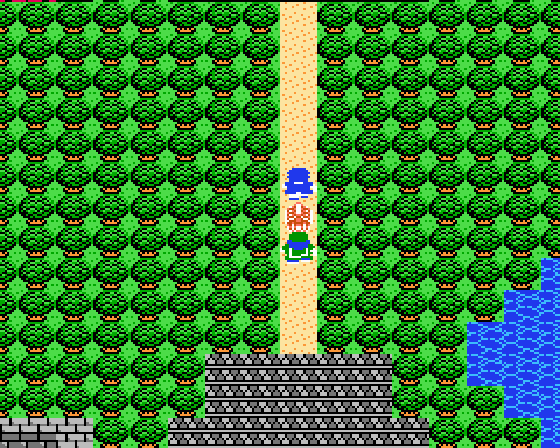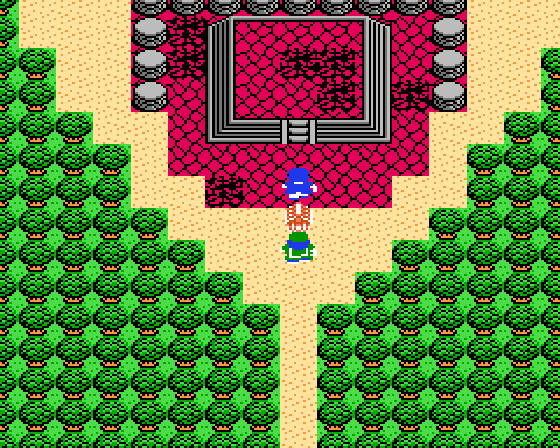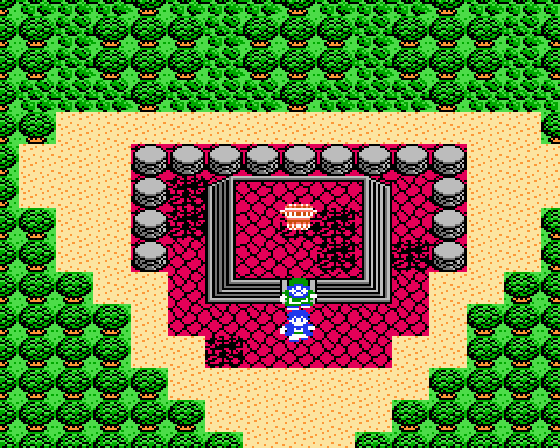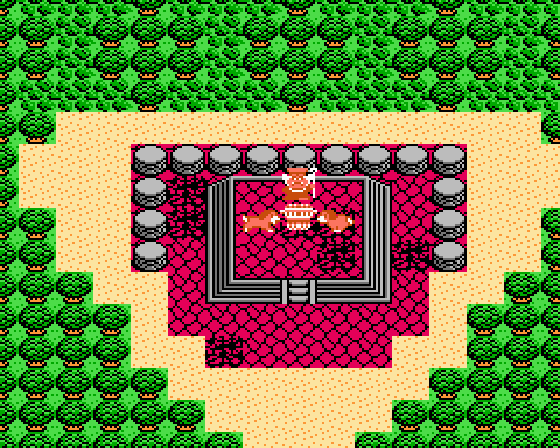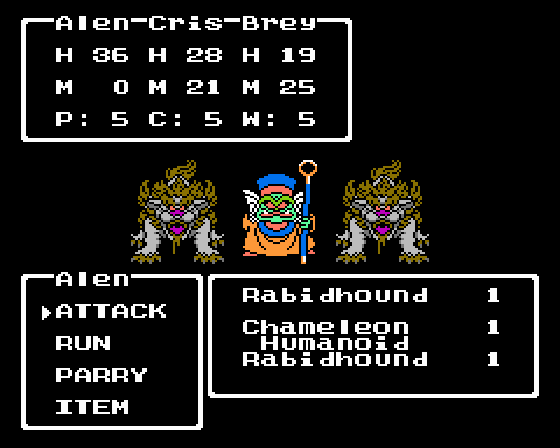 The Chameleon Humanoid (fit that in your text boxes, other JRPGS of the era; I'll wait) has 40 HP, 28 attack, 28 defense, and 50 agility. He has the same sleep-inducing attack as Bantam Roosters, and may also cast Heal if you let him live long enough to.
Getting rid of the two Rabidhounds is your first priority, which we accomplished easily by comboing Alena's whip strike with IceBolt while Cristo did his best to bolster his and Brey's defenses. Once the pups are out of the picture, it's all about landing a Sap then going nuts with IceBolt and standard attacks while healing as needed.
Shame about Cristo getting taken out, though; the Humanoid really had it in for him. Experience distribution is back to the way it was in DW2, which is to say you're not given a lump sum divided among living party members. Everyone gets the full amount instead, which means that the experience Cristo would have gotten is lost entirely instead of being shared among his surviving comrades. That's a bummer, but it's the price I gotta pay for not upgrading his armor.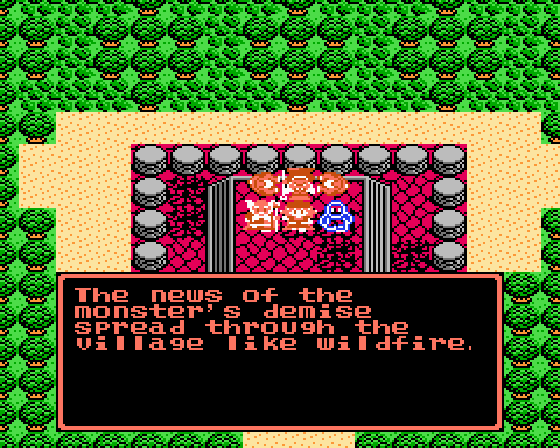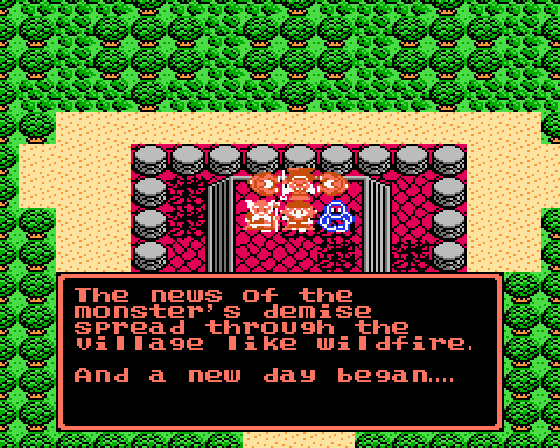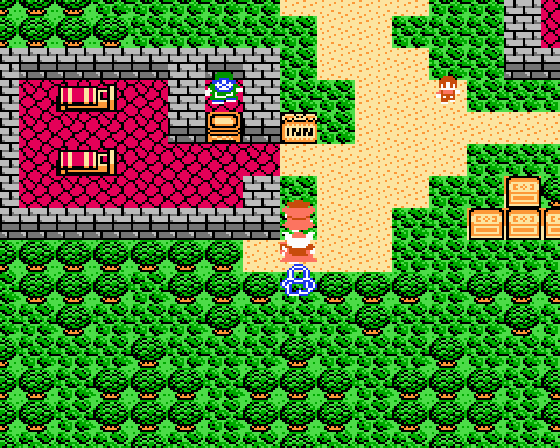 When the game says "And a new day began...", it does reset the time of day to morning.

: Well, we did it.

: You know this won't come cheap, princess. In fact, it already hasn't.

: Can't you be happy about what we've accomplished? A little bit? At all?

: Hmm. I'll... try.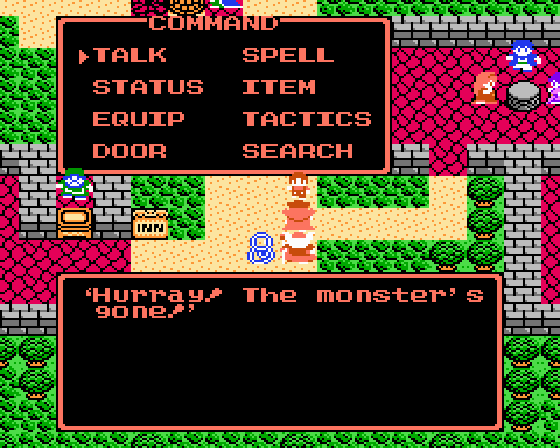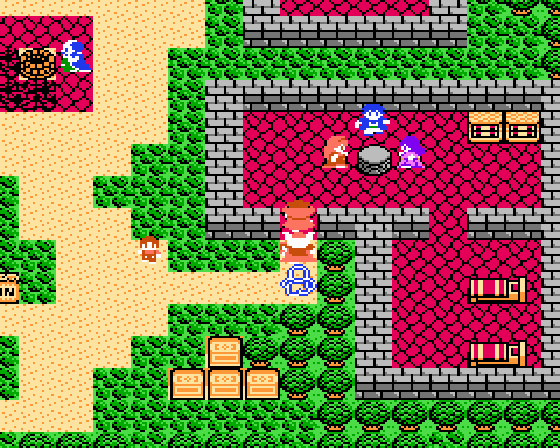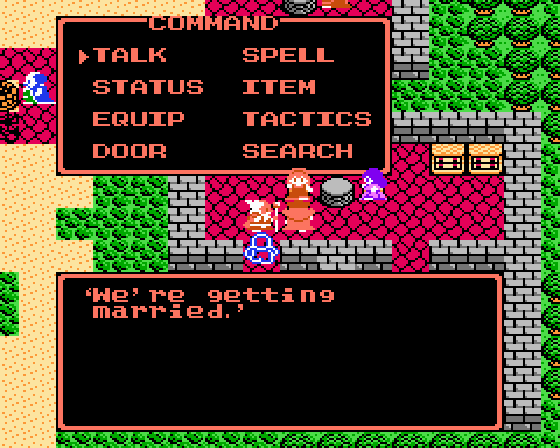 : Congratulations!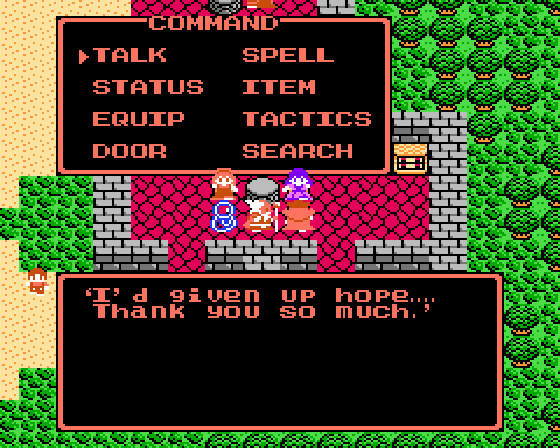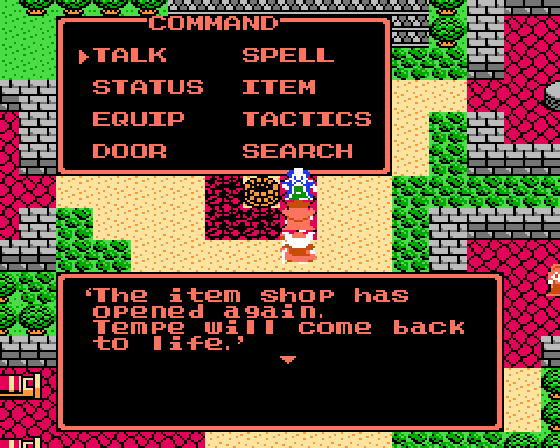 : Thank you.

: I'm just glad we could help.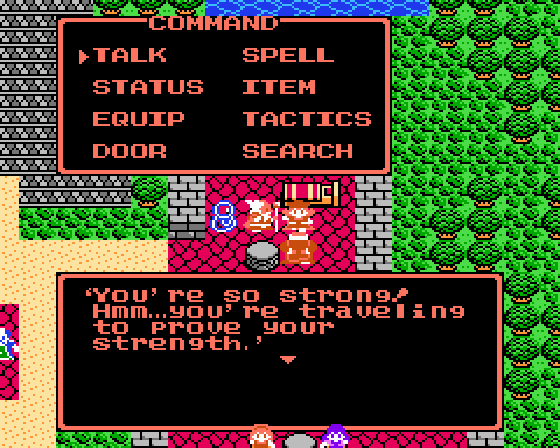 : That's right! And I think this has been a great start!

: I suggest you enter the tournament at Endor in the east.

: ...!

: Oh no.

: A... a tournament?

: Ooooh no.

: You can go to Endor from the shrine southwest of here.

: That's... quite a ways from the castle, princess.

: Brey, look at me. Look at my face.

: Eh?

: This is the face I make when I don't care about your recriminations.

: So, same as always, then.

: You're a smart man.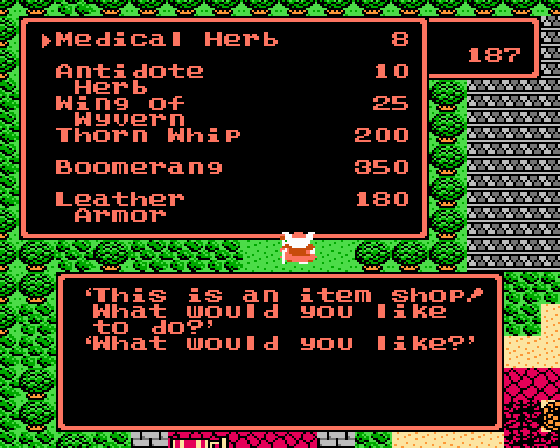 Anyone can equip a Boomerang so it'd make a decent purchase... but we need to revive Cristo and get him real armor before we can even think about it.
Oh, before I forget... The Chameleon Humanoid is guaranteed to drop Lifeforce Nuts, which increase one ally's max HP. It would be foolish not to give them to Brey.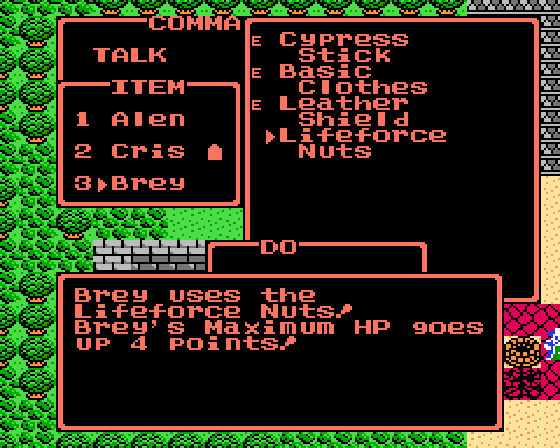 That's extremely welcome.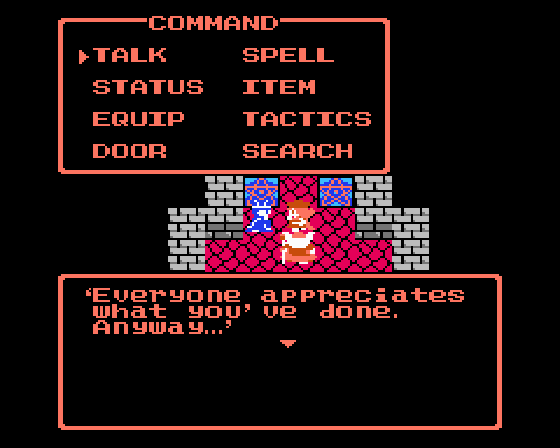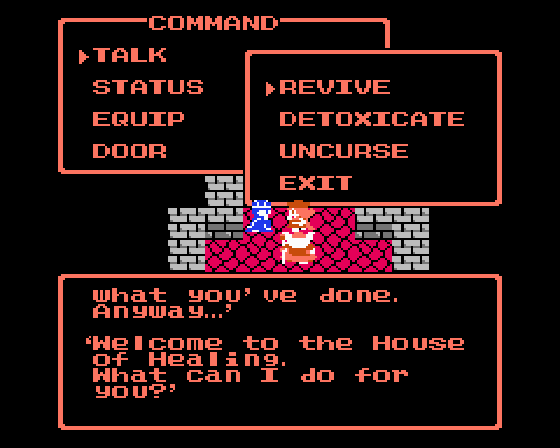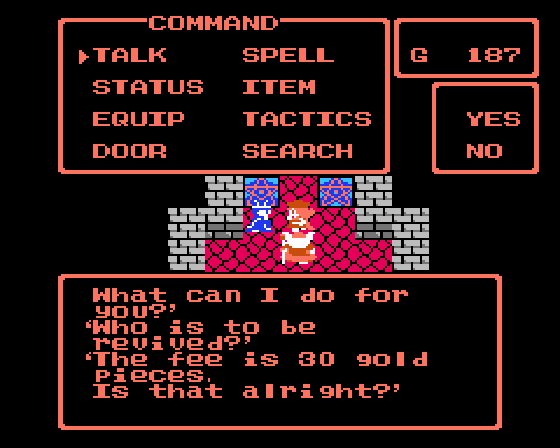 Whew, that's not too bad.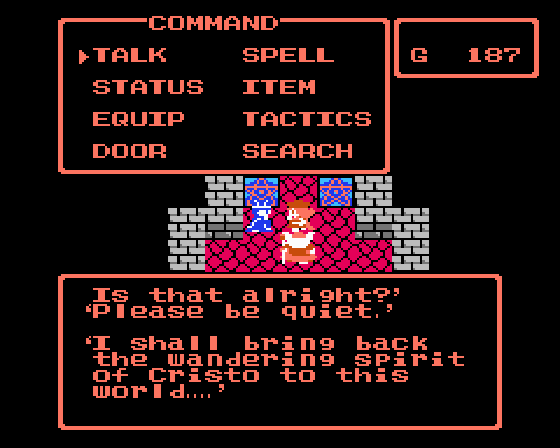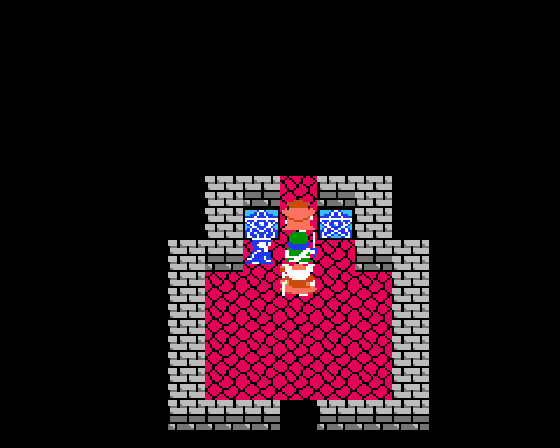 : ...is it dinner time already?

: Not for those monsters, that's for sure.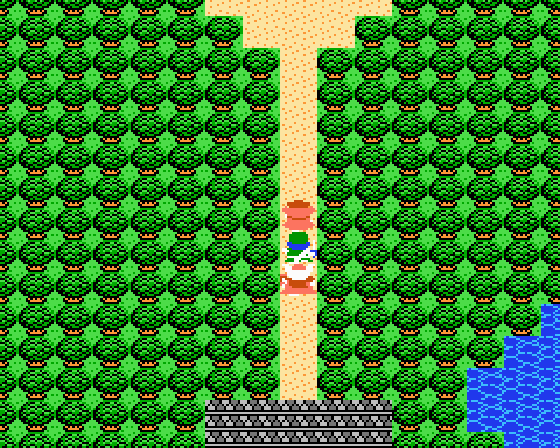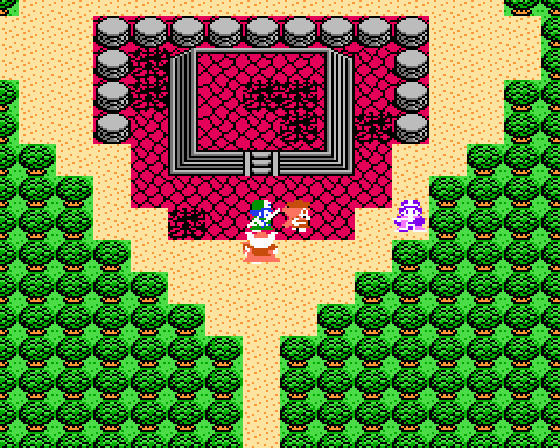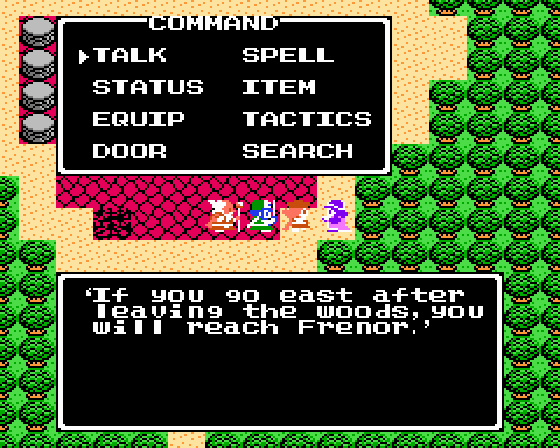 : Oooh. Is that on the way to Endor?

: Yes, I believe so.

: Endor? What do we care about Endor?

: There's a tournament going on!

: Oh! How exciting!

: Please don't encourage her.

: Well, someone has to.

: ...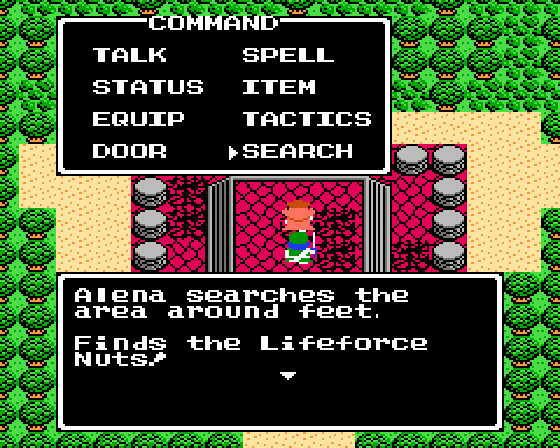 Searching the middle of the offering dais reveals more Lifeforce Nuts! They go straight to Brey again, for 5 HP this time.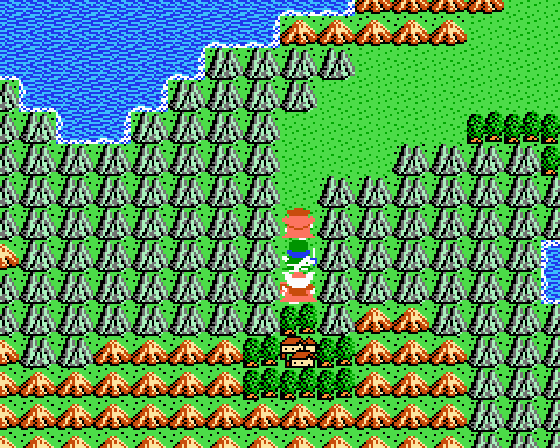 Leaving the village through the north leads us to this mountain pass.
This whole Tempe episode shows a bit of playfulness with the game structure here: we had a tough boss fight, but we haven't even been through a single dungeon yet. We've basically been tested on whether we know how to use support magic and how to pick good equipment, but this party's endurance hasn't been put to trial yet.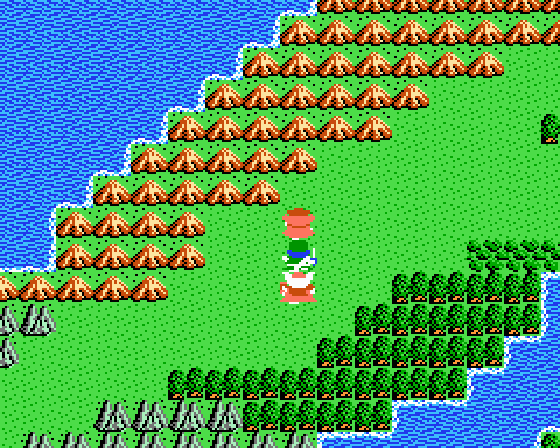 Oh cripes, these guys are total bastards. Blazeghosts have 12 HP, 11 attack, 12 defense, and 8 agility, with the ability to cast Blaze (of course), but that's not the whole story. Have a look at this.
From the beginning of the entire series, these are the very first monsters with any combat animation whatsoever. That's the cool part.
The not-so-cool part is that Blazeghosts have a very high evasion rate, and when they dodge an attack, they have a chance to split in two, essentially adding another Blazeghost to the fight at no action cost on their part. Blazeghost fights can go sour very quickly! Fortunately they're either completely vulnerable or only slightly resistant to ice damage, so Brey's magical prowess comes in handy here.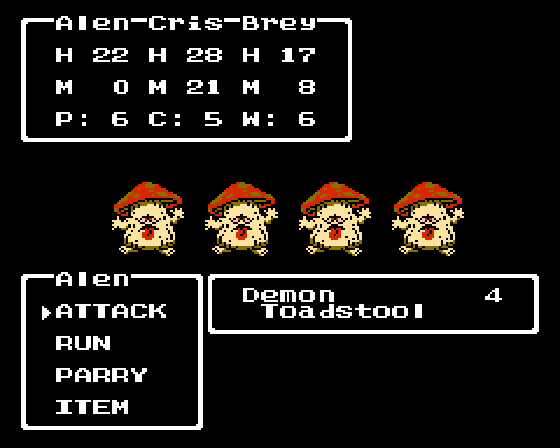 Gah, Demon Toadstools are back. They have 19 HP, 19 attack, 15 defense and 10 agility, with a Babble-like poisonous attack. I didn't think to pick up Antidote Herbs when we had the chance, so we're gonna have to cross our fingers.

Whew.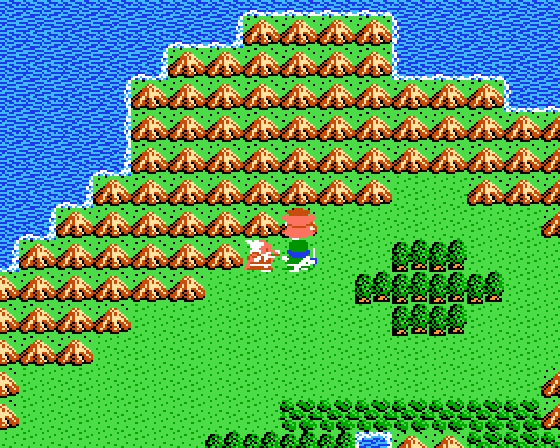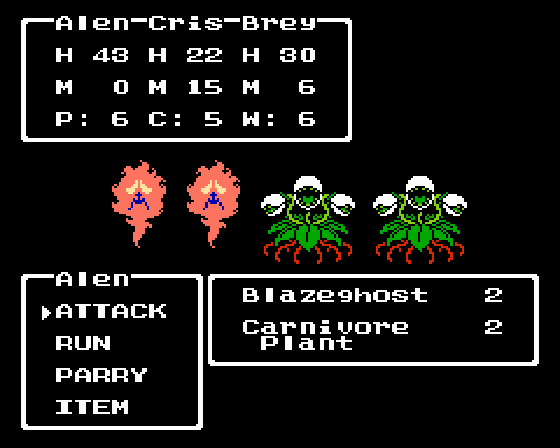 Carnivore Plants have 17 HP, with a decent 21 attack, 16 defense, and 4 agility, and the ability to summon Healers to the battle. Here, Alena and Cristo hack away at the Plants while Brey eliminates the Blazeghosts.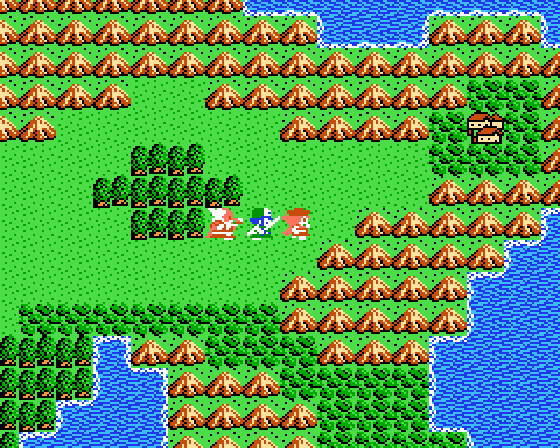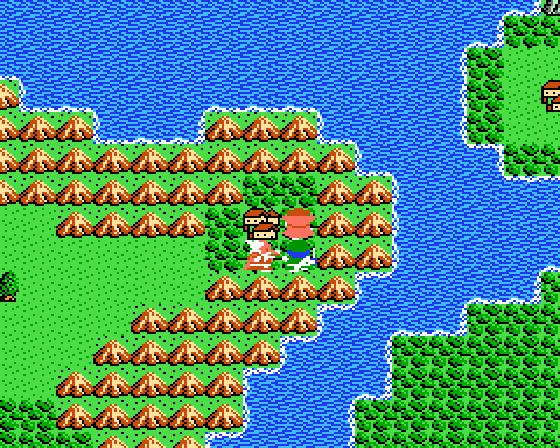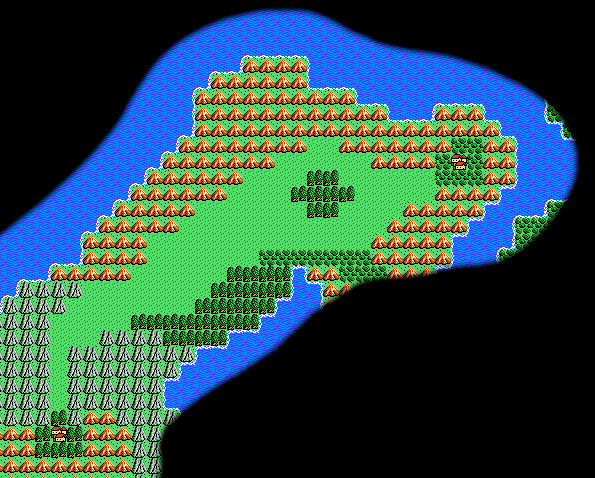 Brey only has 2 MP left, so that's a welcome sight.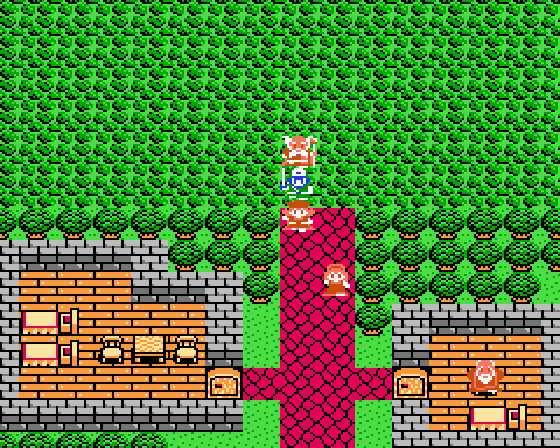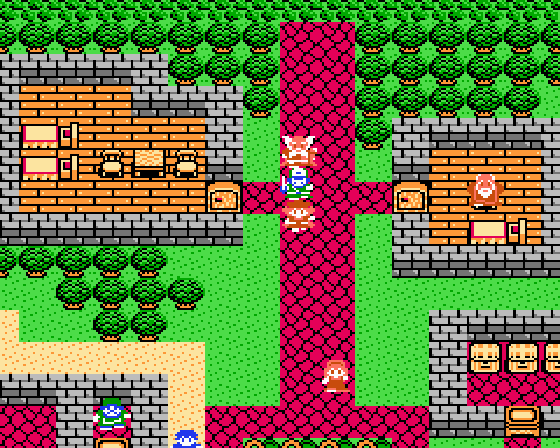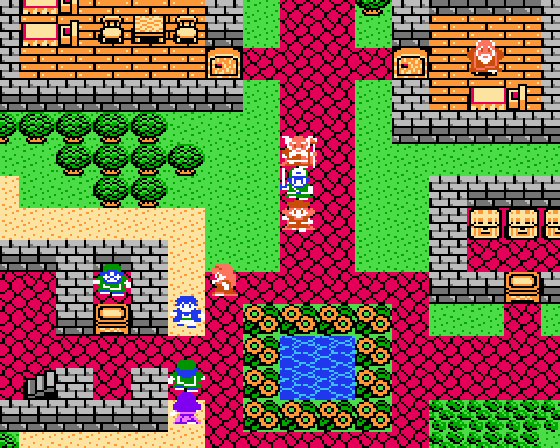 As soon as we reach town, we see a woman running off to the south, joining a few townsfolk gathered around the inn's front door.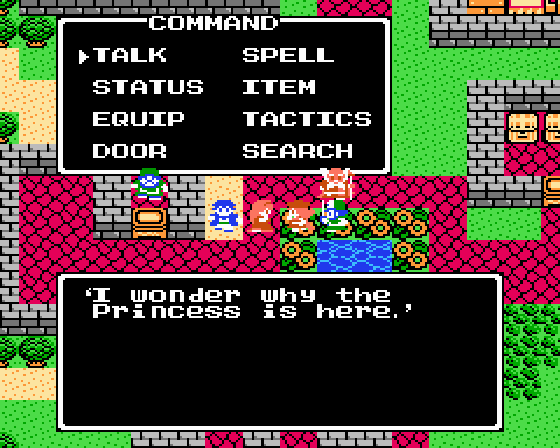 : Oh, I-

: Wait...

: Hmm.

: Eh?

: The Princess, you say?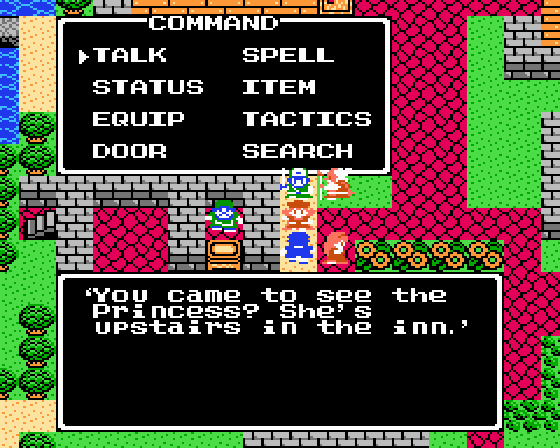 : I see... Thank you, young man.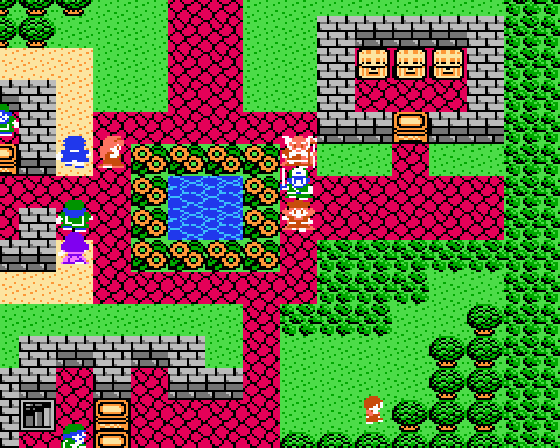 : What the heck?

: Could this be a visitor from another kingdom?

: The king of Endor has a daughter, but considering the monster population these days, I can't imagine he would let her out of his sight.

: Well, at this point I could imagine it a little.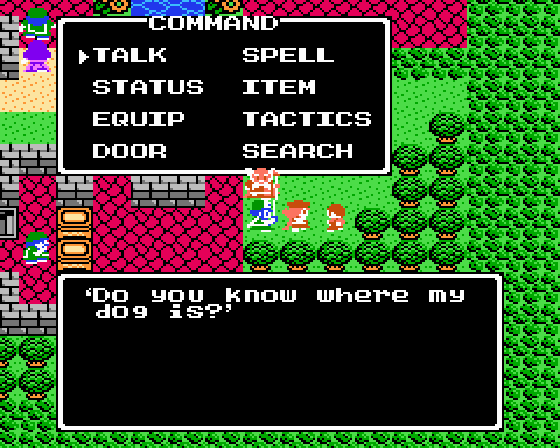 : I'm sorry little boy, I don't. But I'll let you know if I find him!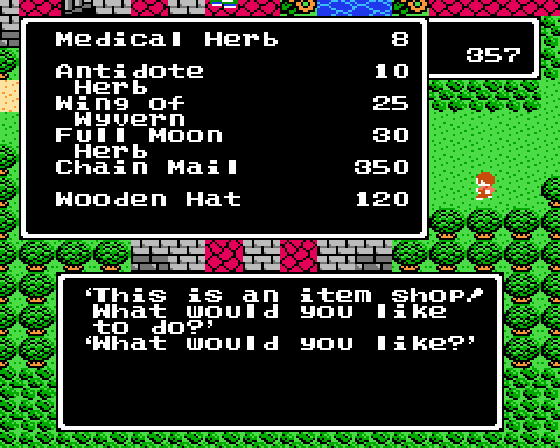 Ooh, the item store here actually has a small selection of defensive gear! I know I said we were getting Cristo something, and we could get him a suit of Chain Mail, but it's the best armor Alena will be able to wear for a long time, and we can afford it, so we get her a set. Cristo does inherit her Leather Armor, and he can pass down his Wayfarer's Clothes to Brey, so everybody wins. Both Cristo and Alena can wear a Wooden Hat, but we'll only need one because Alena's Feather Hat is better.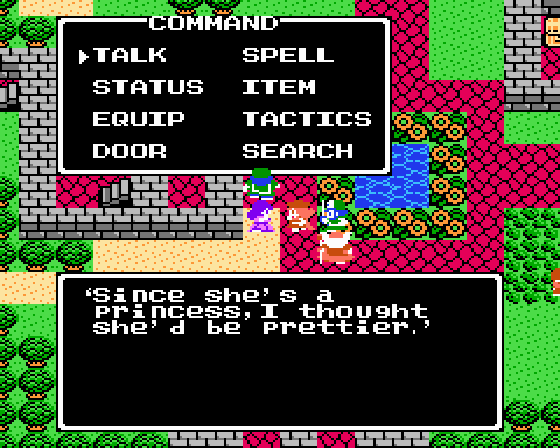 : What does that have to do with anything? It's not because you have royal blood that you have to be attractive.

: A-all the princesses I've ever met are very beautiful.

: Hmm? Did you say something, Cristo?

: Oh, uh, n... nothing. Don't mind me please!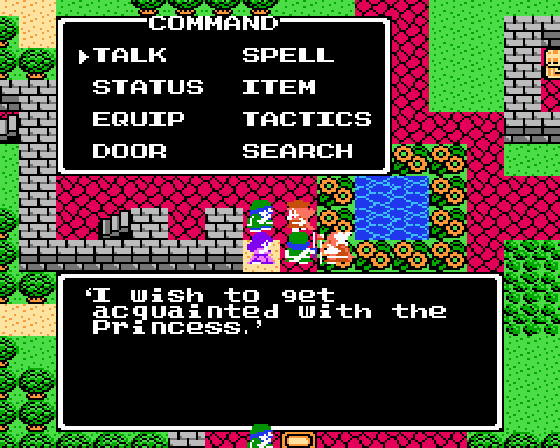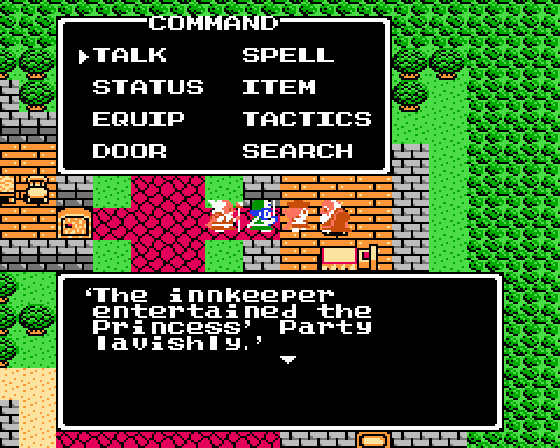 : I might offer her my small savings too.

: Sir, please don't. Trust me. If she really is a princess, she doesn't need your money.

: Huh. I didn't know what to think at first, but this is definitely beginning to stink.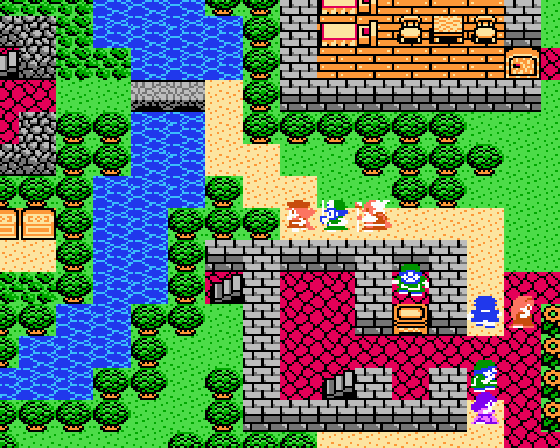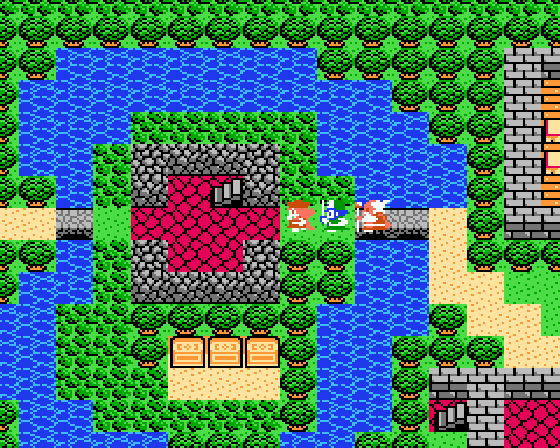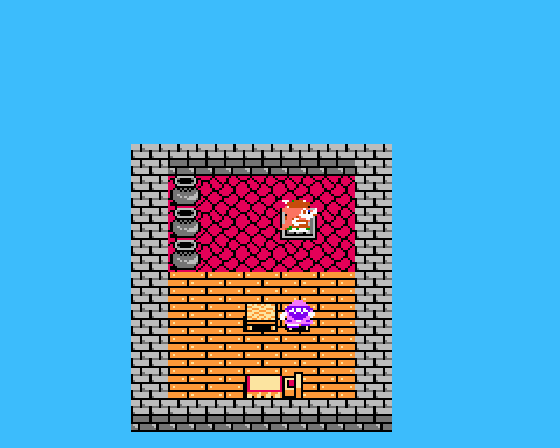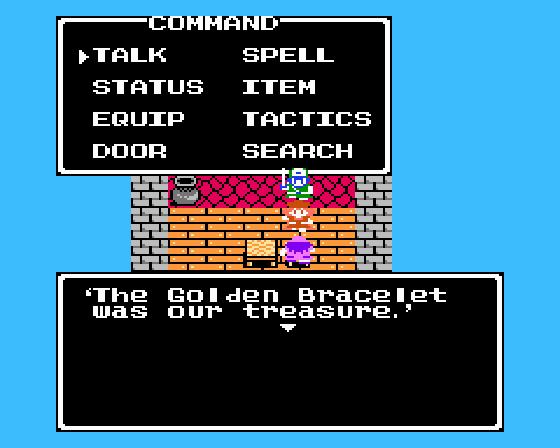 : It caused too much conflict among us and was finally hidden away in the southern cave.

: Hmm! A wise course of action.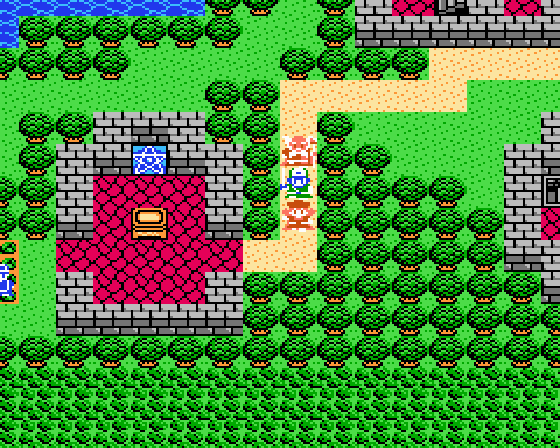 As we approach the House of Healing...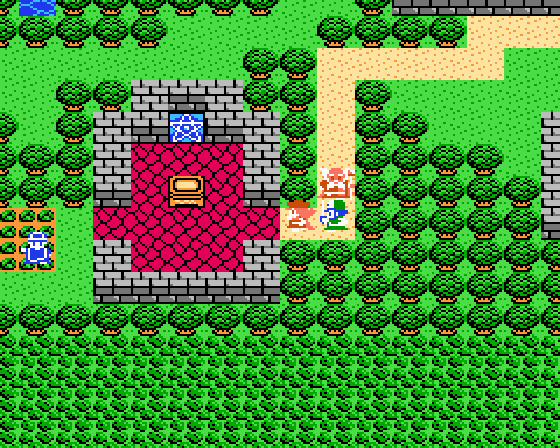 ...we can see the priest tending to his garden. Once we actually enter...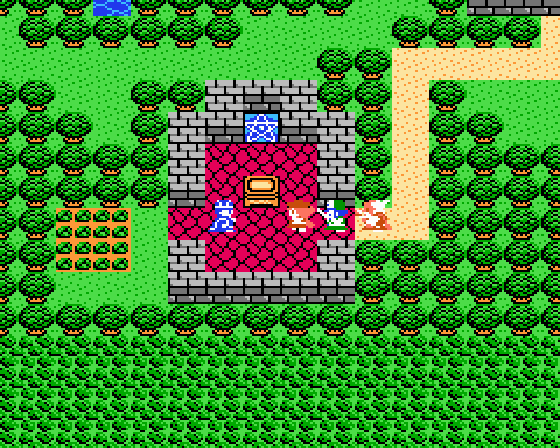 ...he runs inside to greet us. This is so neat. There's no reason to have the local healer look after his cabbages while business is slow, except for it being neat, and it is!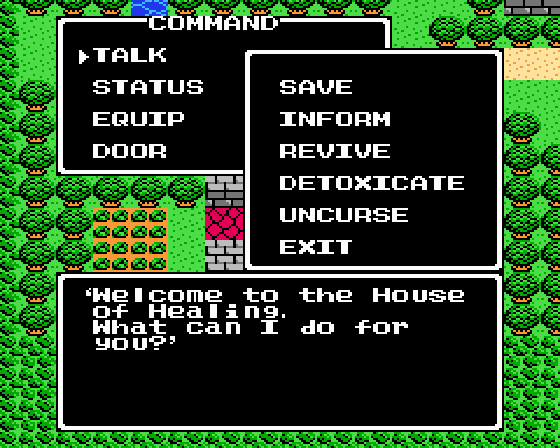 It's a regular House of Healing in every other respect.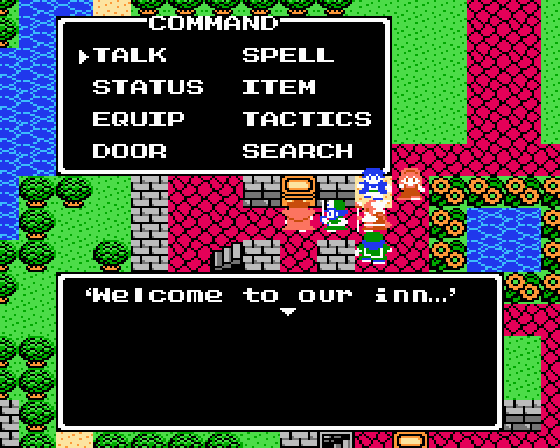 : However, a princess is staying here, so I can't really welcome you...

: This is nonsense. You already pay taxes to your sovereign; you shouldn't be losing customers when they visit!

: I'd sure like to meet this "princess".

: Right! Let's go upstairs!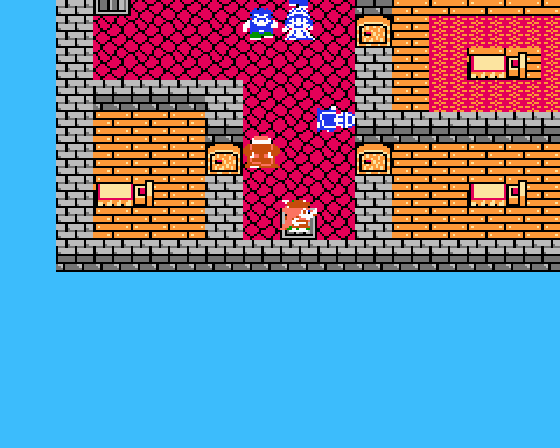 : ...eh?

: Oh I don't like the looks of this!

: What's going on here? Who are you?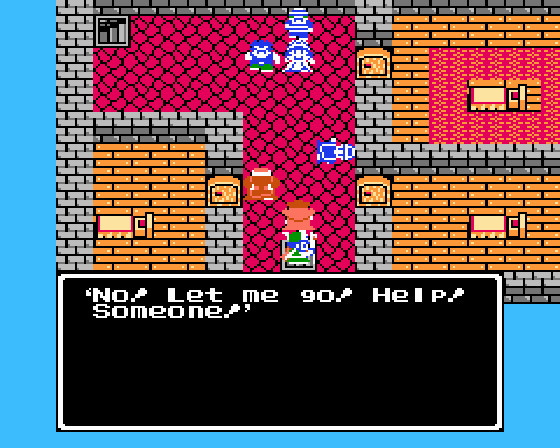 : Let her go, you brigands!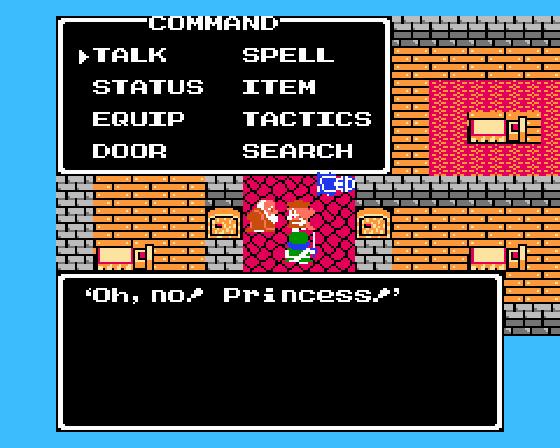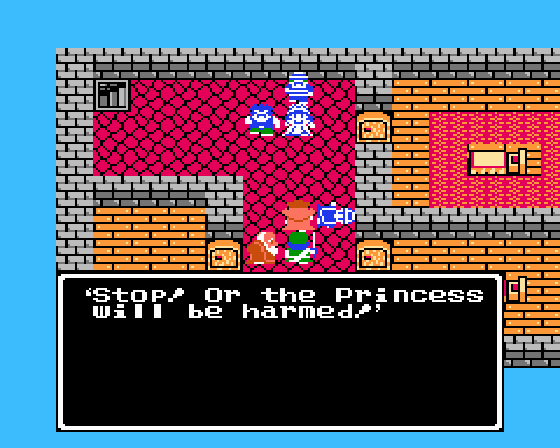 : To hell with you idiots!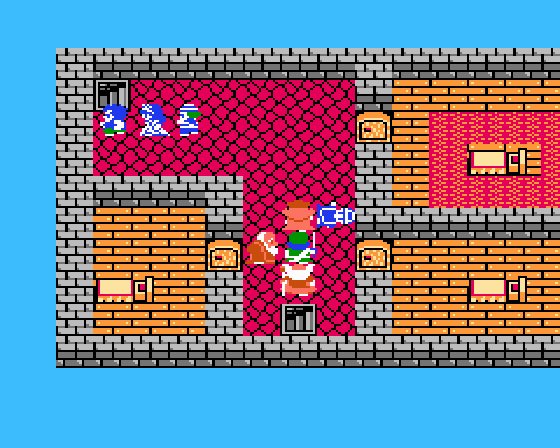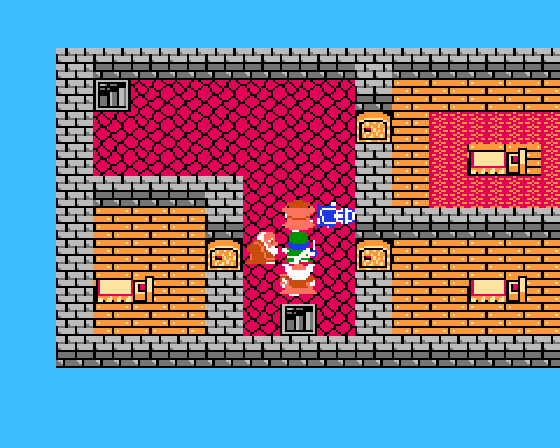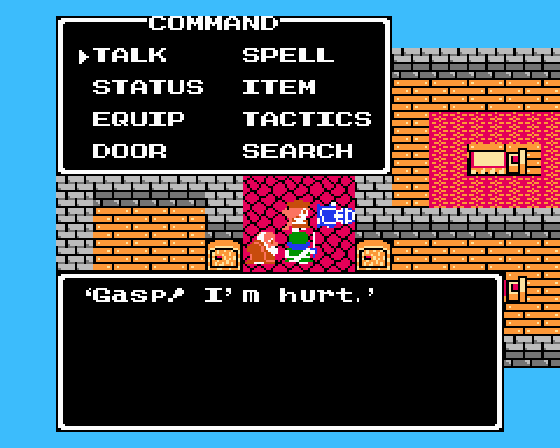 : Gah! After them!

: R-right!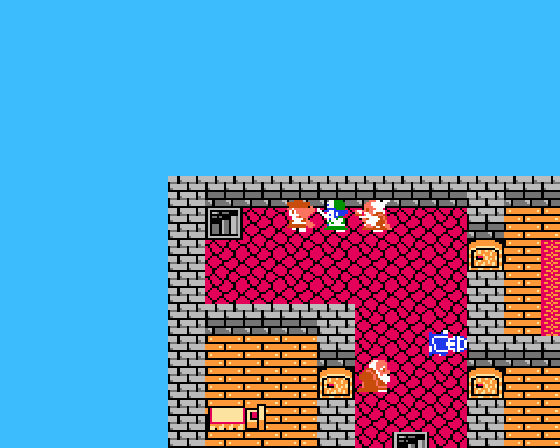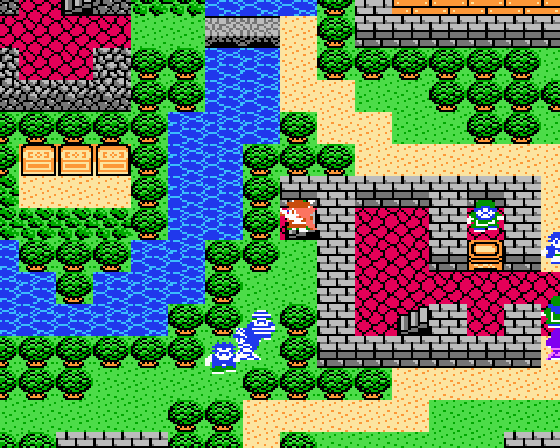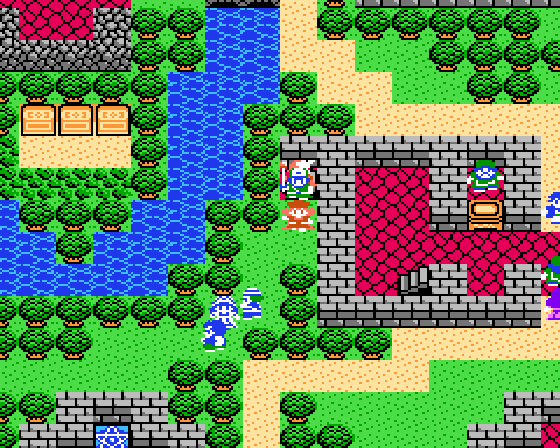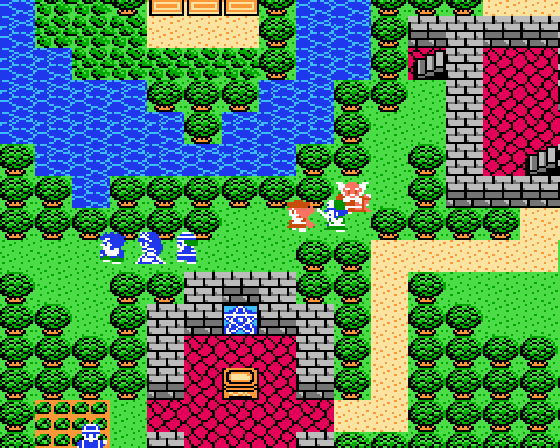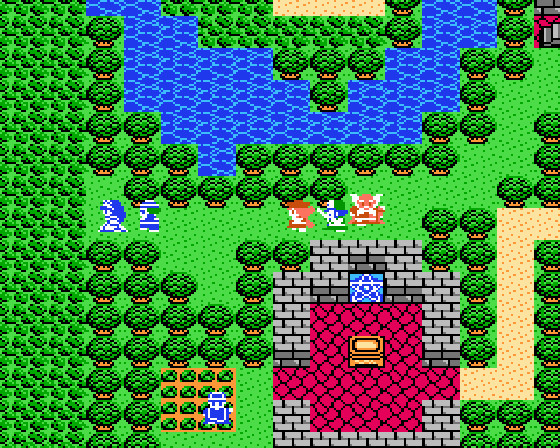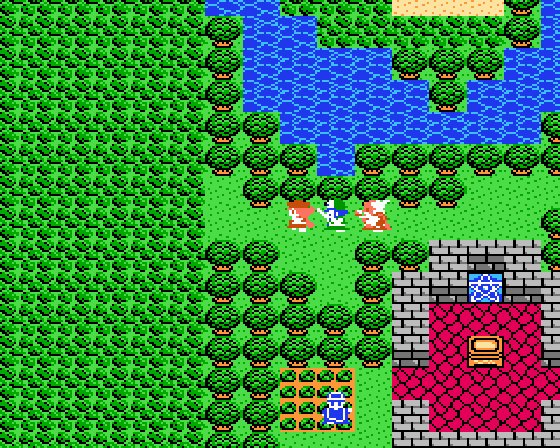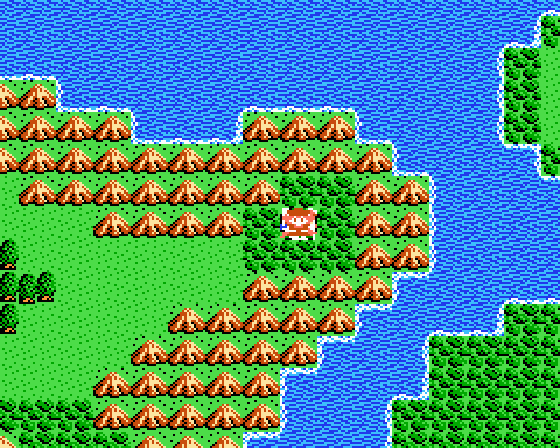 : We... we've lost them!

: Ugh! Can you guys track them?

: ...

: I... haven't been on a hunt in longer than I can remember.

: I can't believe this!

: Princess, if we-

: If we what, Brey?

: If we learn more about who that woman is, we may learn why these ruffians took her away.

: ...

: Her companions! Let's see if her entourage can clue us in.

: Yeah. Yeah, okay. Good call. Let's head back in.

We need to step off the village tile before we can enter it again, and we run into a fight on that single step. We still haven't rested, so let's hope it goes well.

False alarm, Alena can one-shot Trogs by now.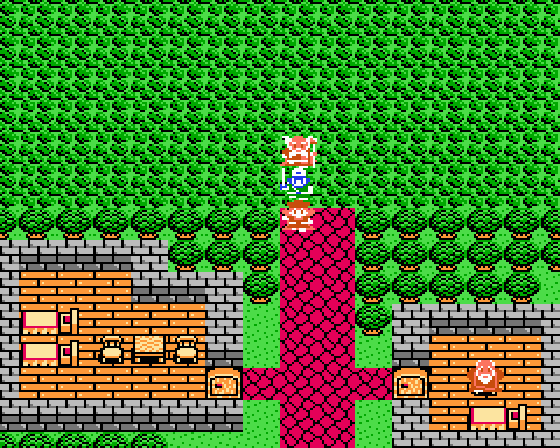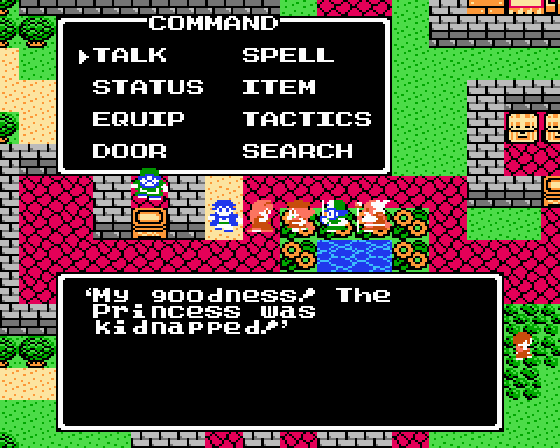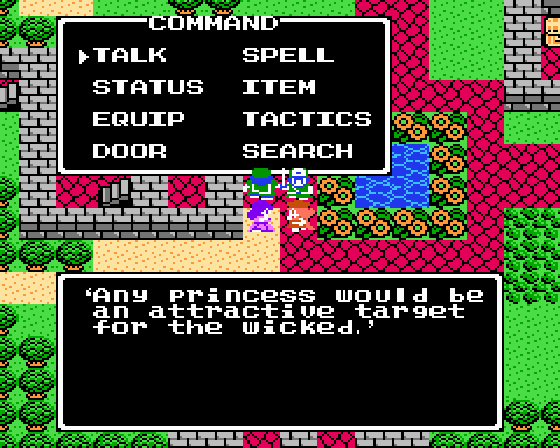 : Indeed they would be, wouldn't they?

: We don't have time for a lecture!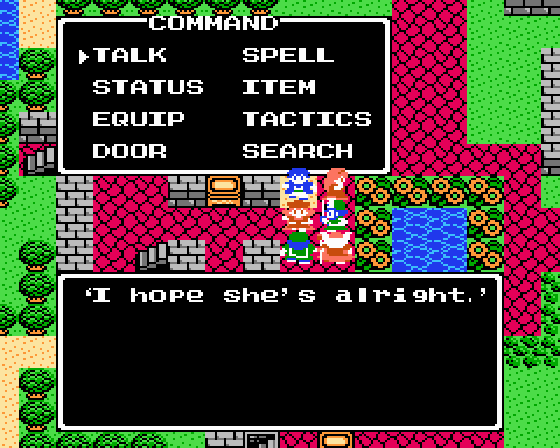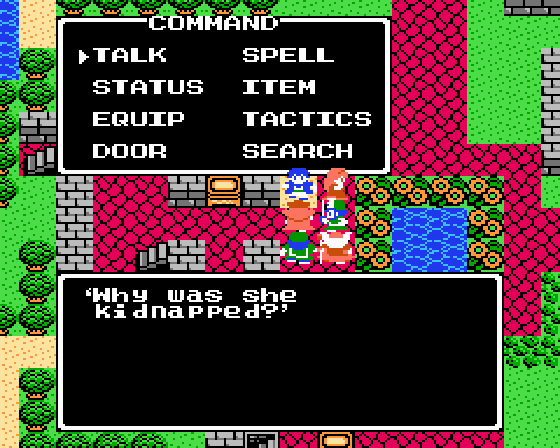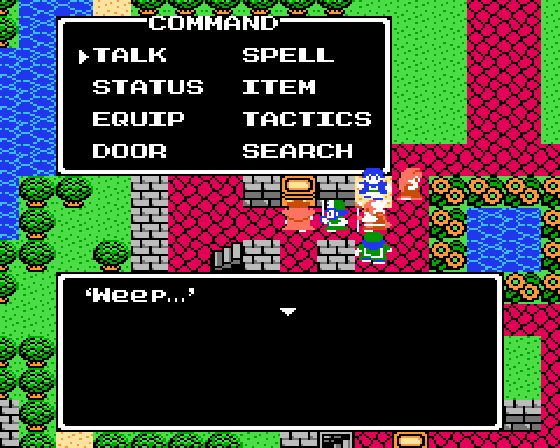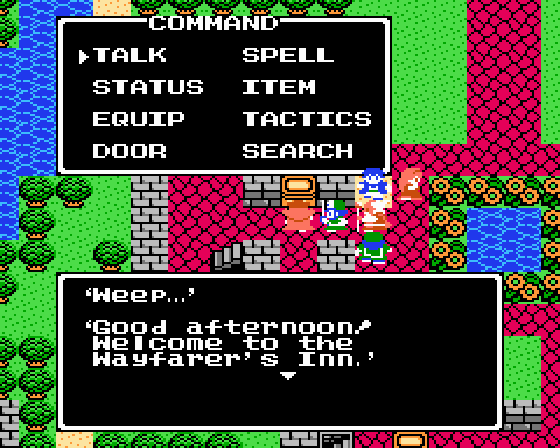 Well he's right back to business. Let's investigate some more for now though.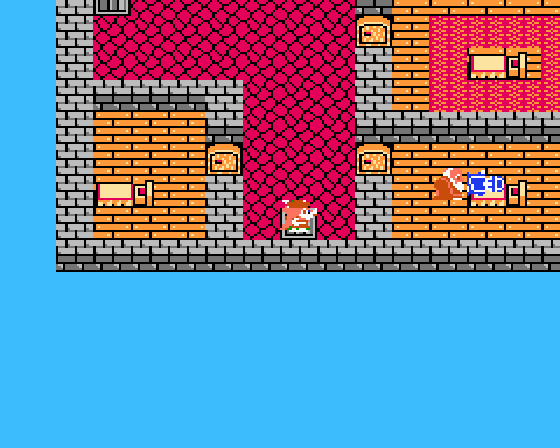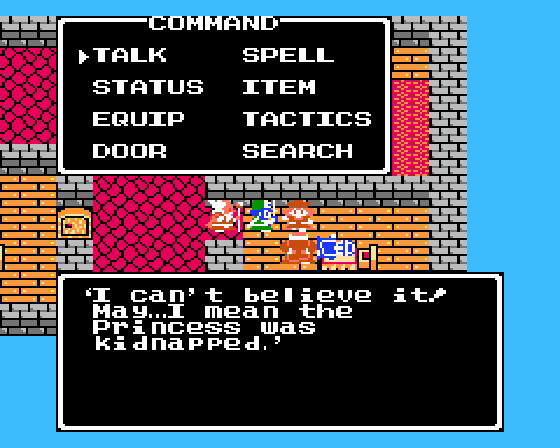 : "May", hmm?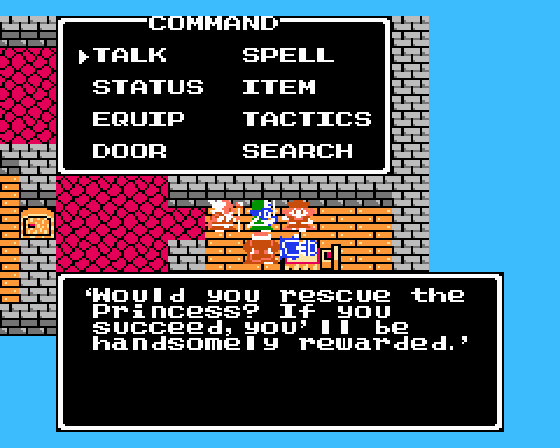 : I couldn't not do it.

: That said, let's not hold our breath for this reward.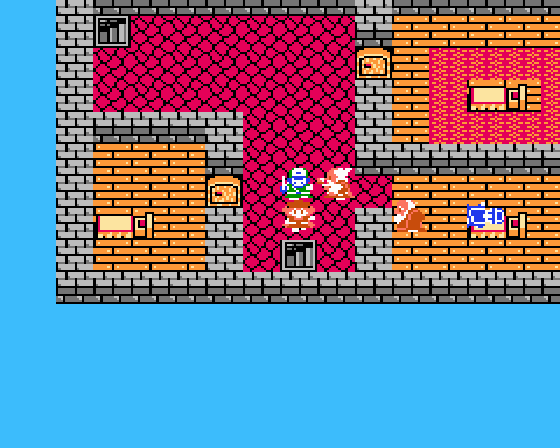 : They're in over their heads, aren't they?

: Not a clue among the both of them.

: Good thing we showed up when we did, then.

: Princess, please don't put us in their situation.

: ...I won't.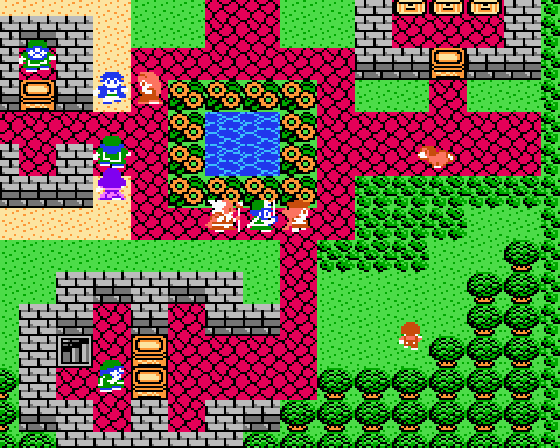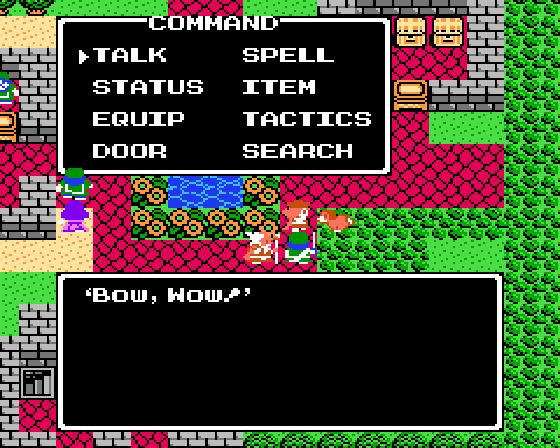 : Oh! It's nice to see someone in town has good news.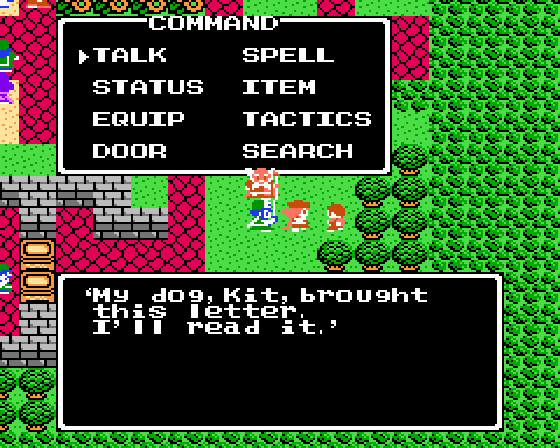 : "To get the Princess back unharmed, bring the village treasure, the Golden Bracelet, to the graveyard tomorrow night."

: Hmm.

: What's this?

: You just let us worry about this letter, okay? And take good care of Kit!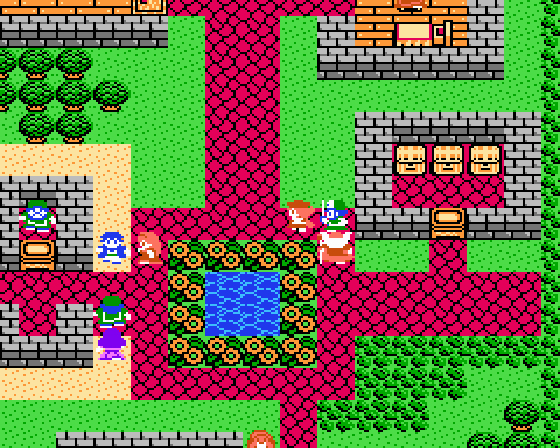 : The southern cave it is, then.

: It burns me up that we're just going to give them what they want... but it's not like this town really needs this bracelet, is it?

: In the grand scheme of things, it may be good to be rid of it entirely. Let's only hope it doesn't cause mischief elsewhere. They put it away for a reason.
And so we have our next immediate goal. Of course, what we really want is to go to Endor for the tournament, but what good is Alena's strength if she walks away from this town without a care in the world?