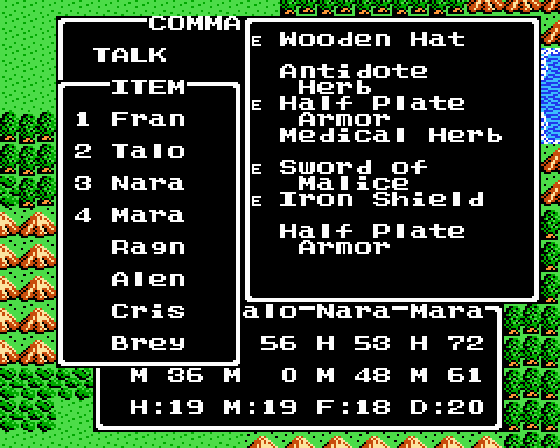 Ragnar's still wearing his ancient Wooden Hat and Half Plate, but Keeleon did drop a Full Plate and we have a spare Iron Helmet at the Vault, so let's gear him up right quick before we have a look at how he stacks up to everyone else. Ragnar and the male Hero have functionally identical equipment lists with a few exceptions we haven't seen yet, so everything that I've described until this point as being only equippable by a Hero is also in fact equippable by Ragnar.
(He's also carrying the extra Half Plate he bought with the money he had left at the end of his chapter, so it's nice to retrieve that 900 gold at least.)
Code: Select all
| Lvl | Str | Agi | Vit | Int | Luc | Atk | Def | HP | MP |
---------+-----+-­-­---+-----+-----+-----+-----+-----+-----+-----+-----+
Francois | 19 | 61 | 33 | 73 | 24 | 28 | 106 | 88 | 147 | 71 |
---------+-----+-­-­---+-----+-----+-----+-----+-----+-----+-----+-----+
Ragnar | 12 | 37 | 11 | 45 | 5 | 10 | 82 | 68 | 89 | 0 |
---------+-----+-­-­---+-----+-----+-----+-----+-----+-----+-----+-----+
Alena | 17 | 63 | 48 | 58 | 12 | 56 | 101 | 64 | 135 | 0 |
Cristo | 16 | 31 | 27 | 39 | 34 | 38 | 64 | 71 | 73 | 67 |
Brey | 17 | 11 | 37 | 37 | 49 | 54 | 35 | 39 | 77 | 90 |
---------+-----+-­-­---+-----+-----+-----+-----+-----+-----+-----+-----+
Taloon | 19 | 51 | 39 | 62 | 24 | 13 | 96 | 79 | 120 | 79 |
---------+-----+-­-­---+-----+-----+-----+-----+-----+-----+-----+-----+
Nara | 18 | 35 | 31 | 35 | 35 | 51 | 68 | 79 | 80 | 76 |
Mara | 20 | 16 | 40 | 48 | 54 | 75 | 16 | 65 | 86 | 92 |

The first thing that jumps at me of course is that Ragnar is enormously underleveled, being barely stronger than Cristo and Nara. This explains the gameplay reason behind the King of Burland's gift of experience points at the end of Chapter 1: it keeps Ragnar from being even further behind everyone. I suspect we were close to the minimal strength you have to be at to be able to defeat Keeleon, so it's not like the game expects your party to be at level 12 when you get here.
Fortunately Soldiers have a lot of power in their equipment selection, and Ragnar's Sword of Malice is reasonably up-to-date; it shouldn't be long before he gains a few levels and overtakes Cristo and Nara's attack power, and not much longer afterwards until he at least matches Taloon.
Aaaanyway. Before we go on the next main phase of our quest, let's see how Keeleon's defeat changed life for the townsfolk of the region, shall we?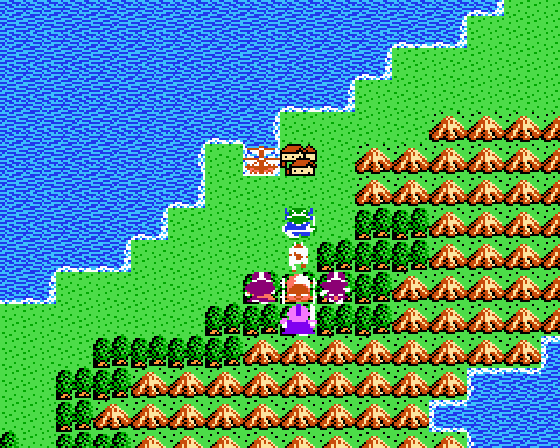 Oooh, Ragnar levels up off a pair of Infurnus Knights on the way to Haville, for 4 Str, 1 Agi, 5 Vit, 1 Int, and 12 HP. That'll be a taste of things to come for sure.
Ah, and while I think of it... We may have obtained our final overworld theme, but it only actually plays while Francois is in the lead with at least one other ally in his party. If any other Chosen One is in first place, their chapter's overworld theme plays instead, and we can still listen to the first Chapter 5 theme by putting everyone but Francois in the wagon. That's such a neat touch.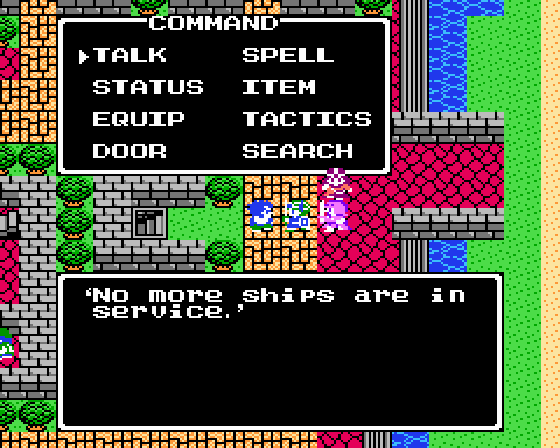 : The king's regulations are gone, but I suppose it'll take a while for the people of other countries to catch on.
Hmm, it looks like that's the only piece of changed dialog in Haville. Unless I just missed that guy last time we were around. Ah well. I also want to check on the people complaining about the king in Kievs and Monbaraba, but while we're on the north coast of the continent, let's revisit the House of Prophecy and see how things are going in Aktemto.
It won't hurt to make a few bucks on the way either, seeing as Ragnar is going to be an expensive ally on the long run!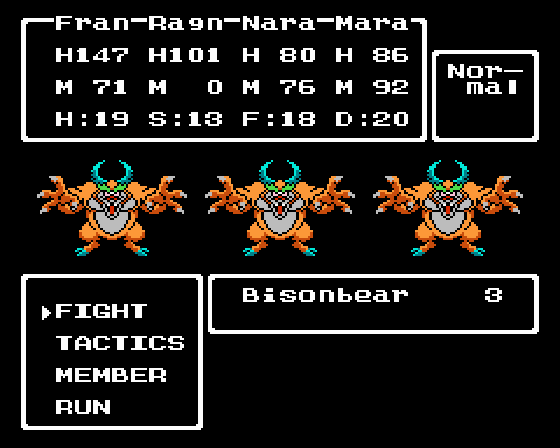 Bisonbears have 80 HP, 60 attack, 45 defense, and 33 agility. Those are manageable numbers for us at this point, but they come with the ability to "take a deep breath", which is apparently an enhanced version of the "building up power" action with a higher damage increase. They're slightly resistant to most magic damage, to Sleep and to Surround, and highly resistant to Sap and Bang.
Nara levels up here, for 2 Str, 2 Agi, 1 Vit, 2 Int, 2 Luc, 1 HP, and 3 MP.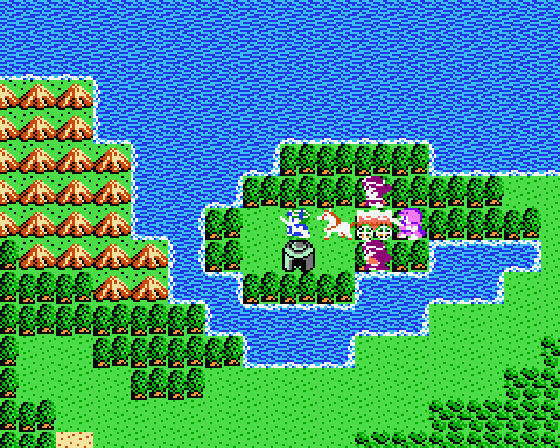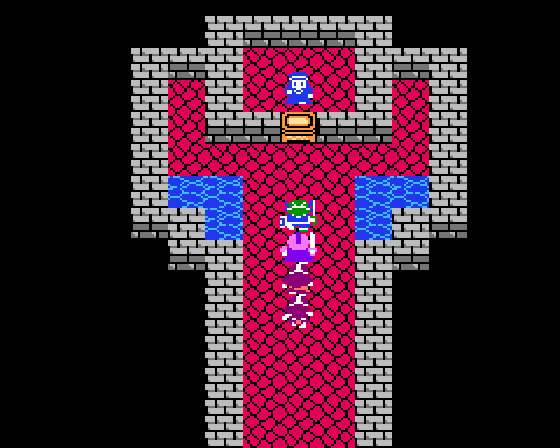 : We have returned, lady seeress. Are there any more lights to gather?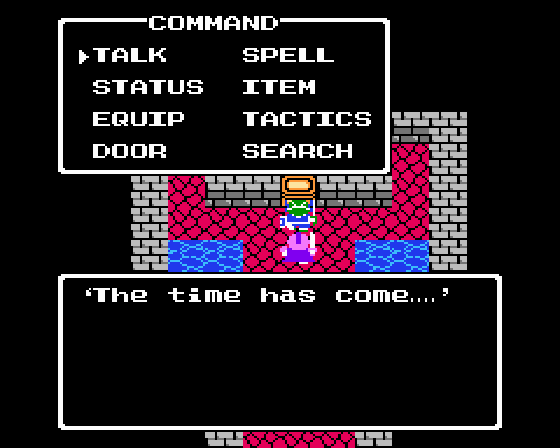 : Now that you, the Chosen Ones, have converged, you shall be able to defeat evil.

: So that's everyone, then.

: Your enemy is the resurrecting Ruler of Evil... whose name is Es...

: Es...?

: My lady?

: Gasp!

: W-what's wrong?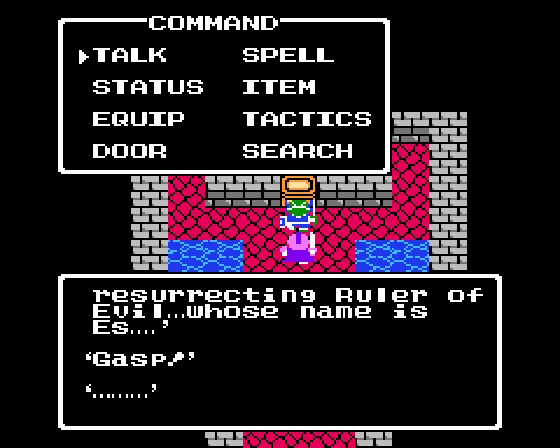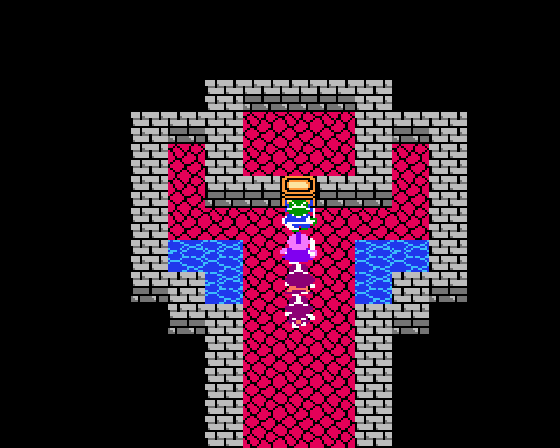 : Wait, what?

: Oh no!

: She's...!
The prophetess literally dies halfway through saying the Ruler of Evil's name.

: What kind of curse is this?!

: She must... she must have looked too closely. She must have seen too much.

: This is madness!

: It doesn't change anything for us. We know that creature is bad news. We need to stop it.

: R-right.

: "Es". Hmm.

: Does it ring a bell, Reb?

: Uh... On second thought, if you don't mind, I'd rather not say.

: Not so keen on reciting the names of demon lords out loud anymore, are we?

: We did just get an object lesson.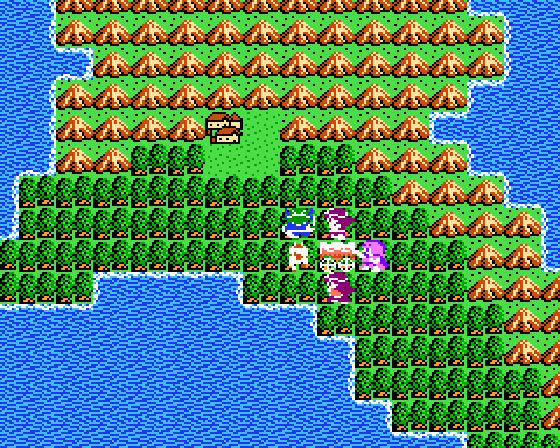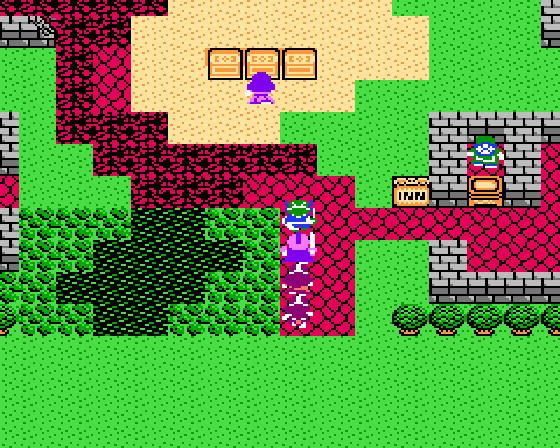 : This place...

: What is it?

: It reminds me of home, somehow.

: It's a mining town, and they struck a pocket of poison gas. There are many ways tragedy can strike.

: I'm sorry, Lord Hero. I can't possibly apologize enough for my failure.

: Hmm?

: If I had found your hometown, maybe...

: No, no, you... Listen. You're obviously very strong. But I was there while it happened. I heard all of it. One man wouldn't have made a difference.

: ...

: If you had been there, you'd have died too.

: It doesn't make me feel any better, but I trust your judgement.

: The man who was at the graveyard passed away too...

: Ah...
If you had thought things in Aktemto could get any worse, I have bad news for you.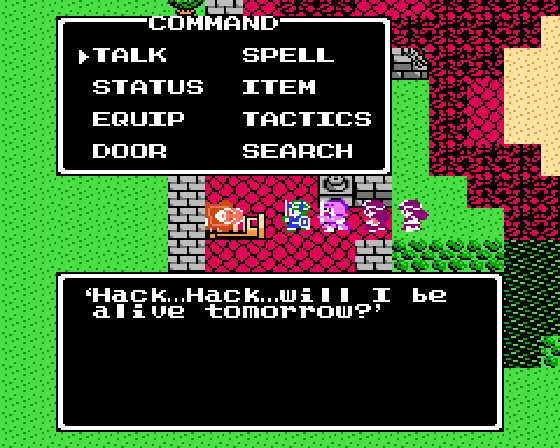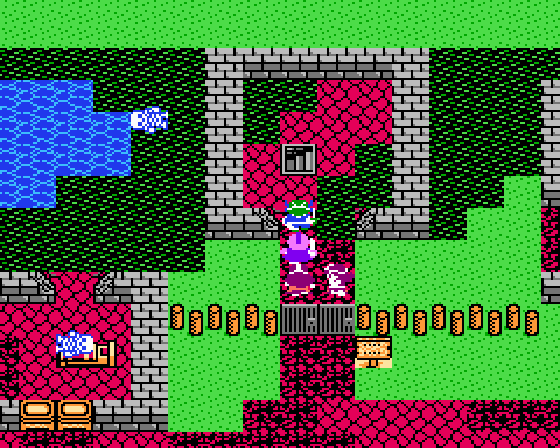 We don't really have a reason for going back in the mines, but I want to see if there are any new monsters down there.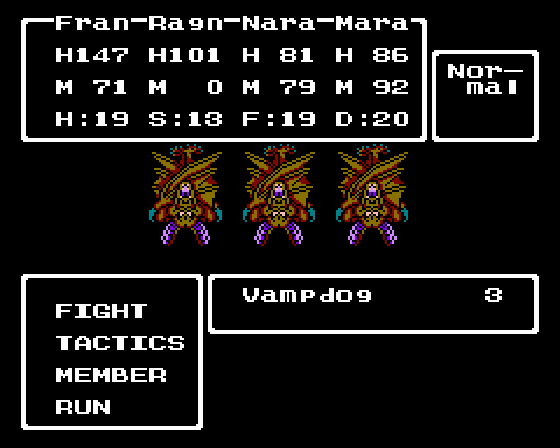 Those are nothing new. We run into Mad Clowns on the first level and we only knew them to be east of Branca, but maybe they were always here and we just didn't run into them in Chapter 4 by chance. Either way, it's good experience for Ragnar!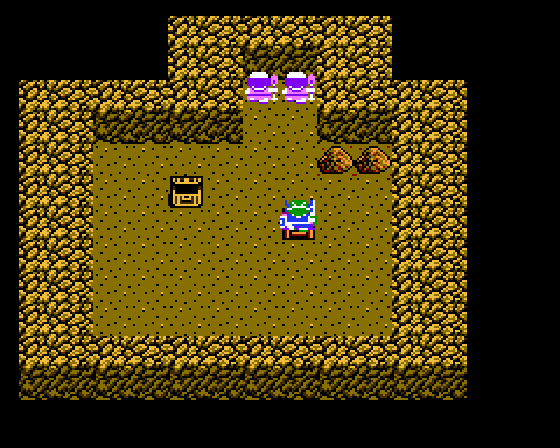 Even these gold-obsessed miners haven't made notable progress in all this time. We're done here.
Returning to Monbaraba...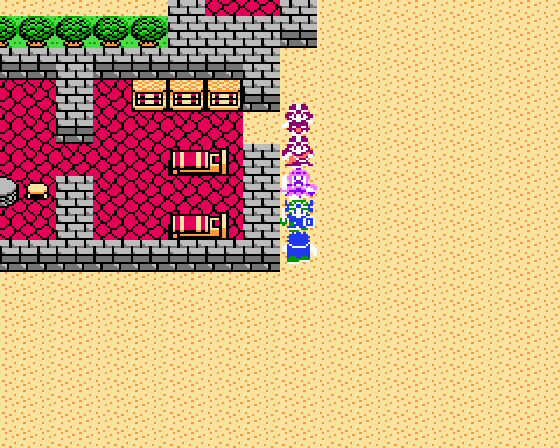 This dirtbag is still afraid of the king.
Brey levels up on the way to Kievs, for 3 Agi, 4 Vit, 3 Int, 4 Luc, 6 HP, 5 MP, and the Day-Night spell, which costs 12 MP and still does exactly what you think it does. It could free up the Lamp of Darkness' spot in Mara's inventory, but with our whole crew assembled, inventory space isn't quite as much at a premium as it used to be.
Ragnar gets to level 14 moments later, for 5 Str, 5 Vit, 1 Luc, and 11 HP. Yeah, he's catching up! In the same fight, Cristo levels up as well, for 1 Str, 2 Agi, 3 Vit, 1 Int, 3 Luc, 4 HP, and 5 MP.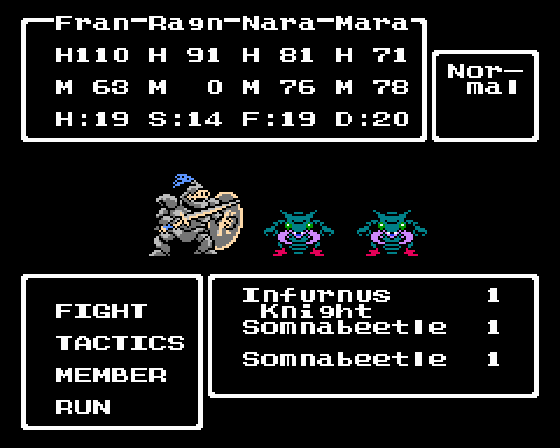 Oh dang, we haven't seen Somnabeetles since mid-Chapter 2! They're incredibly fragile by now, but their sleep effects are easy to underestimate.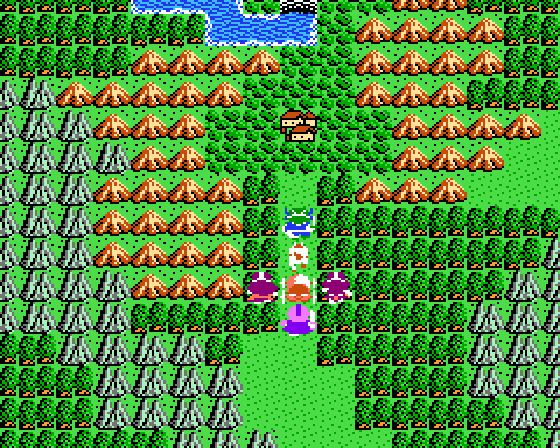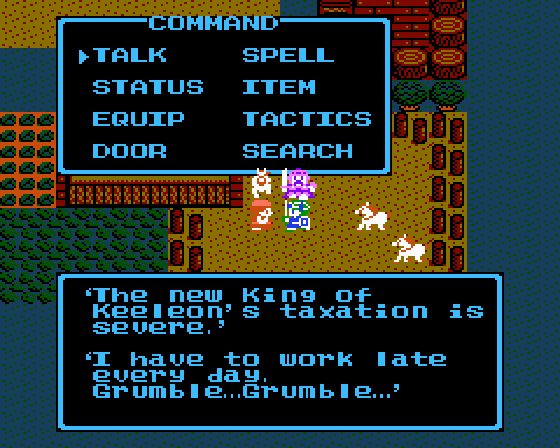 The news of the king's demise haven't reached here yet either; oh well. We do have 3544 gold on hand though, so we buy Ragnar an Iron Mask here. He can't count on his Agility to increase his defense power much, so it's important to upgrade his armor when you can.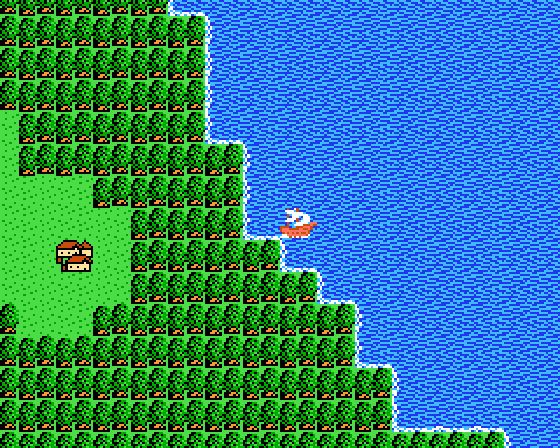 : So what's next, then?

: We did learn that Balzack took over Santeem.

: No!

: The indignity!

: ...

: But we know that Necrosaro just got a way to make himself even stronger too.

: The more time we take to track him down, the more powerful he's likely to be.

: And we have a basic idea of where his headquarters are.

: Yeah, okay, we need to go to the monster castle. Santeem isn't important.

: But- What?

: No, no, I... I understand. The building doesn't matter. We need to find the king and the rest of the royal entourage first. And if this Balzack occupies the castle...

: ...then that's not where they are.

: ...hmm.

: All in favor of going to this monster lair, then?

: Right.

: We are.

: Wherever you go, I follow.

: It's decided, then. According to the map we got in Mintos, we should just sail north up the coast from Monbaraba, then east. Let's get to it.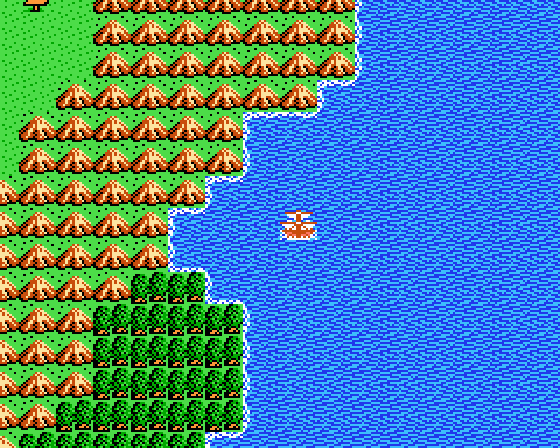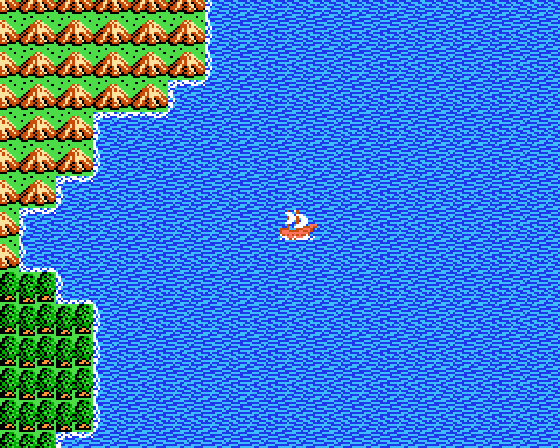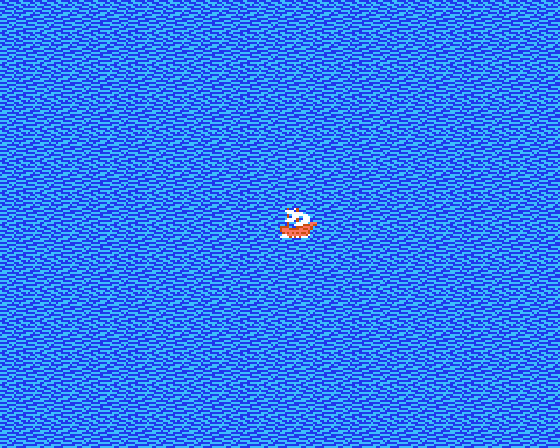 Sealthropes have up to 150 HP, with 55 attack, 25 defense, 25 agility, and the ability to roll crits. They're vulnerable to Sap and Firebal, highly resistant to Sleep and Surround, and slightly resistant to Bang, Blaze and wind. As they are fat sacks of HP with low defense, it's a good idea bring in your melee combatants, but Mara's Blazemore will often do good work as well. Francois, Taloon and Alena cut this one to ribbons before it can do anything.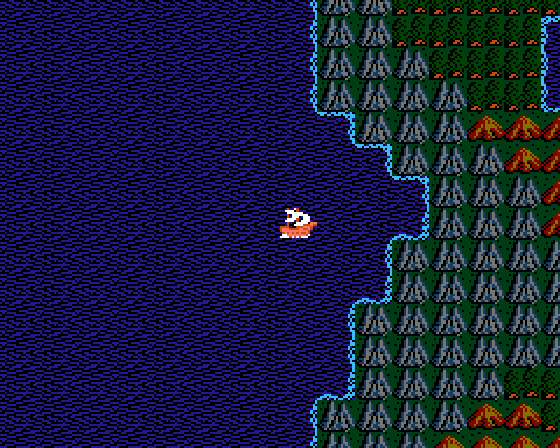 : Oh, uh, right, I remember now, the island is surrounded by mountains. Hmm.

: There could still be a way in. Let's just go around and make sure.

: Because that worked so well for us when we were looking for Howden's treasure.

: That was then and this is now, sis, We have to try.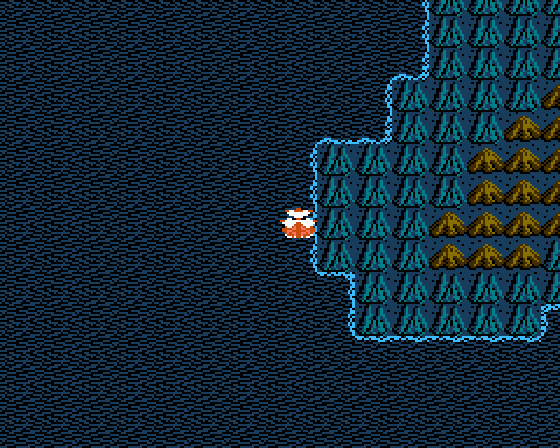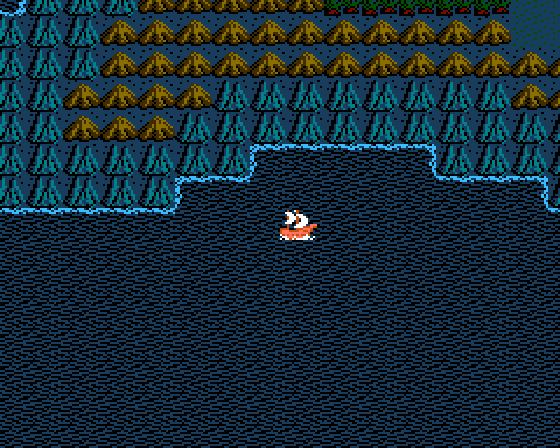 Francois levels up off a pair of Plesiosaurs, for 5 Str, 2 Agi, 4 Vit, 2 Int, 1 Luc, 6 HP, and 7 MP.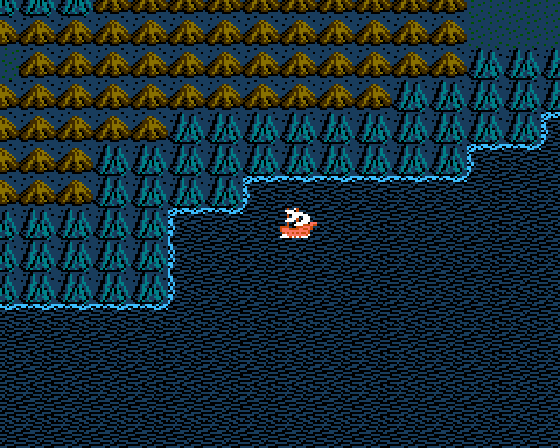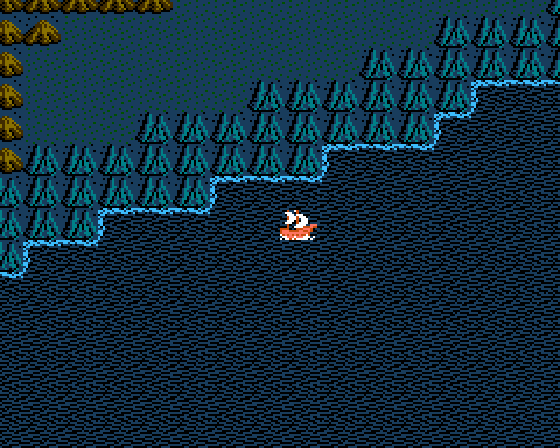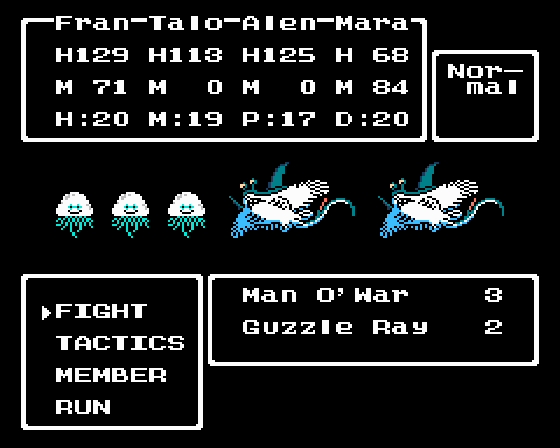 Guzzle Rays have 40 HP, 50 attack, 45 defense, and 23 agility, with the ability to call for reinforcements. They're slightly resistant to Sleep and all magic damage, and highly resistant to Sap and Surround. Nothing too remarkable at this point, other than how they'll rarely drop Lifeforce Nuts.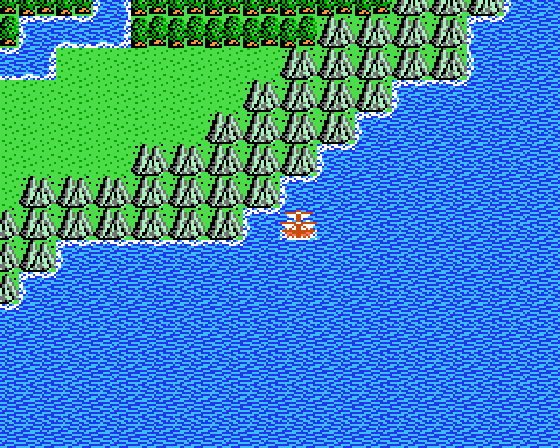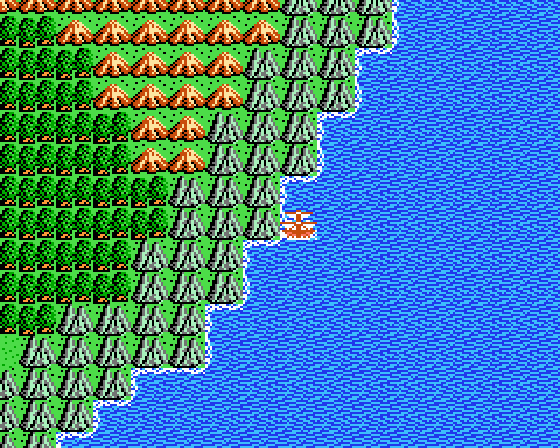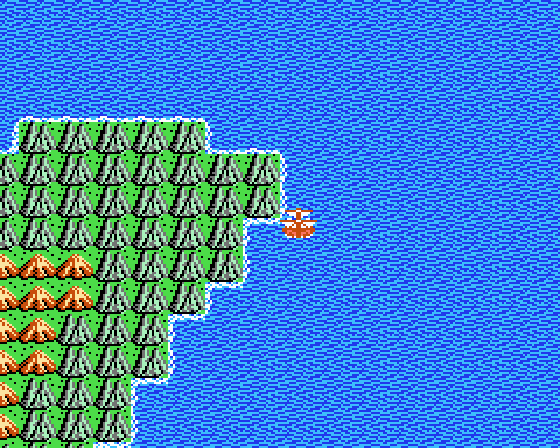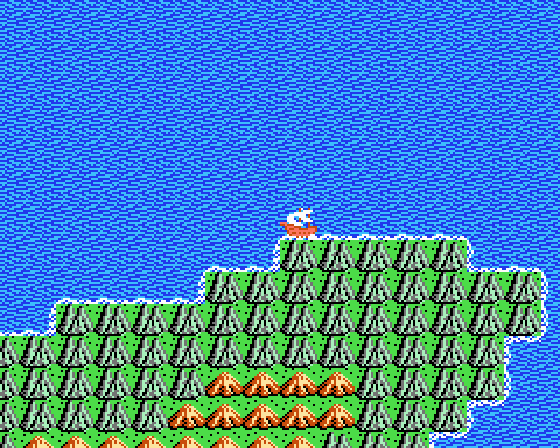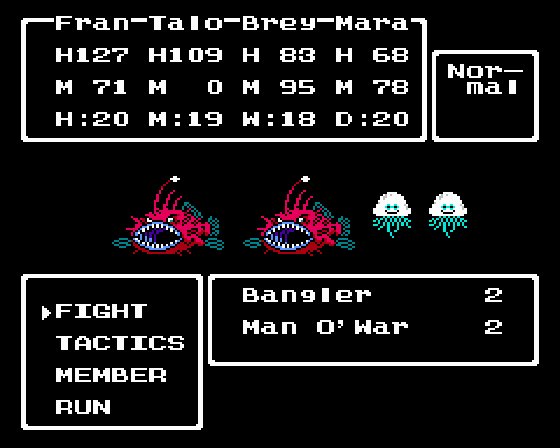 Banglers have 35 HP, 39 attack, 30 defense, and 25 agility, with the ability to cast Surround. They're vulnerable to Firebal and Sap, slightly resistant to Bang, Blaze, ice, Sleep, RobMagic and StopSpell, and highly resistant to wind. They're not very threatening either, but they'll occasionally drop a Magic Potion.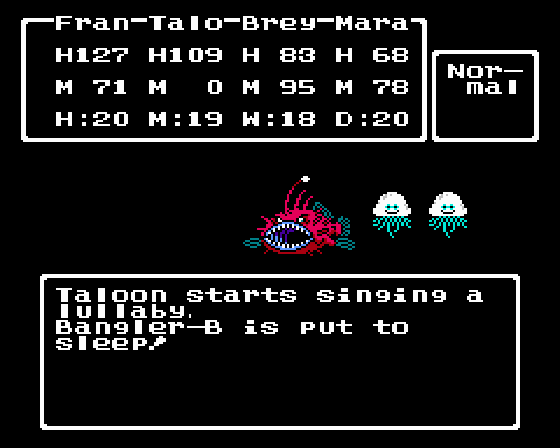 We do get a chance to witness how Taloon is talented enough to put monstrous fish to sleep. The battle music is even temporarily replaced by the short piece that plays when we get someone resurrected at the House of Healing!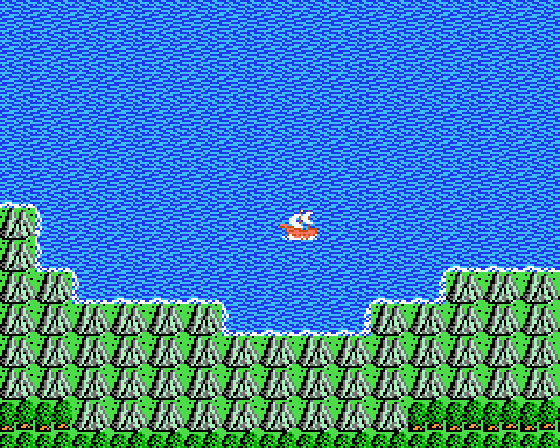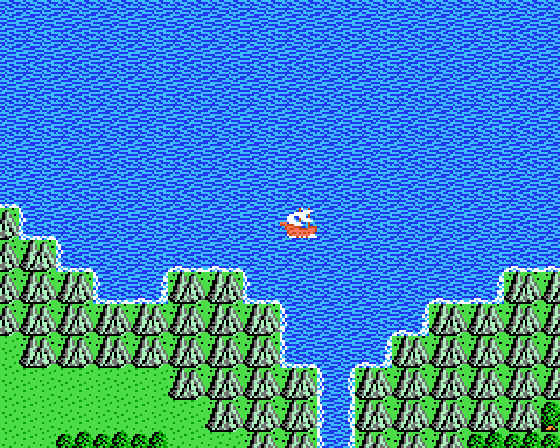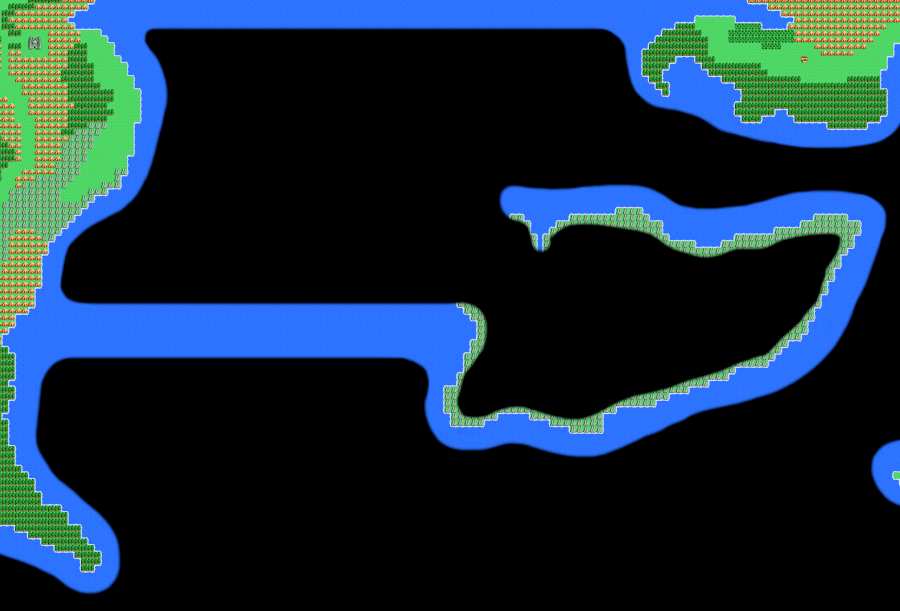 : Oh-ho! Wait! Look! Right there, to the south, between the cliffs!

: Ah, that's looking good.

: Well I'll be.

: All the water that rains on the island has to go somewhere!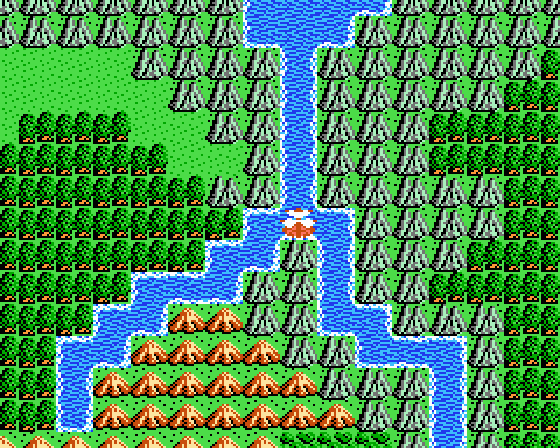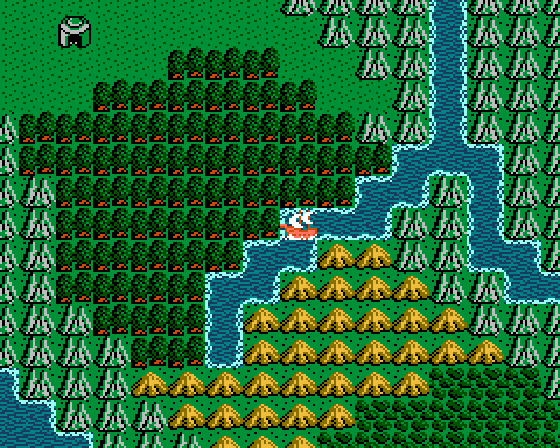 : That building...

: It can't be the monster castle. I wonder if there are humans living on this island.

: Better check it out.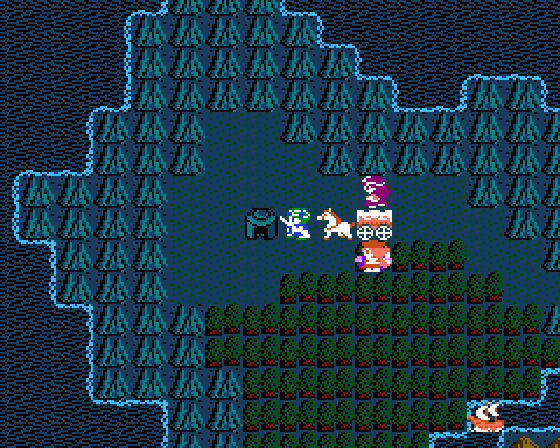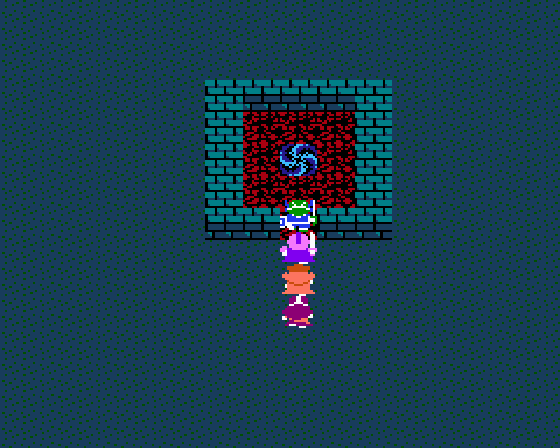 : Wow, this place is dusty.

: I wonder how long it's been since anyone entered this Travel Door.

: If no one's using it, then it can't lead to the monster base, right?

: It should be safe enough to have a look, then.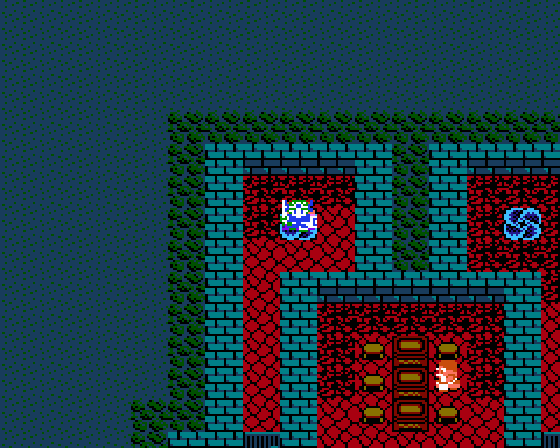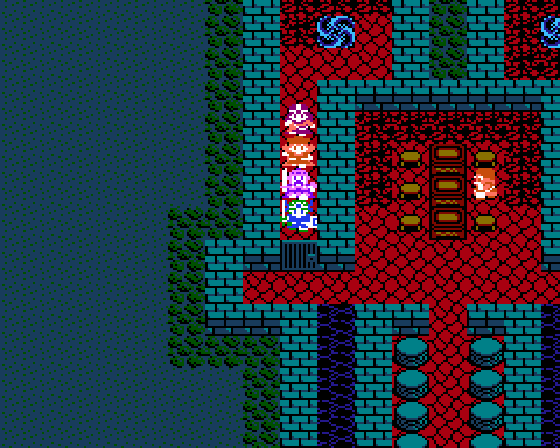 : Oh, it's that shrine between Mintos and Soretta!

: Huh. Better go back, then.
Once we're back on the island...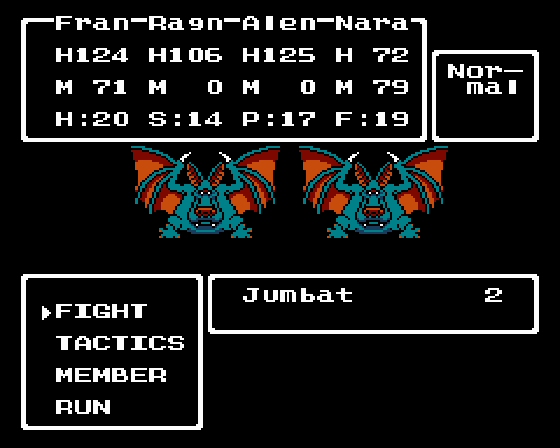 Jumbats have 113 HP, 92 attack, 82 defense, and 38 agility; they can roll crits, as well as cast Sleep and inflict sleep with standard attacks. It feels like they're a notch or two above the monsters we're used to! They're vulnerable to Bang and Sap, slightly resistant to Firebal, Blaze, ice and Surround, highly resistant to wind and Sleep, and immune to RobMagic and StopSpell. They're also one of the two monster types that can drop a Robe of Serenity.
At any rate, those numbers aren't messing around. Ragnar gets put to Sleep, with Francois doing 34 damage, Alena doing 24, and Nara failing to land Sleep. We replace Nara with Mara, and Francois has to wake Ragnar up. Mara casts Firebane coming in, finishing the first bat, than Ragnar and Alena defeat the other. Whew!
It's worth noting that if you cast Awake on a sleeping party member before their turn comes up, they will get their normal action; this allowed Ragnar to attack on the same round Francois woke him up. On the other hand, if their turn has already come up with the "So-and-so is asleep." message, then they have to wait until the next round to do anything.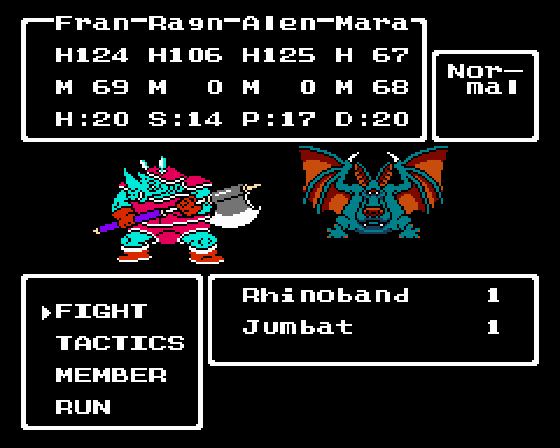 Rhinobands have 142 HP, 120 attack, 150 defense, and 35 agility; they always take two actions per round, and they can cast Defence and Upper. They're thankfully vulnerable to Sap, but they're immune to Bang, highly resistant to Firebal, Blaze, wind and sleep, and slightly resistant to ice, Surround, RobMagic and StopSpell. I'm not gonna say these tough customers are as dangerous as Keeleon was... but they're pretty close for sure!
They can drop a Demon Hammer, a cursed +70 weapon that Francois and Ragnar could equip. It has a high chance to miss, but when it does hit, it's always a crit.
For this fight, we replace Mara with Brey and see how it goes. Ragnar and Alena get put to Sleep in the first round, and Francois gets his defense power halved, so I'm still definitely glad we know Awake.
On the second round, Francois takes two Rhino hits for over 90 damage total. It's going to be too risky to take the chance of bringing in Nara or Cristo to heal him, so we swap him out for Taloon. Ragnar and Alena finish off the bat, while Brey fails to cast Snowstorm on the Rhinoband; I hope he thinks of Sap before long.
On the fourth round, the Rhinoband casts Upper, increasing his defense by 225, but Taloon and Ragnar use their Swords of Malice in response (very smart), finally chipping away the last of his HP. Good grief!
Alena levels up from this, for 8 Str, 6 Agi, 5 Vit, 4 Luc, and 7 HP. Man but that one was well-earned. Cristo and Nara patch up everyone afterwards.

: Guys, I know we all agreed to come here, but I'm starting to think we're no match for this place yet.

: Hmm.

: I can't say I'm keen on turning back now, but... That rhino's axe...

: What, are you scared?

: Yeah, a little bit.

: We did almost lose Francois.

: ...right.

: So, do we go back to Santeem, then?

: No, we need to visit new lands. Maybe not this one, but it can't be this bad everywhere.

: New lands... Hmm.

: We have to find out more about the Zenithian gear. If anything can give us an edge in here, that'll be it.

: Heh, of course you'd say that.

: Taloon has a point, though.

: Fine, fine. But can we at least get back on the ship and explore the rest of the river here? Maybe we can spot the castle from a distance, and the rhinos can't get us from the shore.

: Good enough for me. Let's go!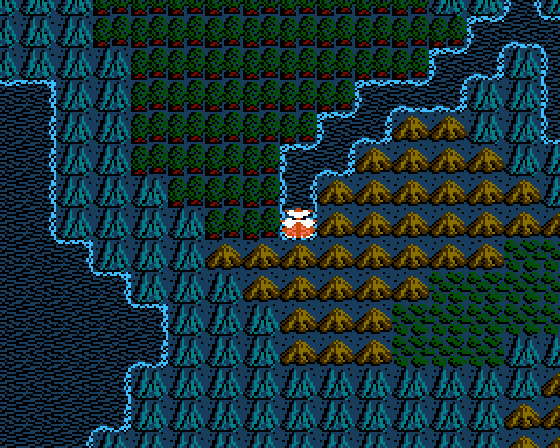 Nothing here.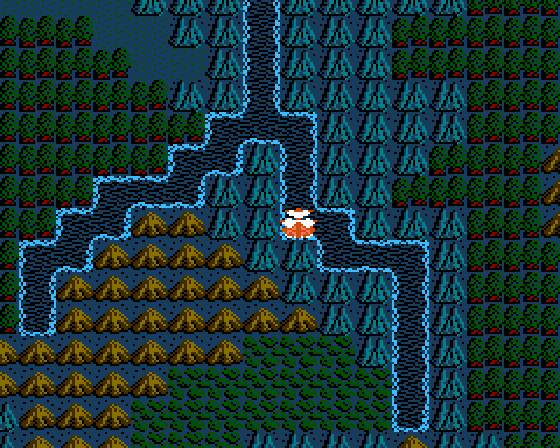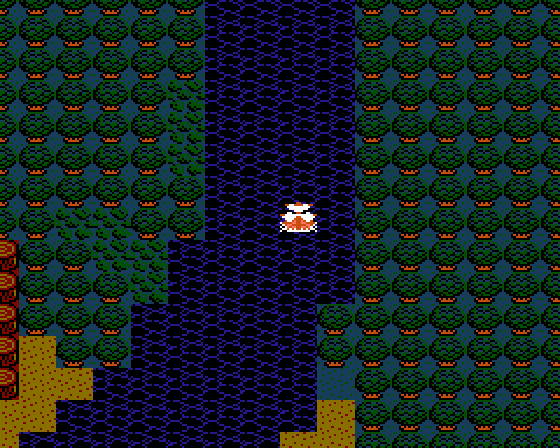 : Hello, what's all this then?
As we reach a certain nondescript river tile, we're suddenly taken to a closer view of the area. This place has town music going on!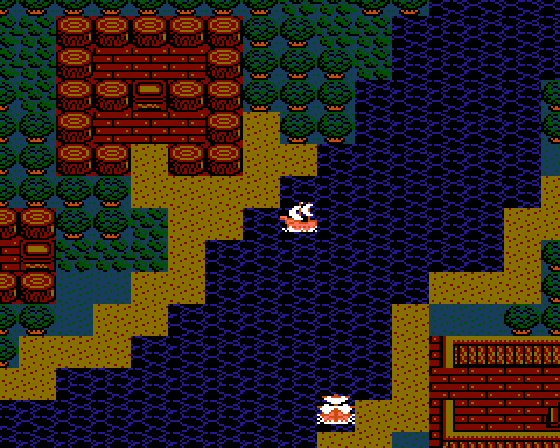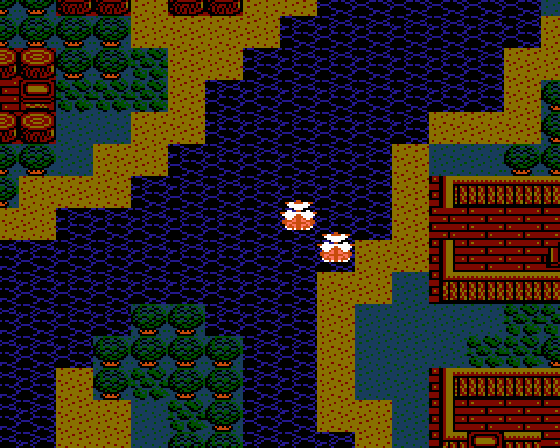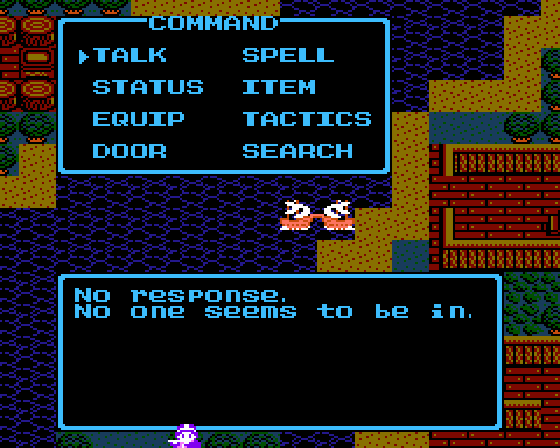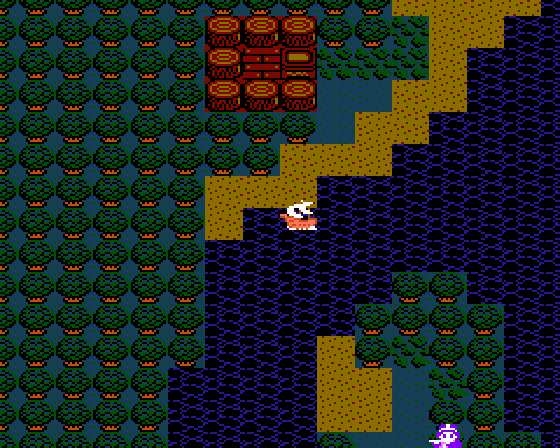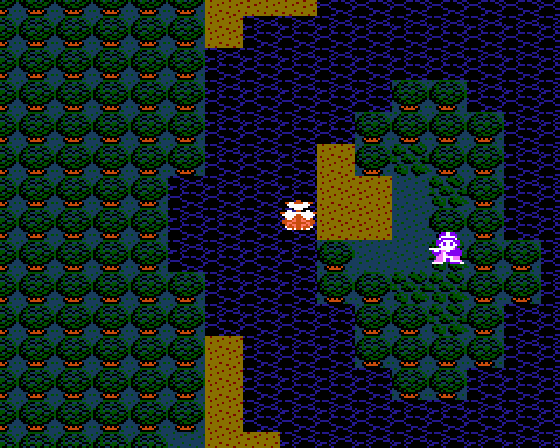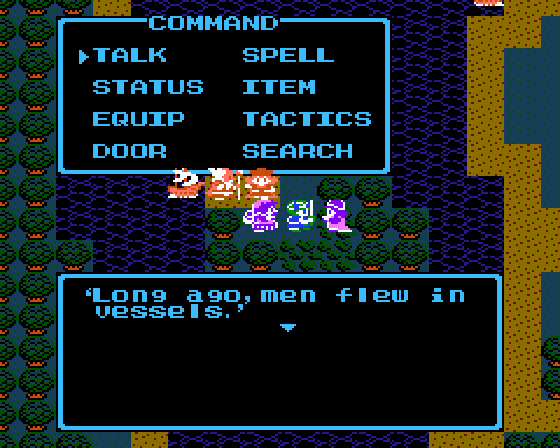 : Wow, really?

: It's said the Ruler of Evil stole the essential component of the vessels.

: Gah, of course he did.

: It was probably buried along with him.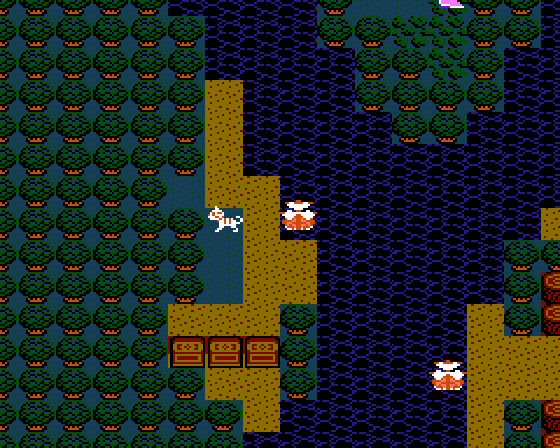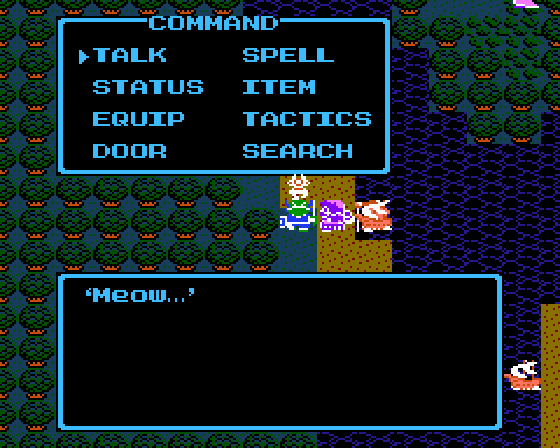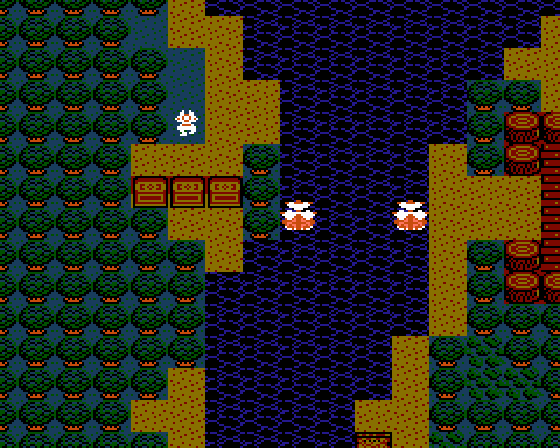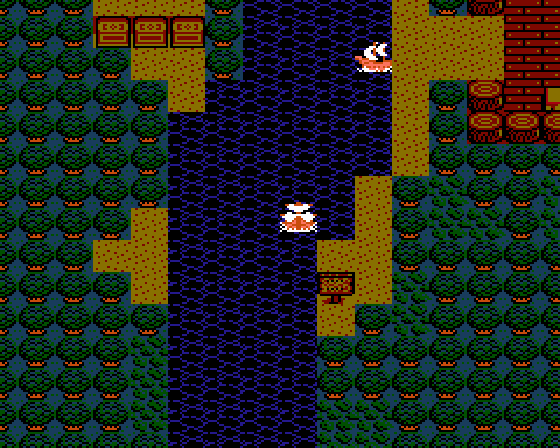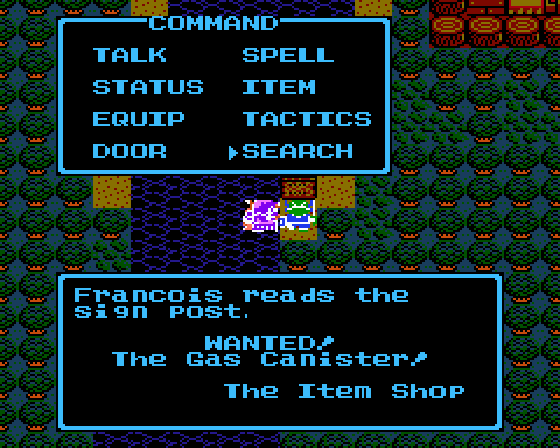 If we sail further south...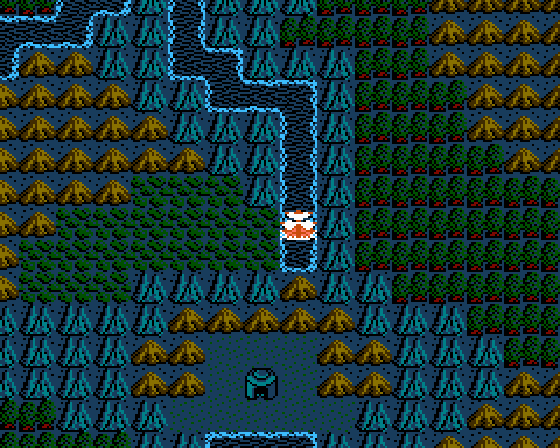 ...we come out the other side of town. Let's go back and visit the eastern shore.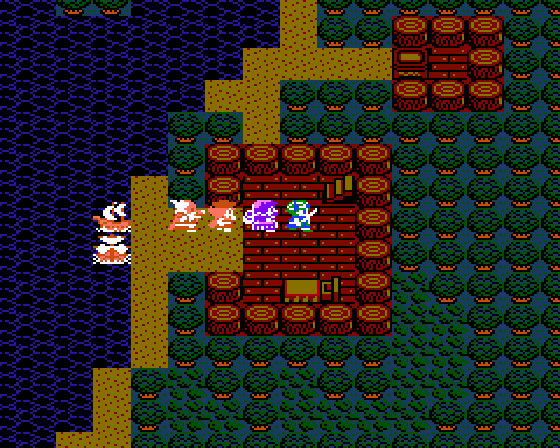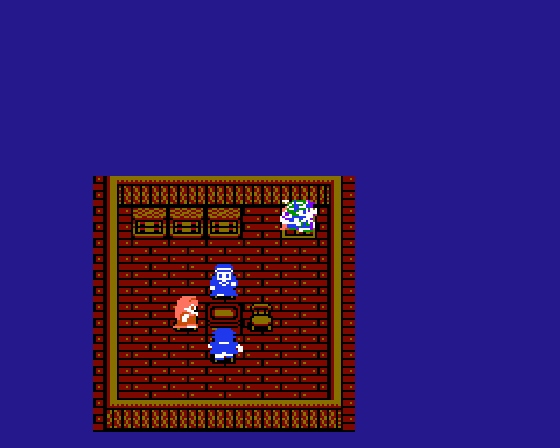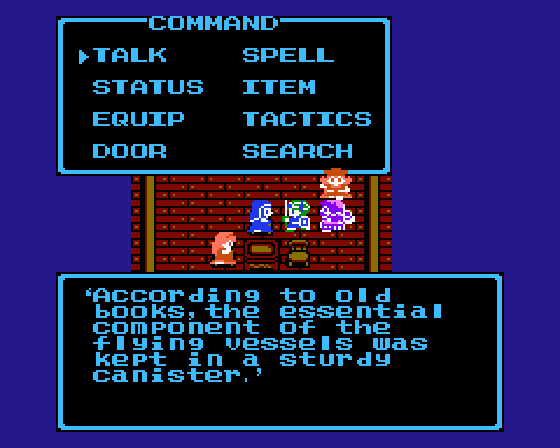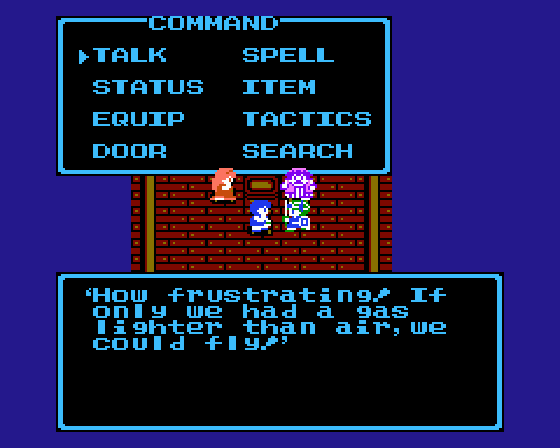 : Is it really that simple?

: If such a gas existed, then I don't see why not.

: Oh, I bet that'd take us to Howden's treasure!

: Or anywhere in the world.

: To even more treasure!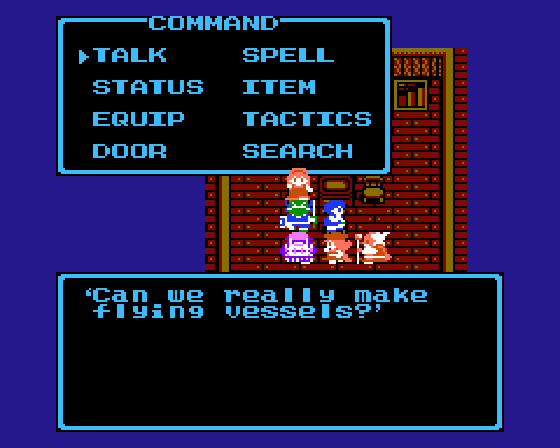 : Well, if we ever find the Ruler of Evil's tomb, we'll see.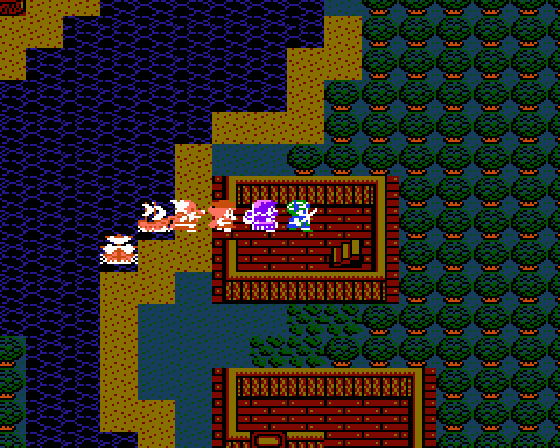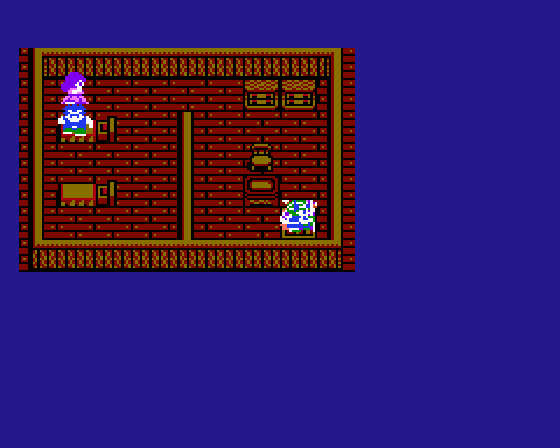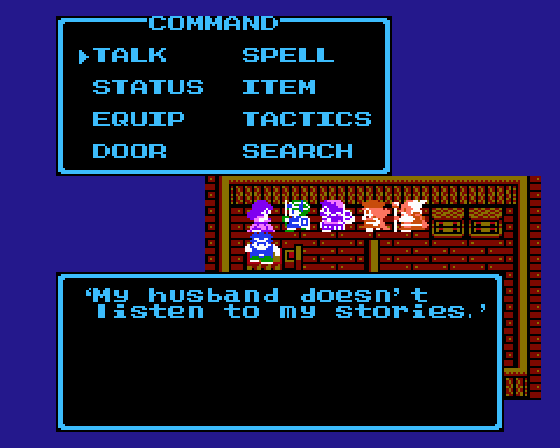 : His loss!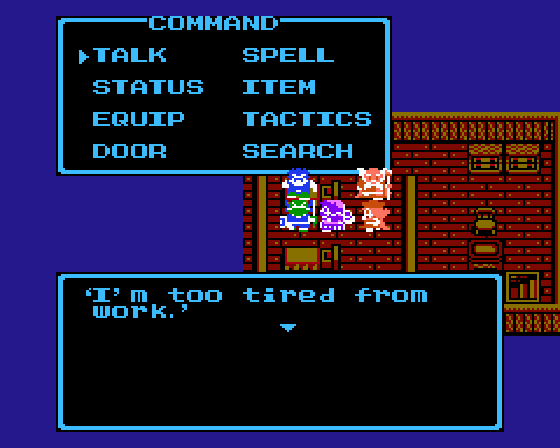 : I don't want to hear her silly talk about a giant statue that walks.

: That hardly sounds like silly talk to me, but what do I know?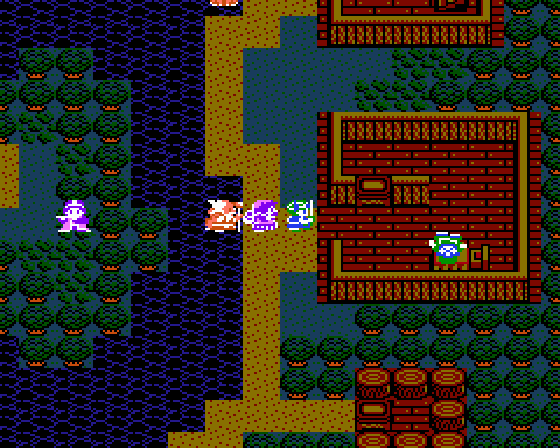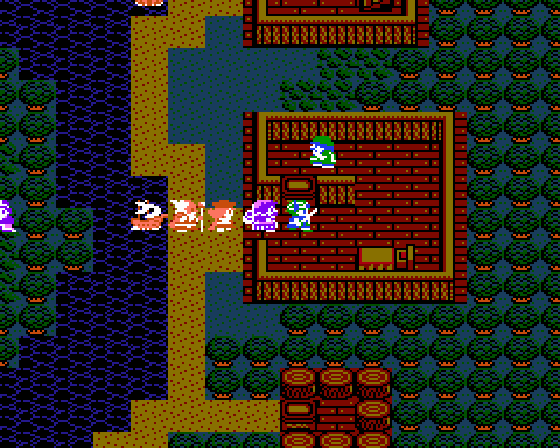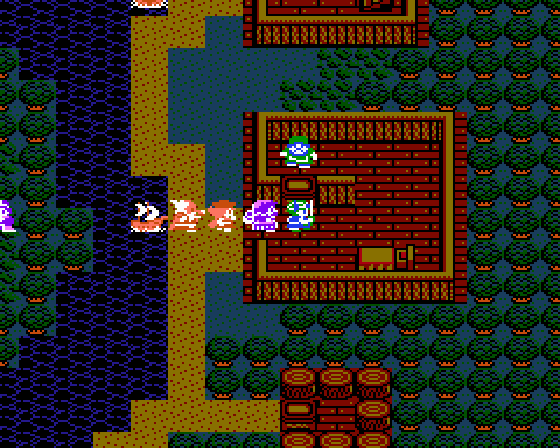 This sleeping innkeep runs to his counter as soon as we enter. 80 gold for a night! That's only 10 per person, but still, dang.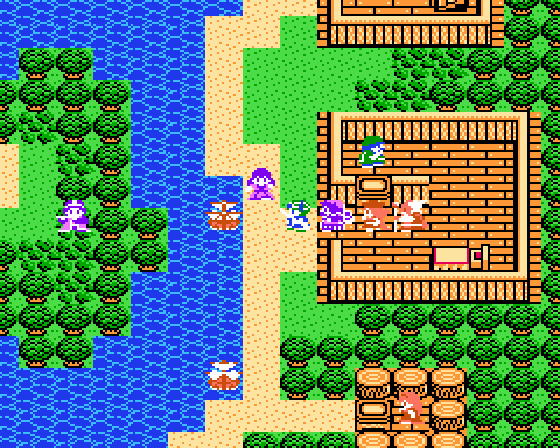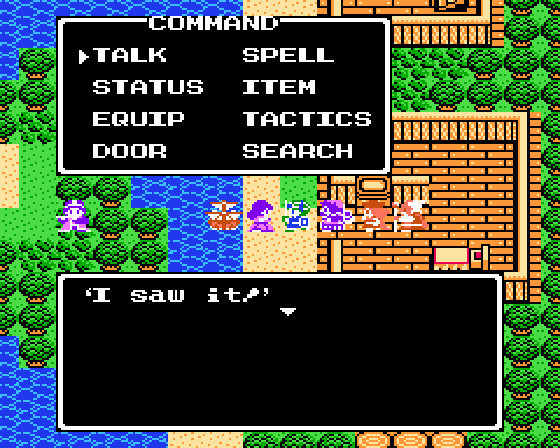 : That statue, right?

: The giant statue upstream walked!

: I do hope it's not some kind of gigantic monster...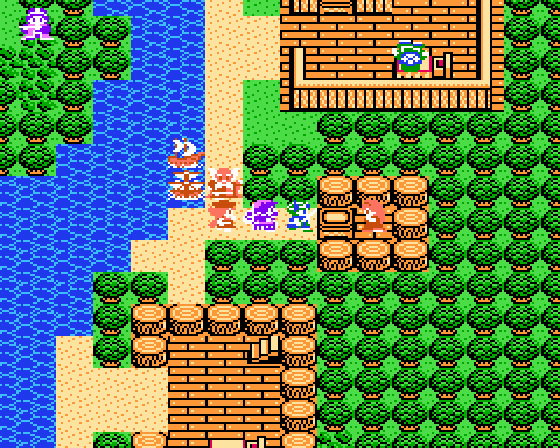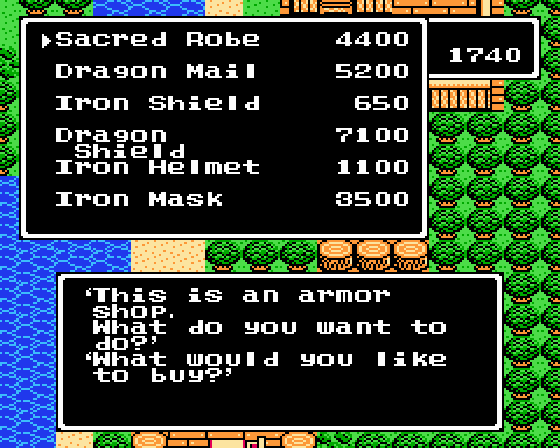 The armor shop south of the inn has interesting new gear for sale!
The Sacred Robe is Pilgrim armor for Cristo and Nara. It offers 38 points of defense (3 more than Full Plate, 2 less than a Pink Leotard), and some kind of elemental resistance; apparently it's a 1/3rd reduction to incoming spell damage as it used to be in DW3.
The Dragon Mail is heavy armor for Ragnar and Francois; it boasts 45 points of defense, which is only 5 less than Swordedge Armor for half the price. It also seems to offer 1/3rd resistance to all kinds of breath-type non-spell elemental damage.
The Dragon Shield is a heavy shield also for Ragnar and Francois, with 30 defense (the Iron Shield has only 12!), and from what I gather, it offers 1/3rd resistance to fire and ice damage regardless of whether it comes from a spell or a breath weapon. It sure comes with a price tag to match, though.
We have a few thousand gold at the Vault right now so we might be able to upgrade Cristo to a Sacred Robe (we'll probably replace Nara's Pink Leotard with one too at some later point), but I want to see the weapon shop here first.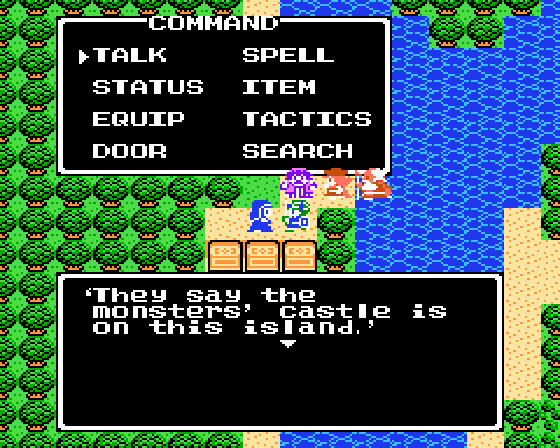 : Right, we heard as much.

: No one has ever returned from the castle.

: We'll be the first, then.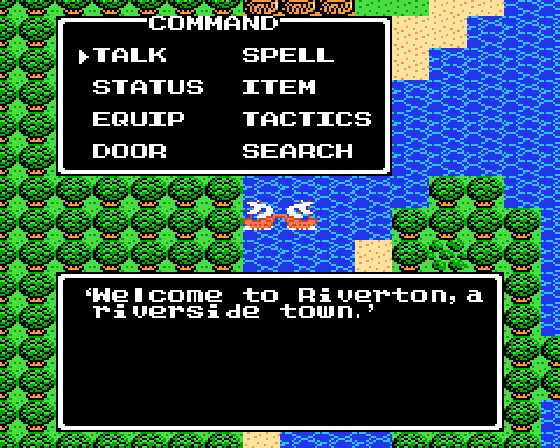 Riverton is important enough to make the Return list, fortunately.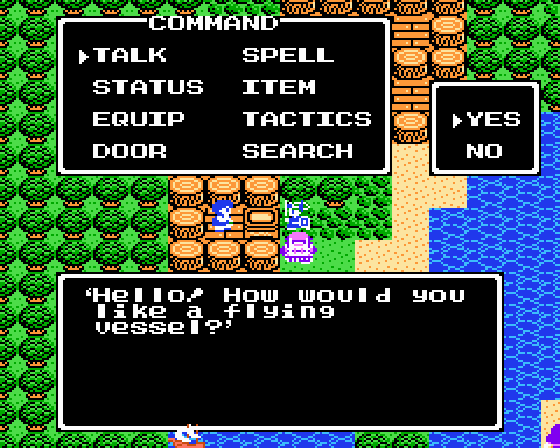 : Sounds great! One flying vessel, please.

: I wish to say that, but I don't have any yet.

: ...

: You really ought to learn basic customer expectation management theory.

: It's almost complete. All I need is a gas lighter than air.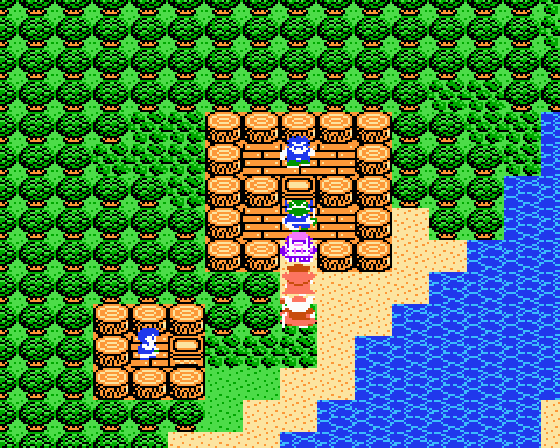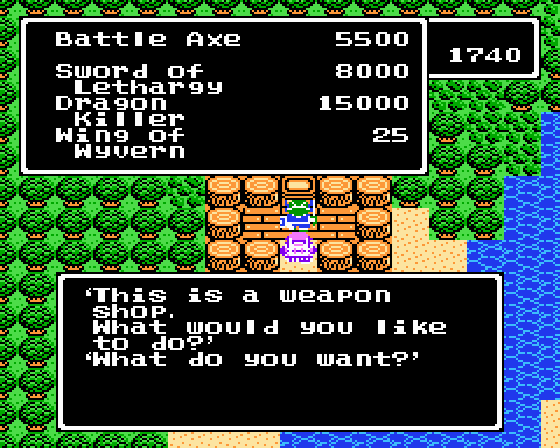 Gah, those prices!
The Sword of Lethargy is a +60 weapon (10 more than a Battle Axe) for Ragnar and Francois. It can be used to cast Sleepmore at will, but it also has a 1 in 8 chance to put its target to sleep with every standard attack, and this latter effect ignores sleep resistance entirely. As far as I know, every monster in the game can potentially be put to sleep with a Sword of Lethargy strike, without exceptions. (The Sleepmore cast is subject to resistances as normal though.)
The Dragon Killer is a +90 weapon (!) for Ragnar and Francois as well. Unlike its DW3 counterpart, when striking a dragon/wyvern/pteranodon-type monster, it does not merely add a small-to-moderate amount of damage, but it straight up does 50% more damage instead.
Checking back in Endor quickly, it turns out we have 7000 gold at the Vault, and 1740 on hand. I did want a Sacred Robe for Cristo, and a Dragon Shield would come in handy... but we have just enough to get Francois a Sword of Lethargy!
Hmm...
Yeah, we're going for the Sword. We can get Cristo his Robe next time we put 4400 together. Francois' attack power goes from 111 to 126, and his Sword of Malice sells for 2625 gold, leaving us with 3365. Whew! That's a major buy­ right there.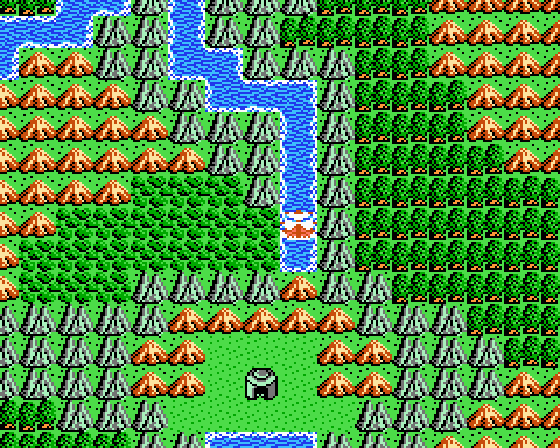 : Before we go, if I may...

: You want to investigate that giant statue, do you?

: Ah, indeed.

: If it's some kind of weapon the monsters are putting together, I can only approve having a look.
Just as we land at the end of the river...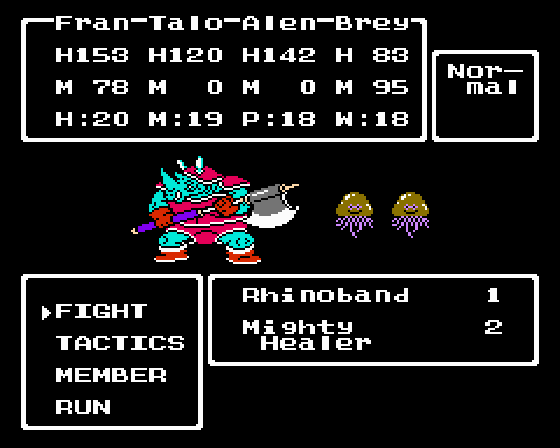 Mighty Healers have 140 HP, 90 attack, 80 defense, 47 agility, and come with the ability to cast Healmore. That's some serious business right there: even the support critters here are stronger than the most dangerous monsters on the Keeleon continent. They're weak to sleep, Blaze, Surround, Sap, wind and ice, slightly resistant to Firebal and RobMagic, and highly resistant to Bang and StopSpell.
Considering their defense, it's not a bad idea to bring in Mara or Brey, but here we have to watch out for the Rhinoband knocking them out of action in the meantime.
In the first round, Alena crits one Mighty Healer for 113 damage, and Brey comes in with an IceBolt to finish it. Immediately afterward, the Sword of Lethargy puts the other to sleep. Francois and Brey nearly get killed by the Rhinoband, but we bring in Mara and she ends the fight with Blazemore.
Ragnar levels up here, for 7 Str, 1 Agi, 4 Vit, and 8 HP.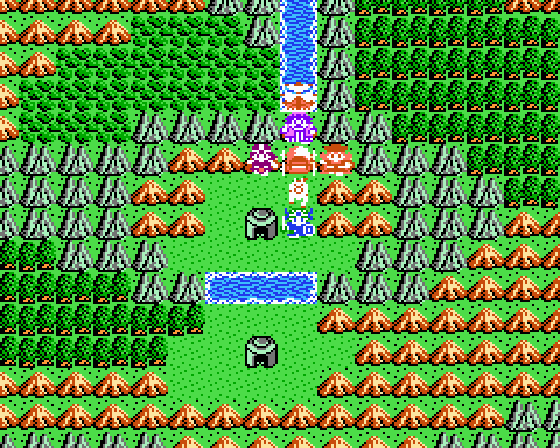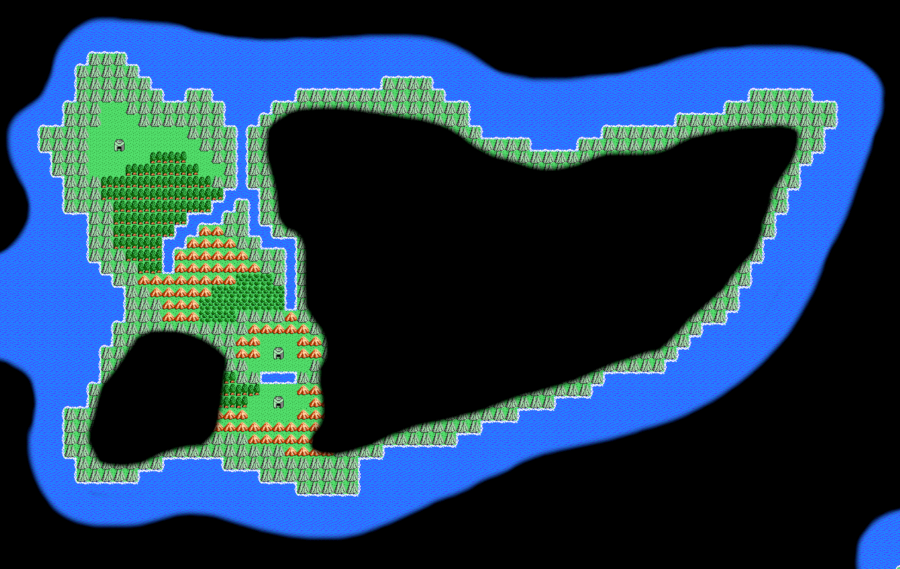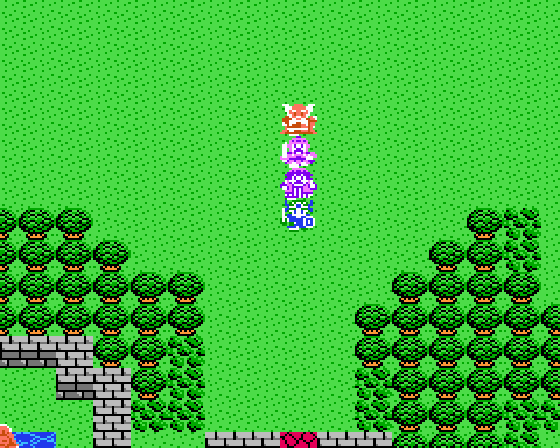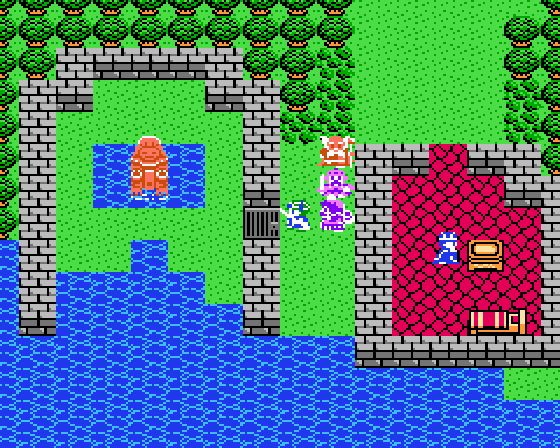 : Hmm, that's a giant statue indeed.

: You think it can really walk?

: It's difficult to believe. But there are many mysterious things in this world.

: It doesn't look very dangerous.

: Other than how it could crush a house, you mean.

: If it was some kind of weapon the monsters built to kill people, you'd think it would have all kinds of spikes and claws and horns. They'd make it really scary.

: If we saw it move, we'd be more than scared enough!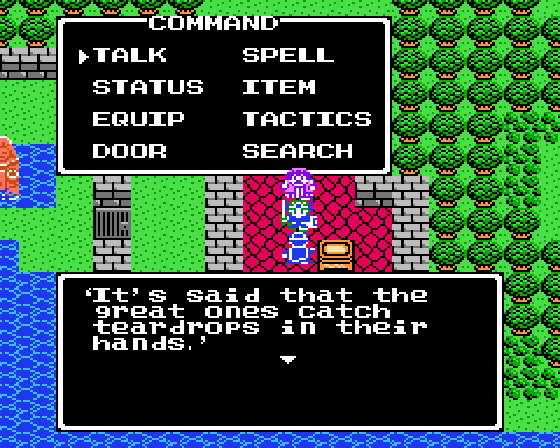 : Oh, I've read that in an old book once.

: What does it mean?

: I have no idea.

: Hmm.

: If it's literal, then it's meaningless. Anyone can catch a teardrop in their hands. So there must be another interpretation.

: Journey carefully.

: Alright then, thanks anyway. Do stay safe, alright?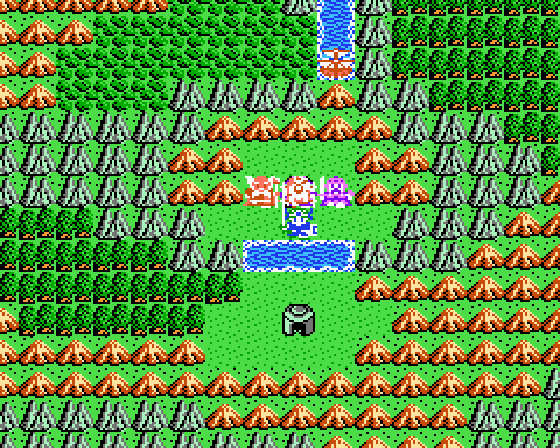 : Gah, we can't go anywhere else without crossing this weird lake. So much for this island then.

: The Zenithian Sword wouldn't actually help us here either.

: But if this statue can traverse the water here, then a better key would open the path.

: Anyone has a lead for some kind of super key?

: Can't say that I do.

: Nope.

: I do not.

: Not for a better one than the ones we already have.

: So we're back to traveling the world.

: It's a delay, and there's Necrosaro, all of that, blah blah blah, but honestly, I can't think of anything else I'd rather do than go to new places with the lot of you. I mean, I'd want to take my family along of course, but... maybe once we're done with this nonsense.

: One day at a time, then.

: One day at a time.