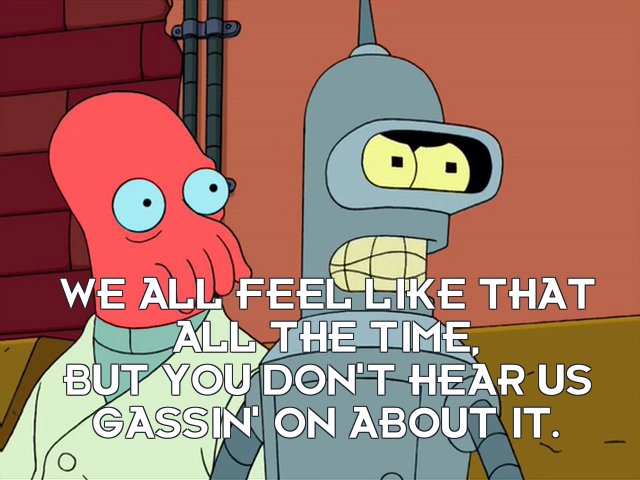 Spram, it kinda seems like every time you show up, you feel like you need to express yourself in some kind of self-pitying way in order to get attention.
You don't need to do that, man. You can just talk. People will respond or they won't, in much the same way that people will respond to any of your other posts or they won't.
A lot of us feel like you do, more or less, and have said as much. Messageboards aren't what they used to be; everybody's moved to Facebook and Twitter and there's not as much activity in places like this as there used to be. I'm with you; I think that's a shame.
As far as the Internet invading reality, yeah, I think I know what you mean by that, and it's pretty miserable too.
We're none of us getting any younger and I think a lot of us understand what you mean about not having hope for the future anymore. I think we're all in the same boat as far as that goes, and I think that's what Brent meant in his reply, though of course he can speak for himself.
You wanna talk about games? There's not as much traffic on the Games board as there used to be, but people still like to talk about games. Friday's been going through a list of her 100 favorites and there's an awful lot there to discuss.
You wanna talk about the dystopian turn the world's taken? We've got a politics board for that.
There aren't as many of us as there used to be. I miss some of the old crew, though there are some people I don't miss, too. I think we've still got a pretty good group here.
It is what it is. Through a combination of common interests and sheer fucking stubbornness, we're still here, and those of us who are left are doing much the same thing we've been doing for the last 18 and a half years. (It's not "20+"; the first incarnation of the Pyoko boards went up in early 2002. But you were close.) So you wanna talk about video games and weird shit on the Internet? Ain't nobody stopping you, dude; go nuts.
Just maybe don't post any pictures of naked shit-covered babies. Go nuts, but within socially-acceptable parameters.