: AUGH!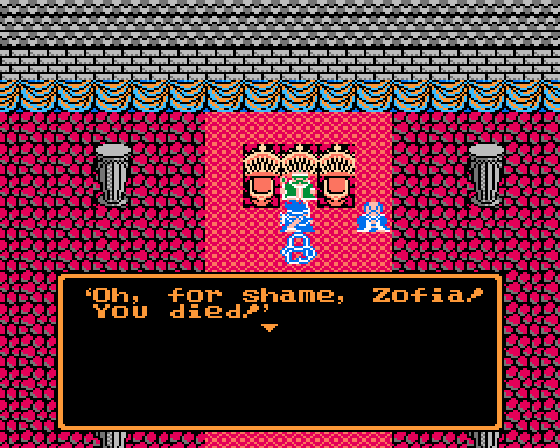 : W-wh... what...

: I will grant thee one more chance.

: Ow... that's... too kind... I'm just... dying to get back there.

: Be off with you then Zofia!

: Yeah... yeah... Sure. Oof.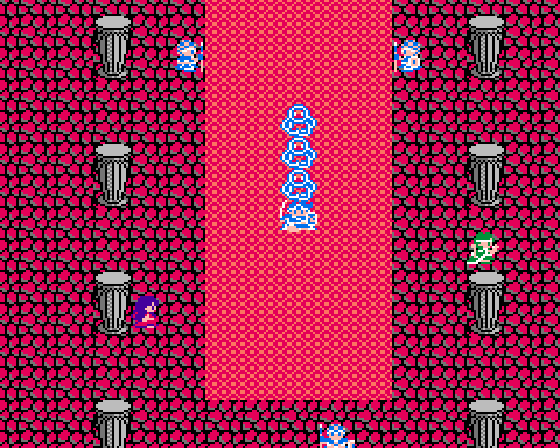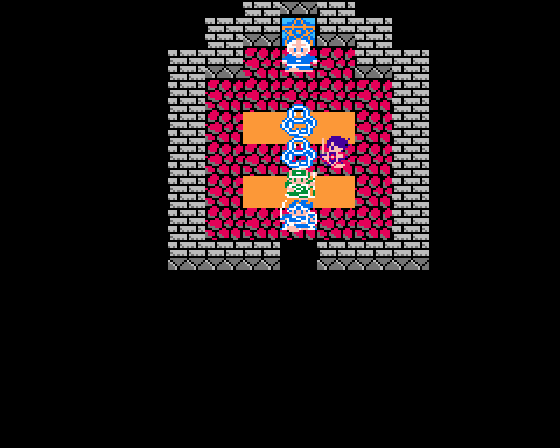 : So...

: Hmm-mmm.

: Is that beginning to count as penance?

: Yes, I think that's a start.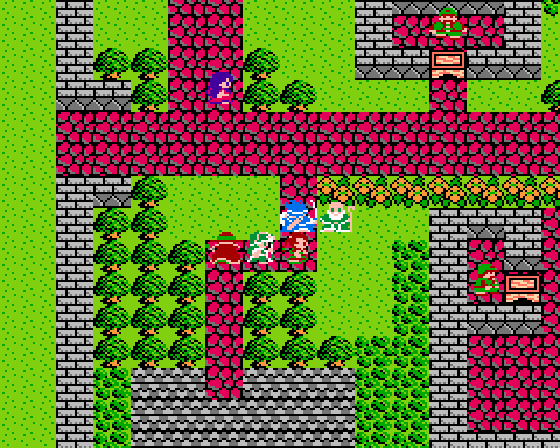 : Better head right back in, I suppose.

: Heck yeah. It's personal now.

: Um...

: Well, okay, it's personal for
me
now.

: He's your dad too, remember?

: ...!

: Wait, what!?

: Oh, uh-

: Settle down, it's not what you think. Maybe we'll tell you about it later, but we have work to do. Come on guys, focus! Focus!

: O-okay...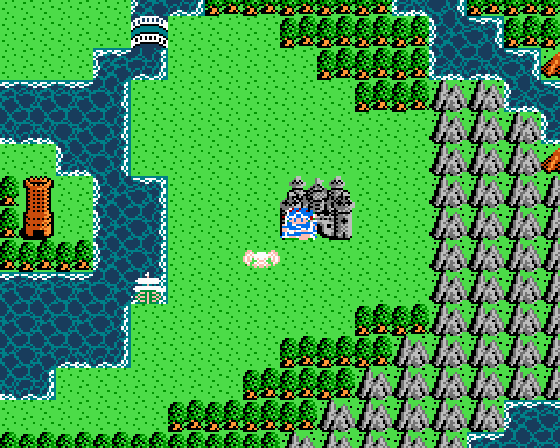 So. Baramos.
He starts the battle with up to 900 HP, and regenerates 90 to 109 points per round. He has 220 attack power (20 points more than a Man-Eater Chest, the second strongest monster) and 100 defense power (half as much as a Tortragon, but the monsters in his palace have around 60-80). That's already bad enough. On top of that, he always gets two actions per round, and follows a specific four-round pattern.
First round: Explodet, standard attack (he does not ignore formation, for what little solace that's worth)
Second round: High-grade fire breath (80-100 damage or thereabouts), Blazemost
Third round: Limbo, standard attack
Fourth round: Explodet, Chaos
Returning from being the Princess of Moonbrooke's strongest spell, Explodet deals 120 to 159 fire damage to all enemies. Blazemost is the most powerful of the Blaze line of spells, dealing 160 to 199 fire damage to one target. (Explodet costs 18 MP, and Blazemost 12, but he's got 255 to spend, it doesn't matter.)
Baramos is immune to Beat, RobMagic, Chaos, Limbo and Expel. He's highly resistant to fire, Sleep and Stopspell, and slightly resistant to everything else, except for a complete vulnerability to lightning. (A Bikill-powered Hero will usually have better things to do than cast Zap, though.)
As usual, I didn't read up on him before our first fight, so you ended up seeing him at his most dangerous there. It's sort of possible to keep your head above water for a bit by having two people cast Healall every turn, but sooner or later something doesn't go right and you lose someone and you're boned. Not to mention that you need to be able to overcome his regeneration, so you can't have half your party permanently dedicated to keeping the other half alive. Aaaand all it takes is for a Limbo or Chaos cast to hit its mark to basically end the fight.
So, how are we going to go about this? We gotta land a StopSpell. Zofia and Isabel will be dual-casting StopSpell until it lands (it's about a 1 in 3 chance), while the others Parry so they don't need quite so much healing. It will leave him with his devastating fire breath and standard attacks, but we have Barrier and Increase, so those are ultimately manageable. Or at least, more manageable than his non-stop barrage of asshole-tier magic. Not having to do a comprehensive pelvic floor workout every 3rd and 4th round will do wonders for our morale.
This really outlines how important it is for the Hero to have access to StopSpell. No standard party has to face Baramos without the ability to shut down a great deal of his power.
There is a point to be made about Sleep being also effective, and I could see that, given that it has the same chances of hitting as StopSpell, but I've been bitten more than once by Baramos waking up with his first action and then casting Limbo or Chaos with his second. If you're lucky Sleep will make the fight very easy, but StopSpell has the advantage of permanently removing his fight-enders and of not tying up your healers in recasts when he wakes up.
Once we've got survival and Bikills sorted out, Rebeca will be free to turn into a dragon again, which effectively more than counters Baramos' regeneration. Then maybe we get a Sap from Isabel between heals, and he's cooked. Probably. Hopefully. We'll be trying this out once, and if it fails spectacularly, maybe grinding up a level or two will help, but I do enough of that with the B Team so I'd rather not resort to it, heh.
Oh, and for this fight at least, Zofia will be swapping her Swordedge Armor for a suit of Panchoville's finest Dragon Mail. It's not like we have any use for gold anymore, and the resistance to fire breath will be more than worth the loss of ten points of defense power in this case. Isabel's Barrier spell won't stack with it, but it'll help her survive until StopSpell works.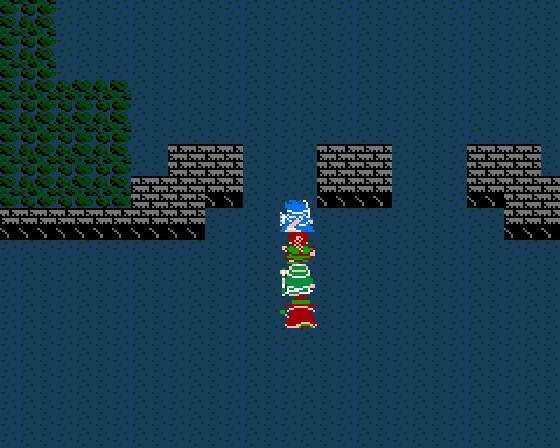 I don't expect night-time to change anything, but I want to check something just in case.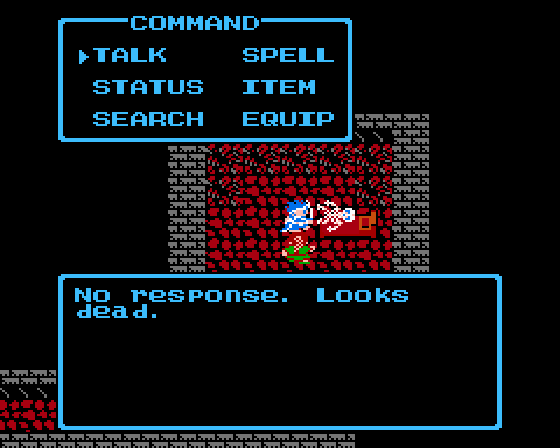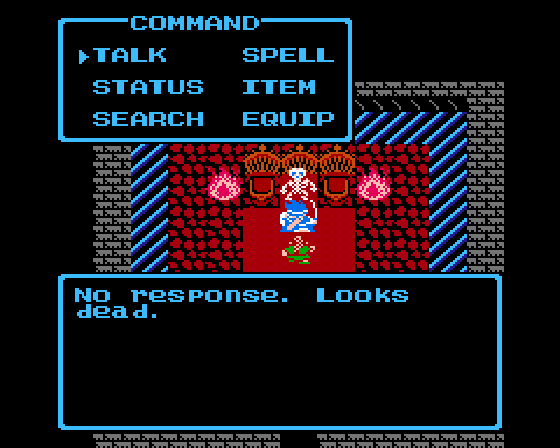 Nope, they still have nothing to say. Alright then.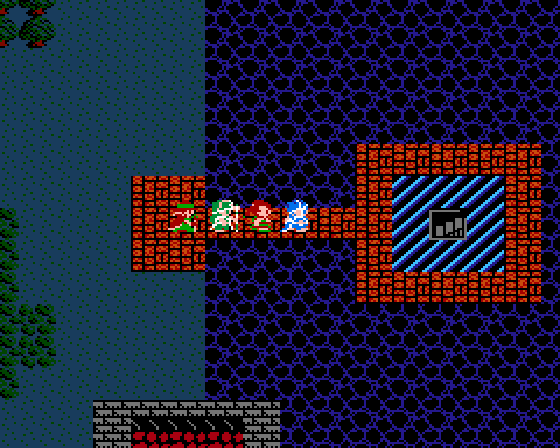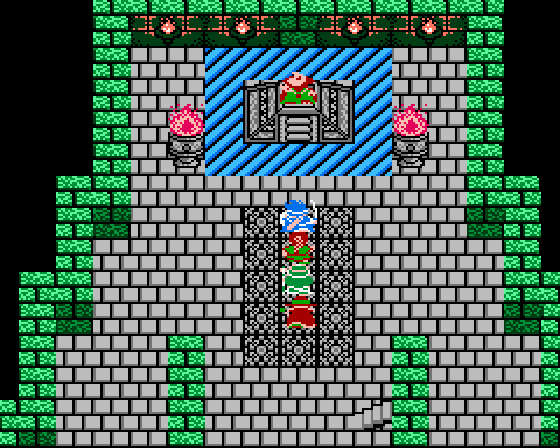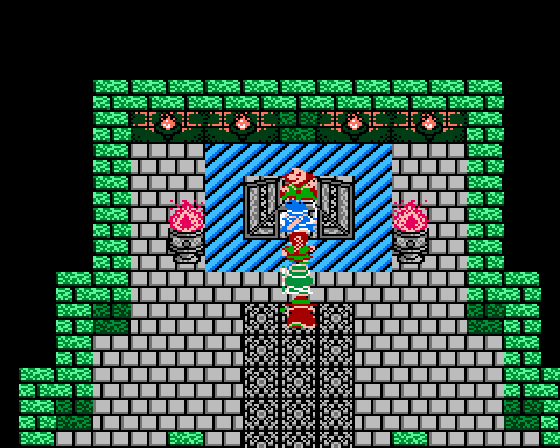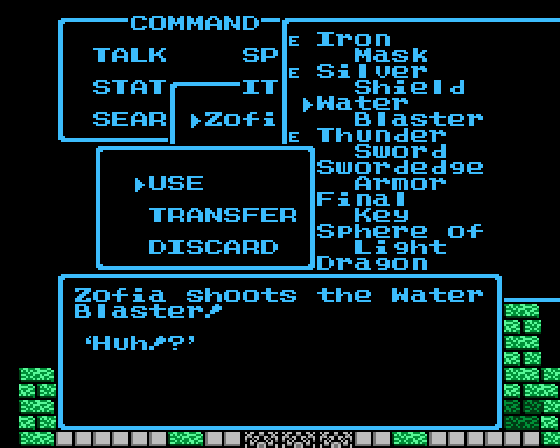 : That one's for my dad.
"You have defeated Baramos! A warm light engulfs the area..."

: HAHAHAHAHAAAA! WHOSE INNARDS ARE ON THE MENU NOW, YOU SON OF A BITCH?

: Reb, don't eat the archfiend, you'll get a tummy ache.

: Spoilsport.

: There's a sentence I never thought I'd hear.

: Good goddamn... We did it.

: Holy crap.

: Yeah.

: Wow.

: What... what do we do now?

: ...

: ...

: ...go home, I guess?

: Yeah. Yeah, what the heck, we're never gonna top that. Let's go home. Whew!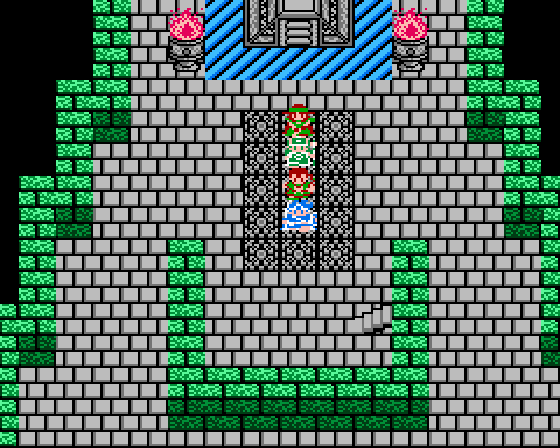 : Good job, by the way!

: You've all done so well.

: Ha, same to you!

: Yeah, wow. That could hardly have gone any better!

: Well... I did die. And then I almost died again.

: I'm not saying it didn't suck, just... it ruled as much as it sucked.

: Heh, okay, let's go for that.
Dang but that was on the razor's edge, though. I'm actually kind of surprised we won! StopSpell worked early on, but of course Baramos knows not to try to cast through it, and man that fire breath still hurts even through Barrier. I was also worried that the BeDragon cast was premature, but it turns out it was exactly the right moment after all.
Anyway! We've recovered all of our HP and MP, just like at the end of the previous games. And the monsters are gone, too. Talk about a job well done!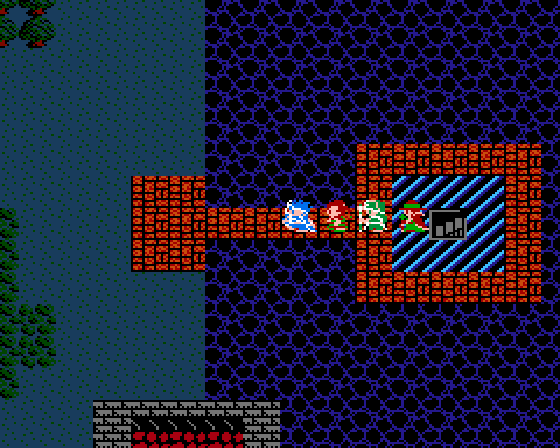 Even the trap tiles don't hurt us. In keeping with tradition, The game won't let us die anymore. Good grief, what an adventure that was.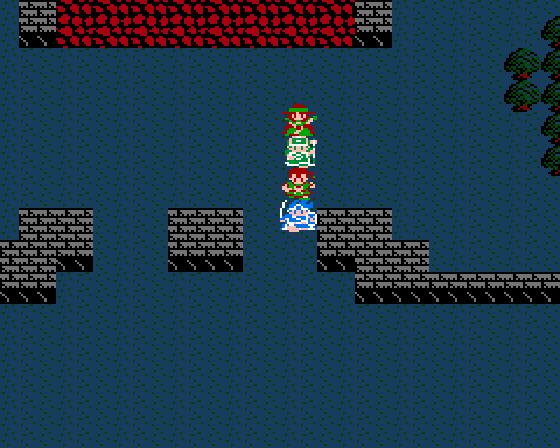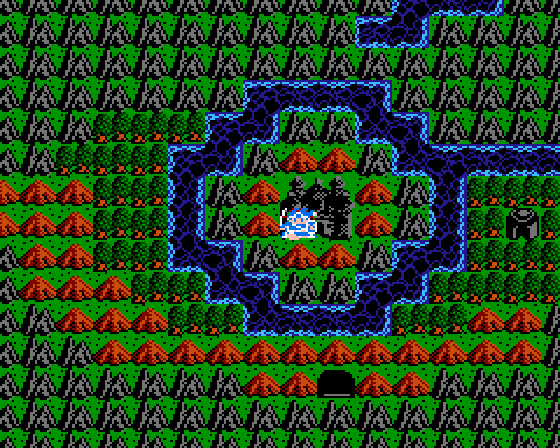 : ...where's Ramia?

: Her work here is done, I suppose.

: Hmm. Good thing you can teleport us out of here, then.

: I'll say!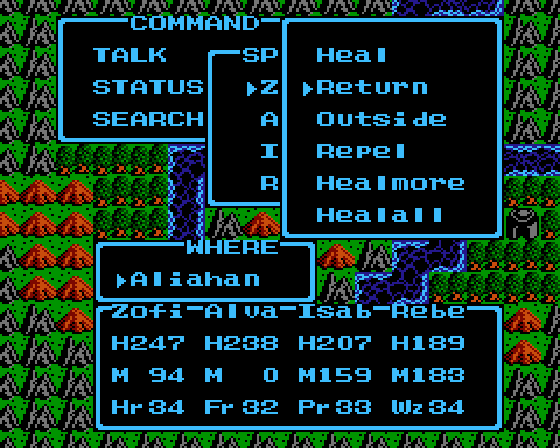 We're only allowed to Return to Aliahan. We're definitely getting railroaded to the ending. Heh, I kinda miss the previous games' victory lap.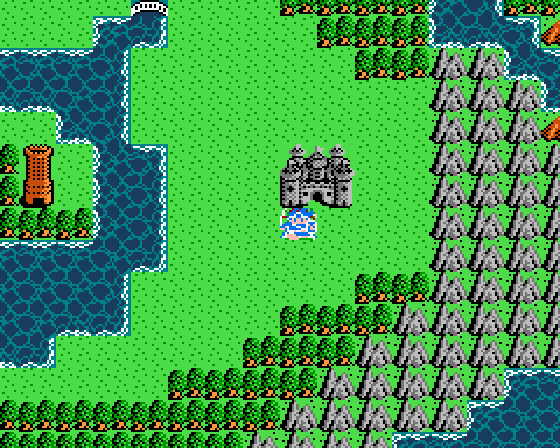 There's nothing stopping you from going to Romaly through the Travel Door again, but nobody outside of Aliahan says anything different. Missed opportunity, I suppose.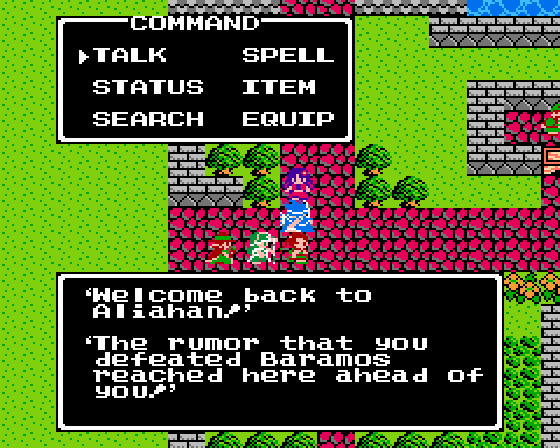 : Ha! The monsters are gone, that's not too hard a conclusion to draw.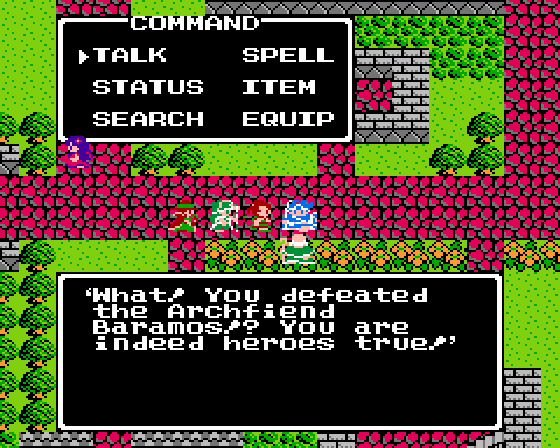 : We've known that for a long time!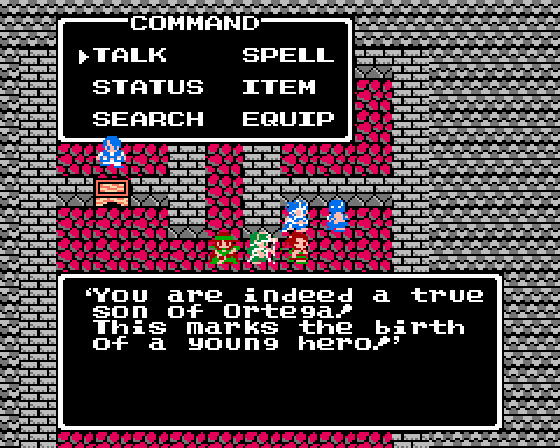 : I am not letting you ruin this for me.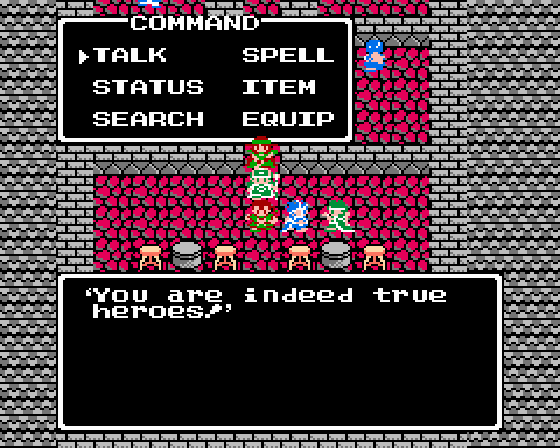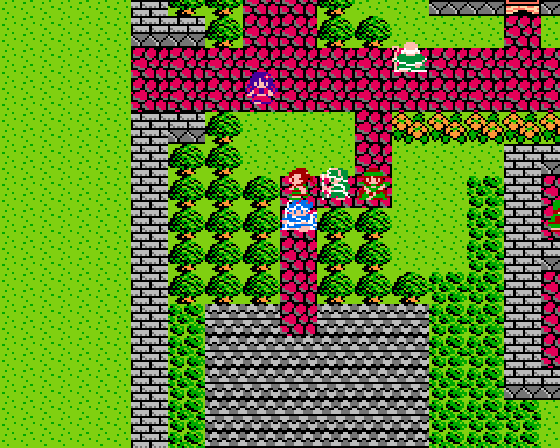 : MOM!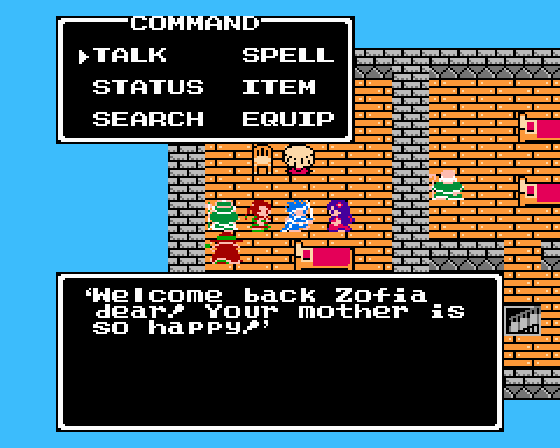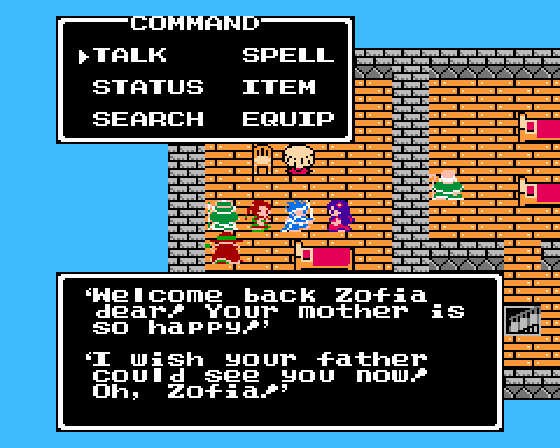 : I'm sure he would be even prouder than I am.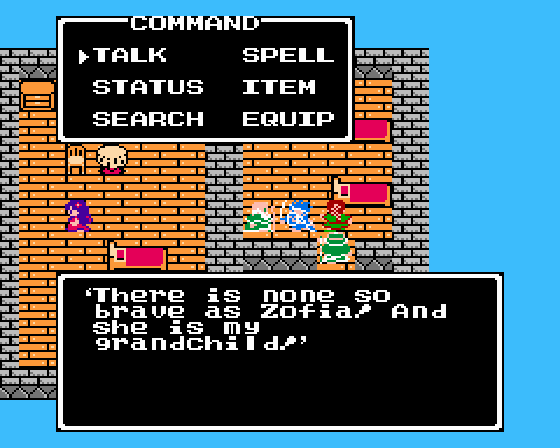 : There's definitely something special going on with that bloodline!

: Yeah, but I wouldn't have made it here without you. Blood will only take you so far!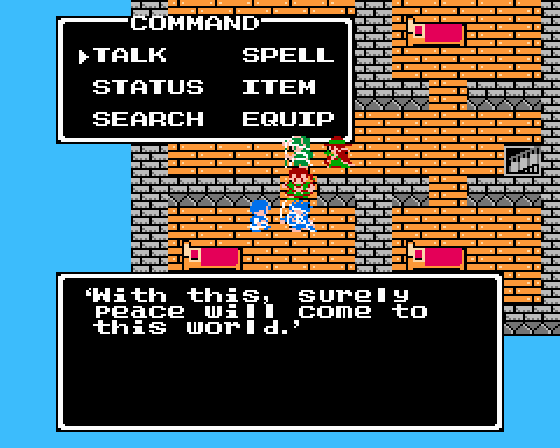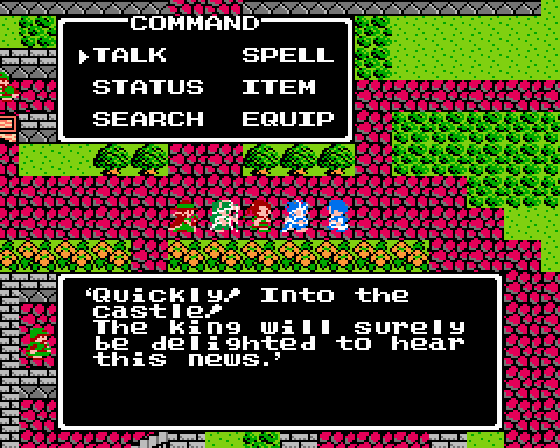 : Ugh, it's infuriating that his scheme worked in the end. He better not claim any credit for this!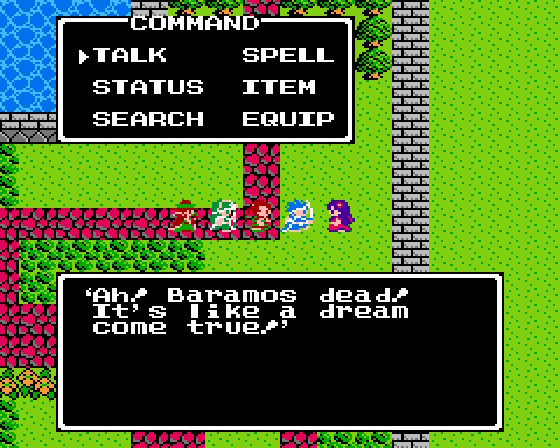 The other townsfolk have repeats of the above dialog, so I'll save you a bit of time.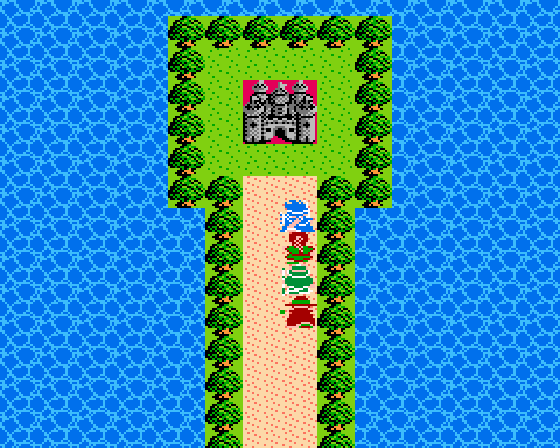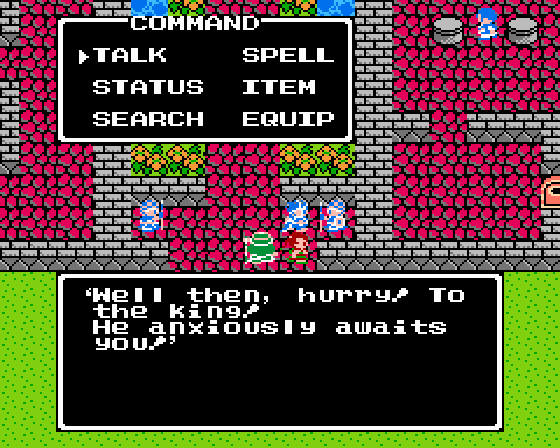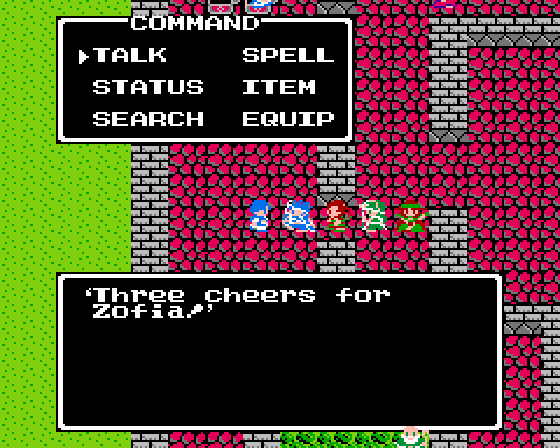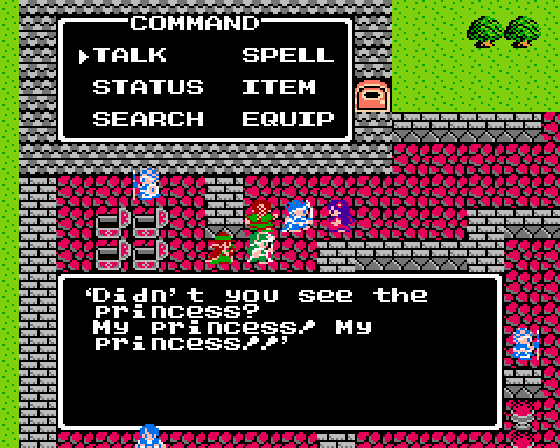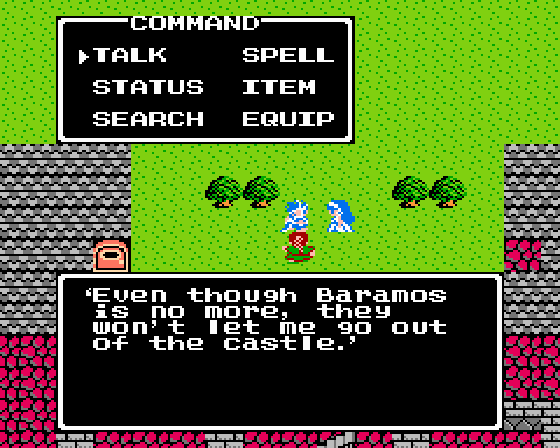 : I think my father just doesn't want to let me go out.

: Ha, I'll take you along one of these days. I'd like to see him try to stop me!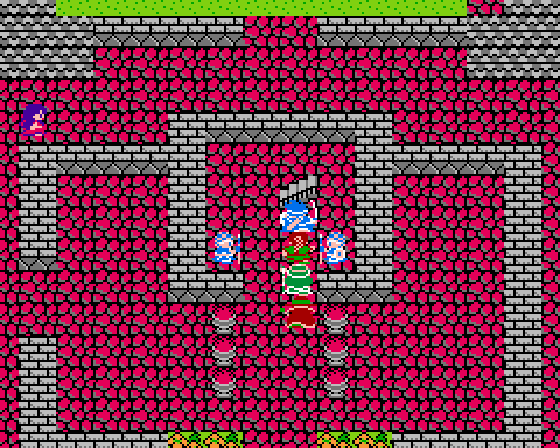 The grateful king greets Zofia as "indeed a true son of Ortega", mentioning that the whole country sings in praise, and calling for celebration. The royal guards prepare their trumpets... but suddenly there is a sinister rumble and the room goes dark! One by one the guards are destroyed by an invisible force as an unearthly voice is heard.

"Ha, ha, ha! I am Zoma, Master Archfiend who rules the dark realms. By the powers I possess, before long, this world too will be locked in darkness. Anguish and suffering be thine! It is thy suffering that brings me joy! Ha, ha, ha..."

: ...what the HELL?

: ...how!?

: I KNEW IT! I KNEW IT!

: What do you mean?

: Baramos was a chump! Zoma's the real demon lord here!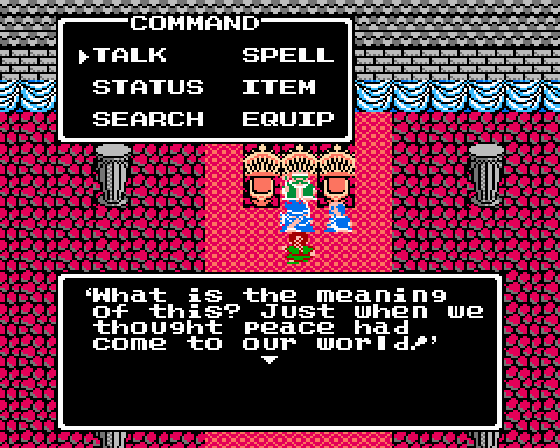 : Who's Zoma?

: Zoma! "He who makes slaves of the dead!" I know I mentioned him before!

: How shall I tell my subjects of the coming of a world of darkness?

: Maybe start with thinking of an explanation for how half your royal guard just got blown up.

: Swear you'll keep this news of the Archfiend Zoma a secret!

: There's no point in telling anyone. This "world of darkness" isn't coming.

: R-right!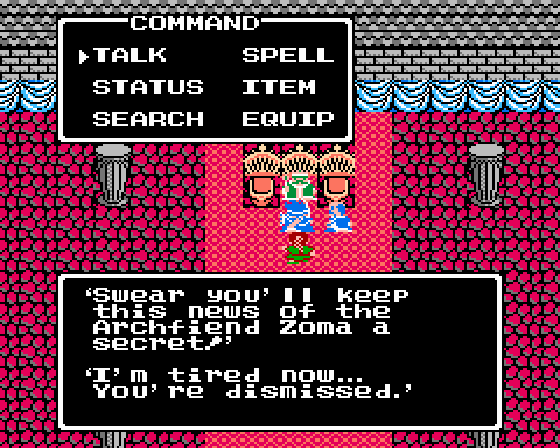 : You're TIRED? How DARE you?

: Temper, Isabel.

: ...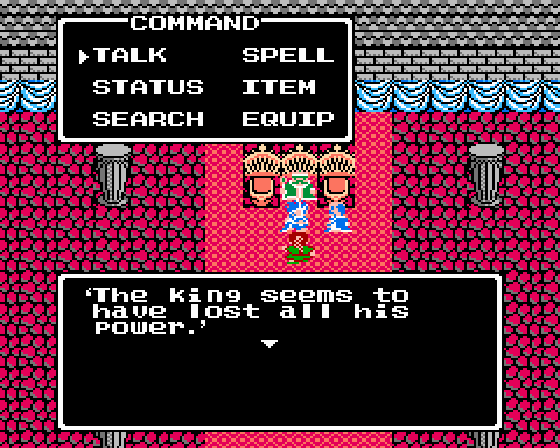 The minister here will perform all royal duties for us from now on. I mean, we still need to add to the Imperial Scrolls of Honor. We're not done yet!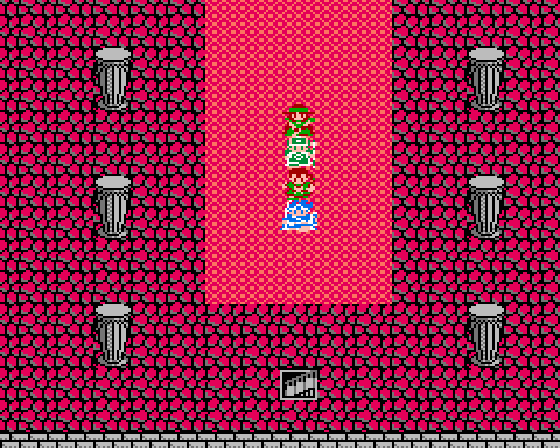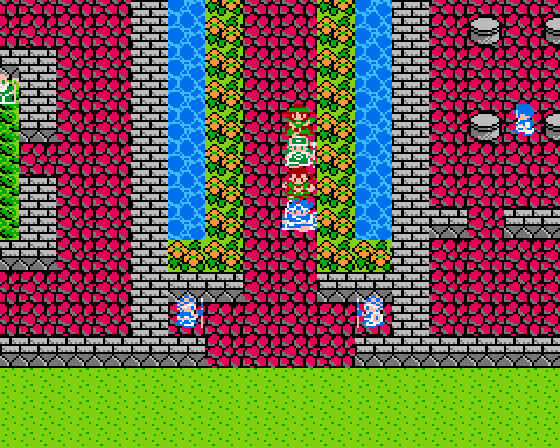 : Um... Guys?

: Hmm?

: I asked you to join me to hunt down Baramos. That's done now, so-

: Pfft, are you kidding?

: We're still with you, Zofia.

: Yes, I'm... I'm still here!

: Ha, alright then.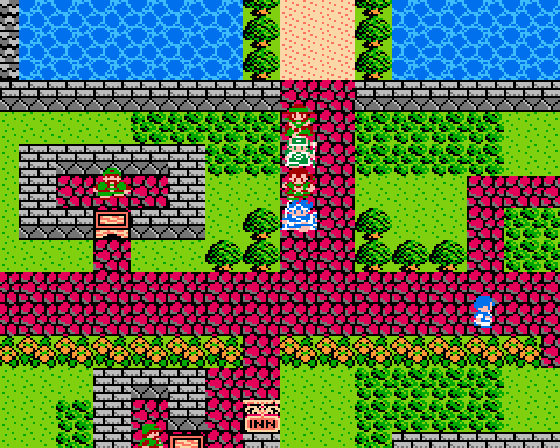 : Rebeca, if you know about this Zoma character, do you maybe know where he is?

: Hmm... I've never seen any reference to him being anywhere but in a world of darkness.

: Is that it?

: Yeah, that's short on actionable details, but most of the time you don't really want to know where powerful demon lords are. Just... all you do want to know is that they're Not Here.

: I wonder... We need to check the Pit of Giaga again.

: Right, that's my thinking too.

: The source of misfortunes...

: The sunken king wasn't talking about Baramos at all.

: Ugh, I can't believe we were sent after the wrong asshole.

: Baramos needed to be eliminated one way or another.

: Remember what happened to Tedanki!

: Ehhh... Yeah, okay.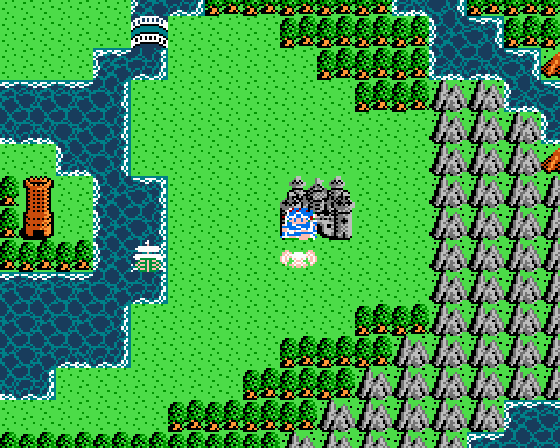 : Well hey, good to see you're back.

: We're going to need your help a bit longer, Ramia.

: Before we go to Giaga...

: Hmm?

: Could we make a detour to Portoga first?

: What? Why?

: We know Baramos cursed a couple there, right? I wonder if we've saved them, at least.

: Huh. Alright, sure.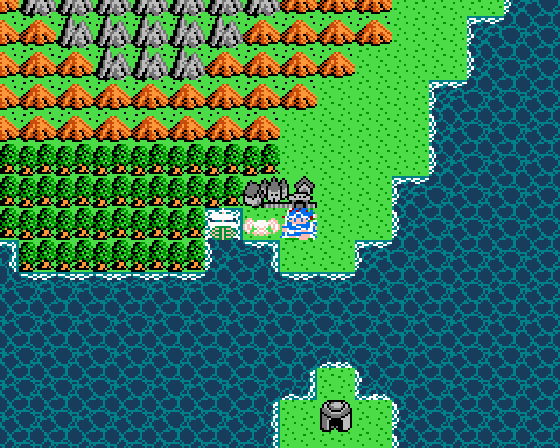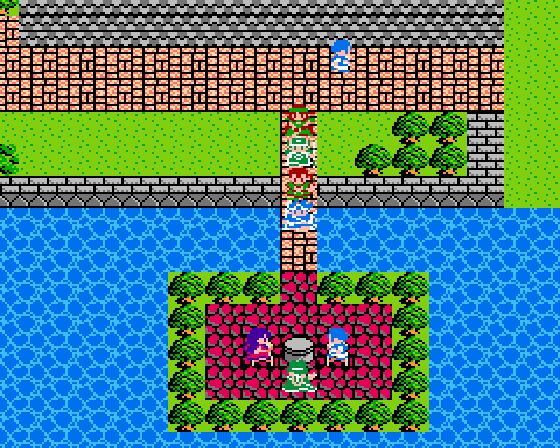 : Well I'll be!

: Good call, Alvaro!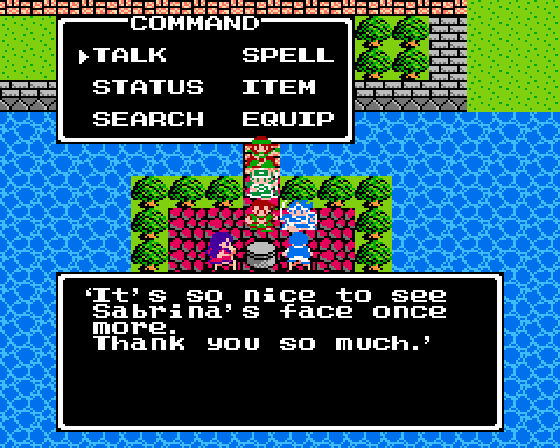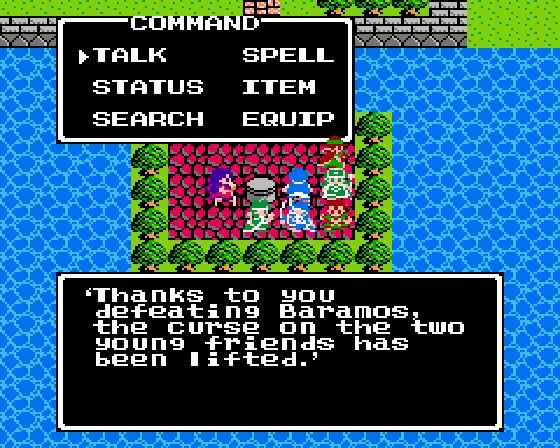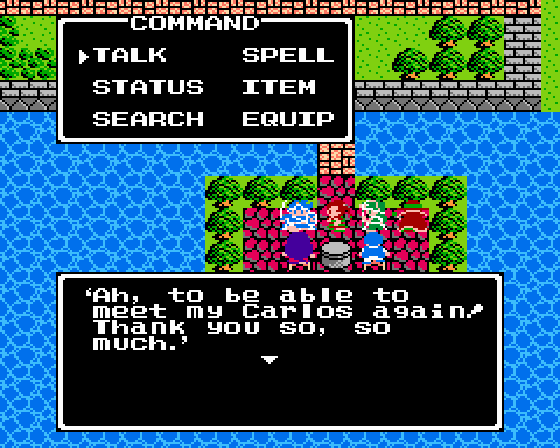 : Oh, how silly of me. As a token of my appreciation, I give you this Sword of Illusion.

: You don't have to do that! But thank you.

: The Sword of Illusion is a mysterious sword that only women can use.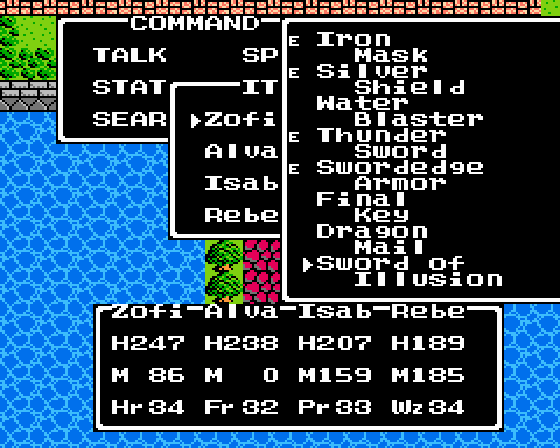 Remembering to go back to Portoga after defeating Baramos earns you a unique sword! The Sword of Illusion offers 50 attack power, and can be equipped by female Soldiers, Merchants and Goof-offs. Soldiers and Merchants have much stronger weapons available by now (the Zombie Slasher is +65), but it is in fact the best weapon in the game for Goof-offs. Well, for female Goof-offs. Male Goof-offs have to make do with a Battle Axe.
In addition...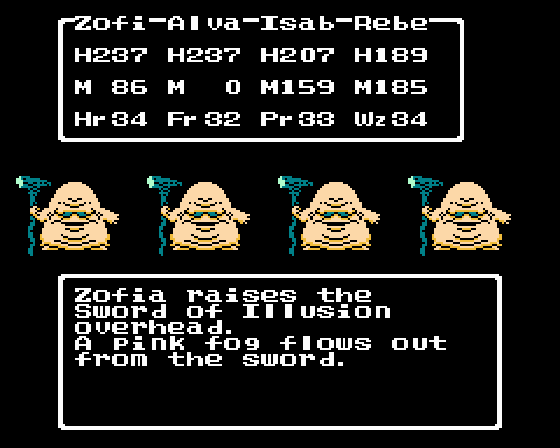 The Sword of Illusion casts Chaos for free when used in combat. All women can do so even if they can't equip the Sword, so we let Isabel carry it.

: Alright, that was worth the detour. Is there anywhere else you'd like to check back on?

: Hmm... Not that I can think of.

: Nah, that's it.

: I'm as ready as I'll ever be.

: Good enough. To the Pit, then.
One might think that Tedanki has been freed as well, but the town is unchanged.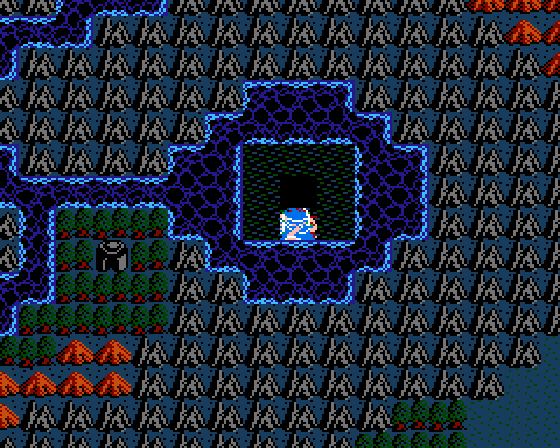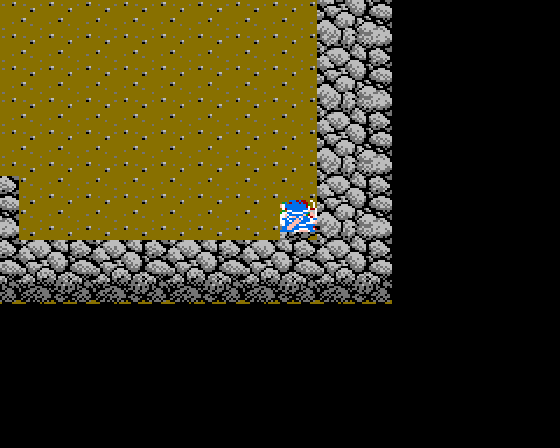 : Let's ask the guardians what's going on. If they haven't seen anything out of the ordinary, we might have to look elsewhere.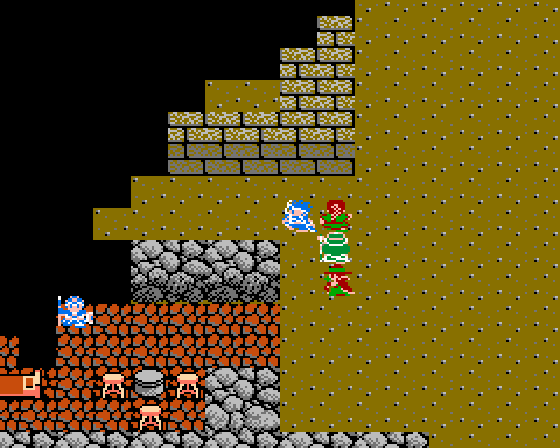 : Merciful light above!

: Yeah, that'll count as out of the ordinary.

: What happened here?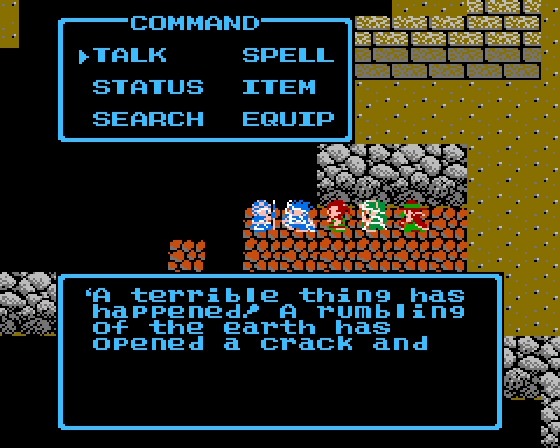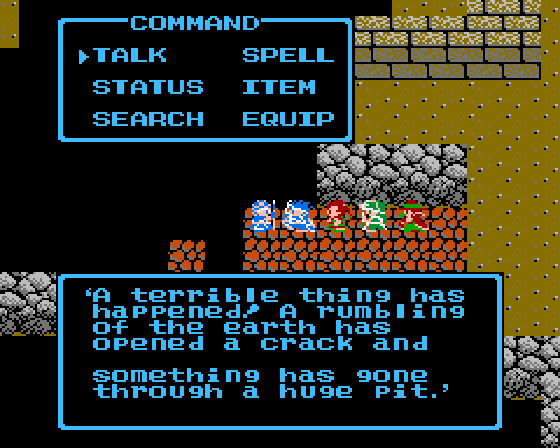 : Gone through? You mean it went in?

: That doesn't make any sense.

: Was some dark force released at Baramos' death?

: Everything's possible at this point.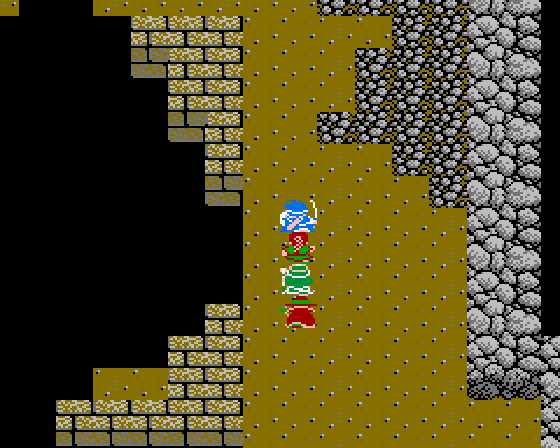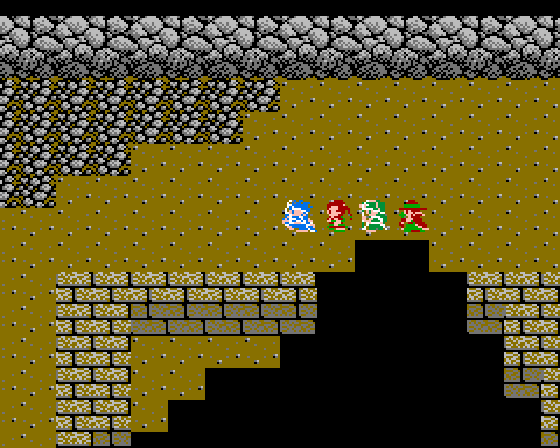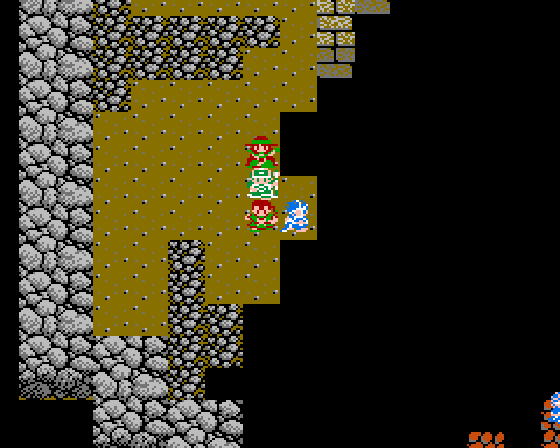 : ...are you guys thinking what I'm thinking?

: I'm afraid so.

: Yyyyeah.

: Ah... We can't even see the bottom...

: Eh, no bottom means we won't get pulverized on impact.

: Not the time, Reb.

: We're really going to do this, aren't we?

: We sure are. Hold on to your drawers, everyone. Five, four...

: Three!

: Two!

: One!

: Hup!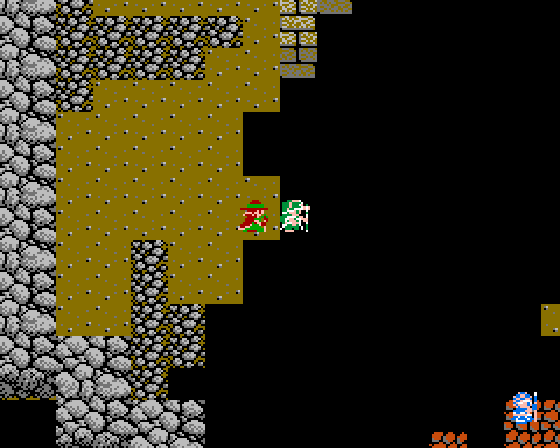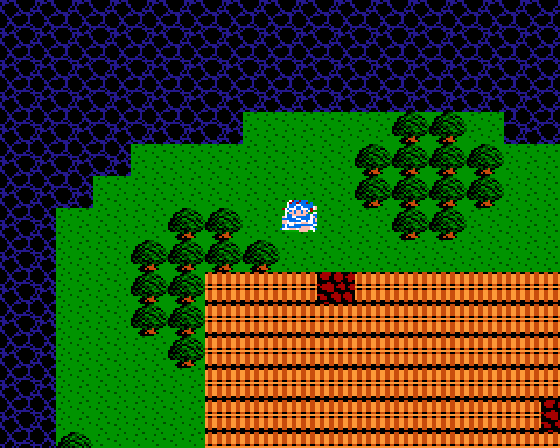 : ...huh.

: Is... Is everyone alright?

: I'm fine.

: Yes, I... I think I understand the trick, now.

: What kind of place is this? Are we... We must be underground.

: There is only darkness above us.

: So, this is the world of da-

: We got it, Al.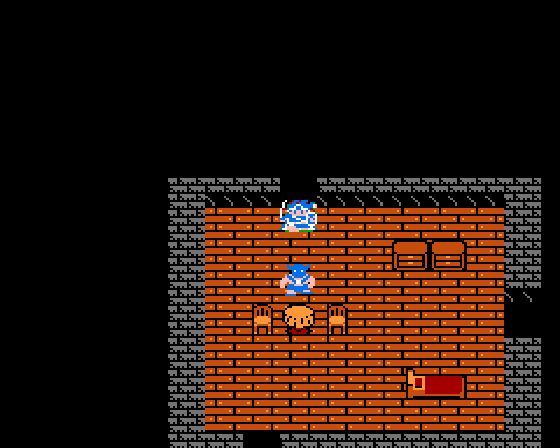 : Um... Hi?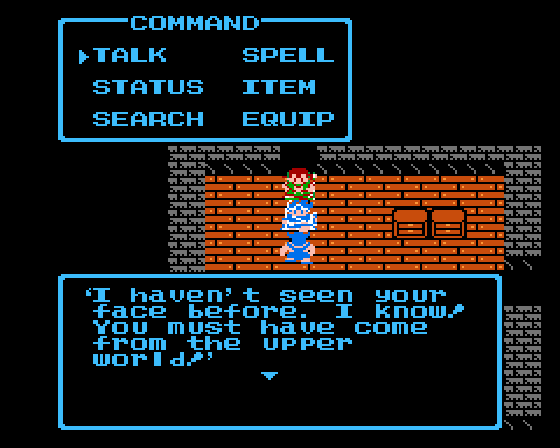 : Yes, you could say that.

: Good sir, I don't suppose you could... maybe... tell us where we are?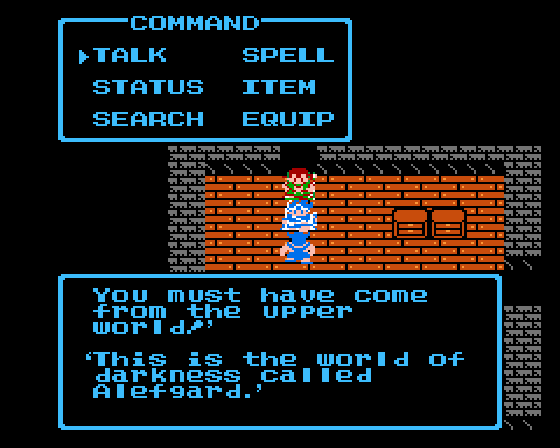 : PffffffWHAT?

: The world of... The world of darkness...!

: That doesn't... I don't... what? How!?

: This must be some sort of mistake!

: Not quite as demonic a name as I was expecting. Does it ring a bell?

: Can't say that it does!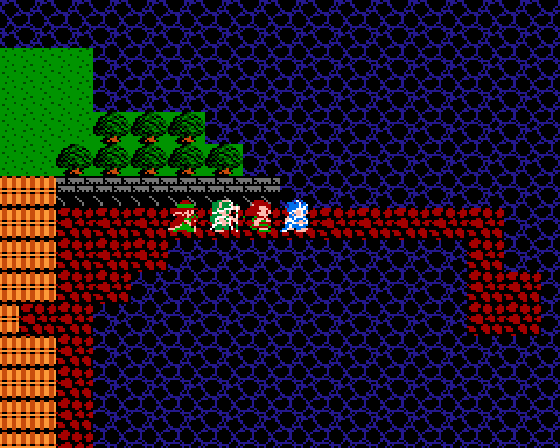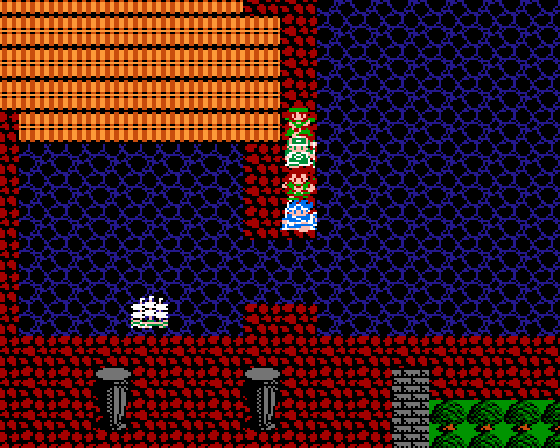 : ...is that our ship?

: Huh. How did-

: It's bound to us through the Return spell. Maybe there's something about the Pit that triggered the same effect.

: I guess we're doing without Ramia, then.

: She may be a phoenix, but she's a still a newborn. This is no place for her.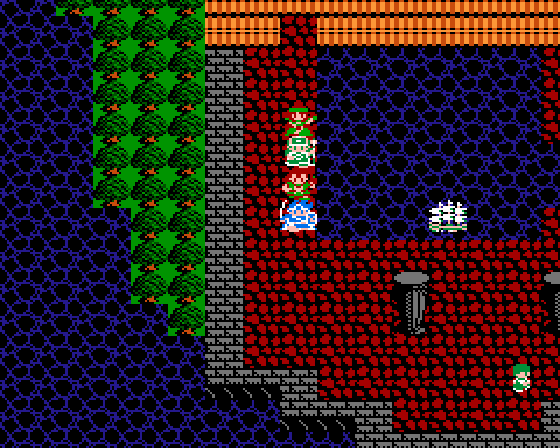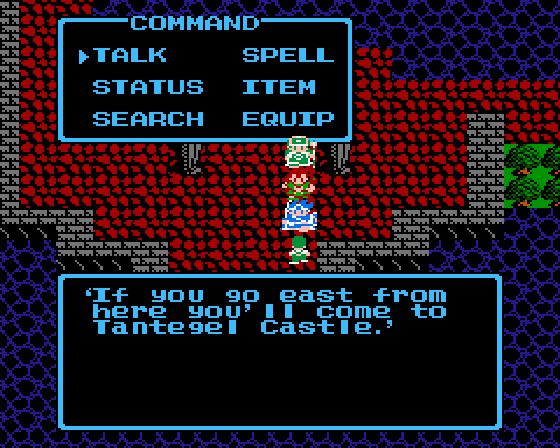 : No! No! That's impossible!

: Maybe it's... another Tantegel Castle?

: Could that be?

: I wouldn't bet on it.

: What did you kids do?

: Hey, don't look at us!

: We had nothing to do with this darkness!

: Our time was hardly perfect but we didn't mess things up that bad.

: Yeah, okay, but... For crying out loud, someone did!

: I-I'm sure Zofia will find out!

: Right. Right! Zofia!

: I think our world is in good hands.

: Yes! She destroyed this Baramos creature! She can get to the bottom of this!

: I suppose this is why we're here to witness all of this after all...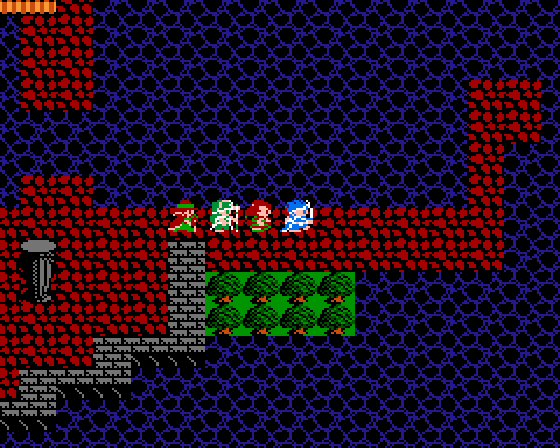 : This is really not what I expected.

: Was this world underneath ours all this time?

: I guess the Pit of Giaga always led to it.

: It's hard to believe this is really "the source of all misfortune".

: It must be somewhere in here, then. Zoma has to be in this world.

: This is disheartening, but... I can't say I'm unhappy at the thought of having an excellent reason to keep travelling with you all.

: ...ha. Yeah. Same. Aaaaanyway. Back in the saddle! Come on, everyone. All aboard!
Zofia's party lands the ship a short distance to the east of the small island they arrived on. You... probably want to watch the video if you can. It's not very long.