This place is full of nerds.
---
They like robots but not in that way but not not in that way.
---
And Lost Light has come to its bittersweet end and, as the kids say, made me feel all the feels.

I feel like I should write more about the whole thing, something comprehensive. It's not just my favorite Transformers series of all time, it's one of my favorite comics. I'm going to remember it like I remember Love and Rockets, Astro City, Priest's Black Panther, Ditko and Lee's Spider-Man. I'm not saying it's as seminal or important as any of those books -- but I'm saying it's had the same kind of impact on me as a reader.

There's an afterword where, among other things, Roberts lays out relevant side stories from other comics (a miniseries here, a couple of issues of Spotlight there). That's useful because hey, it's more Lost Light-adjacent stuff I haven't gotten to read yet.

And Barber (who's EiC of IDW now) has a box on the inside back cover reminding us that all this stuff is still in print and available online.

I might even go back and read Optimus Prime and all the other stuff I've been giving a miss because the Earth stuff just doesn't do it for me. (Except Thundercracker. I love the Thundercracker storyline.)

We'll see what comes next.
---
On the movies front, apparently Travis Knight has the license now (Paranorman, Boxtrolls, Coraline, Kubo) and intends to take things back to the eighties. Bumblebee will be a VW again as God intended.
---
The bits in the trailer where everybody looks like the original '80s versions (Soundwave, Shockwave, Optimus, Starscream, etc.) make me grin like an idiot.

The rest of the trailer does not. I don't expect I'll be seeing this one either.
---
Apparently someone needs to be shot for their trailer editing, but this is Laika studios. They're not gonna mess this license up after the home runs they hit to get here, surely? Reviews seem to be averaging on "Finally, a real Transformers movie", 98% on rt.
---
After Kubo they could do a Nazi propaganda film and I'd still be down for it.
---
mharr wrote:Apparently someone needs to be shot for their trailer editing, but this is Laika studios. They're not gonna mess this license up after the home runs they hit to get here, surely?
I mean, let's not overstate it; Travis Knight has done some fantastic work but this isn't a Laika movie, it's a Paramount movie directed by Laika's lead animator. I'm sure he'll make the most of what he's got to work with, but it's still a movie with a bunch of humans in it where Bumblebee can't talk.
Reviews seem to be averaging on "Finally, a real Transformers movie", 98% on rt.
Yeah, fair enough. There are a lot of good people onboard and it's getting solid reviews. I might give it a gander, but it's not high on my list.
---
i hear bumblebee gets it in
---
What, like the back of a Volkswagen?
---
KARMA +1 FOR THAD
---
The new Transformers #1 is out, written by Brian Ruckley and with art by Angel Hernandez and Cachet Whitman.
It's not bad.
The art is a little house style-y, but it's good, particularly the widescreen Cybertronian landscapes.
This is an origin story, because of
course
it is. And what the hell; if we're gonna have a new Transformers continuity, might as well set it in the distant past and on Cybertron.
There are definitely some cues here from the previous IDW continuity. We're seeing the early days of Megatron's revolution. He and Orion are both senators; Megatron's been leading protests of an as-yet-unspecified nature, while Pax is sympathetic but worried about the protests escalating into violence. It's very much the Megatron-as-Magneto, Optimus-as-Xavier dynamic that the previous series established, and at this point, at least, Megatron's the far more sympathetic of the two.
Haven't decided whether I'll stick with it or not yet, but it seems promising enough.
There's also a new
Netflix series
coming that sounds like it'll cover similar ground (origin story set on Cybertron). Not sure if there'll be any overlap.
---
I linked to a
Transformers bundle
yesterday (it's still on for 3 more days) and included a sort of ad-hoc suggested reading order.
If you want a more complete
reading order
than mine, that one I just linked is very thorough.
Again, you can skip the bulk of Phase One. The Spotlights are good but not included in this bundle. I like Megatron Origin because it kinda sets up what I think is the most important conceit of the IDW Transformerverse -- Megatron as a revolutionary against a corrupt system who went too far -- but it was originally written for an entirely different publisher and the later-established canon contradicts it somewhat.
Last Stand of the Wreckers and Transformers vol 5: Chaos Theory are both important to stuff that happens later in More than Meets the Eye.
More than Meets the Eye and Robots in Disguise run in parallel for their first 22 issues/5 collections. Then they cross over in Dark Cybertron. You
can
skip Dark Cybertron (I did) but it follows up some plot threads from MtMtE, and also sets up Megatron's redemption arc, which is a major part of the remainder of MtMtE/Lost Light.
While I like MtMtE better than RiD, it bears noting that they're both pretty fantastic up to this point. MtMtE is the series about a bunch of lovable, quirky characters traveling through space having adventures (and some pretty dark SF/horror pastiche stuff; the first two arcs are pretty heavy on Alien and The Thing influence). RiD is more like House of Cards with giant robots; it's about Bumblebee trying to maintain order on Cybertron while Starscream vies for political position. Following the war, the Autobots and Decepticons are nominally at peace, but obviously tensions die hard after four million years,
and
conscientious objectors who refused to join either faction have returned to Cybertron and form an effective third faction. It's a powder keg, Bumblebee is singularly unfit to keep things under control, Ratbat is plotting a coup, Prowl is plotting who-knows-what, Starscream is watching it all and seeing how he can play it to his own advantage, and Rattrap is Starscream's Starscream. It's great, great stuff.
Dark Cybertron wraps up "season one". And the reading order puts the Autocracy Trilogy (prequels concerning the beginning of the war and Orion Pax's ascension to become Optimus Prime) here too. None of them are essential; Autocracy is the most important of the three, while Monstrosity and Primacy aren't as good or as important but have some great art.
As season two starts (with MtMtE and RiD vol 6 and Windblade), MtMtE is as compelling as ever but I feel like RiD loses a beat as Optimus returns and they go back to Earth. The stuff with Thundercracker is a fucking delight, and there's an occasional panel like this one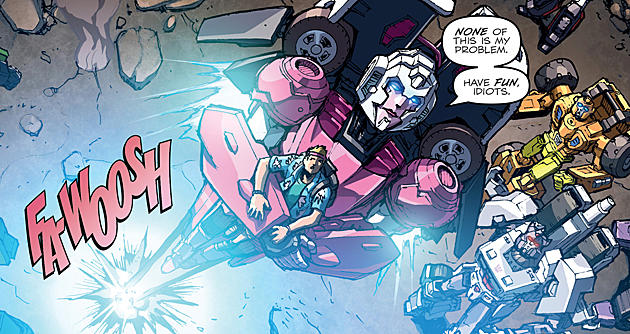 that makes the whole thing feel worthwhile, but the Earth stuff never quite works for me and I quit reading at vol 9. (Also, RiD changes its title to just "Transformers" at vol 7, because there was a new cartoon called Robots in Disguise at that point and a new comics series using that title. The reading list I linked makes that distinction and starts calling it "The Transformers" with vol 7, but the current Humble Bundle does not, and calls the entire run "Robots in Disguise".)
The Windblade series picks up the Cybertron/Starscream storyline and feels more like a continuation of RiD Season One.
There's Combiner Wars, which happens somewhere in there and crosses over RiD and Windblade; I guess some important stuff happens but I remember being mostly annoyed by it. I know the entire series is a toy commercial, but some parts are overwhelmingly toy-commercially even by the standards of a toy commercial series. It's definitely one of those stories that's motivated by how the toys work instead of something that flows logically from their characterization in the series to date.
I guess the Drift spinoff happens around this time too. I haven't read it. There's some more Wreckers stuff in there, too, which I also haven't read, and some Dinobot stuff which I've only read part of.
The Windblade series continues as Till All Are One, which is very good, and then the big season finale is Titans Return, which I haven't read.
Season 3 kicks off with Revolution, and then the two main books change titles; More than Meets the Eye becomes Lost Light, and just-plain-Transformers (which used to be Robots in Disguise) becomes Optimus Prime. I haven't read Revolution, or any of Optimus Prime; like I said, the Earth stuff didn't interest me much, though now I'm going to go back and read it anyway because I'm sure it has its moments.
Till All Are One is great and manages to wrap up the Windblade/Starscream arc by the end, though it was canceled prematurely and there are some dangling threads that never get tied up.
Lost Light is wonderful, and works its way toward a satisfying ending that, nonetheless, comes with a series of gut-punches that are in keeping with what the series has done up to that point.
There's some other Hasbro crossover stuff. I haven't read it.
The Unicron series...well, I read it without having read any of Optimus Prime, and that was probably a mistake, because it mostly wraps up plotlines from Optimus Prime.
MtMtE/Lost Light is the best series, and you can
mostly
just read that straight through, though I'd recommend reading Transformers vol 5 and Last Stand of the Wreckers first and Dark Cybertron between MtMtE vols 5 and 6.
Also, Chris Sims had a column at ComicsAlliance called
The Transformed Man
where he went through most of MtMtE and RiD and wrote about them as he went. That's worth reading as you go.
---
Who is online
Users browsing this forum: No registered users and 2 guests