Now that I've got a plethora of flash carts and modded consoles, I don't need most of my older-gen games to be out and accessible anymore. I don't want to get rid of them (sentimental attachment/some of them are worth pretty good money and likely to continue to appreciate) but I'm ready to put them in boxes and tuck them away somewhere.
NES, SNES, Genesis, and N64 games are close enough to the same dimensions as standard DVD cases (length and width; not depth, obviously) that I should be able to use DVD storage boxes for those. Plus all the games that are on DVD (or aren't, but use DVD-style cases, like GameCube). But what
kind
of box?
Simplest solution: plain cardboard media box. I think
BCW
is the same company that makes the comic book boxes I buy, so I e-mailed my local comic shop owner to ask if he can order those and what they'd cost buying from him. Downside: they're not exactly pleasing to the eye.
Next step up: a photo box, something like this: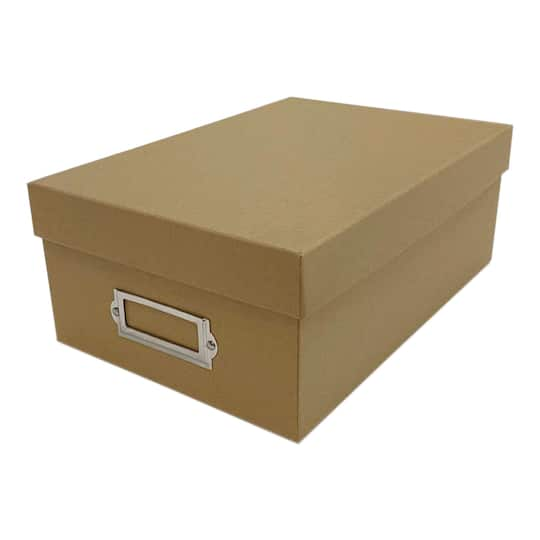 Looks a little more appealing; the problem is that they're not designed specifically for DVDs and I have to find one in the right dimensions, which turns out to be harder than it sounds. (I've got a bunch of them that are VHS-sized, which are a little wider than I'd like for DVDs and games.) It would be a lot easier if I could just walk into a store and look around, but alas.
A step up from that is the
Snap-n-Store
, but it costs significantly more than a photo box and I don't feel like the metal bits are worth the markup.
I like the look of the transparent plastic Really Useful Box, but for some damn reason the
22-liter
box only appears to be available in the UK. The
26-liter
looks like it might work, but if my millimeter-to-inch conversion is right it's about a quarter-inch wider than the 22-liter version, and also it doesn't seem to be available for sale anywhere except the Really Useful Box website, where shipping doubles the price of the thing.
Anyway. Anybody have any bright ideas or suggestions? How do you store your old games?
And then once I've got all this figured out, then I guess I get to figure out the CD and portable games.