Posts: 194
Joined: Tue Jan 21, 2014 10:25 am
---
As with every other big retailer, they go through a broker who insures a fiat price from beginning to end of the transaction. The end of these transactions include the converting Bitcoin back to regular currency and leaving the broker to effectively sell on margin.

Basically using Bitcoin for legitimate purpose is a very roundabout way of spending regular dollars. The only major retailer I know of that keeps any money in BTC is Overstock, who keep something like 10% and convert the rest through broker immediately, just like everyone else.
---
---
If you have a passing interest in computer security, reading their
after-the-fact explanation
is
hilariously awful
. Just to whet your appetite, their Wordpress installation and Bitcoin exchange were on the same server, not isolated from each other.
---
---
---
---
---
Posts: 1499
Joined: Mon Jan 20, 2014 6:45 pm
Interesting factoid there: Bitcoin can handle up to 3 transactions per second.

Not a bitcoin node. Bitcoin in its totality.
---
---
There's a similar cryptocurrency by the name of Ether, which is different from Bitcoin only in that
it involves different bearded white guys
it has a lot of VC money behind it. Advertising all the same features, no human control, immutability of transactions, the usual.
Then someone exploited a bug last week and swiped
31% of their entire currency pool
, leaving them with two choices: accept that, or have a sufficient fraction of investors vote to roll back the entire block chain, hence destroying all future trust in the "no human control" and "immutability of transactions" bit. Either way, I don't see much of a future for them.
---
The attack most likely puts an end to the project, known as the Decentralized Autonomous Organization, which had raised $160 million in the form of Ether

[...]

It was funded by investors from around the world using Ether

[...]

Thousands of people around the world financed the project by sending in Ether.

[...]

By the time it was over, the hacker had managed to gain control of 3.6 million Ether

[...]

The price of Ether had been rising alongside Bitcoin over the last month, in part because of the interest generated by the D.A.O. On Thursday, both were up more than 60 percent over the previous month. But the attack Friday morning sent the price of Ether into a downward spiral.

By Friday afternoon, the price of Ether had fallen 33 percent from its high a day earlier, to around $13.
Oh, NYT, you are having fun with this.
---
If I decided to start a cryptocurrency, I'd call it buttnuggets, just so I could find solace and mirth in the news reports following its inevitable collapse.
---
Hahahahah omg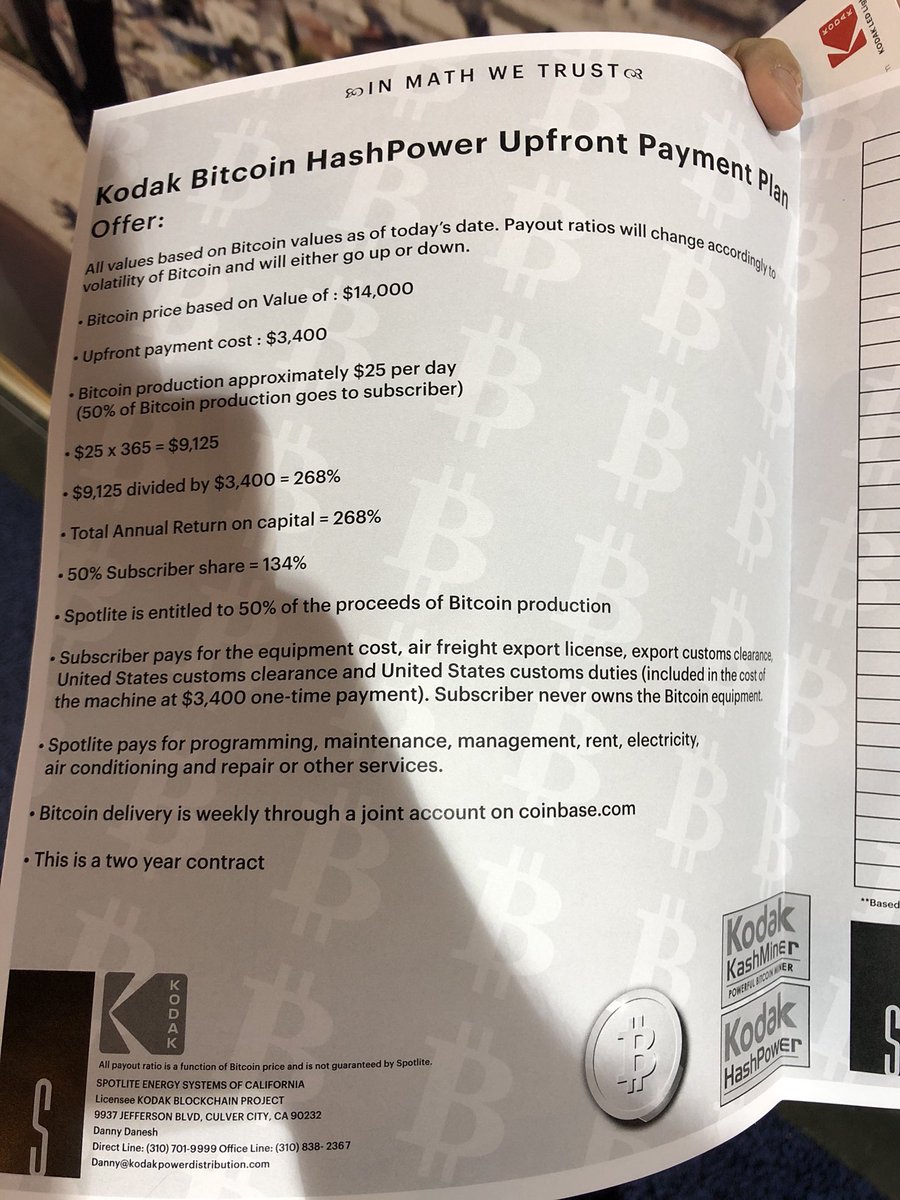 ---
Also, how is it even possible that they failed to name it Kodacoin?

That's got to be one of the most incompetent failures of corporate branding I've ever seen.
---
Honest to Christ, if I were going to write a satire of how currency works, I can't think of anything better than "computers guess numbers at random until they win, and people assign value to this act".

...well, that's not true. The bit at the end of Restaurant at the End of the Universe where they decide to use leaves as currency and then burn down the forests so their leaves will be worth more is better. But an accurate description of how cryptocurrency works is a pretty close second.

(Blockchain, on the other hand, is a fantastic invention that solves one of the great cryptographic problems of the last few decades. It just boggles the mind that so far its primary use is this fucking nonsense.)
---