The "Black Swan" events that Mark Hertling describes
("An unpredictable event beyond what is normally expected in a situation that may have severe consequences. Black swans are characterized by unpredictability, rarity, severe effects & the widespread insistence they were obvious in hindsight.")
is basically what I've been going on about with DK events. I think "Black Swan" is a better name for it because it doesn't sound as silly as "Dragon King" which makes people think I'm making it fucking up or it's some kind of JRPG.
And yeah, the "obvious in hindsight" is an important part of that. When the Northwest Fault (Cascadia Subduction Zone) goes, killing an estimated 30,000 people in British Columbia, Washington state and Oregon, everyone will be like "well of course it went and caused a giant tsunami the likes of which the United States and Canada had never seen. Look at how much pressure had been built up on the fault" despite the fact that right now nobody even knows what the fuck I'm talking about outside of geologists and FEMA and whatever Canada's version of FEMA is.
The only difference is that Mark describes "Black Swans" as unpredictable, where DK events are actually entirely predictable but nothing is ever done about them because of normalcy bias. (Otherwise known as "nothing ever happens, ever, despite literally thousands of years of recorded history showing huge, massively impactful events do indeed happen with pretty clockwork regularity" syndrome. Or "that thing people do that Friday will literally not shut the fuck up about since Trump was elected.")
---
Posts: 19403
Joined: Mon Jan 20, 2014 6:28 pm
Location: There's winners and there's losers // And I'm south of that line
Zelenskyy went out to visit the front lines again, visiting the troops in Izyum.

"Hey if Trudeau can do it..."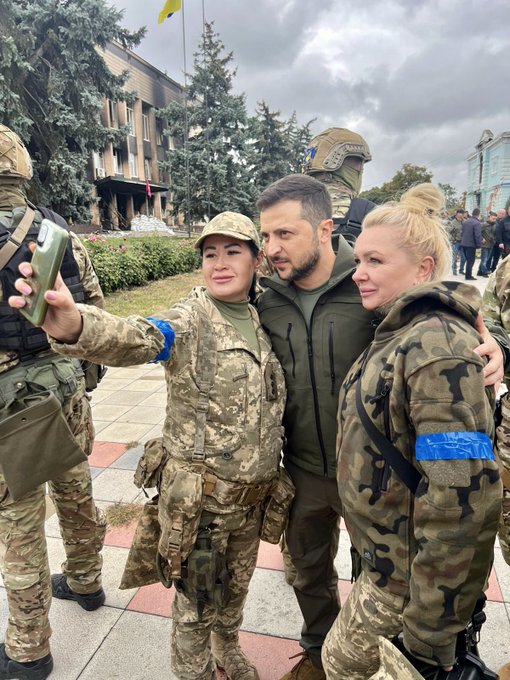 Compare and contrast...
All the Russian Telegram channels are indignantly howling "How is this even allowed at all? Why isn't Zelya [Zelenskyy] dead?!"
---
Posts: 19403
Joined: Mon Jan 20, 2014 6:28 pm
Location: There's winners and there's losers // And I'm south of that line
- Sooooooo...... Wagner's chief cook and bottle-washer, Yevgeny Prigozhin, is being set up as the face of the "special military operation".
Prigozhin gave a recruitment speech on September 14 announcing that Russian prisoners have been participating in the war since July 1 when they were instrumental in seizing the Vuhlehirska Thermal Power Plant.[1] A Russian milblogger noted that Prigozhin is introducing a "Stalinist" method that allows the Kremlin to avoid ordering a general mobilization that could ignite social tensions in Russian society.[2] Milbloggers have been consistently praising Prigozhin's success in Ukraine and some even said that he should replace the Russian Defense Minister Sergey Shoigu, whom milbloggers and Kremlin pundits blame for the Russian defeat around Kharkiv Oblast.
This is sort of a natural move, given the Kremlin will be looking to scapegoat the Russian armed forces' senior commanders, but all the more so because the cook is on good terms with the milbloggers, who both share the same desire for a ruthless expansion in Russian brutality and war crimes.
- The intensity of Russian artillery attacks on Kharkiv City has decreased significantly (though not entirely). The Russians have never stopped shelling Kharkiv indiscriminately, but at least now Ukraine's second largest city is getting some real relief from the daily barrages.
- What air defence doing?
Ukrainian advances in eastern Ukraine have likely forced Russian forces to pull air defenses further away from the frontlines in order to protect those systems from Ukrainian artillery fire, potentially exposing frontline Russian troops to air attacks. The Ukrainian General Staff reported on September 14 that Russian convoys carrying S-300 and Buk systems moved through Lutuhine, Luhansk Oblast in the direction of the Russian border on September 11 and 12.[11]
- Russia pushing their luck with the proxy troops again. Considering how many of these guys have been press-ganged, I dunno how far they want to push this rather dangerous game.
Russian military leadership is likely attempting to force Luhansk People's Republic (LNR) proxy forces evacuated from Kharkiv Oblast to relocate to frontlines in Donetsk Oblast, rather than reinforcing the new frontlines in Luhansk, their home province. Odesa military spokesperson Sergey Bratchuk reshared a Telegram post alleging that women in Luhansk attempted to protest the LNR forces' immediate redeployment and shared a video of many uniformed personnel and civilians on the streets in an unspecified location.[47] Forcing proxy forces to fight outside of their claimed oblasts will likely exacerbate morale issues and possible insubordination among proxy forces particularly if Ukrainian forces advance further into Luhansk Oblast.
- Also, Russian authorities shut off all mobile internet in Luhansk, ostensibly for reasons of operational security, but Ukrainian officials hinted that this is also to cover up looting and large scale evacuations in puppet republic territories.
-
Former Ukrainian Defence Minister discusses some of the consequences for Russia of their recent defeats.
This was particularly fascinating:
In contrast to the NATO planning system, where there are clear indicators of combat capability and combat readiness of units, in the Russian army, the doctrine does not even have the very concept of comprehensive capabilities. In fact, the Russian language does not have the word "capability."
Given this article was first published in Ukrainian in a major national paper, we are implicitly given to understand that the Ukrainian language absolutely
does
have such a word, even if it's perhaps a relatively recent addition.
Any officer who served in the Soviet or the old-style Ukrainian army knows these old traditions destroy efficiency.

According to these traditions, what is required is not victory but the fulfillment of a narrowly set task. Before receiving the rank of general, an officer of the Soviet-style army builds a career, understanding that his opinion is of no interest to anyone – the only important thing is the conscientious execution of orders, no matter how absurd they might be. And in every failure, there must be a designated guilty person.

In recent years, the Ukrainian army has been actively rooting out Soviet traditions, some of which date back to the army of the Russian Empire. This eradication is not easy. Many of the remnants of these traditions still exist today. But the process has started, it has gained momentum, and it will not be possible to stop it. Even intermediate results made it possible to radically change the effectiveness of our army.
It really must be something to take a risk of breaking with traditions so deep, in an institution which can get extremely hidebound, as armies often do, and to see that not only pay off but pay off in spades.
One comment I've often heard from people who grew up in former Soviet states is that the only life under the USSR was simple
existence
. Only after 1991 was there a chance to imagine deciding your own fate, and trying to build a better future, of having any agency whatsoever. The Ukrainians were far from alone in their almost desperate hunger to actually have a life of their own to live, but they have certainly been among the most eager of the former Soviet states to seek out better ways of doing things and better ways of life.
This was another REALLY deep cut:
Russians understand that a short victorious war remained only in their dreams — it has not happened and will not happen.
For reference, "a short, victorious little war" was the exact phrase used by Russian Emperor Nicholas II, saying it was just the thing the Empire needed, in 1904, when a certain dispute with Japan came to blows. Then, as now, the opponent was simply disregarded as a complete non-entity.
- Russia targeted a dam upstream of the fighting in Kherson Oblast to try and wash out Ukrainian bridges over the Inhulets river. There's been some flooding and it's unclear if the Ukrainian bridges have been impacted, but they have far more than one passage into Kherson. So while there might be some disruption, at most this buys the Russians a day or two of forestalling the inevitable. That might matter if they actually have a comprehensive evacuation plan, but what do you think the odds of that are?
- Capture confirmed it. These aren't even refurbished - they sent their troops museum pieces.
I mean there are a few countries out there who still have - for example - Vietnam-era Patton or even Sherman tanks, in active service or reserve storage. But even small players don't use such tanks for frontline duty, even in the far corners of the world, never mind having the world's third-largest defence budget, or claiming that they're one of the three great global powers.
Then again, if you don't screen your tanks with infantry in the first place, regardless of their age...