With the main questline finished, Moon Lord defeated a dozen times over, what qualifies for sidequests done, having crafted the Zenith and earned the Terraprisma, and filled the bestiary to get the Universal Pylon, there's not much left to do. I could build a golf course if I wanted, I guess, but I'm only slightly more interested in video game golf than I am in video game fishing. Unless there's some great building project out there...
zaratustra wrote:a castle but upside-down
Oh. Right.
It occurred to me only well after the fact that everything would probably go better if I had just built a regular castle and then explored it with a Gravitation Potion in effect to flip everything upside-down for realsies. Oh well. Let's get started. With everything I need to craft already crafted, there's really not much point in having a workshop with extensive storage set up, so I've been gradually tearing things down as I don't need them anymore. The Forest Pylon is still up, though, so let's zip over to the new stuff.
This is the Desert Pylon, because when I started this project a dozen updates ago the only biomes I could build into with a new pylon were the Desert and the Snow. I made my call and stuck with it.
The furniture is right-side-up, because I don't have a choice in the matter there. But the architecture's overall design is upside-down, with arches and vaults on the floors and stairs on the ceilings. It's hard to tell with gold-brick-on-gold-wall, but the ramp leading upward is smooth and the ceiling is blocky, to simulate that if this were all flipped over it would be a stairway with a smooth ceiling.
And yeah, it's in gold brick. Part of this project was to find a use for all the golden furniture I got as drops from Pirate raids, so I figured if I'm gonna go needlessly ostentatious I might as well stick with it.
Next room over is the throne room, with the throne itself on a dias, and a bottle of red and a wine glass on adjacent tables. The Princess lives beneath, since, y'know, throne room. And because I need enough NPCs living nearby that the pylon functions, and the Princess and a pet slime is enough.
A big open space with a half-wrecked stairway. Sure, why not. Blue Starry Blocks fill in for the night sky, since I'm building this half a mile underground in a desert cavern. A Meteor Lamp pretends to be a full moon. And this space isn't actually open to the outside, there's a floor here. It's just invisible.
My initial plan was to use this tower, with its little nook-and-cranny rooms, as a new base. I don't really need it, though.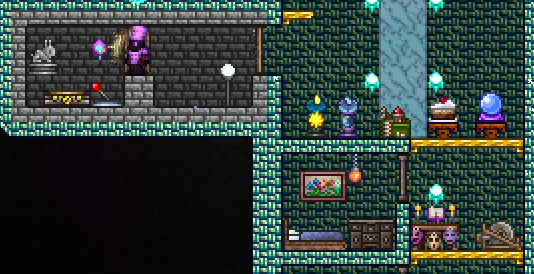 The main convenience is that it's right next to a teleporter room, so I can get around the rest of the Inverted Castle quickly. This teleporter has a bunny statue in it, because lion statues don't exist in the game. Otherwise I'd have put some in the vertical shaft outside, too.
C D
The next room has a statue of a large bat.
With my spawn point a couple rooms over, I intended this hallway to be my new storage/workshop space. But I don't need to craft anything anymore, except for the stuff I needed to make this castle. By the time I started moving stuff over, I didn't need much of it. I did put up a turtle terrarium, just because the little bastard gave me so much trouble when I was filling the bestiary. And I snuck a little pool of Shimmer in here, for ease of breaking down crafted materials. The only other pylon I occasionally used was the Hallow Pylon to get back out to the natural Shimmer pool, and now even that's obsolete.
I can appreciate that the Cog blocks and Cog walls make completely useless but animated and moving machinery for this tower. And when it comes to devices that don't do anything in particular, I figure this is the place to put my collection of Music Boxes.
The Wizard starts selling empty Music Boxes when he moves in, and if you have one in your inventory, there's a chance every few seconds that it records the background music that's playing at the moment. And then you can put those together to craft new music boxes for in-game music that doesn't play with a biome, like the title screen. So make sure you record two of everything so you can craft them all!
Pretty sure all of them that's available in the game are on display here.
Oh yeah. And there's a Medusa Head up there, stuck behind a grate.
C D
Without telescopes or out-of-control elevators in the game, there's virtually nothing to report about this outer wall sort of area. I didn't even fill in the stairs, simply so I could more easily fly up and down the shaft to get where I needed to be. Anyway, there's a teleporter here, marked with a Scorpion statue. It goes to the Rabbit teleporter.
Frankenstein is a monster included in the game, but there's no Frankenstein statue. I just had to pick a big brutish mook statue and put a hammer next to it. Hell, the whole castle is an approximation, good enough. Wonder what that seal on the wall is for...
C D
There's a library. A shopkeeper lives in the office at the far side, peddling a few common wares that may help in any quest you might be on.
C D, to a place that technically shouldn't be accessible from the wall but they ended up right next to each other, so it seemed silly not to make a connection.
Because once I decided that having a really long hallway with the red curtains and the tall windows was a good place to hang all the enemy banners I'd collected, I needed a
lot
of horizontal space for 'em. Is this every banner in the game? I dunno! I made a list! I might have missed something anyway! I don't care!
The open spot in the middle might be a good place to mouth off to your dad's best friend so he steals all your stuff. It didn't feel right to have it all bricked over, but leaving empty space means monsters spawn inside the building. So there's a background wall painted with invisible paint here, too.
Not much to talk about regarding the front gate area.
If you duck through the little trapdoor, though, you end up in some kind of half-assed garden. I dunno, this place just kinda feels... unfinished?
Just beneath the invisible-wall bit in the center is this little foyer. With nothing better to do here I ended up putting all the terrariums (...Terraria?) I'd made of the golden critters I'd caught. There's a gold seahorse, a gold bunny, a gold butterfly, a gold ladybug... I know I'm missing at least one, the gold water strider, but haven't I ground out enough rare spawns for one game?
There's a teleporter here, marked with a Unicorn statue.
For the sake of space, the open area has this aquifer sort of space immediately above it. They really should be a few rooms apart, but eh. Getting the water to stick to the ceiling was no mean feat, lemme tell you.
If you look closely at the bottom-left, you will see one single Flesh Block mixed in with the rest. This castle wouldn't be complete if there weren't some meat in the walls.
C DEEZ NUTS
okay I'm done with the loading room gag