The previous game in the series was one of my more popular LPs, but I'm willing to grant that looping in another forums' worth of readers was a factor. Nothing so complicated this time, in no small part because I'm not any less busy than I was when I dumped my Deltarune LP. I'll get back to this when I get back to it, but I'm sure not having to transcribe an ingame script will be a major timesaver.
Anyhow, let's get started. Started on...
It was on sale for cheap on the Steam winter sale, so I figured what the hell. It couldn't possibly be as shoddily programmed as the Sims 3, right?
Then I softlocked
while playing the tutorial
. Oh boy.
(There's a point in the tutorial where you have to "Get to Know" your obligatory roommate. But if you already did that in your first conversation because you know how dialog prompts work in the series, you can't do it again, and thus can't progress. You're stuck! I hope there's nothing drastically different from The Sims 3 in controls and setup or anything.)
So, new game. Let's hit up the character generator and see what's up.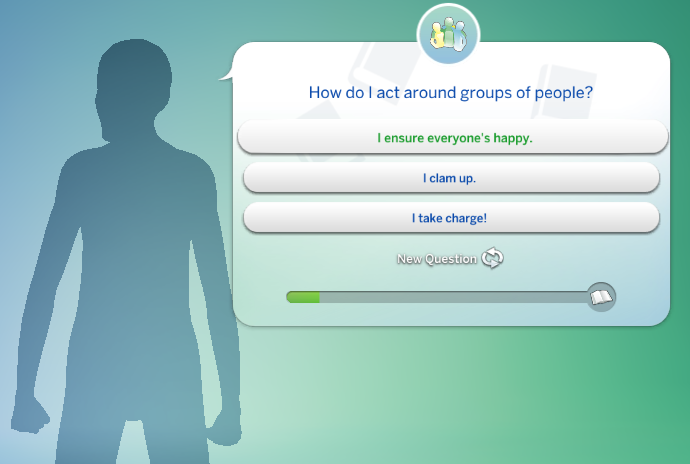 Oh, the default is a "start of Ultima 4, or maybe Pokemon Mystery Dungeon" style personality quiz. I guess that beats choosing options out of a list like before.
Then your character gets attributes based on the answers you gave and a more or less randomized appearance. Semirandom, maybe, since this suave motherfucker comes with a suit and a coif that's going to put someone's eye out if he's not careful, rather than sweatpants and a dad 'stache.
So eh, let's look through the options. There's some weird hair, you can give somebody snaggly or buck-teeth, you can set someone's default outfit to their swimsuit, you can make someone walk around everywhere they go in pink fuzzy slippers.
...pink... fuzzy slippers...
Pink fuzzy slippers, huh. Hmm. I wonder if I can...
heh heh heh
:
oh boy, this is gonna be a hoot. i can tell.
:
WHAT IS THIS? WHERE IS MY COOL BATTLE BODY? WHAT IS ALL THIS... FLESHY STUFF ALL OVER US?
Look man, there's no "make an actual skeleton" character option. The top with the red scarf was as close as I could get to your default look. I'm doing the best I can here. As far as I can tell, there's no way to make one character shorter or taller than another. And look, Undyne still has both of her eyes.
:
here, i can use this dialog portrait if it'd make you feel better.
:
IT DOESN'T!!