Up until I got my castle, the only thing different in the second playthrough was a moment's hesitation near the beginning. Upon arriving home from his meeting with the Emperor, Mute went upstairs to get Ted in the party, then went to Sarady before Ted gave him the third degree about what he did at the palace. This nets me a Prosperity Rune, doubling money earned from battles, rather than the Fortune rune I got last time that doubled experience.
And so begins my minimalist run.
There are several people you hardly give a second thought once they're recruited, but they're optional/missable recruits. In this game I pointedly ignore Rock, so my castle never has a storage vault. This makes inventory management a major hassle, since items I want to keep but don't want to equip or carry around have to be given to someone who's not in the party.
While still in Lepant's house, I ignore Juppo too.
...and shortly find out that he joins regardless. Not talking to him means there are still robot encounters throughout the house as you leave, though.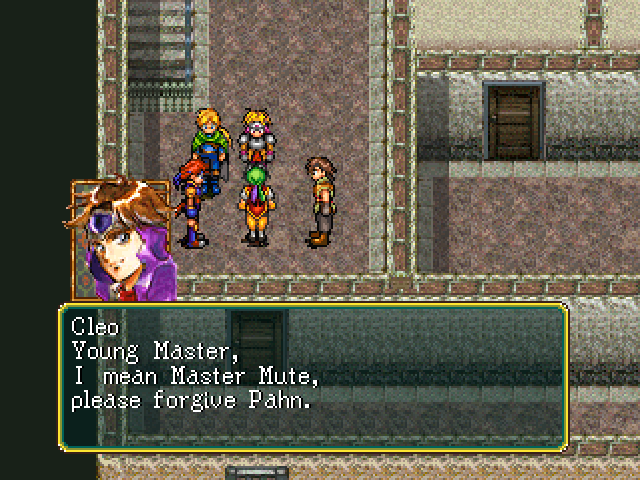 If you try to leave Kraze mansion without talking to Pahn, Cleo and Gremio stop you on the way out.