UH SO, it's been a liiiittle while since my last update!
This was basically one of a half-dozen time killers I run during my desperate eight-month unemployed job hunt a while back. I haven't had any time for it since the job at Pearson started, but since the end times for Bronto image hosting may well be upon us at the end of October... I'm gonna try to post the rest of the pictures.
WHEN WE LAST LEFT OFF:
Niku moves to the right of the Geoscape projector, so she'll be close enough fer fistin' when the ceiling vents burst with writhing, supple extraterrestrial impregnation hatebugs.
To the left, Grath goes on overwatch.
E... everyone goes on overwatch. Turn ends.
Wooooooo they ain't kidding around - a Beserker drops in from the vents, dead center.
Everyone and their mom opens up - Smiler on the bottom there hitting for 5, Grath for 8, and a blueshirt rook for a stunning 2.
In the background there, you can see Niku fucking obliterating a 3-health sectoid with his railgun. Good
lord
, woman.
In the back room, behind Smiler, one of those delightful slobbering insectoid rape demons drops in! That's a first for this mission.
Ooooh, and another, just to the left!!!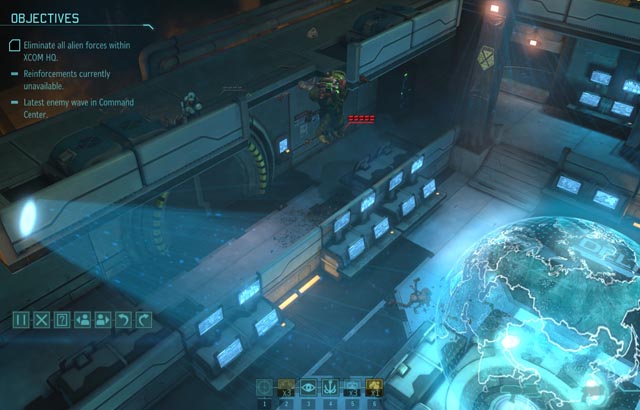 UH!
Okay so, I don't think I've ever gotten a plasma-rifle muton on turn two of this mission before.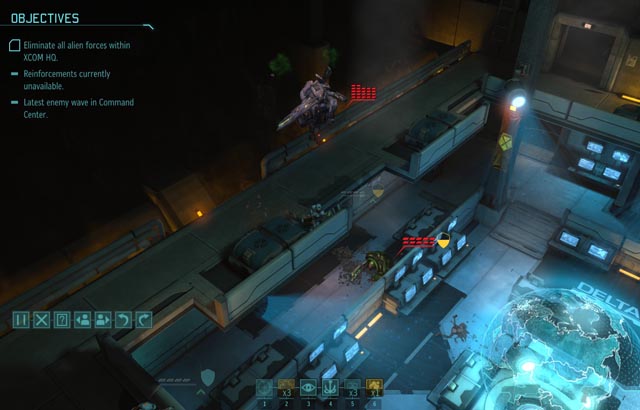 COOL.
SURE.
At least we get three reinforcements - Ted Belmont and two oddly human-shaped plasma sponges.
Ted takes two steps and goes for a headshot on the muton. 78% is good enough for me, with this many guys still free (I can still grenade it to death with the probies if I have to).
UUNF
. Howdjya like THAT shit.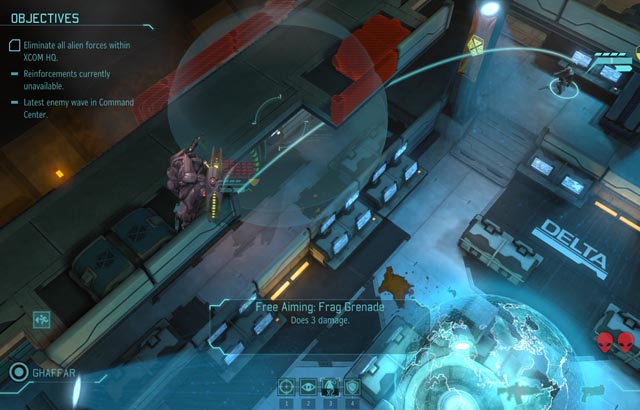 I move the first rook into the open and try to toss a grenade at the mechtoid, buuuut it's like a quarter-centimeter too far.
Welp. Might as well try to score a hit with the regular ol' bullet-loaded rifle.
Holy hell, she hit!
For a stunning
3
.
Meanwhile, it turns out the mechtoid landed directly on top of another rook. The rook is inside the 'toid.
Just all up in there.
Can't move 'cause the mechtoid is on overwatch.
He fires his load for
4
.
Downstairs, rook #2 (from the reinforcements), moves into position, and is one square closer than her buddy.
55% chance to hit sucks.
Grenade is a sure-fire hit, though.
I either kill the rook for 3 damage on the mechtoid, or I somehow miss the rook but hit the mechtoid.
Either way, 3 damage.
Downstairs, Niku punches the flippin' lights out of a muton.
Oh yes.
Smiler, now free of threat, opens on the beserker.
And fucking whiffs.
BUT, he has an ability that lets him fire twice if he doesn't move!
Second hit is a delicious kill.
Back up top, the rooks continue to plug away at the mechtoid.
Oooh, a hit for
4
!
Grath moves up the ladder and behind some boxes for a decent shot at finishing the goddamn thing off.
Solid-ass hit.
Drops the mechtoid to
2
, but it ain't a kill.
Alien turn.
Skittery little fucker outside wastes no time bolting in and dropping down from the balcony above Niku and Smiler. I brace for the strike.
It... doesn't?
The other chryssalid bolts right for Grath. Fuck.
HE SURVIVES BY 1 HOLY SHIT
Meanwhile, the rook under the mechtoid (who apparently didn't get blown up earlier) gets stone-cold
ruined
at point blank for
13
.
C'est la vie~
Downstairs, rook #2 witnesses the grisly death of rook #1.
Deftly panicking.
She makes a run for it.
The mechtoid, carrying the same two-shot ability as Smiler, watches and succinctly plasters rook 2 with hot, crispy plasma.
Heh.
Turn begins.
Ted Belmont gets a cherry of an angle on the skitterbug hounding Grath.
Ugh. Hits for
7
, leaving it with 1 health.
Niku turns and decks the other chryssalid for a delicious
14
.
Smiler stays point, aims for the mechtoid up top...
...aaand hits square on.
Up top, rook #3 falls back to finish off the chryssalid.
It's a clean hit.
Grath heals himself for 4.
End turn.
Next turn, everyone moves out back for the expected air assault.
Grath hunkers down in the corner...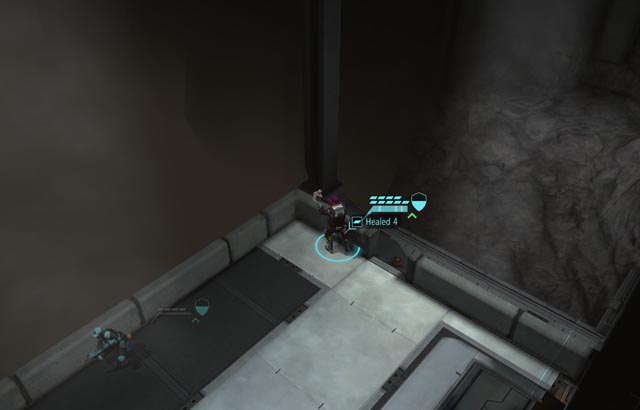 ...and heals himself up to full.
Downstairs, Niku, Smiler, and rook #4 set up and go on overwatch.
End turn.
Here they come.
First to appear is a big ol' cyberdisc!
The rook whiffs, but Niku hits for
8
.
Another cyberdisc moves up, along with a single drone.
Okay.
OKAY.THREE.
Final wave of reinforcements appears - two more rooks, and Beat Bandito.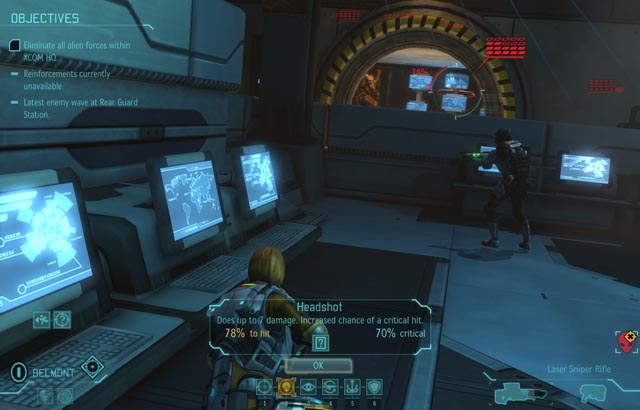 Ted can either keep moving up, or stay put and use his squadsight ability to hit a target another teammate can see.
70% ain't bad.
It ain't good either.
Beautiful.
Outside, Smiler has a perfect double shot.
But, he could also use his rocket and take out the drones!
It'd take care of two drones, a squid, and do 6 on the cyberdisc.
6 is shit damage on the disc, though. And that's the real threat here.
He goes for the double shot. First hits for
7
.
Second shot does a measily 5, totaling
13
.
I'll take it.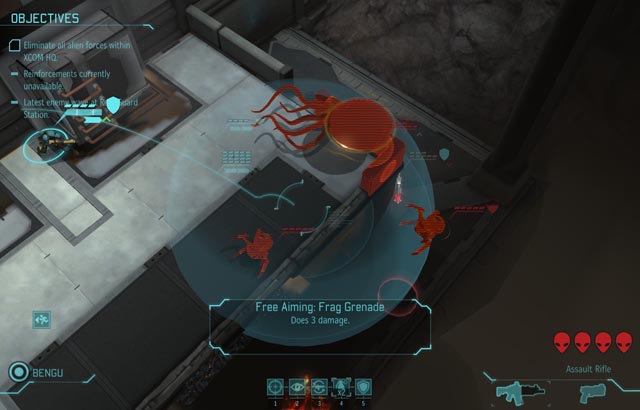 Rook #... 3? Maybe? Has a decent enough grenade toss.
Kills nothing, but softens the whole crew up quite nicely.
Rook #4 finishes the deed.
And earns herself a useless little promotion!
Cyberdisc is down to 2. Everything else is toast.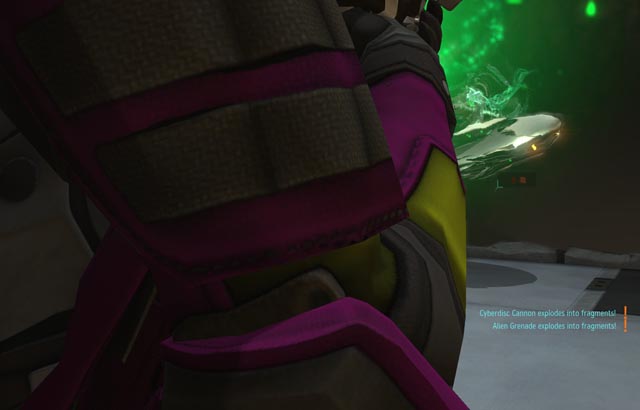 Grath drops the disc, since he can't move without getting overwatch blasted.
Downstairs, Niku hits the final disc for a whopping
9
.
Since Bandita hasn't worked her way to the frontlines yet, I have her toss a smoke grenade over Niku and Smiler, in the hopes neither will get toasted by the disc on the alien turn.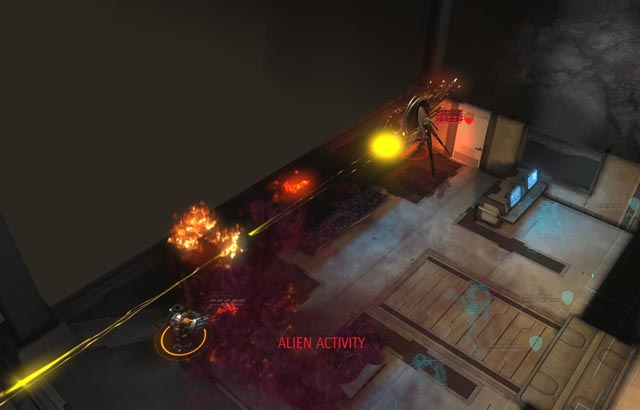 Holy shnikies it worked.
Our turn.
Niku recklessly runs at the disc, through the smoke, causing the overwatch shot to miss.
Oh yes.
FUCK you.
The room cleared, everyone regroups at the rear.
And heals up.
I don't have any screens for the next portion of the mission, but after this it was pretty simple. Trigger enemies, fall back, wait for them to come at you, and blast them from cover.
No casualties apart from the rookies, all of whom died horribly. One guy actually got impregnated by a chryssalid and rocket punched! Ain't no greater honor in my corps.