Sat networks picks up a whopper.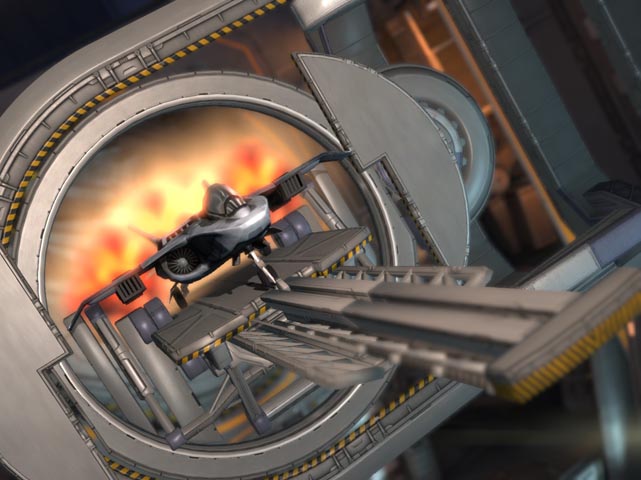 Hooo boy.
Whatever it is, it's easily six times the size of the largest I've seen so far.
Thankfully, I had the boys in manufacturing rig up an air-to-air variant of my laser tech for the interceptors. I've never done that in a campaign before, but having a UFO slip by an under-equipped raven and shoot down one of my satellites would be utterly catastrophic at this point in the game. I decided not to risk it.
Plasma tech is like five days from completion, too, so... actually pretty glad this purchase was somewhat justified.
UFO scores a hit as the raven moves in close. Laser cannon has shit range.
PEW PEW PEW
PEW PEW PEW
Fires fast and frequent, scoring about two hits for every miss.
Return fire from the UFO is dead on, dropping me to half health.
come on you fat fuck
DOWN
Raven survives with a fraction of a pixel of health, with less than a second of fuel remaining.
Earlier this month I splurged on a Foundry, which lets me upgrade shit like grenade damage and scope accuracy, as well as buy abilities like "shaped armor," allowing Niku to absorb more damage.
One of them, Tactical Rigging, costs a whopping 300 double dollars, but lets everyone use two items instead of one. It's amazing. All of China's funding went to the sole tactical discovery that if we attached scopes onto our guns AND put on our kevlar, we were a noticably more effective team. Good job, everyone.
Everyone gets a scope (+10% aim) and a nano-fiber vest (+2 hp). Eventually, if I can stockpile enough chryssalid corpses, I can make a straight upgrade of the nanofiber vest out of their chitin plating (+4 hp, -50% melee damage).
Crash site is in China.
Dead of night.
Looove how they did these crash sites. Scorch marks, little fires scattered about, holes in the hull. Looks awesome.
I move Grath up to the yawning opening just ahead.
He doesn't see anything at the front of the bay. I grapple him onto the roof.
Defenstration follows.
Grath moves onto the roof to check for floaters.
Clear.
Both move into position to drop down and double team whatever horrible nightmare is likely waiting for us in there.
To the right of the opening, Büge checks for ET's.
Nothin'.
Back on the left side, Niku and Beaver set up beside the doorway.
Everyone's in position.
Let's do this.
Beaver breaches the doorway, revealing everything.
Cyberdisc.
20 fucking hp, with a one-shot kill weapon. It's also surrounded by two drones that can heal Mother Disc each turn for 5.
Oh but that's not all.
A sectoid and
A SECTOID PILOTING AN ALIEN MECH
Two mutons, each 10 hp each, armed with plasma rifles that can kill our guys in one hit.
That red thing? That's a Beserker. It's melee-only, can kill anything in one hit, and can travel as far as a chryssalid.
It's bad news.
Every goddamn one of them goes into overwatch.
Beaver is fucked.
I briefly consider some insane all-out attack with everyone I have, but there's just no way. I need to retreat.
Beaver bolts.
Everyone fires.
The cyberdisc hits for 9 (there on the right).
The mechtoid misses by a hair...
...taking out the wall just behind her.
Somehow, Beaver squeaks by with 1 health.
Niku, meanwhile, angles herself to make use of her newest gadget (I finally got enough Meld to upgrade her mechsuit to mid-tier).
GRENADE LAUNCHER
We're still waiting on the Foundry to be done with that grenade upgrade, so this hits for 4, instead of 5.
Not enough to take out the drones, which is a bummer, but at least the cyberdisc is down to 75%.
Meanwhile, out front, Beat Bandita moves in on the right.
50%'s the best we're gonna get, apparently.
HITS
Muton down to half.
Mutons have this reaction ability that triggers every now and then where they bark and beat their chest to intimidate their attacker.
Apparently it works, because Beat panics, hunkering down in place.
I drop Grath down from the roof to take up position on the left side of the room.
50%.
Hits!
Buuut not enough for a kill. These light rifles suck plasma balls.
Defenestration drops in for the killshot.
No luck, at this range.
Büge, on the other hand, has a halfway decent angle from her spot on the right doorway, opposite Niku and Beaver.
Scores a hit.
Glorious.
Alien turn.
Out of the dark, a mechtoid barrels in just below Büge!
Nowhere near enough time to turn and run.
Inside, the cyberdisc unfolds.
Takes aim.
And MISSES HOLY
SHIT
The drones start repairing the damage we did.
Putting it back to full health by the time both are through.
The mechtoid turns toward Defenestration.
Fires.
R.I.P.
Our turn.
Beaver takes aim with her rocket.
At the bottom of the ramp, the hidden Berserker takes 6 damage, beating his chest in rage.
Berserkers have this always-on ability where they'll run up to whoever deals damage to them. Sometimes you can use this to lure them into traps.
He turns and, weirdly, runs away, rather than up the ramp to kill Beaver.
A mechtoid to her back, Büge moves into the cargo bay.
Shit.
Out on the left side, Grath moves up through the elevator and plants himself beside the hole that mechtoid blast left behind.
Pretty delightful angle on our good buddy.
CRITICAL HIT
FOR
3.
Niku's nowhere near close enough for a punchin', so she sets herself at a diagnal, through the breach in the wall.
73% ain't bad.
Done and done.
One down, two to—
—SWEET JESUS
Berserker FLOATS UP AN ELEVATOR
BREAKING IN THE WALL WITH ITS SHOULDER
Beaver dies instantly.
Meanwhile.
Sectoid mindlinks with the mechtoid, boosting it by 6 hp.
Mectoid huffs it around the corner, to just beside Beat Bandito, who has finally stopped panicking.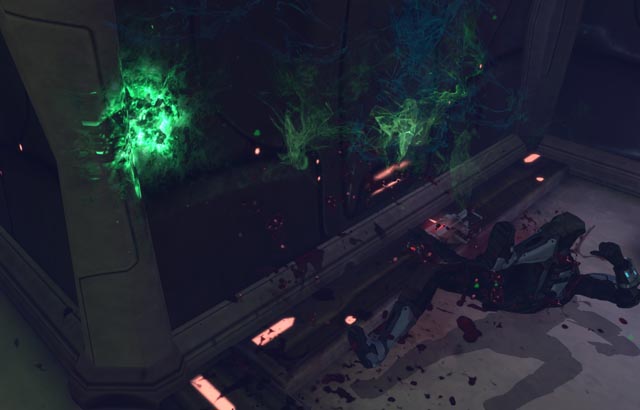 This is bad.
Grath peeks around the corner.
Yep.
That's an alien.
He blasts it point blank for 5.
It beats its chest and runs at Grath.
Niku's ready for him.
On the opposite side of the bay, Büge is still trading plasma fire with the remaining muton.
It turns, taking a shot at Niku through the new hole the Berserker just opened up.
It's a miss.
The mechtoid jumps the elevator, running up to Büge.
It's looking real bad for our little French lass.
Grath moves to flank the remaining muton.
Nails the muton for 9, but it's one shy of a killshot.
Niku has an equally solid shot from where she's standing, but I decide not to chance it.
Nighty night.
Büge falls back to the outside. She could kill the sectoid from here, which would guarentee Niku and Grath wouldn't face another mindlink boost, but she'd most certainly die next turn.
She opts for the roof.
On her way up, she catches a slight glimpse of the second mechtoid, laying in wait outside.
Another time, good buddy. Another time.
Nobody follows.
Back inside, the mectoid jumps down from Büge's platform and into the middle of bay.
Takes a frustratingly perfect shot at Niku for 8, dropping her to half health.
Büge darts across the roof and reloads.
Niku hides in the corner.
The mectoid follows.
Grath jumps down from the roof to flank the hulking abomination.
Solid-ass hit for 6.
Up top, Büge has a cherry angle on the whole sorry affair.
Hits for 4.
Not much, but it's enough.
Bay is clear.
Büge drops off the roof and runs to Niku's side.
Heals her robotic companion for 4.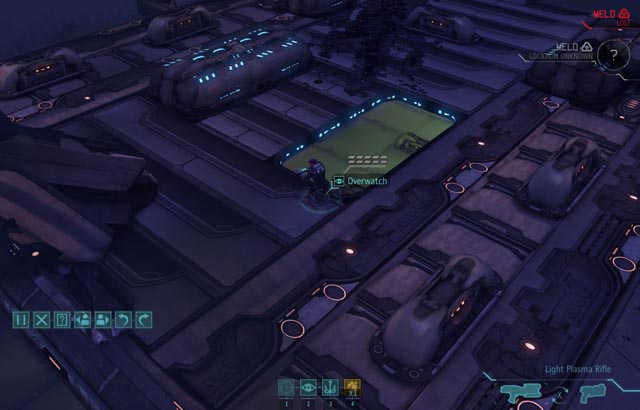 Grath keeps watch.