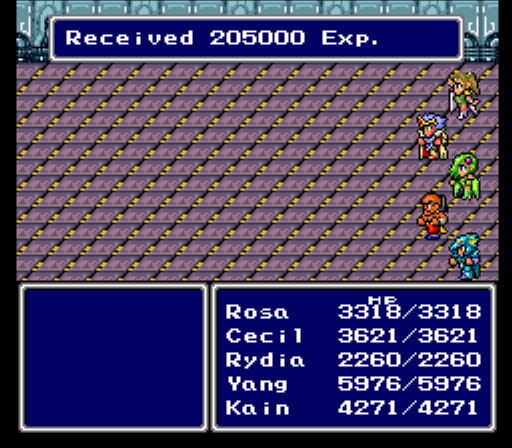 I never cast it -- you can pull off like three Flare spells in the time it takes to charge one Meteor -- but goshdarnit it's satisfying to be this strong.
Fun fact: even though you have no way of finding this out in the core game, Octomammoth absorbs holy-elemental attacks. And for whatever reason, Meteor is coded as holy-elemental. Octomammoth gave Rydia a spell that Octo himself would be healed by, had I not had to kill him to get it.
Speaking of absorbing holy attacks, the CPU battle is replaced by the Mist Dragon. Balancing the ATB meters of five different members makes it virtually impossible to avoid taking a ColdMist counter a few times...
...but it's fine.
Kain rejoins the party at this point just like in the core game this randomizer sucks
Next time, the moon, and the end of this randomizer run.