Romo's been bugging me to do this for a while. So without further ado...
Adventure Bar Story! Bar managing RPG! Now available on the Google Play Store for like three bucks, cheap enough that even I can afford it after a few weeks of saving.
This is a
blind Let's Play
. I've never played this before, and only got to day 3 to familiarize myself with basic gameplay before starting this thread. Speculation and discussion are welcome but please keep spoilers to a minimum.
Our story opens with... grocery shopping.
This is her, Siela, the protagonist of our adventuring barring story. Fred is taken aback by the short shopping list needed to stock the larder of a local restaurant.
Are you saying... no. No, this isn't rated by the ESRB or anything but come on. Surely this is in an innocent context.
The intro also shows you where to get any water you need: from the local well.
And now the plot, such as it is, begins. This smarmy douche is Gustav, who wants to buy our unnamed restaurant/house. He owns Cassel Garden, th--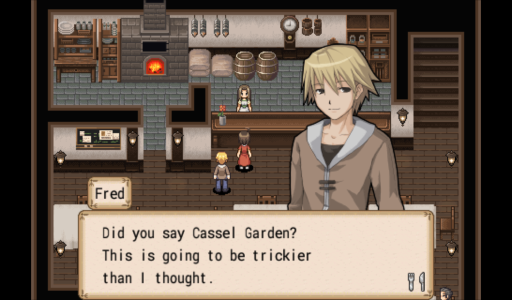 I did say Cassel Garden! Let me finish! Cassel Garden is the finest (and only other) restaurant in the city of Casselburg, capital of the Cassel kingdom. Gustav himself is sleazy enough to con his way into getting what he wants, and is connected enough that he doesn't fear reprisal or arrest for doing it. Siela is dead-set against selling (or being evictmurdered out of) her childhood home, so...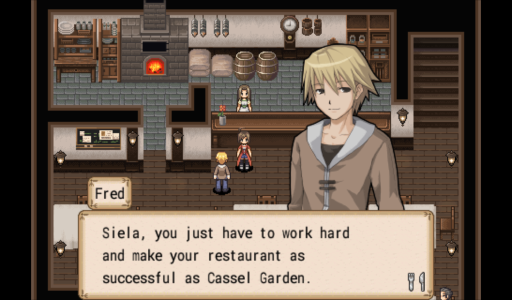 Right. That's... well, I'm not sure how that'll actually solve the problem, but that's the central conflict of the game.
Yeah! Let's do this! I'm super stoked!