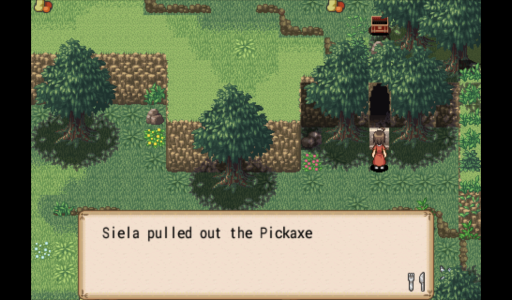 Ah, my old nemesis. You have taunted me with your presence from day one-- well, day, like... six. Whatever. Your life ends here! Sic semper tyrannis!
Inside is a chest. It's empty.
Not just a rat,
two
rats. And not just any rats! RatKing and RatQueen! Are you scared?
Anyway, hiding behind a rock with a trapped chest is how they lure people in to eat them. That's... I don't even know, man.
*long, weary sigh*
RatKing likes Spark (electric damage to a row, adds Paralysis), Volcano (crazy fire damage to a row), and Absorb (drains HP from one target). RatQueen uses Weaken (all stats down) and Curse (Poison/Blind/Silence to a target). They're tougher than the last boss, of course.
RatQueen has this, a nicer rod than the Philosophers I found before.
And RatKing carries what I suspect is Lidia's best armor.
It takes a long time to take down the RatQueen, considering that she's hit everyone with Weaken and there's nothing I can do about that. But now the only status ailment I have to stop fighting to cure is the occasional Paralysis proc from Spark, so the rest of the battle goes smoothly.
Of course, "goes smoothly" is a polite way of saying "drags on for way too damn long". What is this,
FF6 Brave New World
?
My reward is two hunks of cheese and two accessories I already have and don't use.
Postgame content, everybody.