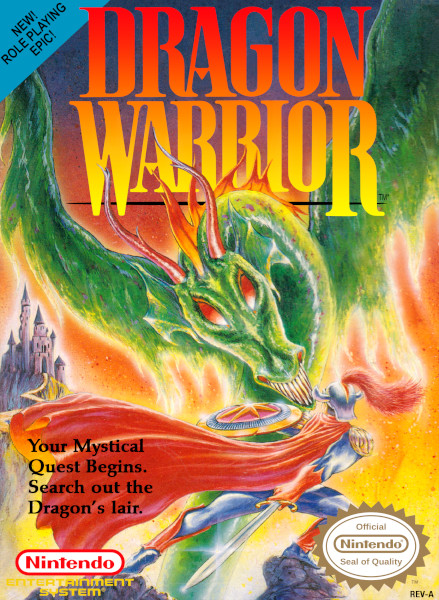 Dragon Warrior is a JRPG originally released for the Famicom in Japan in 1986 to much acclaim, and for the NES in North America in 1989 to not quite so much acclaim. In fact, for a while in 1990, Nintendo gave the game away with a subscription to Nintendo Power. Three years can be a long time for a medium to evolve, kids.
That said, the words "Dragon Warrior is a JRPG" are fairly similar in understatement to "the Big Bang is an explosion". It's arguably not the first one, but it's the first one that blew up anywhere close to how it blew up. Of course it didn't come out of nowhere, there were definitely successful computer role playing games before then. In fact, series creator Yuji Horii was sent to the US by Enix as a prize for winning a game programming contest, and that's where he discovered the likes of Wizardry and Ultima. That's a hell of a lot of games today that trace their lineage directly to the bottleneck of this one man bringing inspiration home like a seed floating across the Pacific.
Other notable staff members include Akira "Yeah, That Akira Toriyama" Toriyama on monster art duty (though Yuji Horii did the preliminary enemy design himself), and composer Koichi Sugiyama, who at the time was mostly known for scoring TV shows and commercials but was invited to work for Enix after sending them a lovely appreciative postcard.
Aaaaaanyway. Let's play it.
At this point I'm sure many among you dear readers are asking, "why though?"
I've certainly asked myself the same question. I expect this to be a bit of a pill, to be honest. But here are a few answers I found.
All things considered, Dragon Warrior (or Dragon Quest as it is known in Japan) is an incredibly successful and influential game. I want to explore and discuss its game design. I want to see what it did right, where it went wrong. I want context and hindsight. What did its successors improve on? What did they do worse?
I have fond memories of the the game, and I haven't played it in at least 25 years. English isn't my first language and I barely had the faintest grasp of it back then; I still remember the feel of the controller in my hands and the weight of the dictionary in my lap. Motivation's a hell of a thing. Today I'm a professional translator, thanks to video games and the Simpsons. Go figure.
I want to hear its music again. I don't think the series' soundtracks start getting genuinely enjoyable on their own merits until the second game, but nostalgia critically hits for massive damage, as it often does.
I want to LP Dragon Warrior 3, but I know that story won't have as much impact as I'd like if I don't go through both its precessors. I'm not sure I'll make it that far, but I'd like to make it even further. We'll see!
Finally, the last time I felt this good about a bad idea, I started a LP series about Shin Megami Tensei. That coulda gone a bit better, but also a lot worse!
These will be reasons enough.
Dragon Warrior has received several updated re-releases along the years, but today I choose the NES version. It's the one I grew up with of course, but I also think it'll be more interesting to look at in a context where it hadn't had the chance to learn from itself yet, especially if I make it further in the series and would like to detail its evolution. Besides, if you'd like to play it, now or sometime down the line, there'll still be pleasant surprises in store for you if you obtain a later version.
There isn't much of substance to spoil here, but I'll still ask that you refrain from discussing events in the game that haven't happened yet, and also especially not to go into details regarding subsequent games in the series, as the first three games form a trilogy and there is definitely a strong chance we'll all get to them together.
Oh, and, we have a silent protagonist on our hands, but I'll make him chatty because apparently that's how I roll. Besides, if I couldn't do this, I wouldn't be able to resist bringing in the SMT protagonist for color commentary instead and it wouldn't make sense and nobody wants that.

: Wow, rude.
Alright then, that ought to do it. Time to pull the trigger on this bad boy. Come along, descendants of Erdrick, and let us not tempt the Fates.