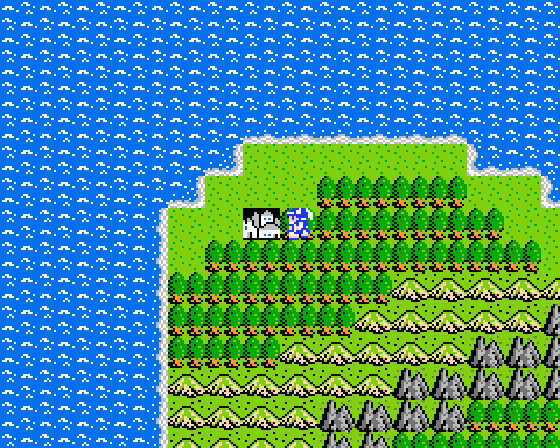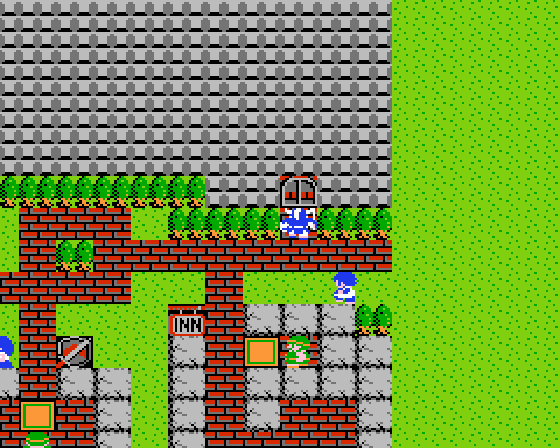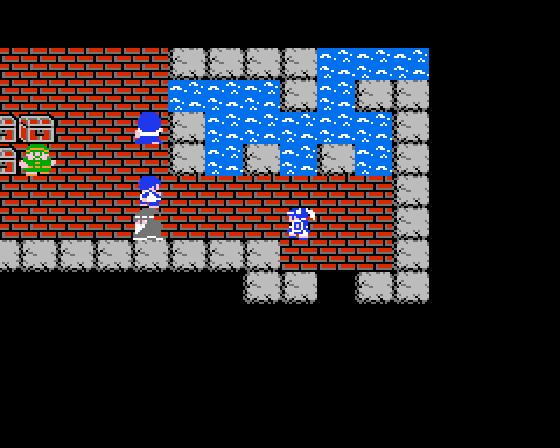 Huh. It's like half the town lives in here, what's the deal?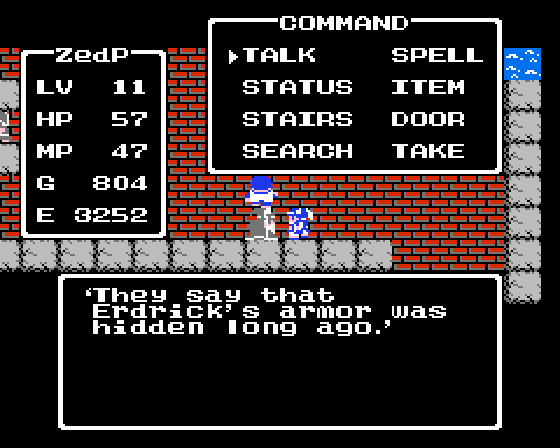 : Would have been too much trouble to just leave it at the castle, eh?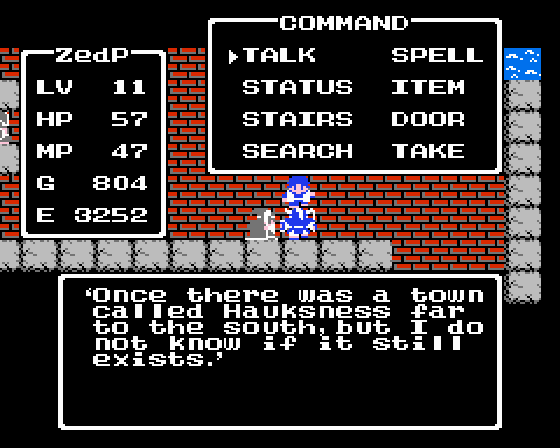 This gives us a goal in our later travels in that direction for sure.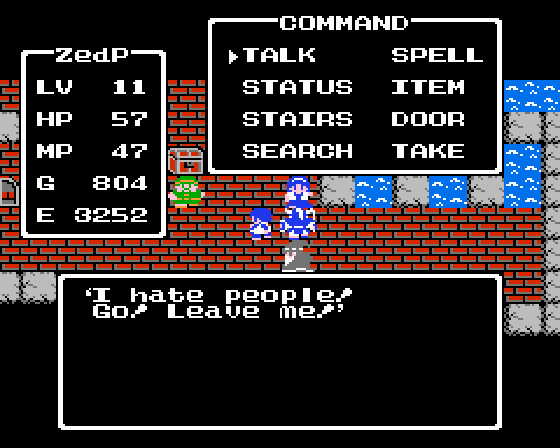 : Sheesh, fine.
Maybe that explains the lock.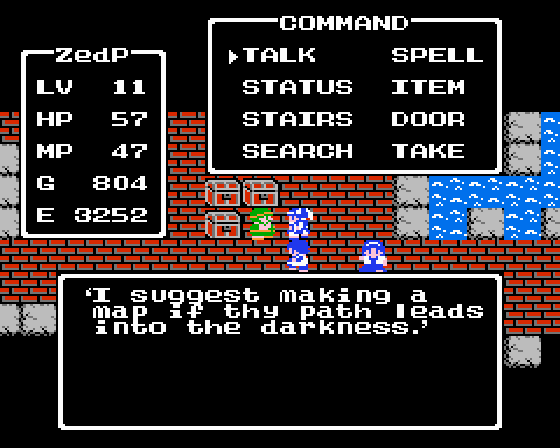 We have a friend helping us out with cartography. His name is Marvin Simonson Paint. Very famous.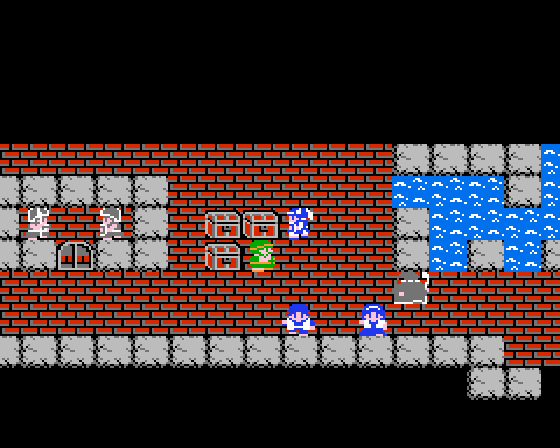 : So. Uh. I presume no one minds if I open these crummy old chests that someone carelessly left on the ground here, right? Anyone object? Anyone?
No one. Sweet!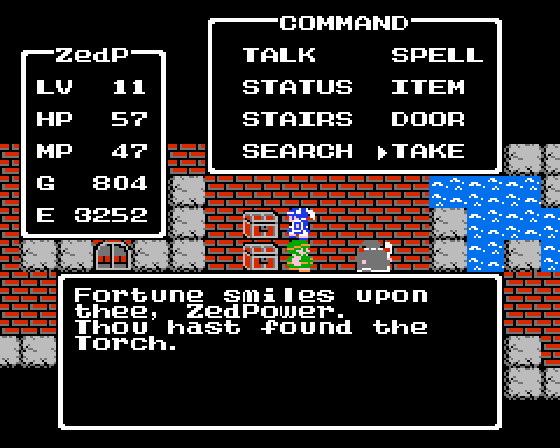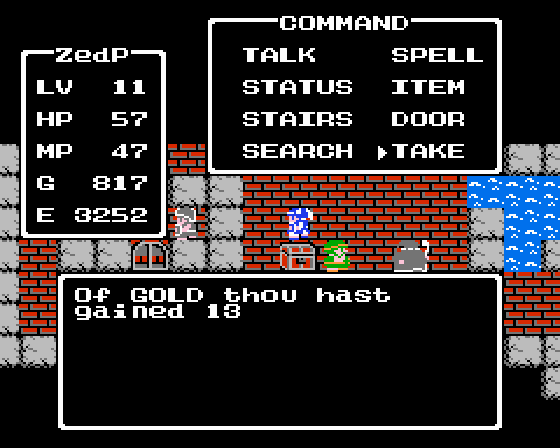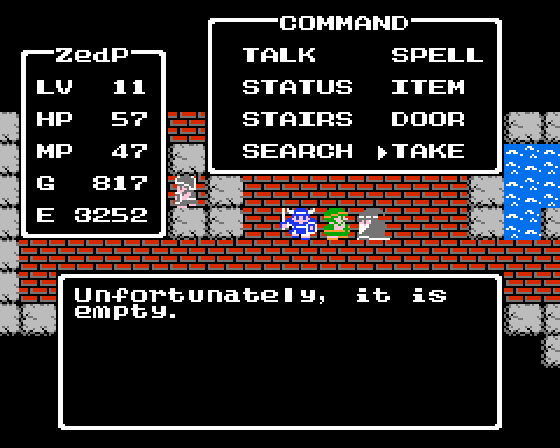 Well, we already had a Torch, and I presume the empty chest would have contained an Herb if we weren't already maxed out.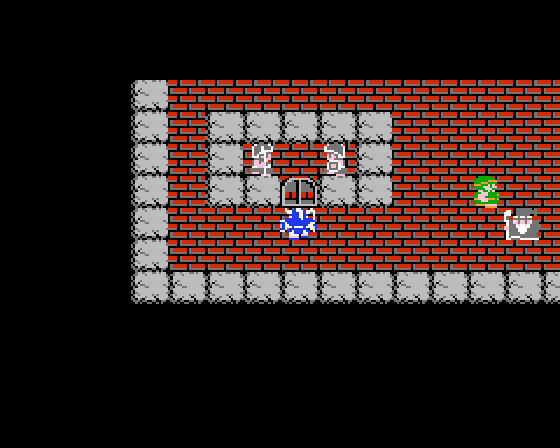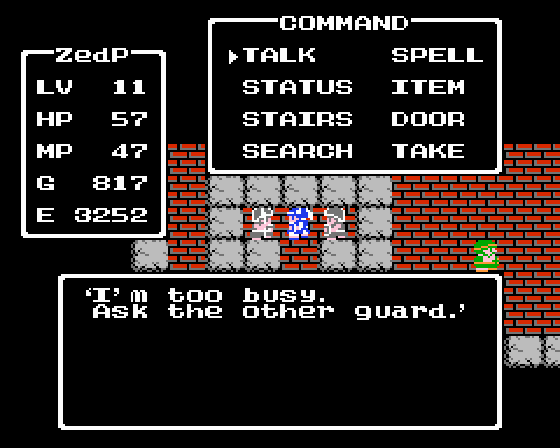 : Aight, gotcha. Hey, I-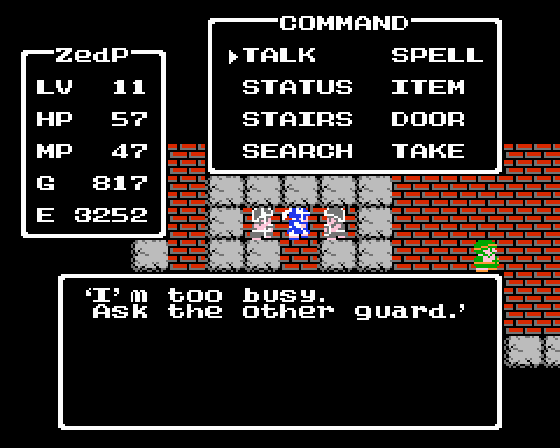 : ...wh... Err... Ooooh, I get it. Your secret's safe with me, boys. But I'm not spending another key to shut the door behind me.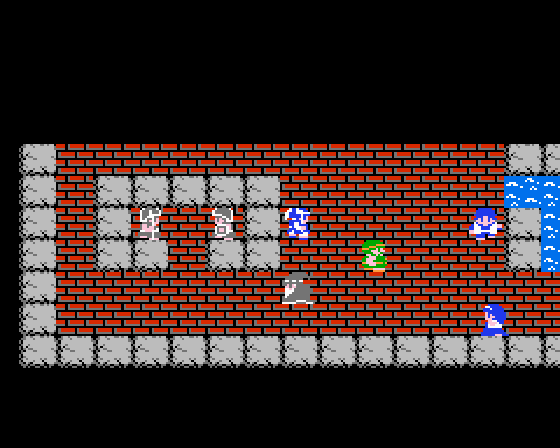 Hmm. It doesn't look like we're any closer to finding Garin's tomb. But it's got to be around here somewhere. Let's think about this for a moment...
...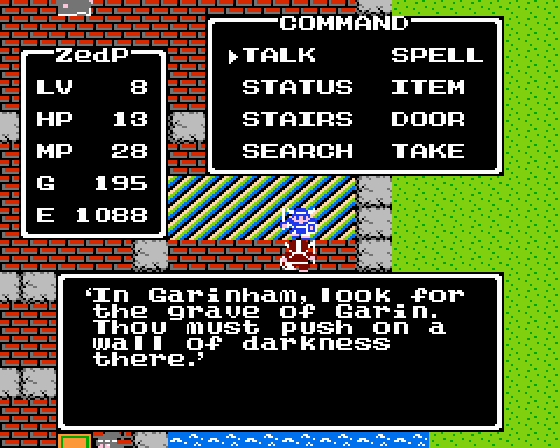 A wall of darkness! Maybe this is... Let's see...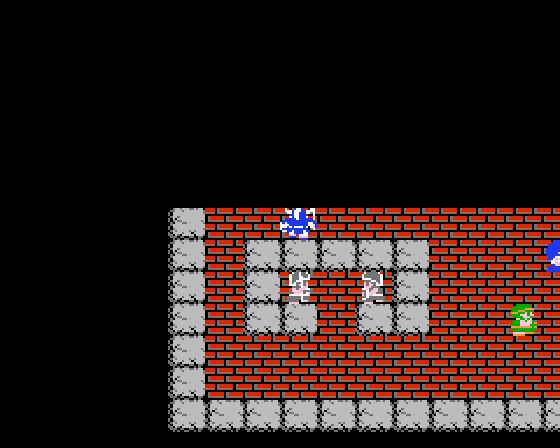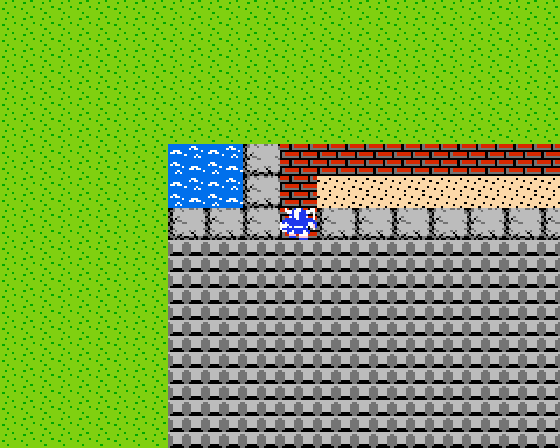 Score!
The north wall here isn't visible, since it's cunningly made to be part of the "outside" section of town that we can't see from inside. Trying to leave that way usually results in a THUD sound since we're hitting our head on a stone wall, but the third brick tile from the west has an actual exit.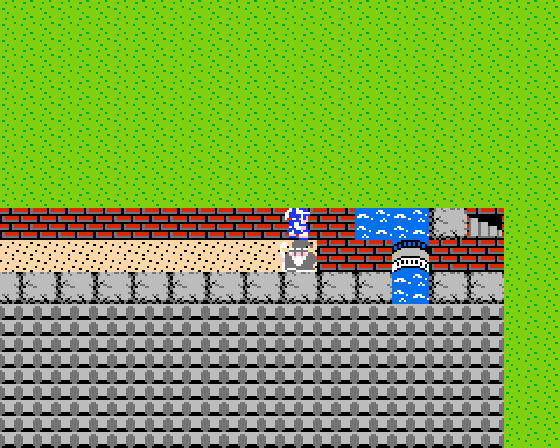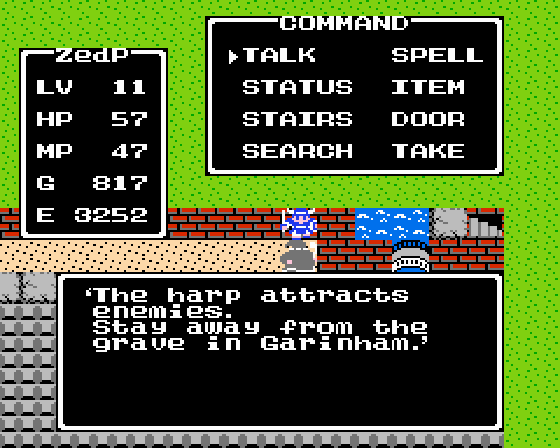 This is as much of a warning as we're likely to get.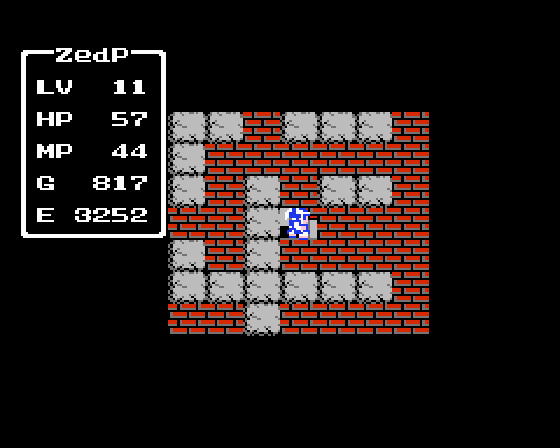 Garin's grave is the first real dungeony-dungeon-with-a-plot-item-at-the-end we get, and it is not messing around. I'm not 100% convinced we even have any business in here with our current level and gear, but I guess we'll see. This is where the Dragon Warrior death penalty mechanic brings a bit of freedom, for two reasons. First off, no matter what happens, we'll get some experience out of this, so it doesn't feel like I'm entirely in danger of wasting time, or at least not quite as much as if I had to reload and just wipe out all our progress since the last save. And second, if we find what we're looking for, of course it's best if we can walk out with it under our own power, but if we get ganked on the way back we'll still get to keep it.
Alright then, let's bring some peace to Garin's spirit, shall we?
We run into Skeletons and Poltergeists on the first level. Taking HURT casts to the face worries me, but luckily they mostly hit for 1 damage or run away instead. Dang but I'm still really happy about this Half-Plate. Heck, we might even be close to a Full Plate once we get out of here.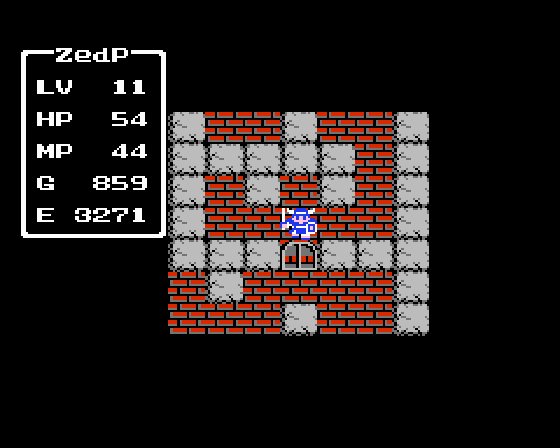 Huh. I'm glad we stocked up on keys after all.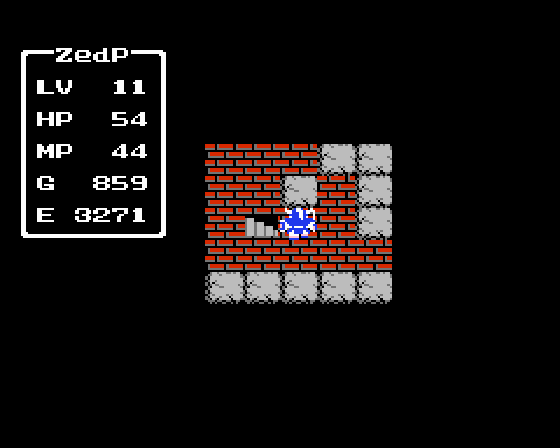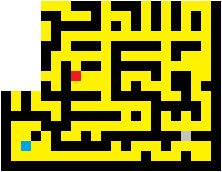 The grey square is the door. We're not done mapping out the first floor, but we can do a thorough clean-up later; for this first run I just want to see how far down we can make it. Since we've found this staircase behind a locked door, it's probably the right way down.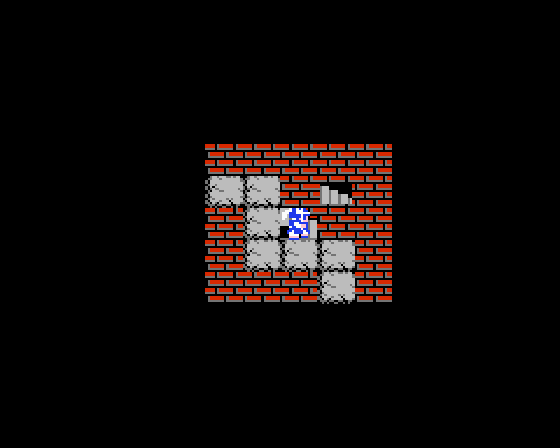 Ehhh, this one seems almost too convenient, but maybe that's what Garin's gravedigger wants us to think! Let's keep going down.
We run into a Wolf just before we reach the stairs. It's easy pickings by now, but things are definitely escalating.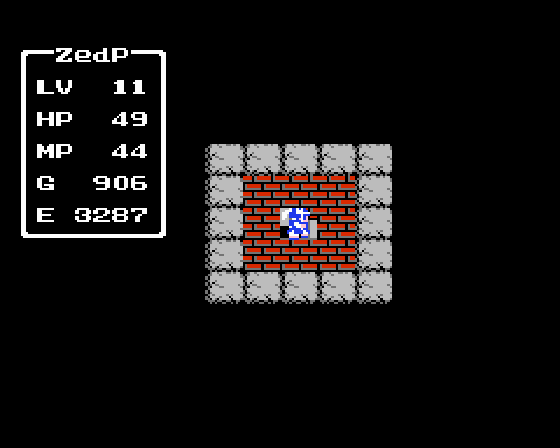 ...well we've been outfoxed. Back to the second floor then.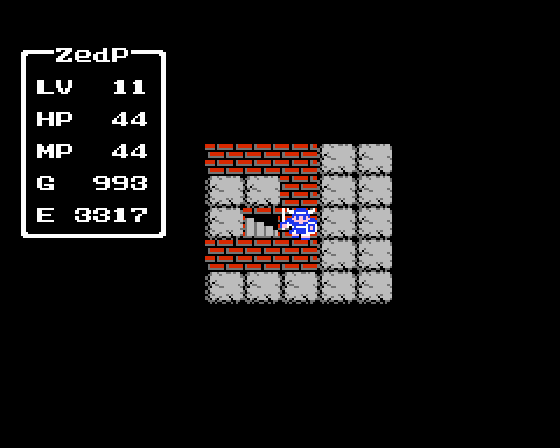 There's another staircase to the south, with a Metal Scorpion nearby. These are definitely Rimuldar-grade enemies, so we'll probably start meeting some new critters below.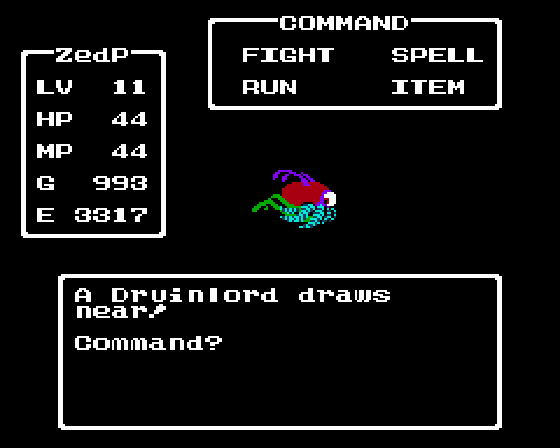 Druinlords are about equivalent to Wolflords in stats, more robust but not as strong. They're highly resistant to SLEEP, but completely vulnerable to other spells. Considering they're 75% likely to cast HEAL when wounded, and 25% likely to cast HURT otherwise, they're worth spending a STOPSPELL on.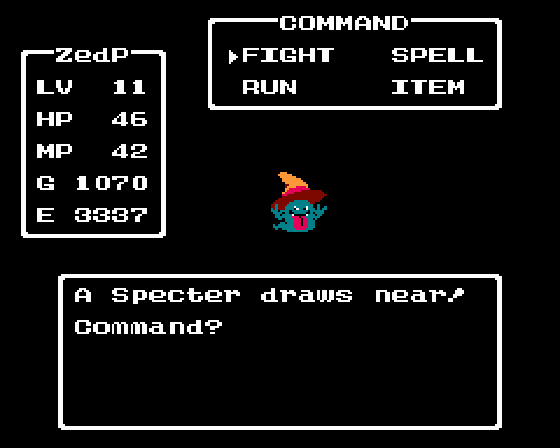 Specters are Wolf-equivalents, with very slight resistances to SLEEP and STOPSPELL. Seeing as they have a 25% chance to HEAL themselves and a 75% chance to cast HURT otherwise, they're also worth the slight MP expenditure to silence.
We're starting to take some real damage from attacks, so I pop an Herb. MP is way too precious a commodity this deep in to spend it on healing if it can be helped.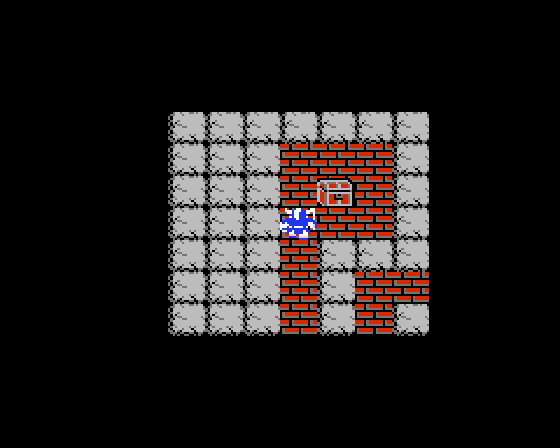 Ooooh, a lone chest in the northwest corner.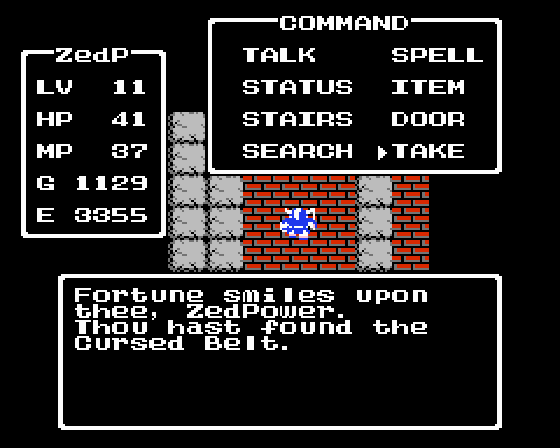 : Yeah... Yeah, no. Maybe I'll just... not put that thing on right away.
Definitely not what we came in here for. Let's keep going.
The path we were on ends in an up staircase, taking us back to the second floor, and eventually to some place we already went through. It's becoming apparent that diffent staircases going between the same floors don't maintain exact distances from one another from floor to floor, so you can't use their positions on one level to map their exact positions on another; that's kind of a shame. That said, they've mostly been off by a few tiles so far, so it's not completely disorienting, just tricky to map.
Finding an alternate way into the center of the second floor...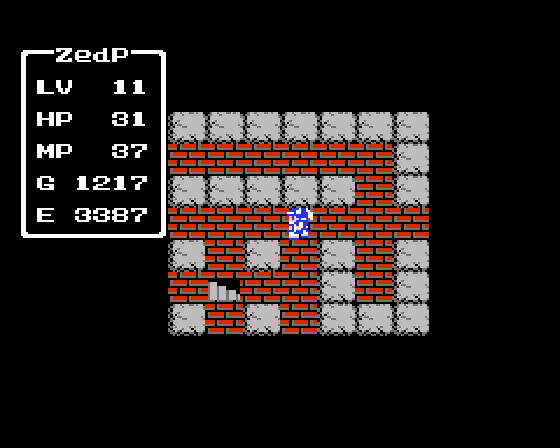 ... leads us to a previously unexplored region of the third floor. RADIANT helped us see a down staircase from our previous jaunt here, so I suspect there's at least one more floor underneath here.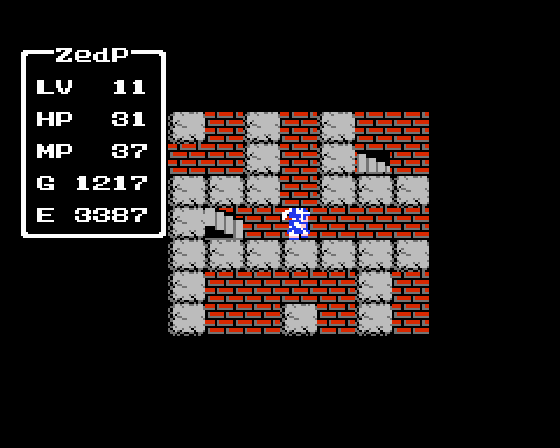 Okay, that's a second inaccessible down staircase on the third floor. Our MP's still holding up so far, gotta keep going.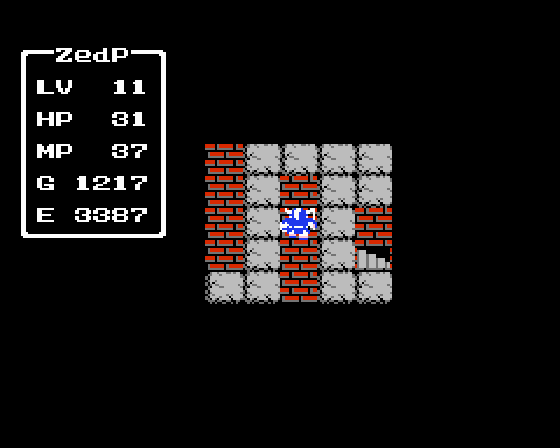 Aw man, that super-important-looking staircase in the center of four pillars just leads to a couple dead-ends. Back to the second floor then. There must be another stairway down from there that'll take us deeper; maybe in the southwest corner.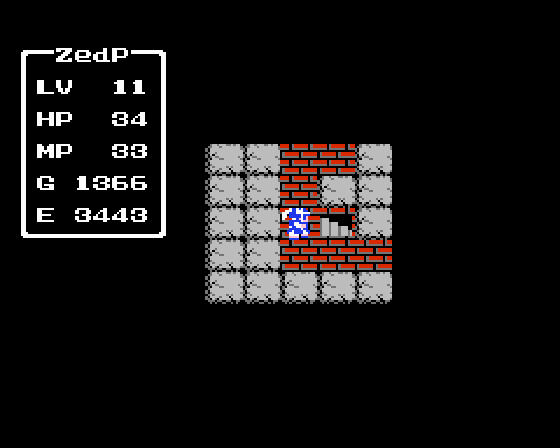 Yup, southwest. Fingers crossed.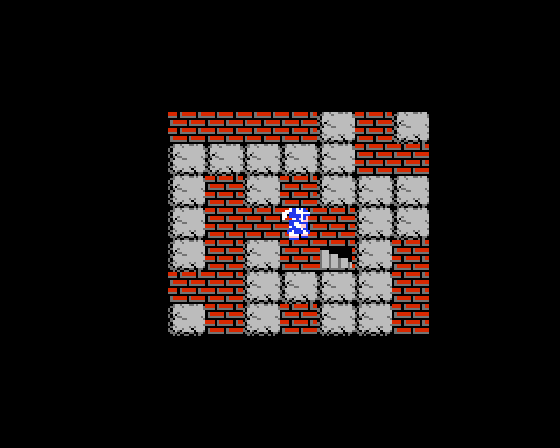 There's still maybe a third of the third floor we haven't seen, but this is our first stairs down to the fourth. Whew.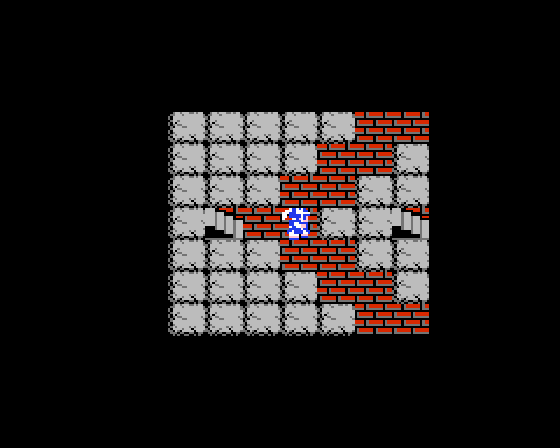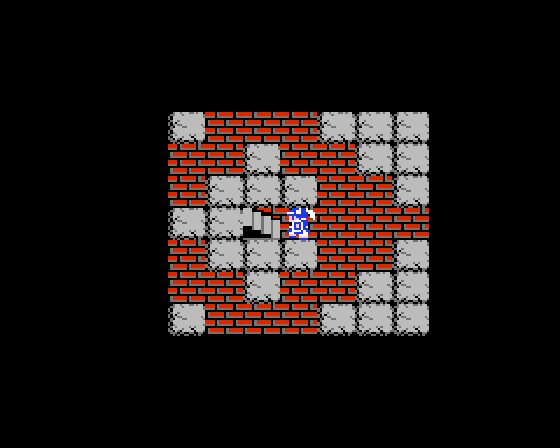 Hmm. A way back up. We don't run into anything down here, but we've seen Wolflords on 3F and I'm not in a hurry to see what's worse than this right now.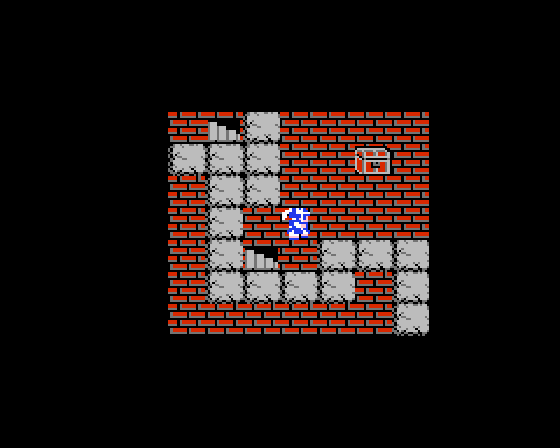 Ah-ha!
...as if on cue, another Wolflord pops up exactly on the chest tile. We put the puppy to sleep, and then we put him to sleep.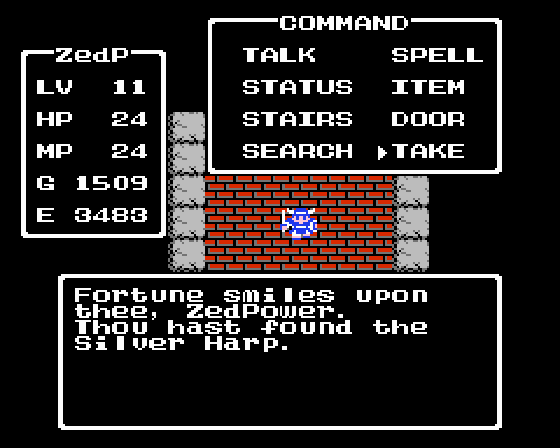 NICE!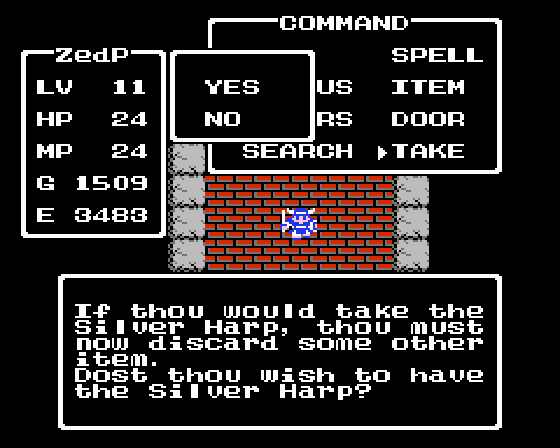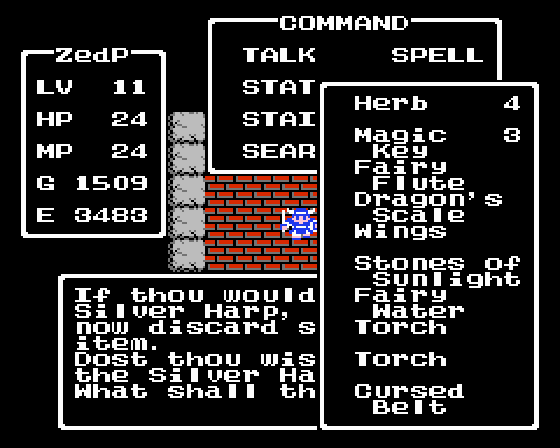 Yeah, yeah, I think so. We've just hit the inventory limit of 10 items. Herbs and Keys stack up to 6 in one slot, but everything else takes up one space each, even consumables like Fairy Water. For now we can just throw away the extra Torch we found topside.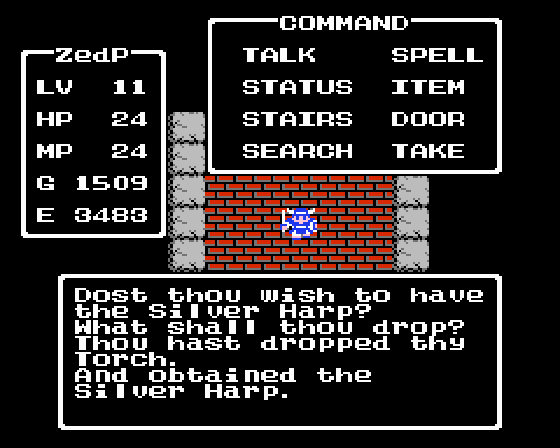 Well would you look at that. It's about time we had a real win, isn't it?
Our MP's still about half full, we've got a few Herbs left, and a few holes in our map. Maybe we can just clear the place out in one run! And at this rate we'll definitely be able to pick up that Full Plate. If not right as we leave, at least after a tolerably small amount of Wolf hunting. Ahhh, things are looking up!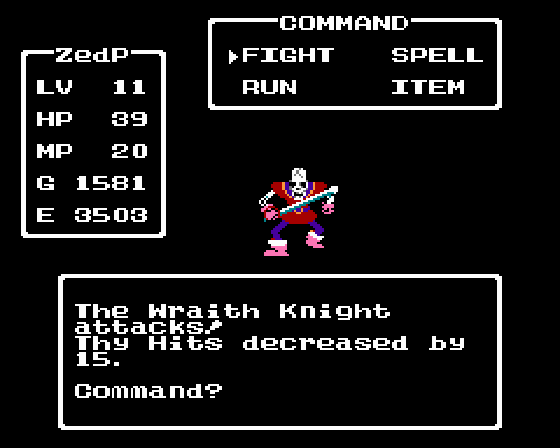 We run into this bad customer on our way back through the third floor. Wraith Knights are a fair bit stronger than Wyverns in every way, with about a 1 in 3 chance of resisting SLEEP and a 75% chance to cast HEAL when wounded. They're making me a bit nervous, so I just cast SLEEP and run away. We definitely don't want King Lorik to find himself 790 gold richer if we can help it.

And here's what I suspect is the last new critter down here. Drollmagi are Wyvern-equivalent, with a 50% chance to cast STOPSPELL and insignificant resistances. Nothing much to worry about.
Okay, the second and third floors are mapped, but there's still half the first one remaining, and our MP's dangerously low. I'm just going to leave, sleep in Garinham, then finish up and get back to you.
...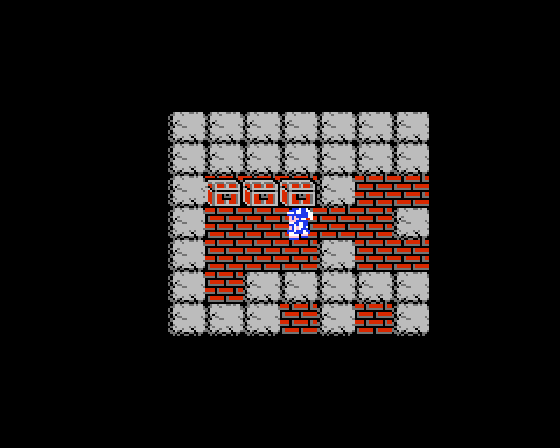 And that's the last room. If you come in here without a key to open the door in the south, these three chests are your only possible reward. They contain... 11 gold and a Herb. Wow.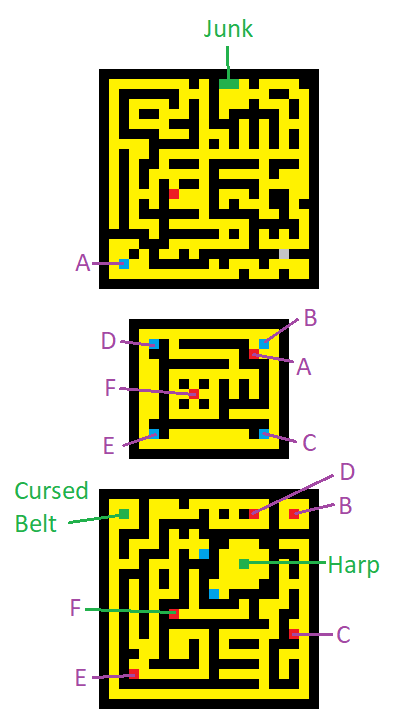 (I didn't map the 4th floor, it's just two up staircases, you can't possibly get lost.)
Welp, anyway, we're done here. Overall I'm quite pleased with the difficulty in this place, it felt pretty much just right for where we're at right now. The first two floors are kind of a cakewalk, but the bottom two are filled with critters that we'd best not underestimate even with our current gear. I could especially imagine runs cut short by just a couple Wraith Knight encounters going sour. If we had done just a little less grinding in Rimuldar I suspect it would still have been doable, just a lot more nerve-wracking.
Okay then. We return to the surface, then restock on Herbs and rest at the Inn. The next region we'll explore is in the far southwest, but I want to go in Full Plate and with a full stock of keys. Besides, we've got a Harp to trade in, too.
Speaking of the Silver Harp...
When the old man said the Harp attracts monsters, he wasn't kidding. Using the Harp anywhere on the overworld gets you in an instant random encounter. You'd think this would be useful for grinding, but unfortunately, it only ever summons Slimes, Red Slimes, Drakees, Ghosts, Magicians and Scorpions. It's absolutely not worth hanging on to.
On, and, hmm. What the hey. Let's see...

: Ugh. I don't know what I expected. At least I know my pants won't fall down.
The Cursed Belt is all downsides. It'll randomly squeeze our body during combat, causing us to lose our turn. In addition...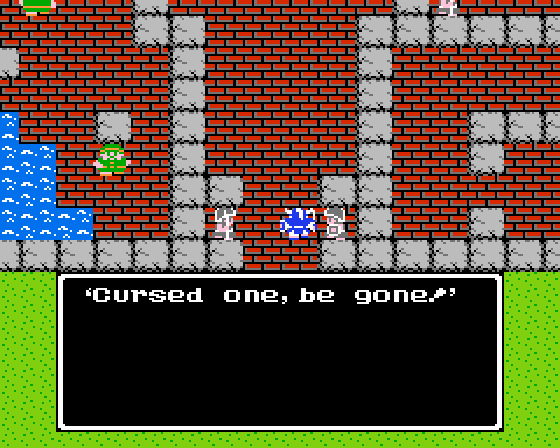 The guards at the gates in Tantegel won't let us in anymore. We can't save.
If you try to sell the Belt while wearing it...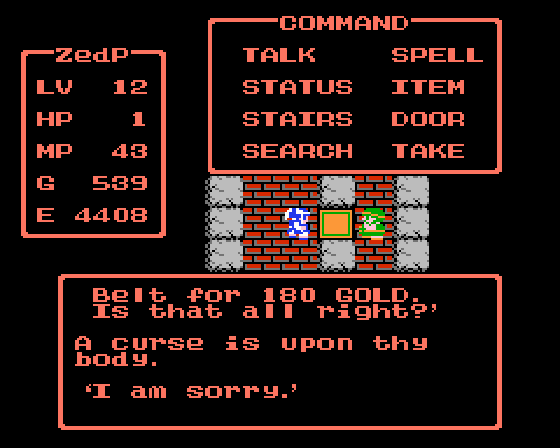 (Don't mind the level discrepancy in that last image, I somehow lost the original pictures and had to retake a couple after the fact.)
And this doesn't actually happen to us this time, but if you commit the unspeakable offense of dying while cursed...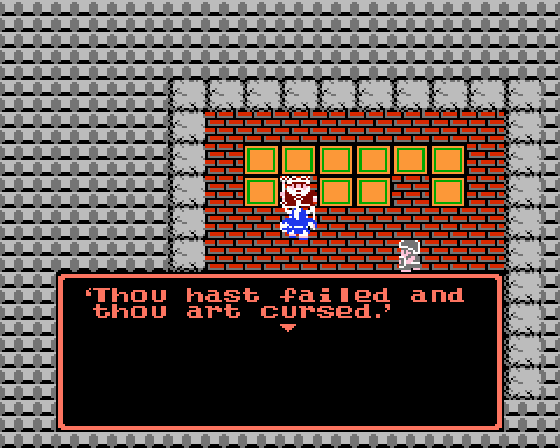 : Leave at once!
...the King teleports you out of the castle, alive but with 1 HP.
Slight problem... but simple solution.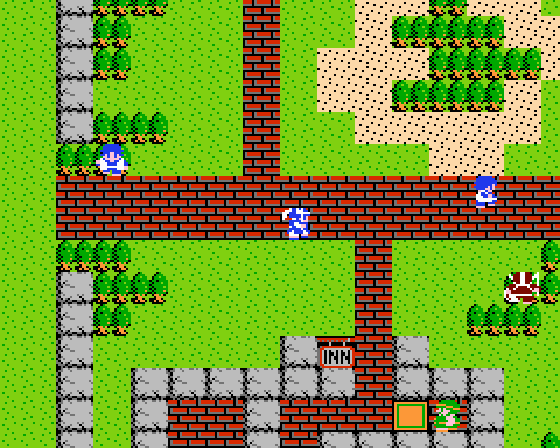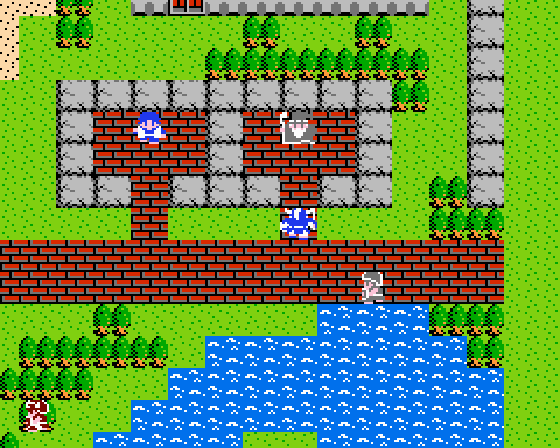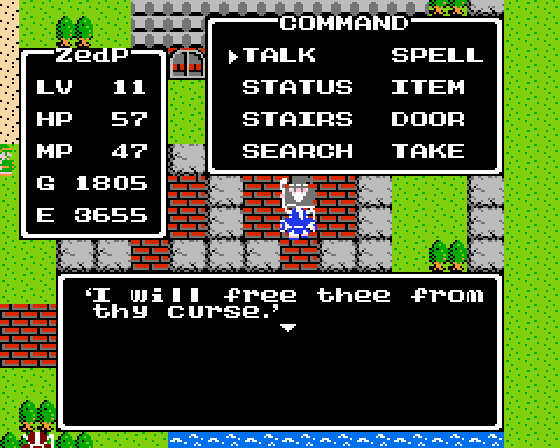 : I've never been so happy to get an old man to take off my belt.

: Now, go.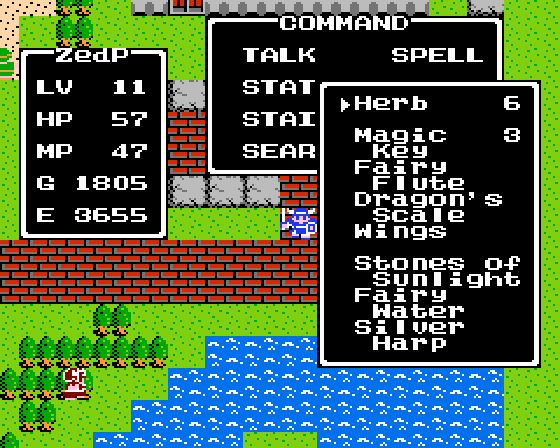 Aaaand it's gone, like it was never there. We can save again. The Cursed Belt is your basic
piège-à-con
booby-trap. Don't wear it, and if you wear it, don't forget about the old man in Brecconary who mentioned curses and will just take it from you for free. Otherwise, as long as it's not actually around your waist, you can sell it for 180 gold.
That bit of foolishness done, let's head for the shrine west of Kol. We'll be using our last Fairy Water, there's not much to gain on the way but time.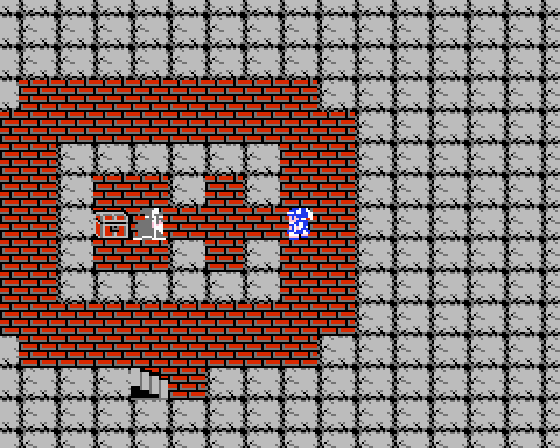 : I robbed a dead guy for this, old man. You better deliver.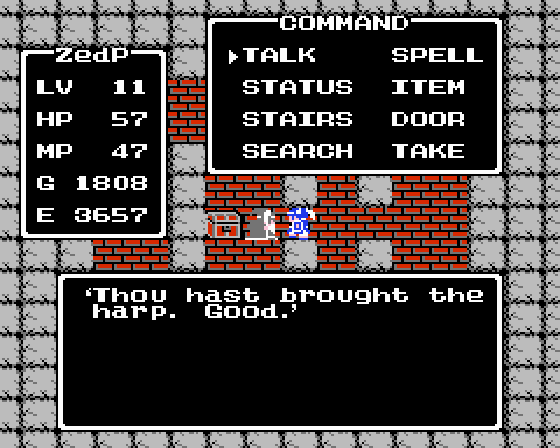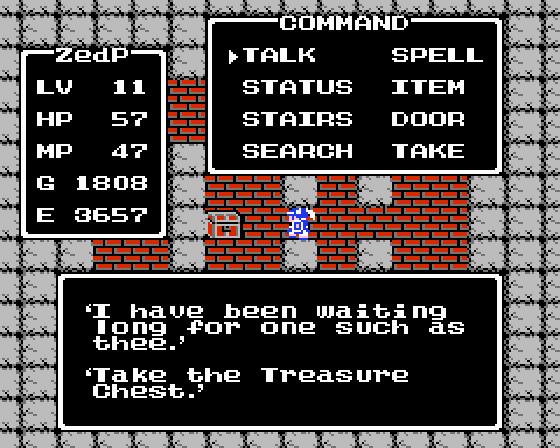 Aaand he just disappears. No stepping aside, no handing it to us, he's gone.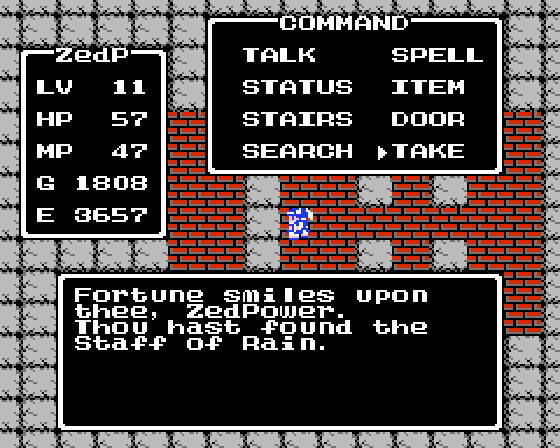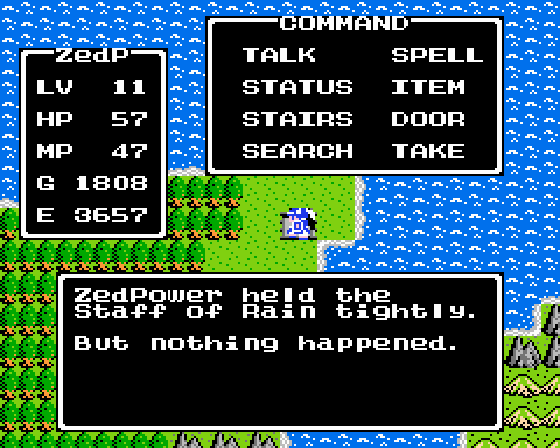 Just like the Stones of Sunlight, it does nothing. We'd need to take it to the "magic shrine" in the far south to combine their magic, but the guy running the place won't give us the time of day. It's a shame we're not the descendant of Erdrick, because we're doing a pretty decent job at it!
We haven't gained a single level since we last fought the Green Dragon, so that's still off the table. But getting our Full Plate will be a trivial effort, and we're finally up to the task of seeing more of Alefgard, and maybe even find Hauksness, or Cantlin, where mighty weapons are made.
You know the drill. See you on the other side of the grind, true believers!