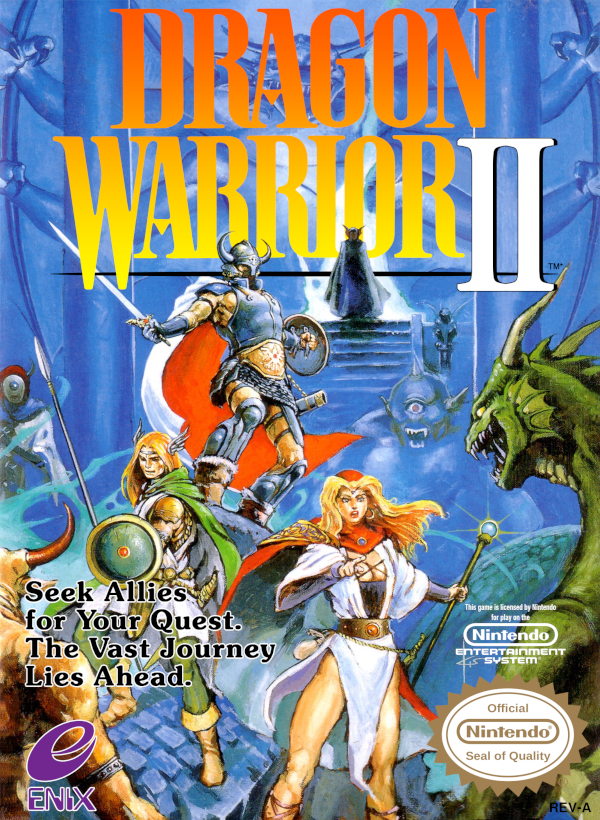 The sequel to Dragon Warrior hit North America in September 1990, to... let's say, limited success. The original Final Fantasy had been released to the same audience in May of the same year, and it turned out to be a deeper and in some ways prettier game than Dragon Warrior II. One might be tempted to be believe that Enix's follow-up was a step back, or at least the result of a development team oblivious to its own potential, sitting on its laurels, and taking its comfort for granted.
The Japanese release dates tell a different story, however. Dragon Quest II was released in January 1987, almost an entire year before Final Fantasy's December 1987 release. DQ2 wasn't a step back; it pushed the burgeoning JRPG genre forward and further set the course for all that would come after.
The Yuji Horii / Akira Toriyama / Koichi Sugiyama dream team put together a complete evolution over the original DQ's blueprint: a much deeper combat system with actual party members, a partially non-linear quest set in much bigger world, more detailed environment art, more colorful enemy designs, and a more elaborate and memorable soundtrack. The first game almost feels like a tech demo in comparison.
This is not to say that this is a flawless sequel. Certain aspects of the flow and balance have the awkwardness of a newborn deer finding its legs, and the endgame's open cruelty is almost legendary.
Plot-wise, we're looking at the continuing adventures of Erdrick's bloodline. You don't need to be familiar with the first game's story to follow along, but if you haven't been through
my previous Let's Play
, it's a short read of only ten parts, and people seemed to like it!
As the manual puts it...
Though the time of his deeds has long faded, still the name Erdrick commands respect among even the greatest of warriors. Stories of his lineage are legendary throughout the land and have been retold through the ages in the most remote villages and townships. Long ago a young man, who was a descendent of Erdrick saved the Kingdom of Alefgard by defeating the dreaded Dragonlord. The young man came to this land accompanied by Princess Gwaelin. Together they built TORLAND.

This legend has been handed down generation to generation from the ancient time. Princess Gwaelin brought forth three children. To the eldest prince was given the land of Midenhall. To the youngest prince the land of Cannock became his birthright. The youngest princess was given the land of Moonbrooke. The people of these kingdoms lived in peace for 100 years. One day, however, this peace suddenly came to an end.
Wait. Dude. Look at this. That can't be right.

: No, no, that's pretty much it.

: I can vouch for the accuracy of this introduction.
I thought we established that you two faked being in love so the princess could travel freely as her heart desired, and so our dragon-slaying hero could have his vengeance against notorious dick King Lorik. What's this about children, then?

: Well, we traveled together for a long time, and it turns out we actually liked each other a lot!

: Who would have thought it?
Ah. Okay then.

: Bringing Alefgard's royal line and hero line together also made it a great deal easier to find descendants of Erdrick when they might be needed.

: None of our kids will ever be brought in rags before a king, given a pocketful of change, and told to kill a giant dragon on their own.

: It didn't turn out so bad for you, did it?

: It sucked a lot for a long time. Heroics are great and all, but getting ganked by a Slime on your way to the inn is overrated.

: What's this about peace coming to an end, though? Is our family okay?
Oof. Yeah, about that. Let's find out, shall we?
Let's play Dragon Warrior II.