The results of our final expedition into the volcano that once held the Eye of Malroth are...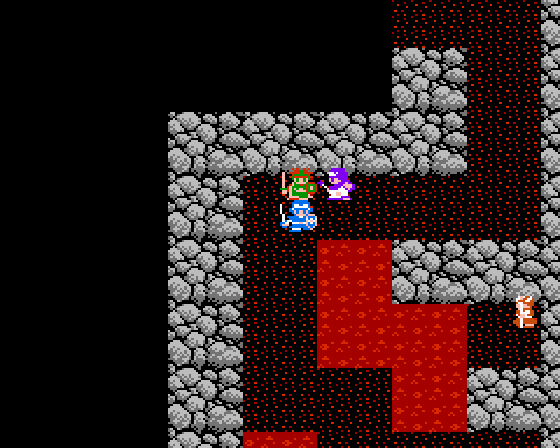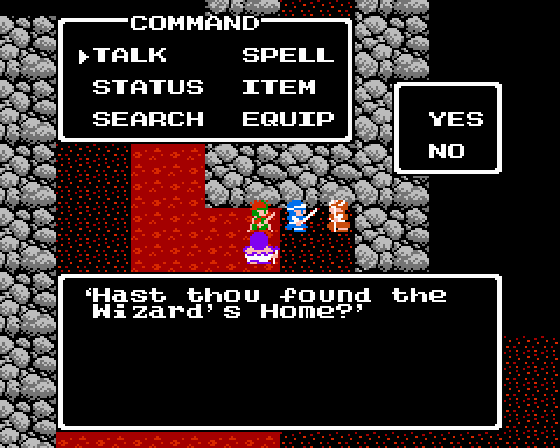 : Yeah, if you can call them wizards.

: Go then, for thou must defeat Hargon.

: In due time!
This guy is probably here to tell you there's nothing more of interest here once you've beaten the two Evil Clowns and earned the Eye.
If you tell him you haven't found it...

: Thou art close to the island cave wherein lies an object of great power and greater peril!

: You mean the Eye of Malroth, right?

: I don't know, it seems pretty harmless to me.

: It was sealed all the way down here for a reason, I'm sure. But we have precious little choice.

I've only marked the way to the Eye, since there's nothing of else of interest in here. There's probably a more elegant way to assemble these pieces, but this place has already taken up enough of my time! The only new chest we found contained like fifty-odd gold anyway.
As we make our way to Beran, I see we're sitting on 17336 gold. We could get a Light Sword from Wellgarth for Zed, but it's not his best weapon, while the 25000 Falcon Sword is definitely Glynn's, so I want to save up the 8000 or so we still need. I hope I won't have to regret that decision, but we can just be extra careful, right?
If only there was some place of business where one could safely store money, away from kings and monsters, to be retrieved at a later date. Oh well.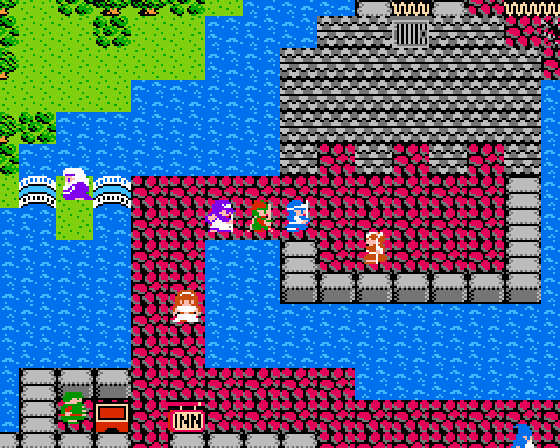 : So, we have everything we needed to travel to Rhone, right?

: It's... just the Eye, isn't it?

: Right. But our goal is to find the crest of Life in there, first and foremost. Or we may be tricked by Hargon's illusions.

: Well, we got four of these wing-wongs already, might as well complete the set.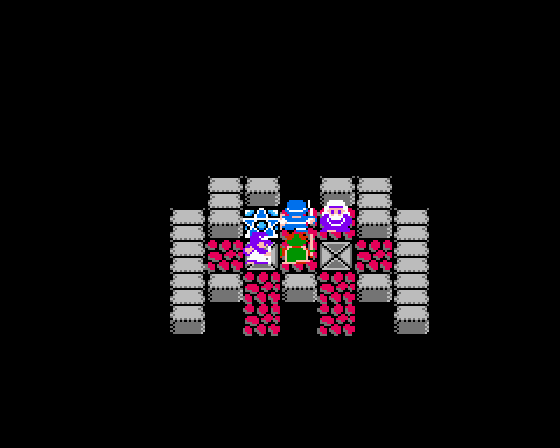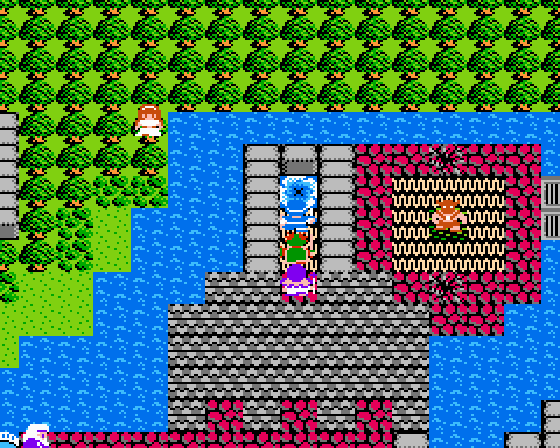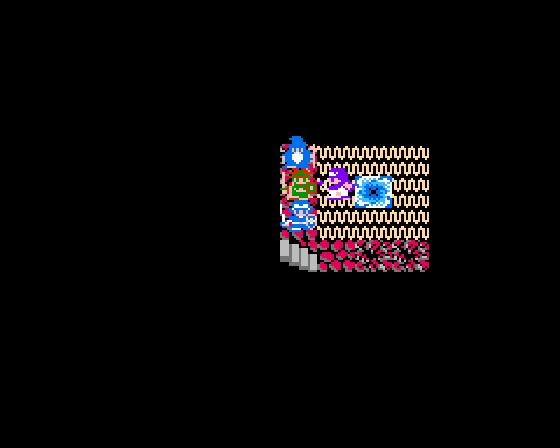 : Wait a minute.

: Hmm?

: Do you guys hear something?

: I... don't...

: The wind, maybe.

: No, there's something else...

: Yes, yes, I heard it too! It's coming from outside!

: Yeah, we're going outside anyway-

: No, not the stairs. There must be another way out of here.

: Well, if you say so.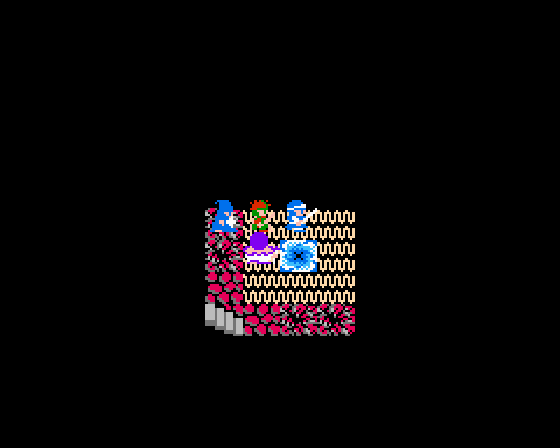 : ...well I'll be.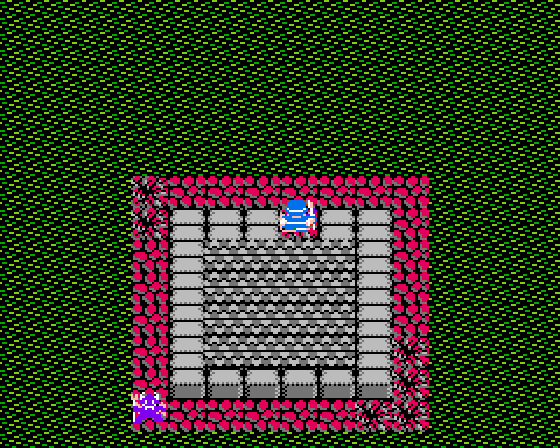 : Now who could be...?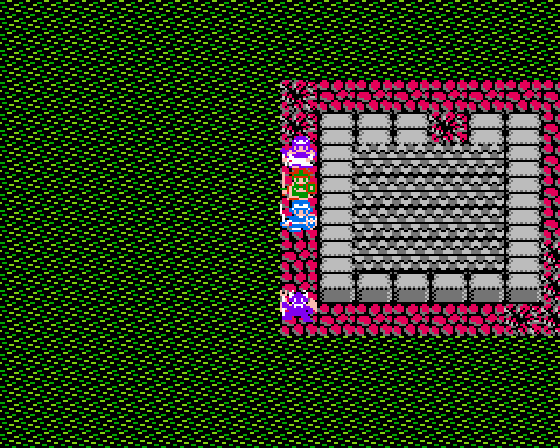 : ...!

: Oh hell no, let's take this chump out.

: Right!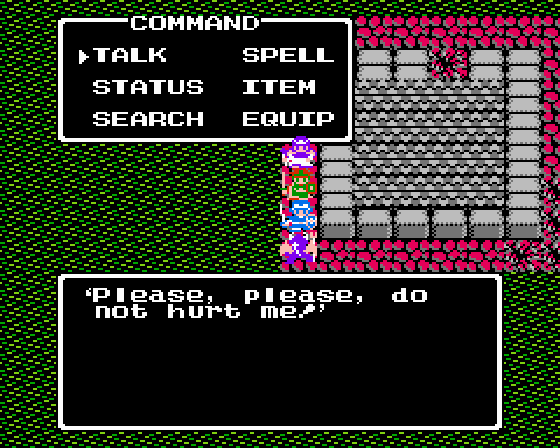 : Huh. That's new.

: Why should we spare your miserable carcass?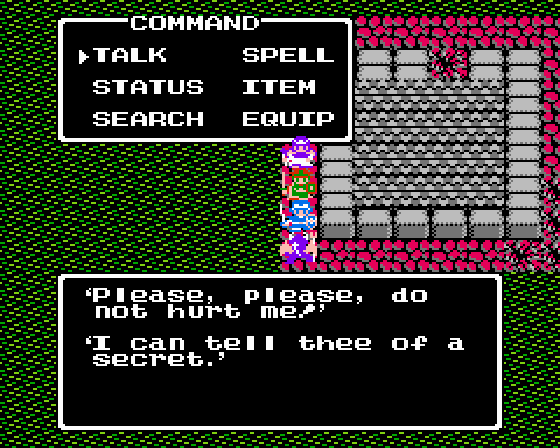 : What could possibly be worth leaving you alive?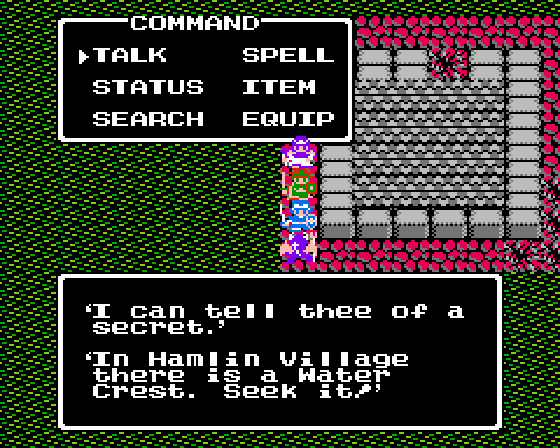 : We knew that! This is worthless to us!

: He had no way to know we already recovered it.

: Yeah, he's clearly being honest here.

: ...

: Let's go, Gwen. We already have our hands full with the devils that actually want to fight us.

: Right, come on.

: ...fine.
This is the only clue we could get regarding the Ozwargs imprisoned under Hamlin and the Crest they're holding; considering you'll only find it if you obsessively check every black tile you come across, it's probably harder to get to than the Crest was in the first place.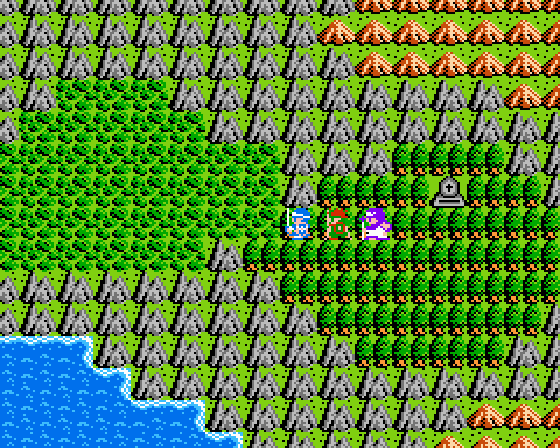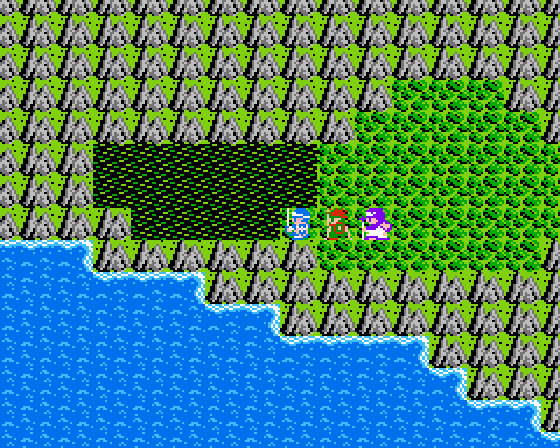 : This... this should be the place right?

: Indeed. Glynn, will you do us the honor?

: Here goes nothing!

: It worked!

: Well that was terrifying.

: I cannot help but worry at the energies we are unleashing here.

: We unleash these energies or we go home, Glynn.

: I am well aware. But... Never mind. Let's go.
Welcome to the path to Rhone, everyone. If Dragon Warrior 2 wants to justify its reputation for cruelty, brutality and unfairness, time's running out!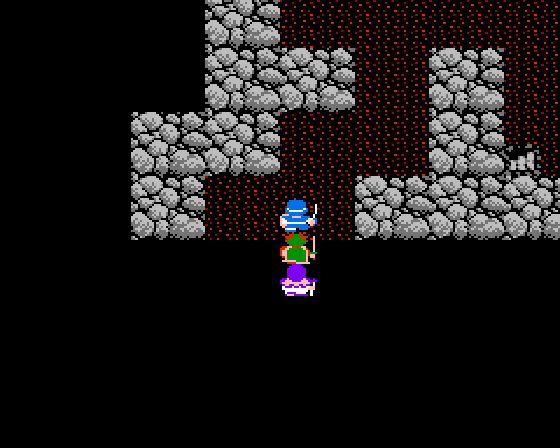 I think this is the only cave without a staircase entrance; we cracked the mountain open and walked right in.

A single Mega Knight greets us inside. That's not a problem. Things are looking good so far!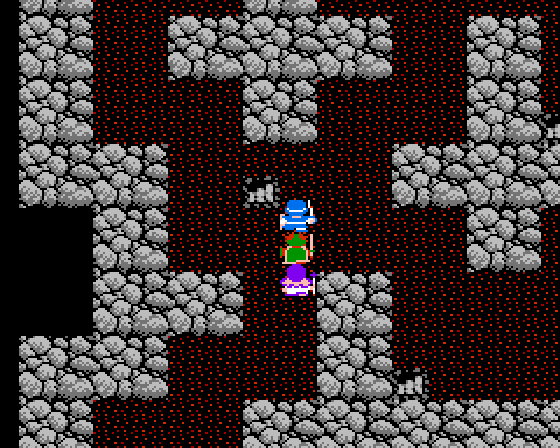 Three tunnels and three staircases (one of them half visible in the east). We're already drowning in choices! Let's clear as much of this ground floor as we can before going any lower.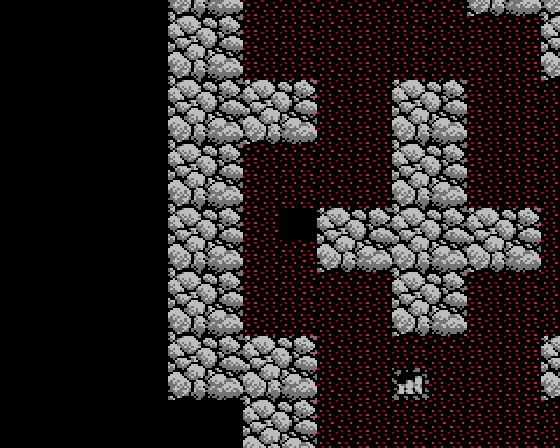 ...oh crap. Pitfalls. I forgot about those. Welp.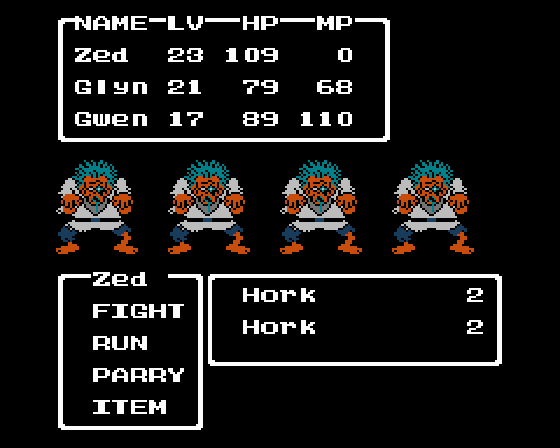 Four Horks await us below as soon as we land, but we prevail with ease.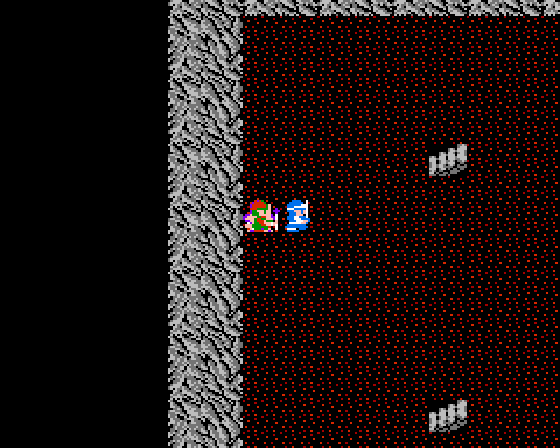 : Okay, this sucks.

: It does explain all the stairs above.

: Such is the price of knowledge, I suppose.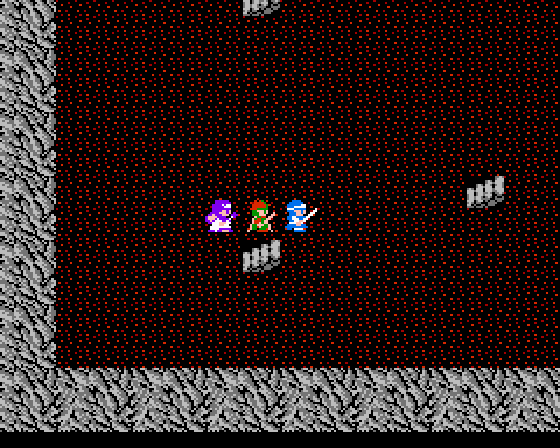 As we try to walk around down here, we run into more groups of two to four Horks seemingly every other step. I don't know if this is pure RNG or if there are just hordes of the things down here, but I'm not inclined to explore the rest of the floor much further, and we go for the nearest stairs.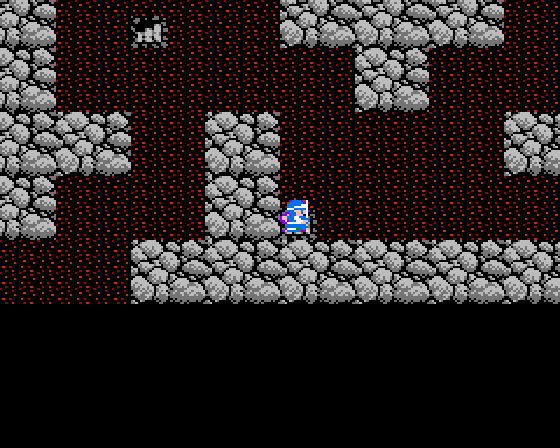 Hmm, I wonder if these walls form upside-down crosses on purpose; that would be one piece of religious reference that slipped past the localization.
Anyway, let's try this one up staircase.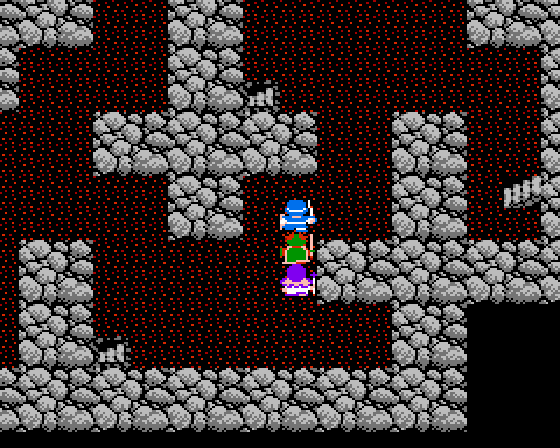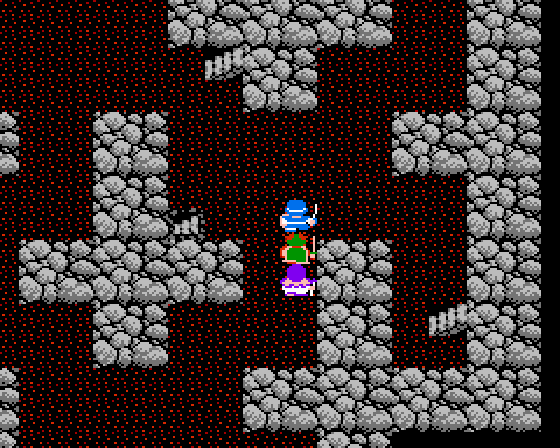 Or, uh, the eastern up staircase.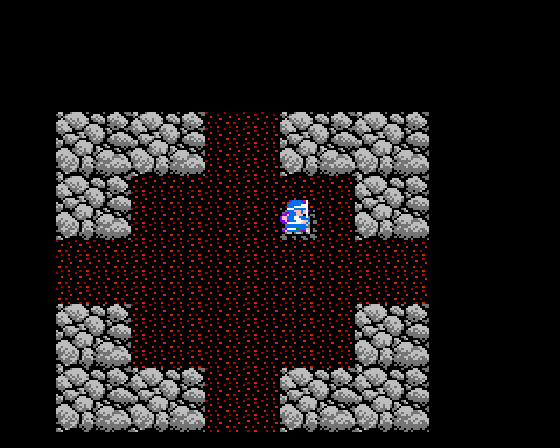 Oh this does not bode well. Let's go... north?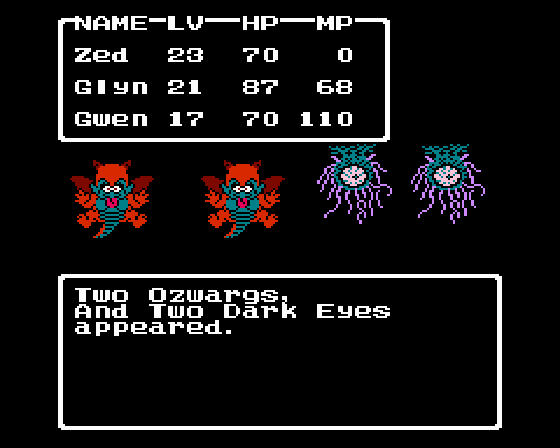 Oof, Ozwargs again. They weren't too dangerous in Hamlin but these are not going to be fun random encounters.
Dark Eyes are unremarkably strong and have low defense, but relatively high HP. They can cast Surround, breathe sleeping gas, and dance that dang strange jig. They have immunity to Sleep and Stopspell, and fairly high resistance to nearly everything else. Among our options right now, damage spells seem most effective, and they have a resistance of 4 (out of the maximum of 7) to those.
It's a tough fight, but it earns us a bit over 300 gold, so that's Glynn's Falcon Sword that much nearer.

Oh hey! Zed straight up does 28 damage to one of them. Wow!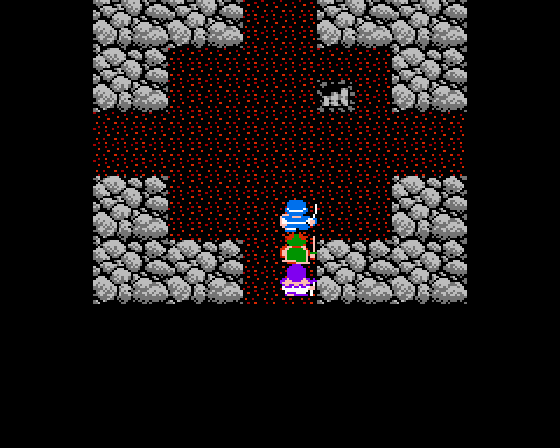 And we enter an identical room from the south.
Or not so identical; this is a different stairway we saw on the ground floor. Maybe the down stairway in the northeast here leads to something interesting. In other news, yeah, there's no way these crosses are unintentional.


Dang! It's good to know these are in here, though. Our entire party just attacks; only Zed does non-insignificant damage on a standard attack, but the others could possibly roll a crit.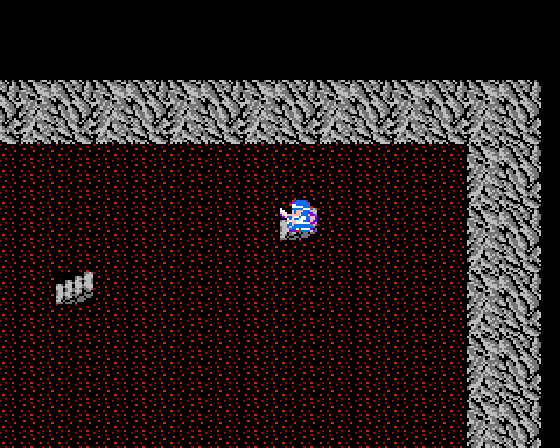 ...of course.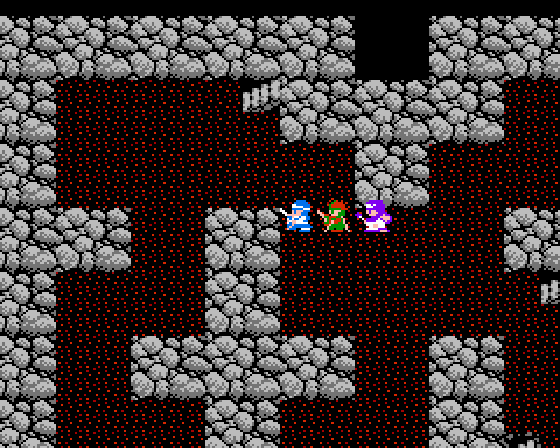 Okay, what about this one then?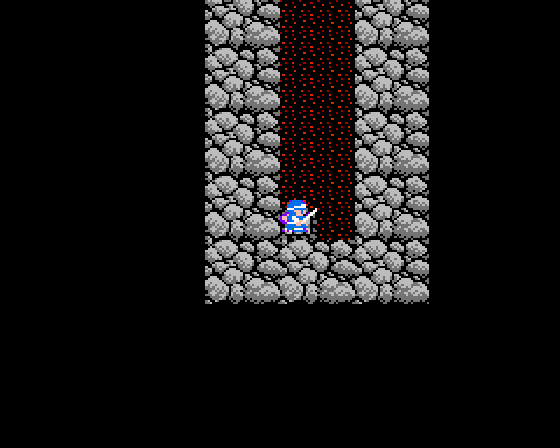 Ah, this is new.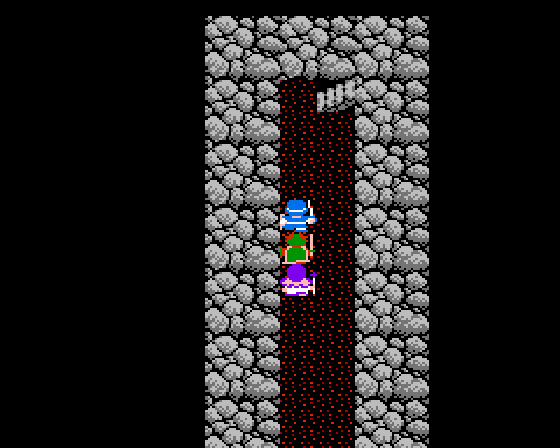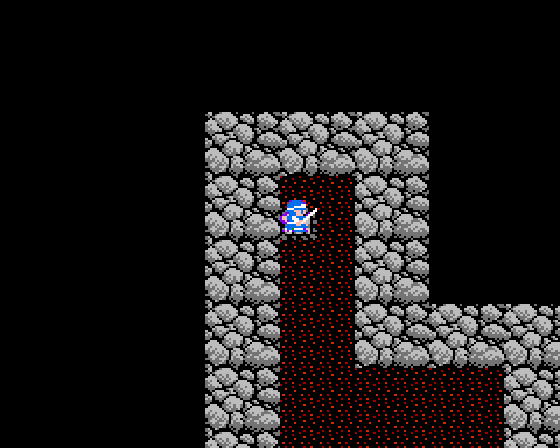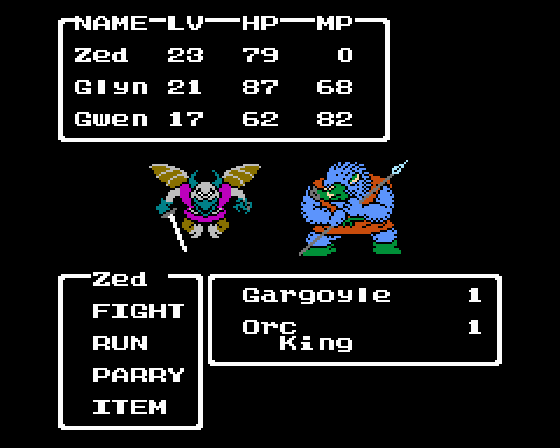 We've seen Gargoyles alone at sea before, only their Stopspell is any danger to us. Orc Kings are so far second in Strength only to the monstrous Ghouls of the Moon Fragment tower, with fairly high defense and very high HP. They also know Healmore for some reason. And they've got some magic resistance across the board, 2 for nearly everything, 3 for Stopspell. Aaaand they drop Lottery Tickets. Welp.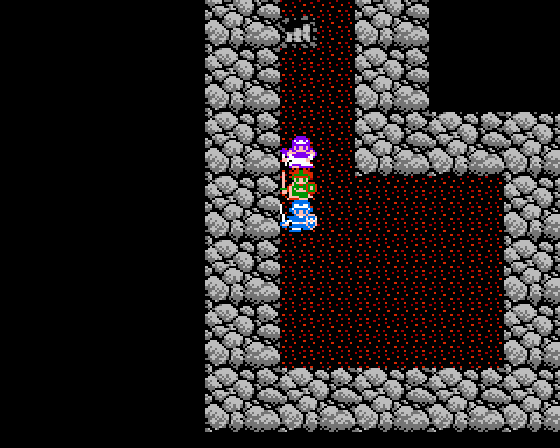 Ehhh... I guess there might be a pitfall to someplace interesting in here?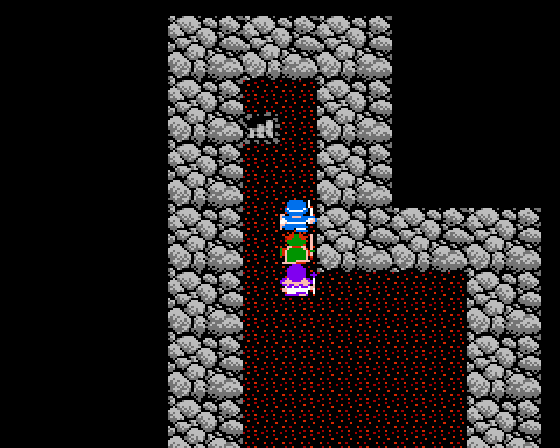 There is not.
I guess we can check out the repeating crossroads again.

...ugh.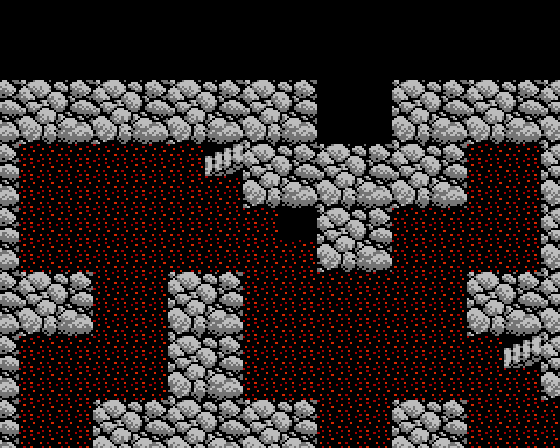 Okay.
Okay.
I'm going to have to change the way I draw maps for this, because pitfalls clearly don't take an entire 4x4 block of tiles. Eh, it's no biggie I suppose.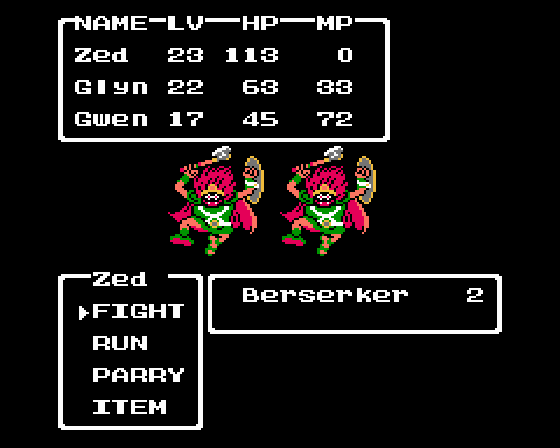 Berserkers are as strong as Ghouls were, and about as durable. They only have a standard attack to their name, though. They're moderately resistant to sleep, and slightly resistant to Defence and Surround, but damage spells always work. Probably their biggest claim to fame is that they can drop a Giant Hammer, which sells for a sweet 3000 clams.

Aw heck. Goodbye MP.
...
Yup, Glynn comes out of this with just enough MP to cast Return, so we have Gwen cast Outside and we get outta there. Oooh boy. The fight does make him gain a level though, for 2 Strength, 4 Agility, 4 HP, and 1 MP.

The pitfalls we know of are marked in brown.
That wasn't the most fruitful first foray, but at least it won't take very long to go back to where we left off.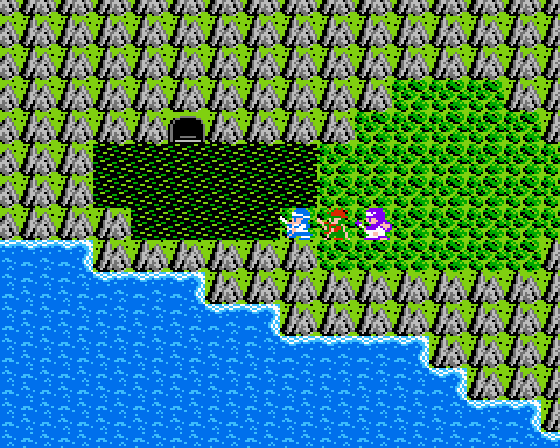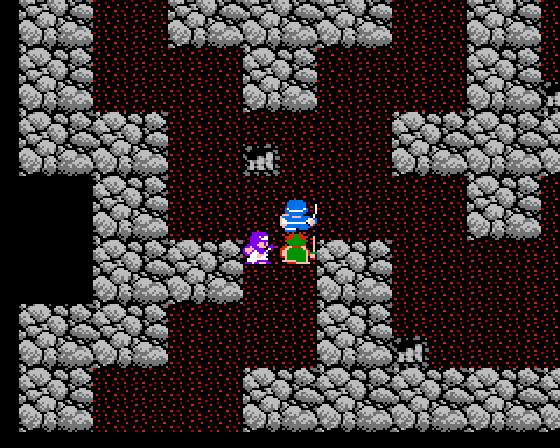 Alright, second take. Let's try these repeating crossroads again.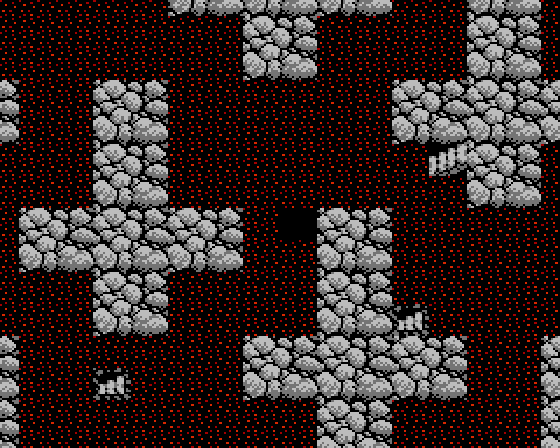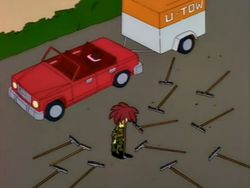 ...ughhhhhhh.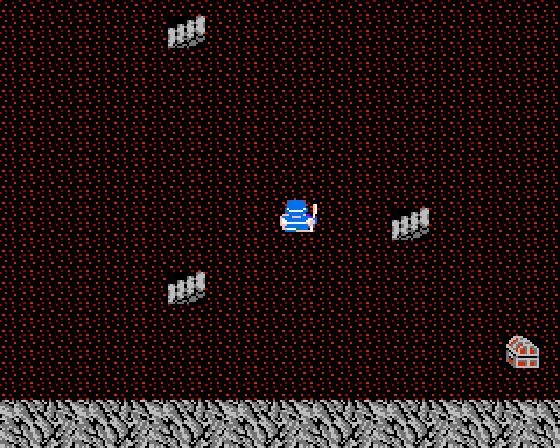 Oh hey, there's a chest down here. Who wants to bet it's a trap?
There is definitely something unusual going on with the encounter rate on this floor, and all we're encountering are Horks. Man that's spooky, just this hole in the ground packed with infinite numbers of shambling undead monstrosities. Good grief.
Zed does reach level 24 here though, for 3 Strength, 4 Agility, and 6 MP. And in the same fight, Gwen attains level 18, for 1 Strength, 4 Agility, 8 HP and 9 MP. Nice!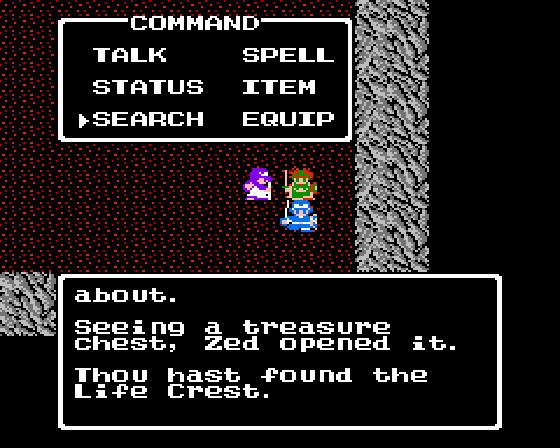 : ...what?

: It was in this pit of all places?!

: This is abominable! A symbol of life, buried among throngs of vile undead...

: If this was Hargon's only crime, he would still merit the most severe punishment!

: At least we don't have to look for it anymore, right?

: Let's find Rubiss the next time we have to leave.

: Of course. I can't wait to meet a wizard so mighty that even the Dragonlord holds him in esteem.

: I like how it's a given that we won't be making it all the way through this time either.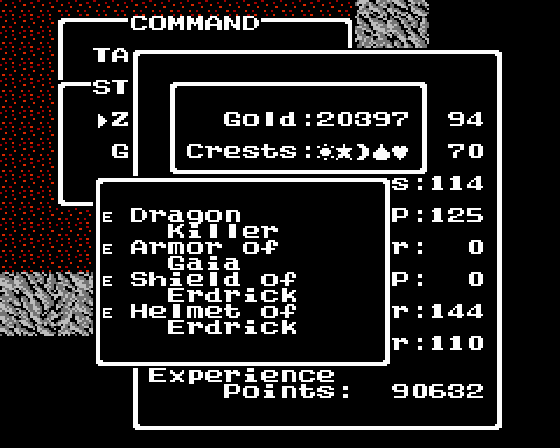 Whew, nice. But we're hardly done here.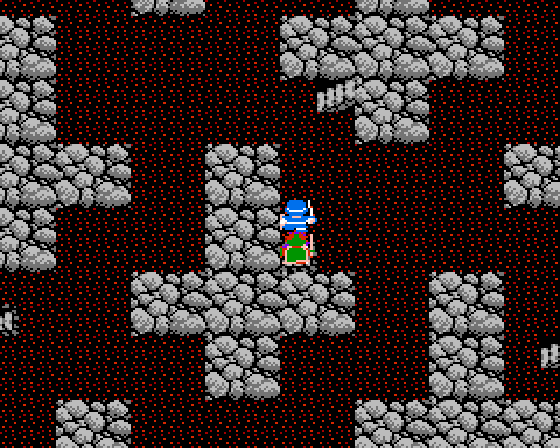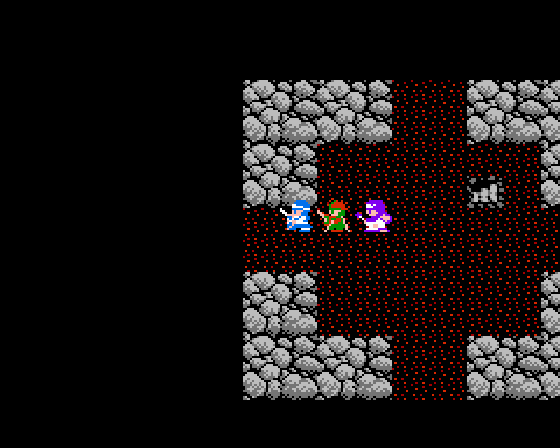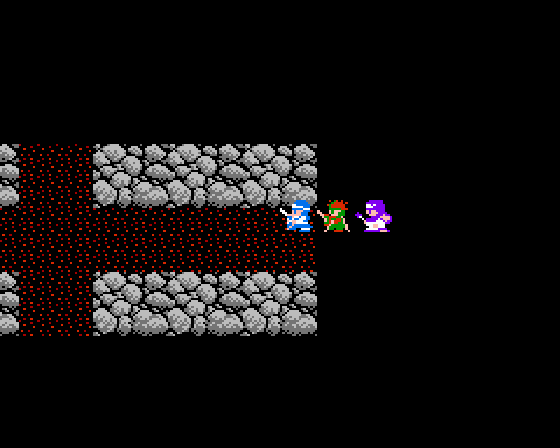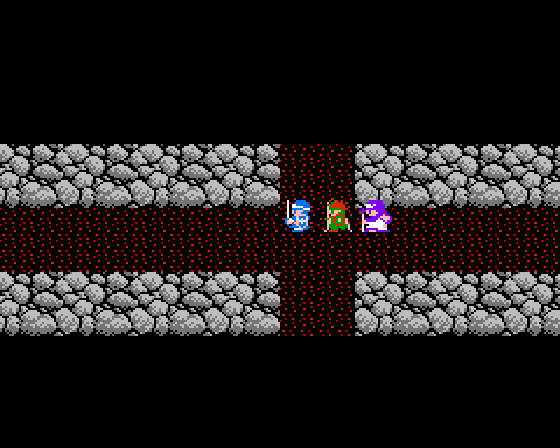 Hmm! Maybe these corridors don't repeat as much as I feared. Maybe I'm just remembering the Lost Woods.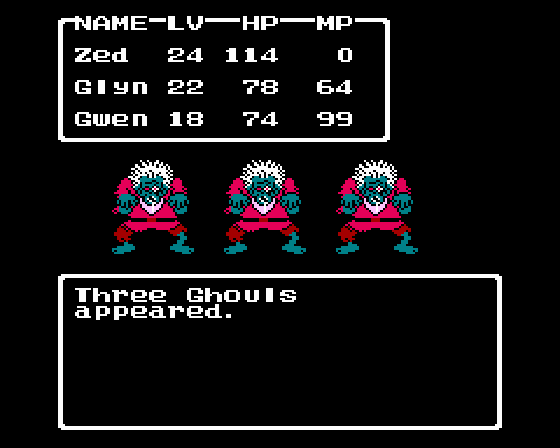 Dang, of course these dirtbags are here too.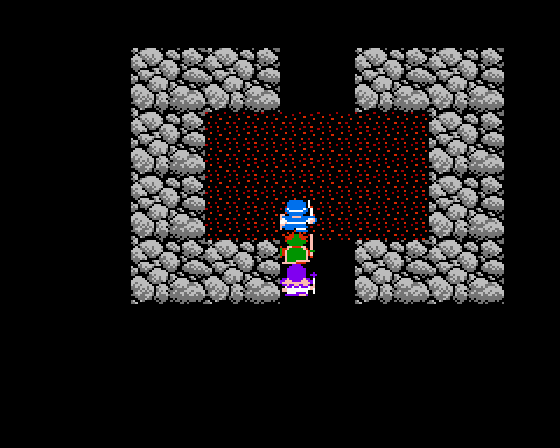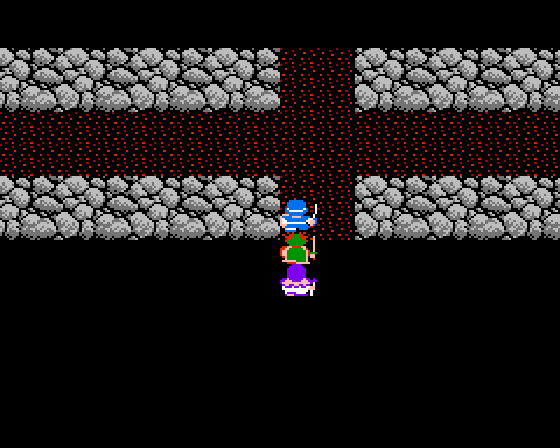 ...or maybe they do repeat. Gah! Let's try west this time.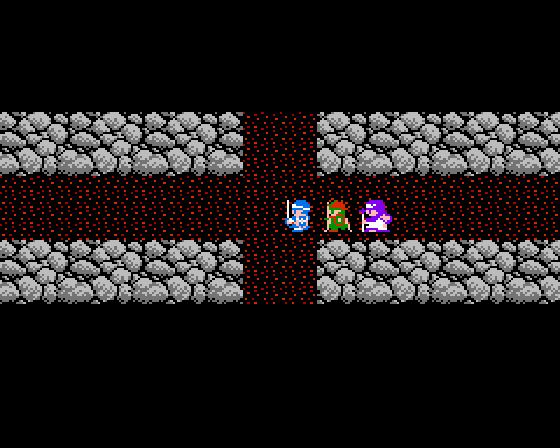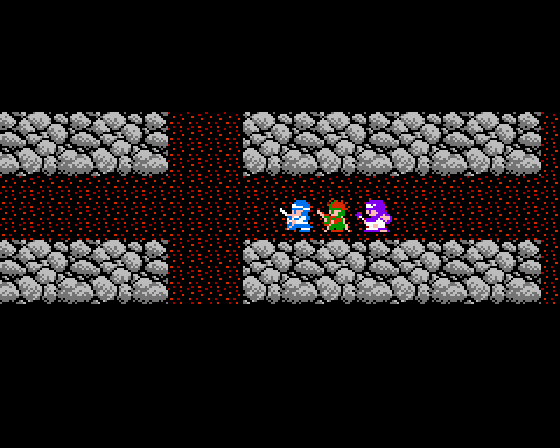 Oh what joy.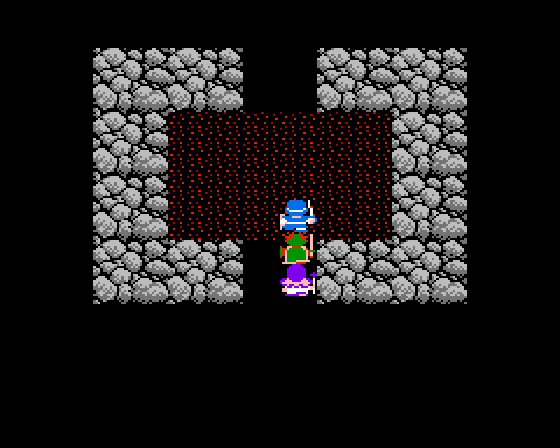 This is what my map looks like right now. (The floors towards the top of the image are higher in altitude than the ones below here; that makes things easier to keep track of on my end.) There's no way this is not in fact repeating nonsense, is there?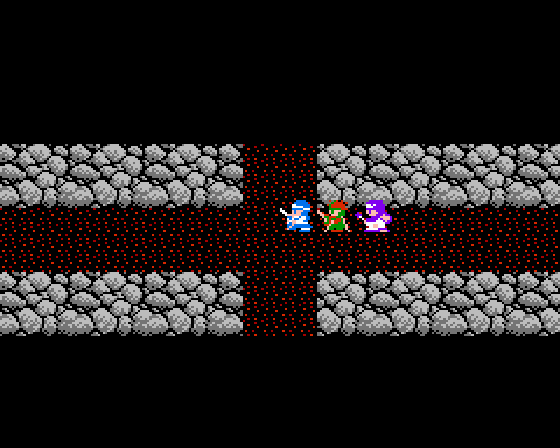 Further west... then... I dunno, south?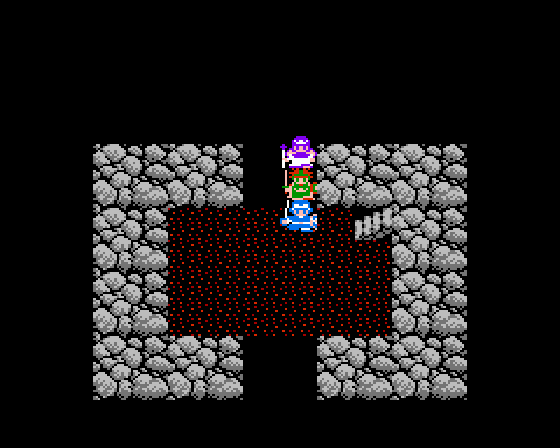 : Holy crap! Stairs up! Guys!

: I was beginning to think we would never see the like.

: ...this better not be another dumb dead end filled to the rafters with Berserkers and Dark Eyes.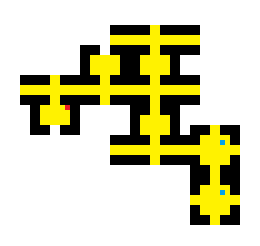 I don't know if there's a trick or a pattern to this but I'm not super inclined to explore it further.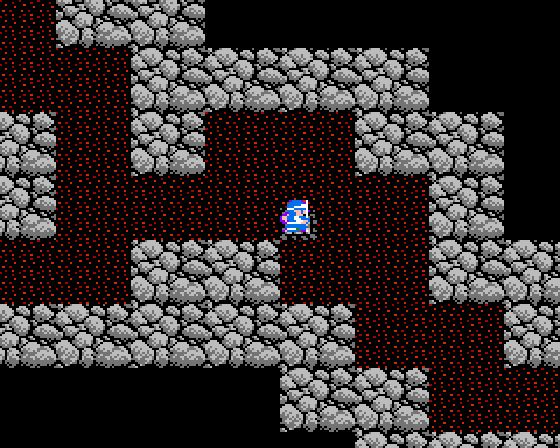 : This looks new, but...

: It could be three dead ends.

: That's a lot of digging just to flip us the bird.

: When one commands an army of undead and demons, digging is no troublesome matter.

: ...not helping, Glynn.
Let's try... the southeast first.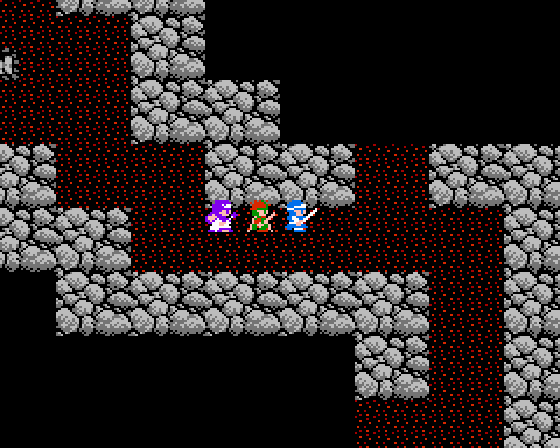 Okay, this looks a lot like the caves we're used to. Man that's a relief.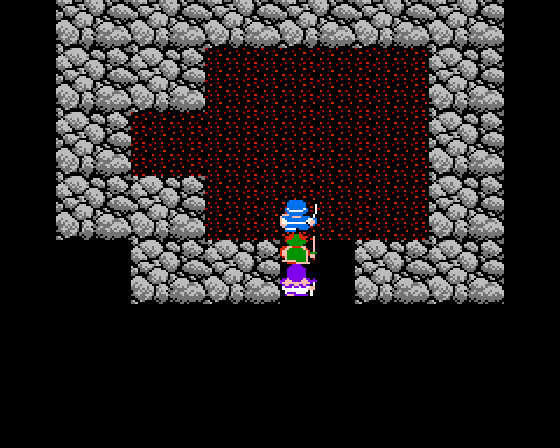 Yup, just a standard dead end. I'm almost happy to see it.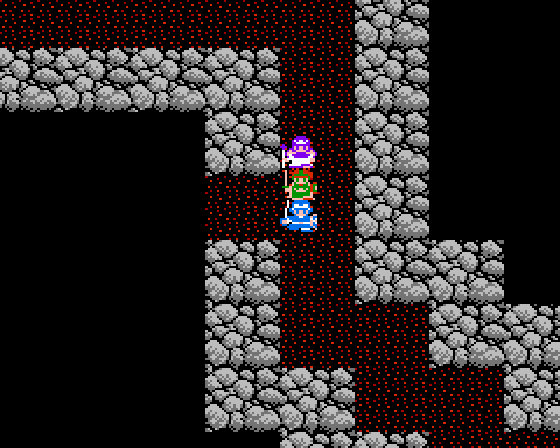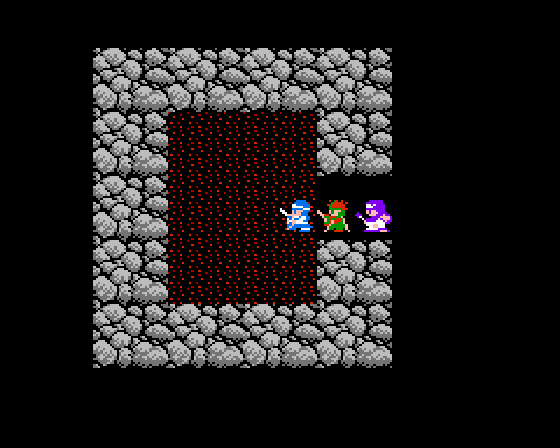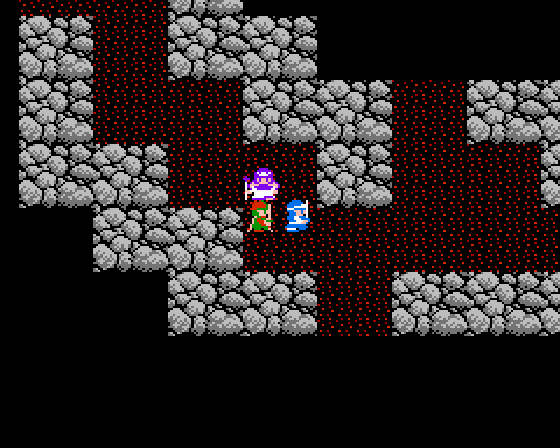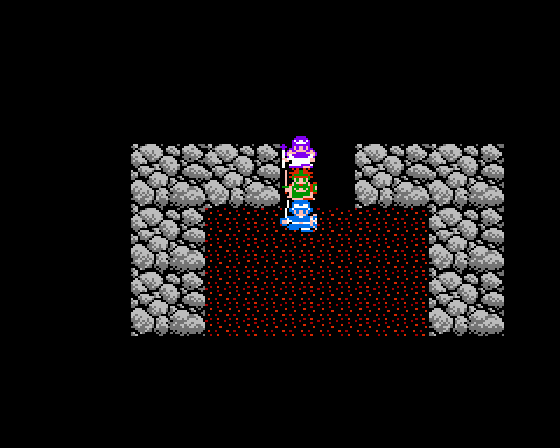 Is that... an exit? It sort of looks like the entrance.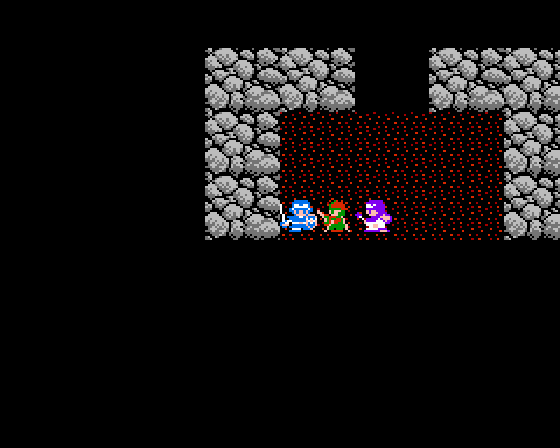 Nope, just walls. Or maybe...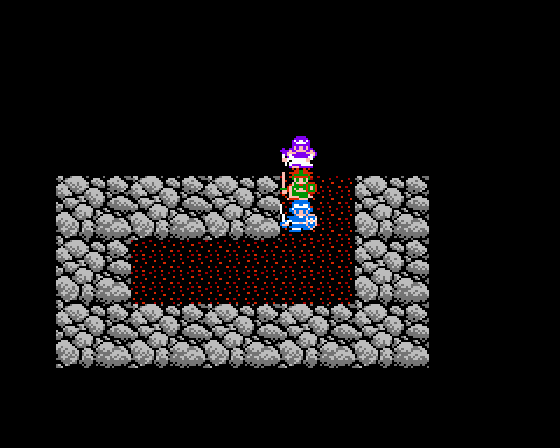 : Ooooh, I think that's... a secret... passage. Huh.

: It was worth a try, I suppose.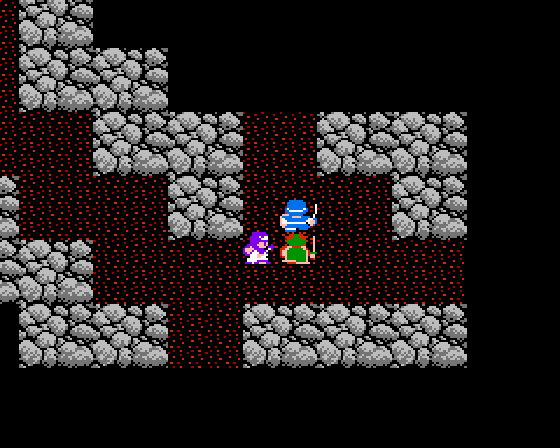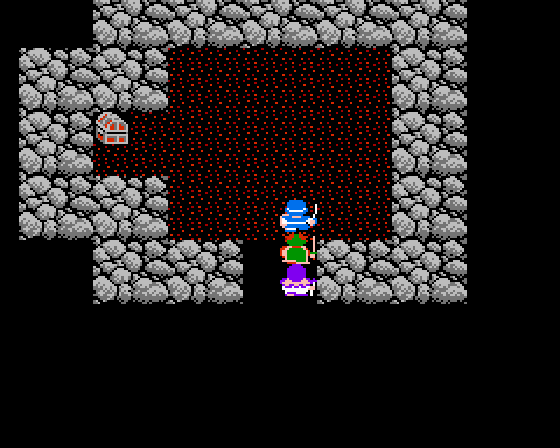 Welp. I make sure we're all healed up first, just in case.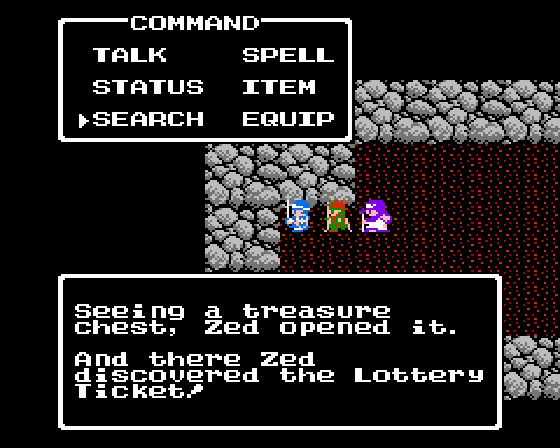 : That's worse than a trap!

: Easy to say, you're not the one getting your hands sliced up.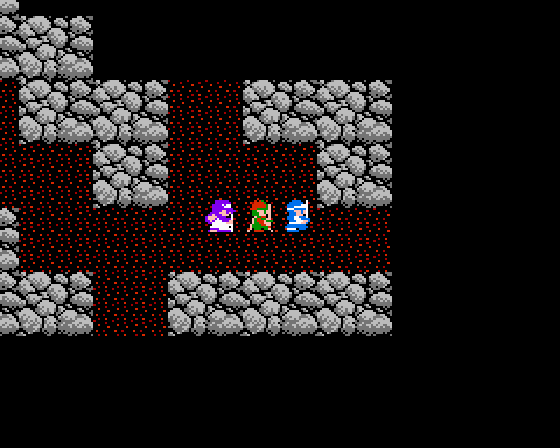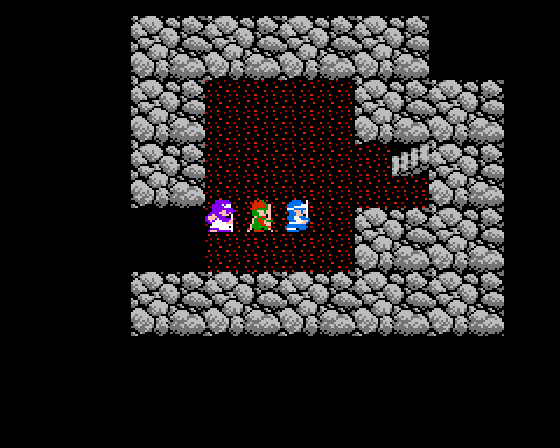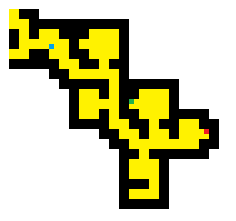 : Ah, this is promising again!

: ...now I wonder what's at the west end of this floor.

: Well we're not turning back!

: I know, I know. It's just... this place was designed to bug me, I guess.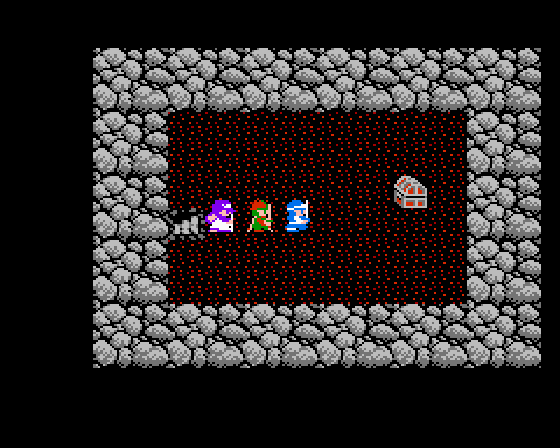 : If this is another Lottery Ticket, Fates help me, I will do something horrible.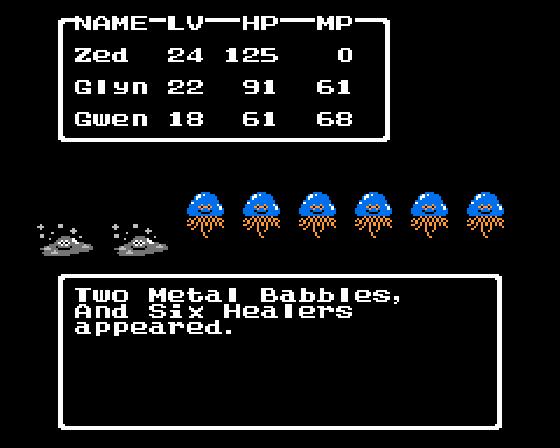 ...really?
That's just a kick in the pants. We can't take out the Babbles in one hit without a crit, and the Healers negate any damage we do manage to inflict. By the time we eliminate the latter, the former are long gone.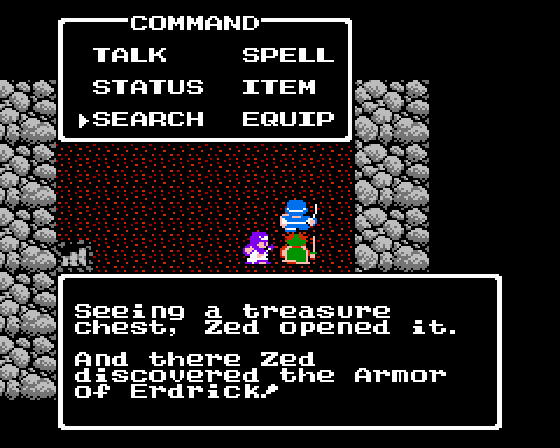 : ...!
Okay, Dragon Warrior 2, never mind, all is forgiven.

: This is... This is Erdrick's armor! Incredible!

: What is it even doing here?

: It was... it must have been in Moonbrooke. Hargon took it from Moonbrooke, Gwen.

: ...

: Gwen?

: It's back where it belongs now, isn't it?

: Yeah. Glynn, do you think...?

: Not a chance, Zed. It's all yours.

: Wear it with pride.

: I will.
The Armor of Erdrick is only 5 points stronger than the Armor of Gaia, but it reduces both breath and magic damage by 25%, and it still protects its wearer from all floor damage. Its enchantment must have faded through the ages, as it used to give a 1/3 reduction, and it no longer regenerates HP. But even now it is extremely welcome. Of course, only the Prince of Midenhall can wear it, and it is in fact his best armor. (It's not strictly his "strongest" armor, but we'll get into that later.)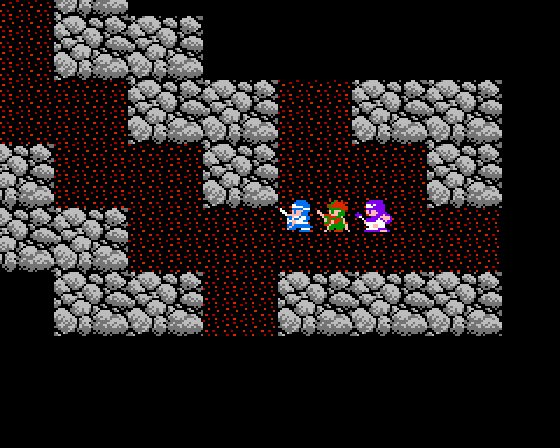 : You're getting your wish, Zed. We have to go all the way back west.

: I'll take whatever pleasure I can get in here.

: You know, we'll still need whatever help Rubiss can grant us, so it's not like we need to reach the other side of this tunnel right away.

: It's still good to map it though, right?

: Ah, true enough.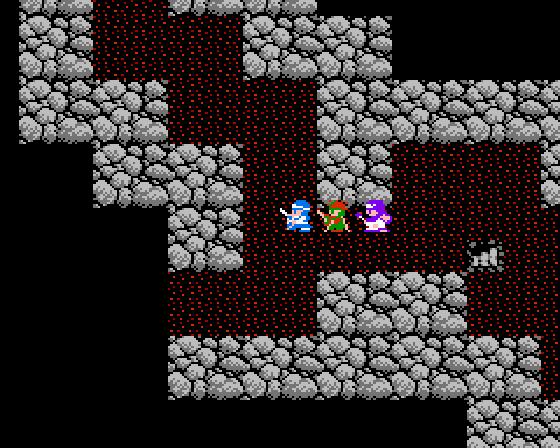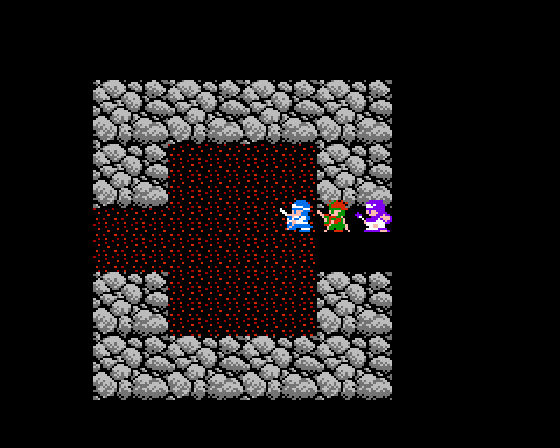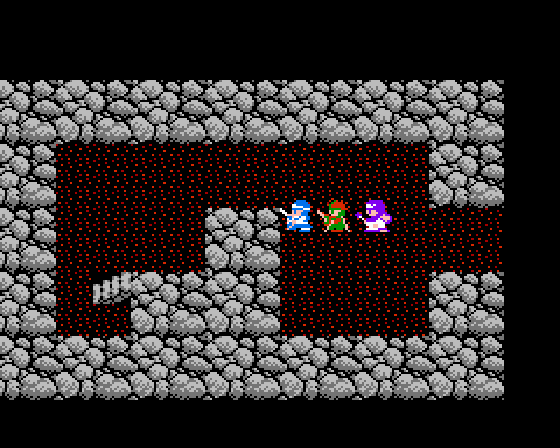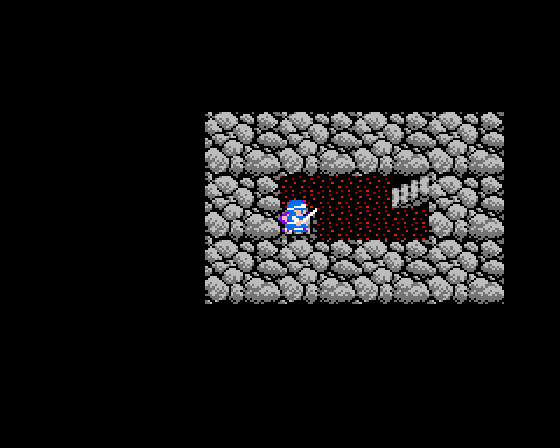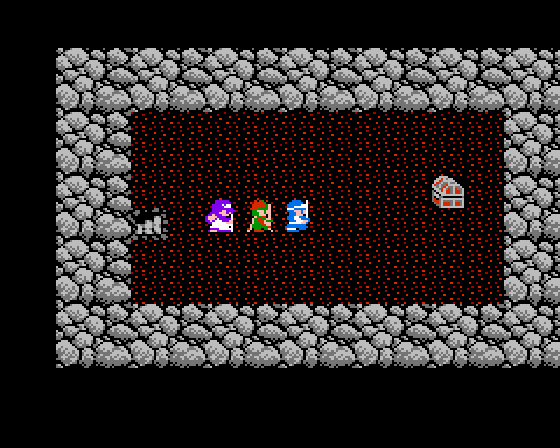 : What fabulous relic could possibly be in this one?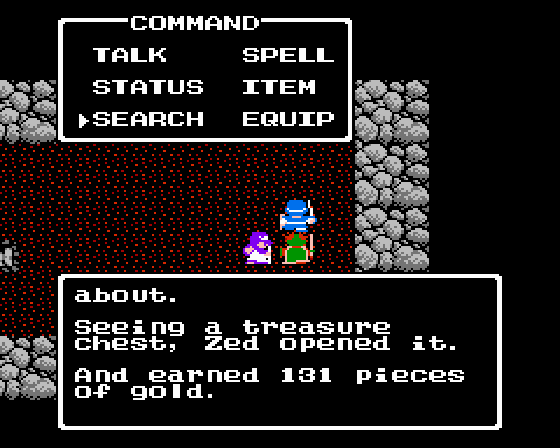 : Ehhh...

: Can't have too much money, I suppose.

: That's debatable.
We're sitting on 22343 gold right now. If we can get out of here with our stash, we'll grind up the rest of the Falcon Sword somewhere safe.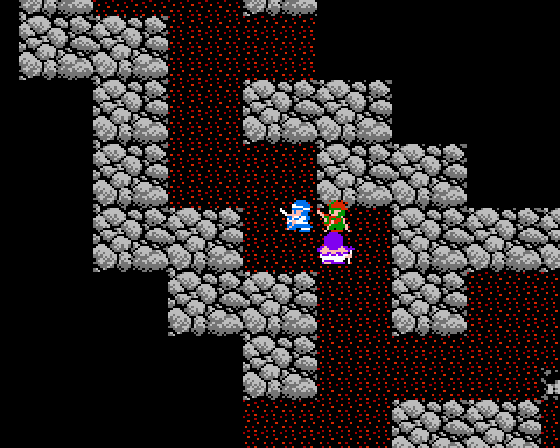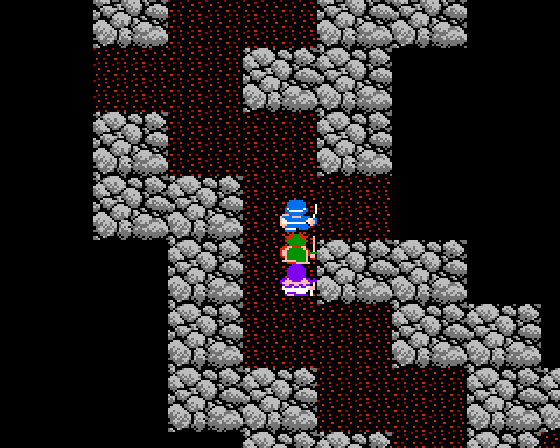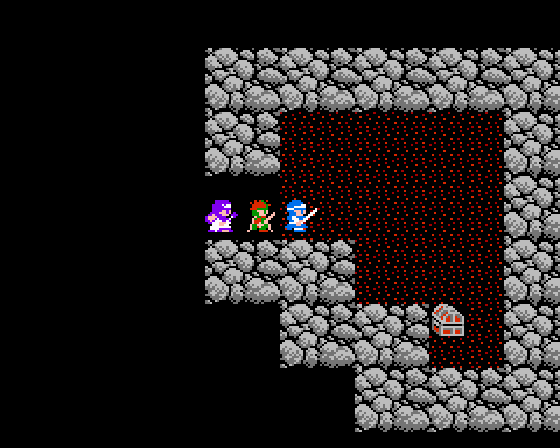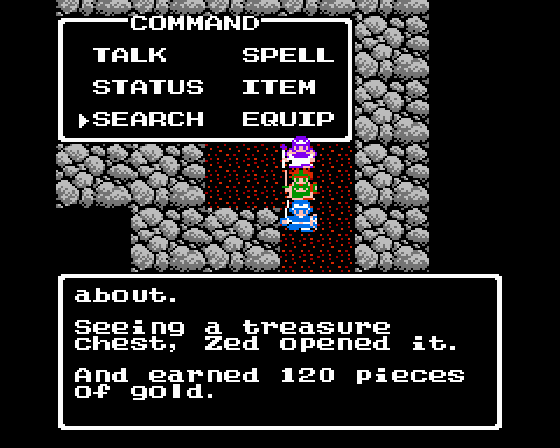 Man, what a rush! Beating one makes worth it to see fifty run away.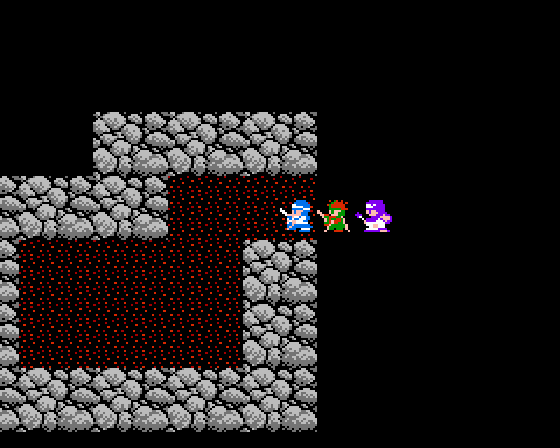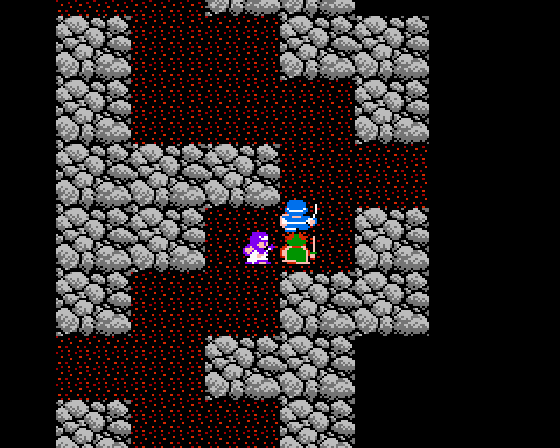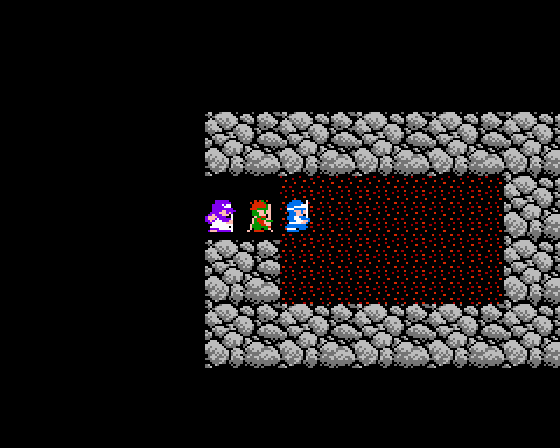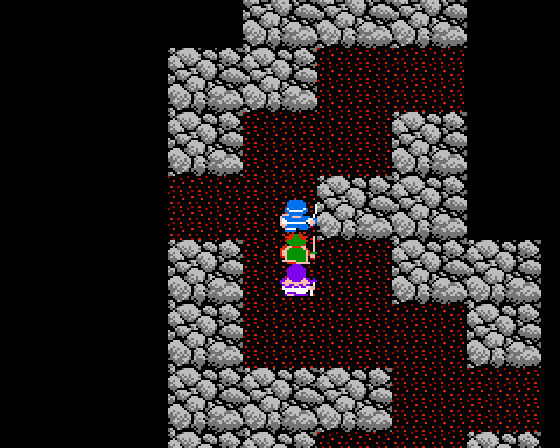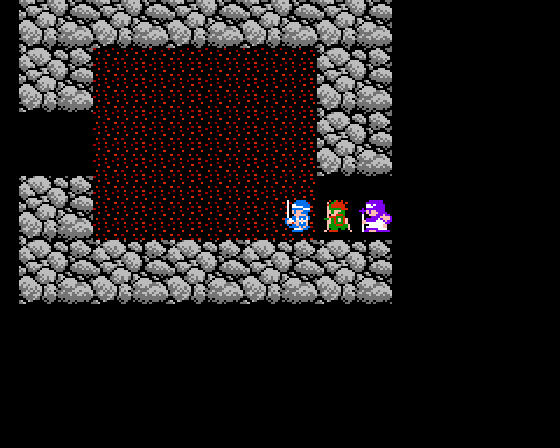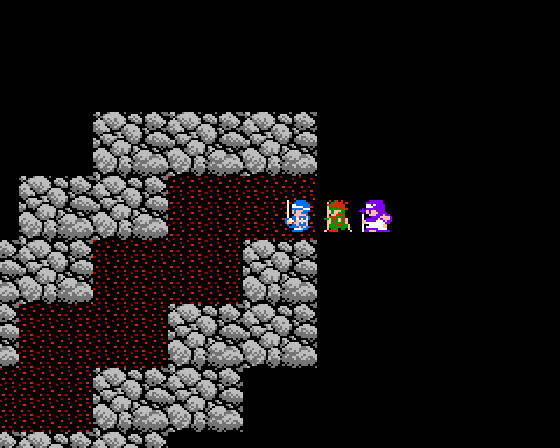 This hallway looks longer than the others here. Hmm. Let's go back east and try the other side first.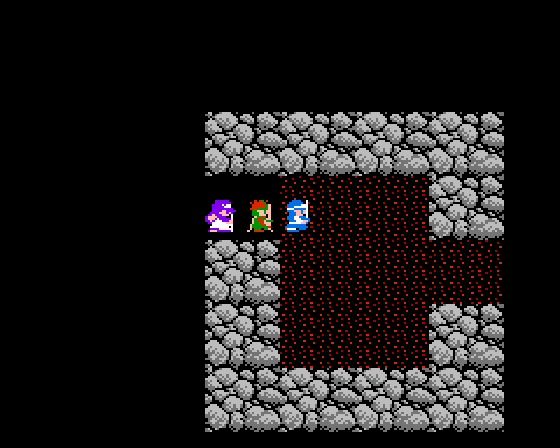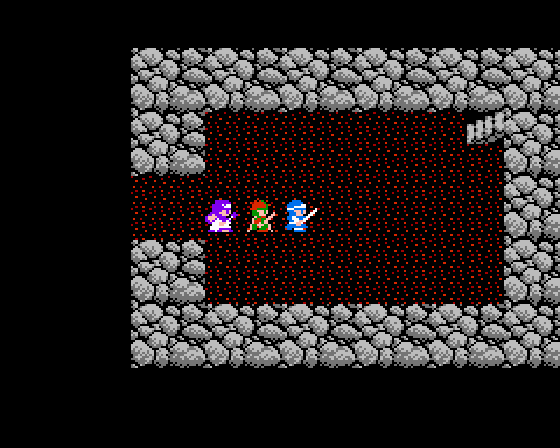 Oh! Now I'm curious about the west side... but I'm not gonna drive myself crazy turning around again, let's see where this staircase leads.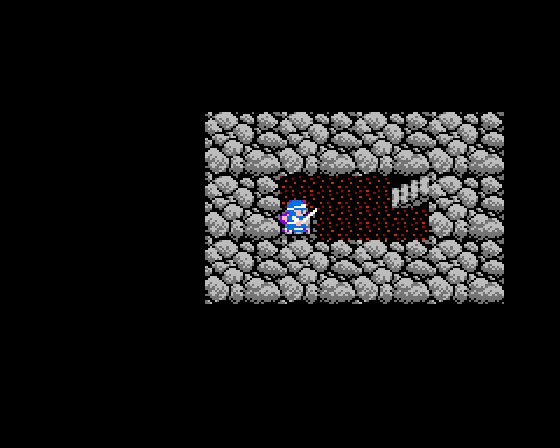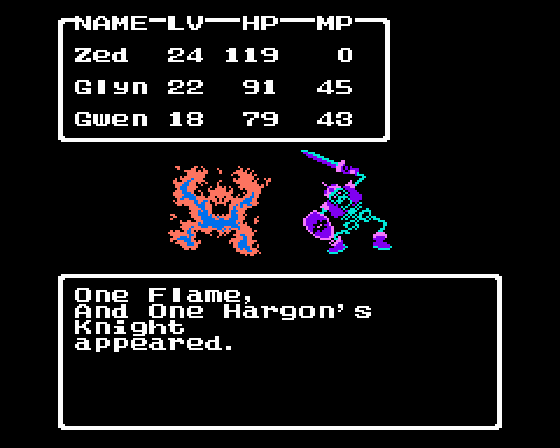 Whoa, okay.
Flames are as strong as Orc Kings, but a lot less durable; they can call for help, and have a improved fire breath attack that does up to about 30 points of damage. They're completely immune to damage spells (of course) and highly resistant to Surround, but only have a resistance of 2 to other magic. Most interestingly, they can drop Magic Armor!
Hargon's Knights are a bit stronger than Ghouls, and even a fair bit more durable. They can attack twice and roll crits, as well as cast Healmore and Defence. They're immune to sleep, as undead usually are, but have low resistance to Stopspell and Surround, and are weak to Defence and spell damage. And they have a chance to drop a Thunder Sword, which is for all intents and purposes the Prince of Midenhall's strongest weapon.
These are getting to be really dangerous enemies, doing enough damage to kill Glynn and Gwen in maybe three hits, and put enough of a dent in Zed that he needs healing regularly.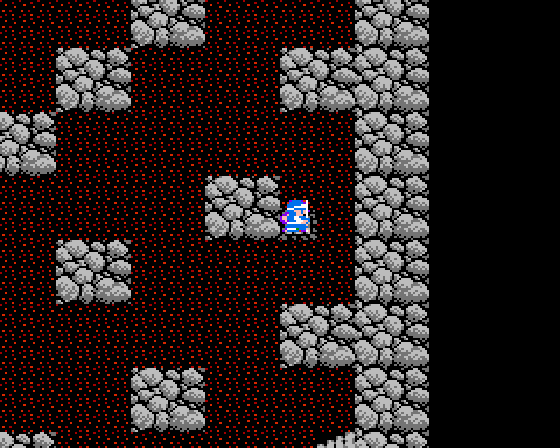 Oof, I suspect there will be pitfalls on this floor. Just a hunch, I suppose. Let's try for this up staircase here.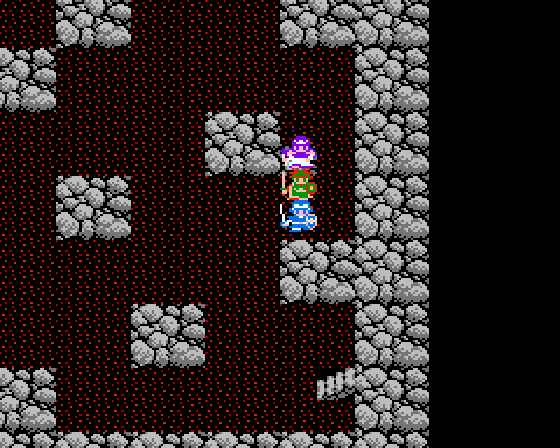 Effing called it.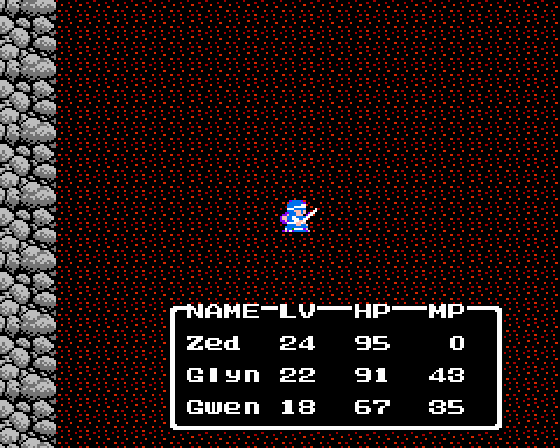 Man this is a huge room!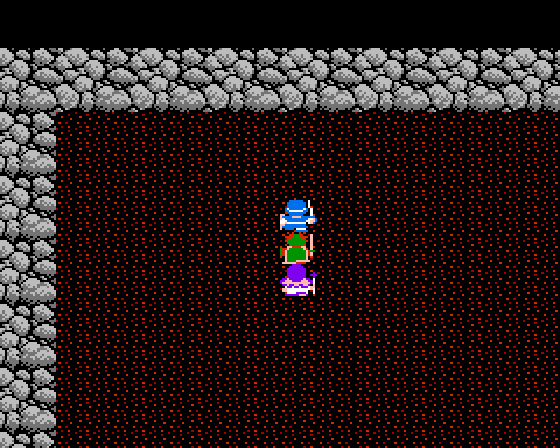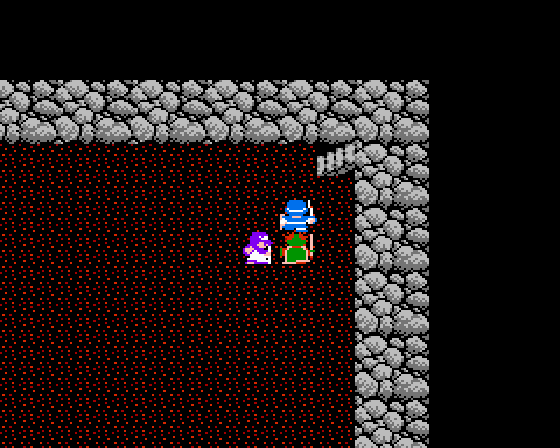 : At least there's a way up. I wonder if Hargon ever fell down here by accident.

: Hmm... What if there's another chest somewhere in this hole?

: I'm not sure I want to find out.

: But we will, won't we?

: ...right.

: Lllllllater.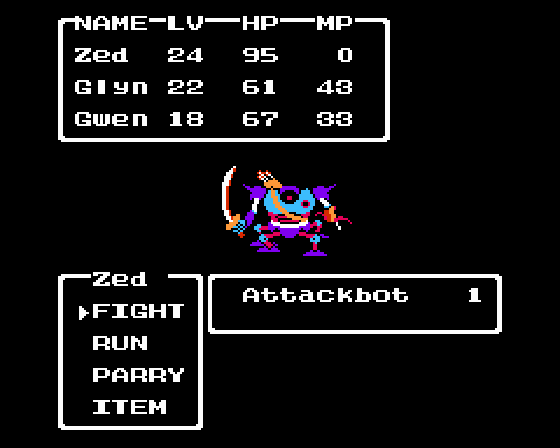 Attackbots are nearly as strong as Ghouls, and have nearly as much defense power as Metal Babbles, with a huge 120 HP to chew through! They can attack twice, and roll crits on top of that. I suspect they could one-shot Zed with a lucky hit. If that wasn't enough, they're immune to most magic, with the exception that Defence always hits, and they only have a resistance of 2 to Surround. On the plus side, they drop a hefty 723 experience.

: Zed... I am exhausted.

: Can't you really hold on for-

: My reserves are also nearly depleted. It's time to leave.

: ...yeah, okay, fine. Take us away while you still can, Glynn.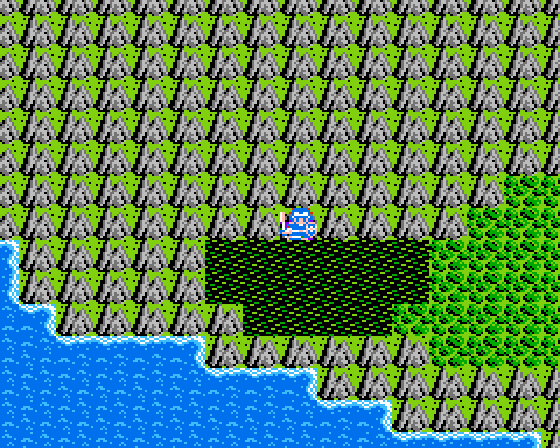 : It is good to see the sky again, for sure.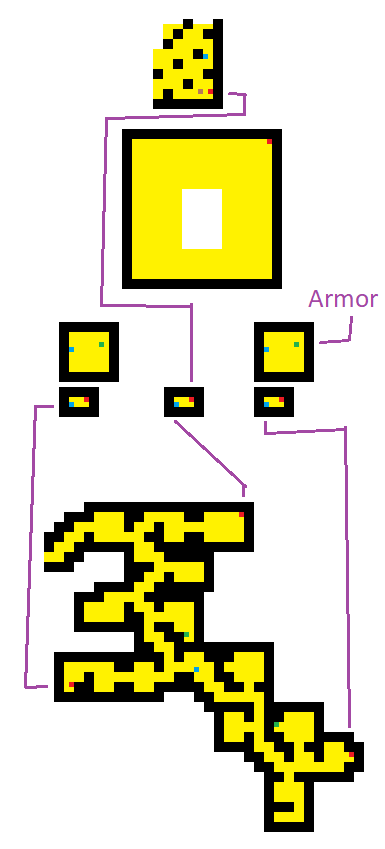 It's worth noting that progress in this cave has been largely upwards. Wherever we're going must be far above sea level.
We return to Beran, lose on our Lottery Ticket, rest up, and save.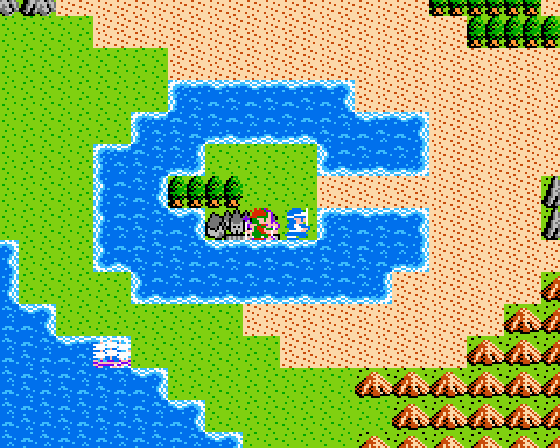 : So, shall we try our luck with Rubiss again?

: Yup. But let's make a detour in Osterfair first.

: Ah, I know where you're going with this.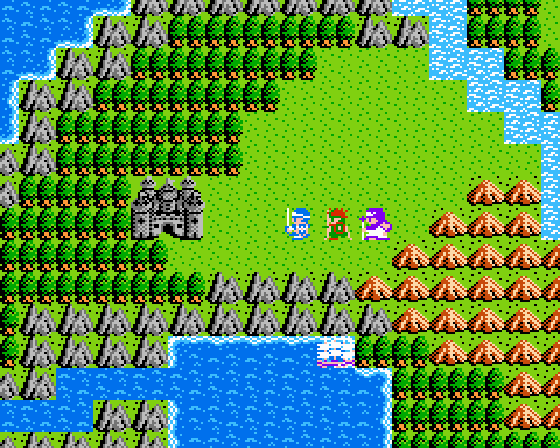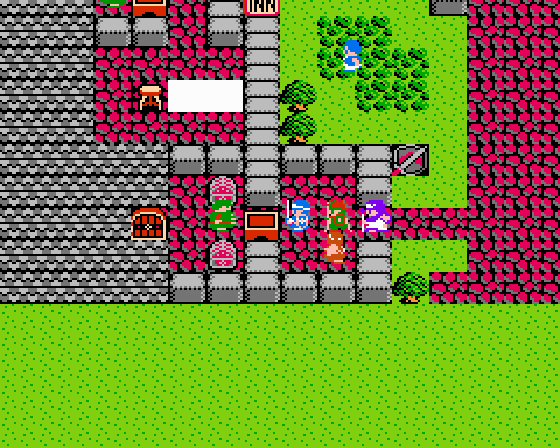 : Hey man.

: ...what is it?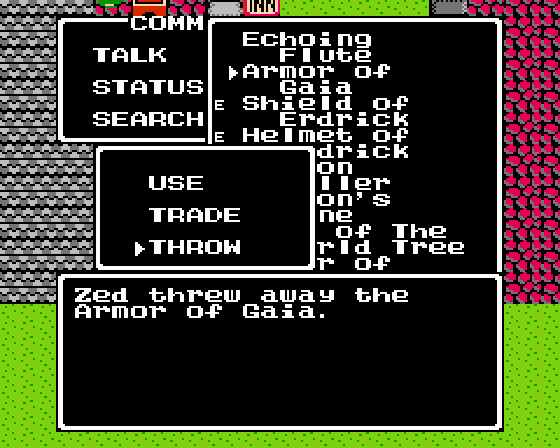 : Here. Thanks.

: Huh! You're... welcome?

: All's well that ends well, I suppose.

: Do you want your sword back?

: ...nah. Keep it. For the trouble.

: Well I wasn't going to give it back anyway!

: Whatever, dude. No time to argue with some merchant, I need to take down an evil wizard. It's very busy work!
The Armor of Gaia is worth 38 gold to sell, so we might as well return it where we found it.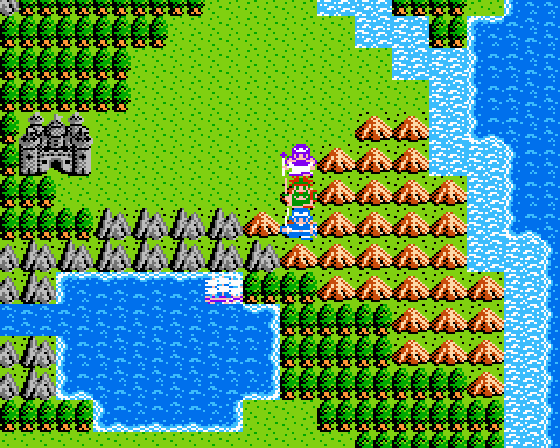 : This had better work this time.

: The Sun, the Moon, the Stars, Water, and Life.

: Our ancestors used the powers of the sun and rain to fight evil, in ages past. It's unsettling to contemplate how much more help we need to call on this time.

: It sure beats using the power of whatever this Malroth creature is, let me tell you.

: The world is on our side. The magic Hargon makes use of is an abomination, a force from another place that heaven and earth are rejecting in unison. I'd bet even the Dragonlord is more natural an entity than he is.

: We cannot afford to fail.

: Let's hope this Rubiss sees things the same way.