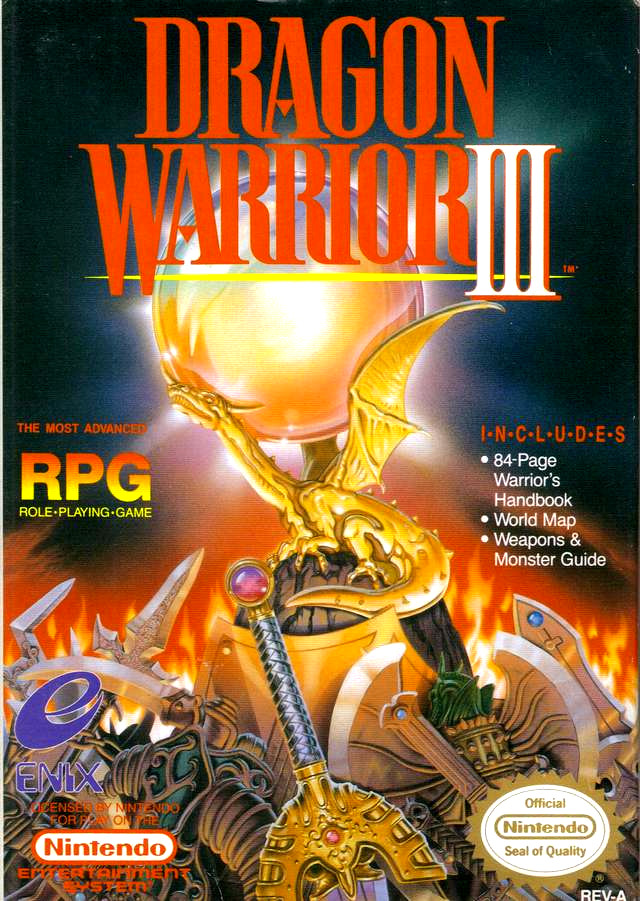 Dragon Quest 3 was first released in Japan in February 1988, to a world not only changed by its predecessors, but by its competitors as well. The first installments of fellow JRPG juggernauts Phantasy Star and Final Fantasy had come out within days of each other in December 1987, and Yuji Horii's brainchild was no longer the only game in town. And it took until March 1992 for Dragon Warrior 3 to see distribution in North America, two years after FF and almost four years after PS.
But it was worth the wait. Whereas DW1 had sacrificed depth for accessibility, and DW2 was shackled to a poorly balanced and often downright cruel endgame, DW3 either perfects the series' formula or comes damn close to it, depending on who you ask. An especially harsh critic might call it "the first good one"; I wouldn't go so far myself, but it's definitely the best one yet by a considerable margin. Every aspect is refined and taken at least a step further: it looks better, it sounds better, and it definitely plays better from beginning to end. There's a bit of mechanical jank behind the scenes, with some of the stats doing surprisingly little for you, and certain supposedly beneficial items being actually quite harmful, but by and large it's solidly put together.
Probably the greatest point of innovation for the series is the customizable party system. Not only do we have access to an entire party of four (four!) characters nearly from the start, but we even get to decide the class and gender of those characters, with several types of melee fighters and spellcasters to choose from. That said, none of them are descendants of Erdrick.

: Wait, what? Why the heck are we here, then?

: It's not so bad. We don't have to be related to every hero out there.

: If it's going to be an epic tale of daring adventure, I'm on board either way!

: Besides, I'm just about done seeing our family having to climb its way out of tragedy.

: Not that we'd wish a terrible fate upon anyone else, but...

: Eh, okay, sure, fair enough.
For being 84 pages long, the manual is light on story; everything we need to know, the game will tell us in time.
Oh, and in case you're jumping in with us for the first time, I've just done series for
Dragon Warrior 1
and
Dragon Warrior 2
. You don't strictly need to have gone through them to follow along here, but for reasons that I can't divulge at this time I highly recommend that you do. I'll also have the protagonists for these games providing regular color commentary, and it might be good to know what's going on in these chuckleheads' backstory.
Iiiii probably don't need to set a strict spoiler policy here, but just in case, let's keep it to what we've seen yet. I'm not going into this blind, but maybe someone is, and Rubiss knows there are some neat reveals in here!
Alright, that's settled. Let's Warrior some Dragons, again.