Between updates, I returned to the Medal King to pick up our Hat of Happiness. Any of our casters could make good use of its special effect, but seeing as the ladies have Golden Barrettes, Cristo has an Iron Helmet, and Brey still has a Leather Hat, I'm letting Brey have it. It takes his defense power from 65 to 78.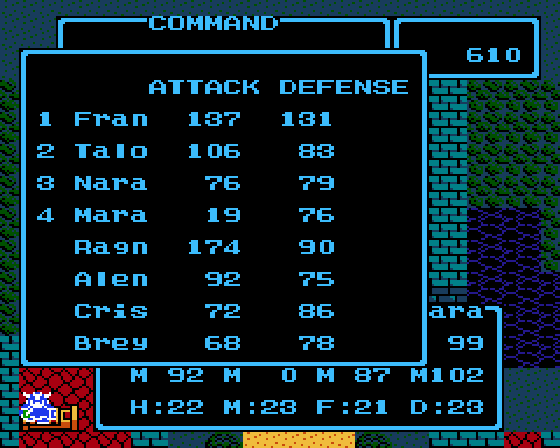 Alena now has the lowest defense in our entire party by a hair, but of course her future Agility increases will remedy to that.
Anyway, it's about time we do something about Balzack having holed up in Santeem Castle; we Return to Haville and sail north-northwest.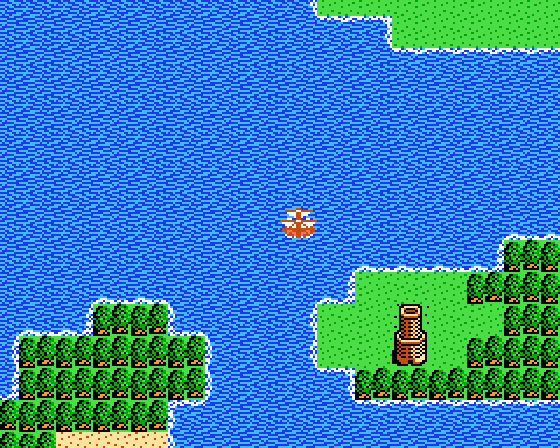 I'm curious as to whether anything changed in the tower where we found the Birdsong Nectar. I don't expect much, but we'll do a sweep of the continent later anyway, so we might as well check then.
Brey levels up at sea, for 3 Agi, 2 Vit, 7 Int, 6 Luc, 3 HP, 2 MP, and the Defence spell. It costs 4 MP and attempt to reduce one enemy group's defense power by 50%; it rolls against the same resistance as Sap, but it's only half as effective on any single target so it doesn't make its predecessor obsolete. Both Brey and Mara learn Sap, but only Brey gets Defence.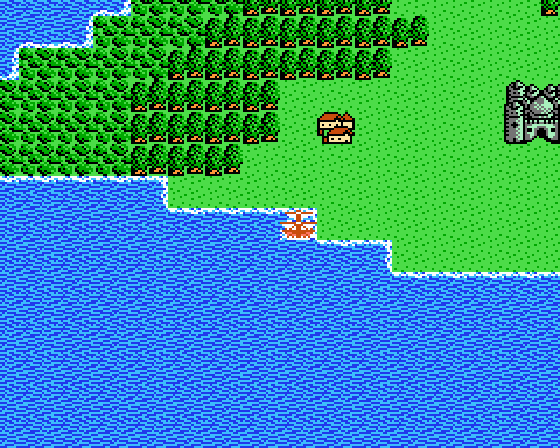 : So-

: I'm definitely coming along this time.

: Of course.

: And Balzack's our mark, so we're not on wagon duty either.

: Ah... Hmm...

: I understand. It wouldn't do to get in the way of your revenge here.

: When you put it that way, I almost feel like letting you go.

: No, no, it's alright. You have our trust. I entrust my lady's safety to you.

: Oh, please. Your lady's safety is fine where it is.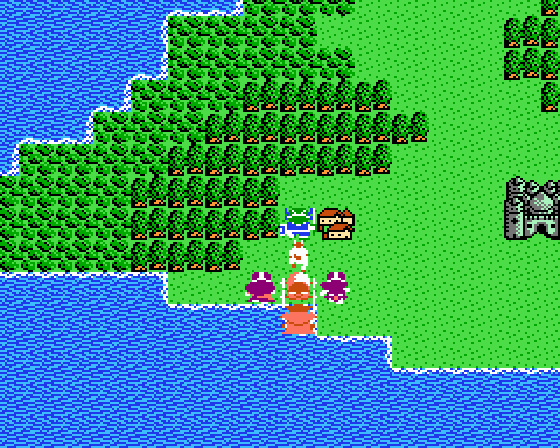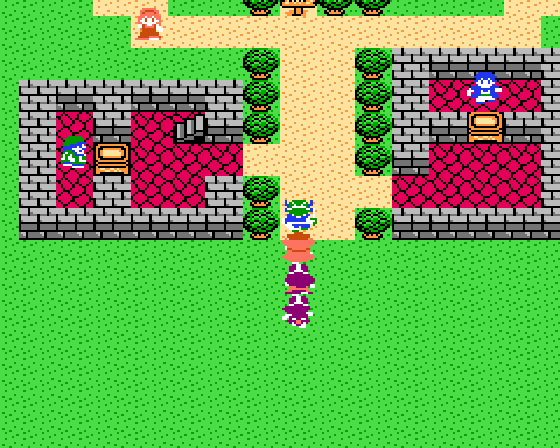 : Huh. I should be glad Surene didn't get destroyed at least.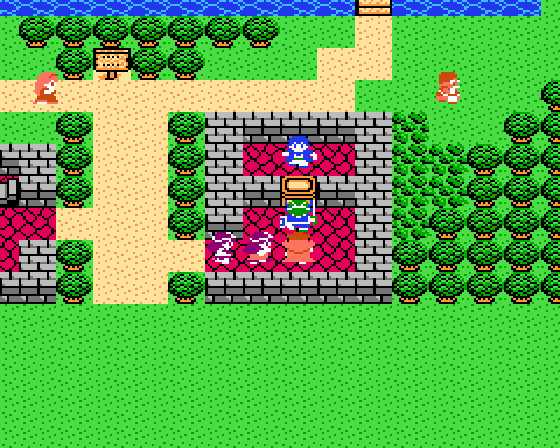 The shops haven't changed, and we buy a few Medical Herbs for Alena. It's not a lot of healing, but since she's very fast, it might be helpful to get her to use some if we have to go Defensive.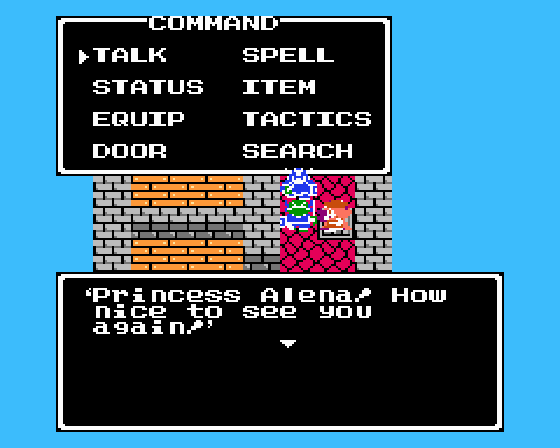 : ...who are you?

: I used to be a soldier of Santeem.

: Oh! Um, well. Ah, it's good to see you're safe.

: One day the King tried to tell his people the meaning of his dreams.

: Did your father get dream visions, Alena?

: I guess? I'm not clear on the details, but we think Necrosaro was worried he'd see something that would ruin his plans.

: I left the Castle to run an errand that morning... The counselor had said that the King would talk about the Ruler of Evil.

: That sounds about right.

: I wonder if he could tell us something we don't know now, or if it had only been an early warning.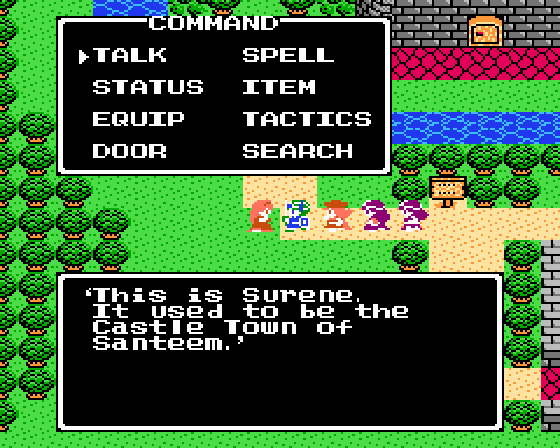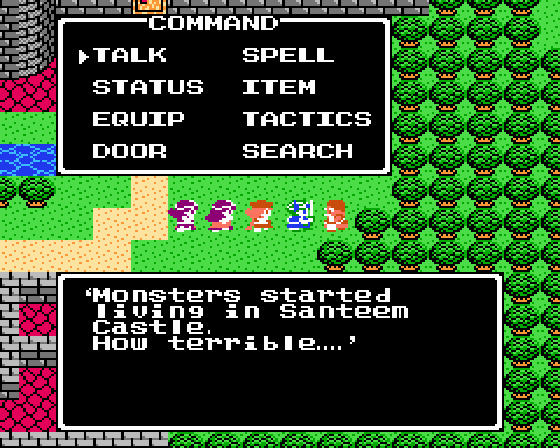 : We're about to take care of that, don't worry.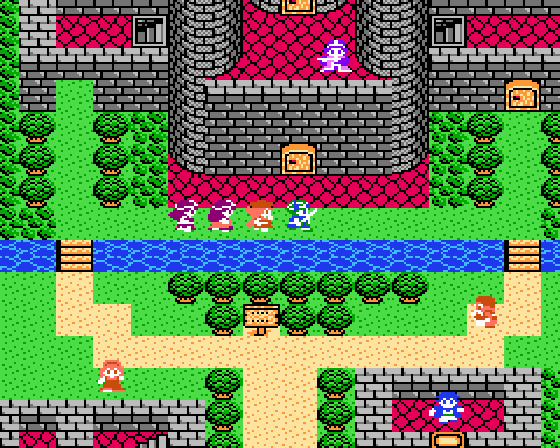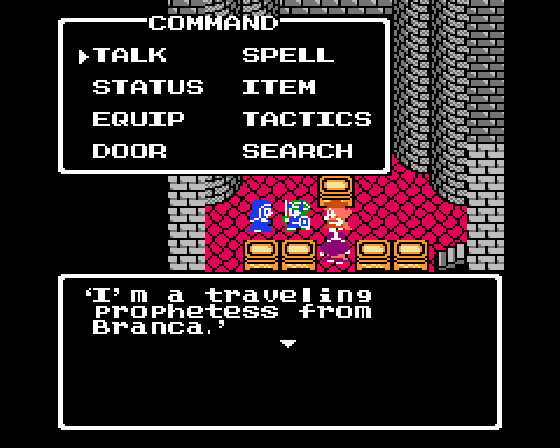 : Well you're a long way from home, ma'am.

: In far away Branca, they tell a story of a celestial woman who fell in love with a young woodsman.

: ...is that...?

: Yes.

: She came down from the sky.

: So from Zenithia, then.

: Do you really believe anyone really lives up in the sky?

: At this point, it would be ridiculous to say I don't.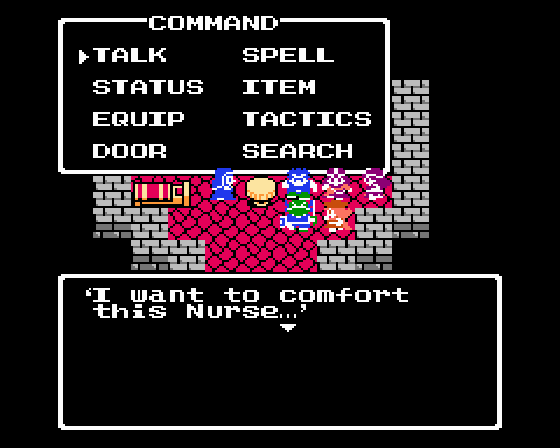 : ...but I'm not eloquent nor can I sing like Marone. How unbearable.

: Trust me, knowing what you can't do puts you ahead of a lotta guys.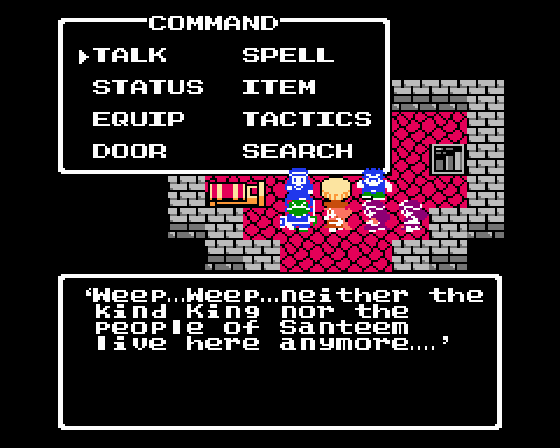 : ...

: All is not lost. The royal line endures.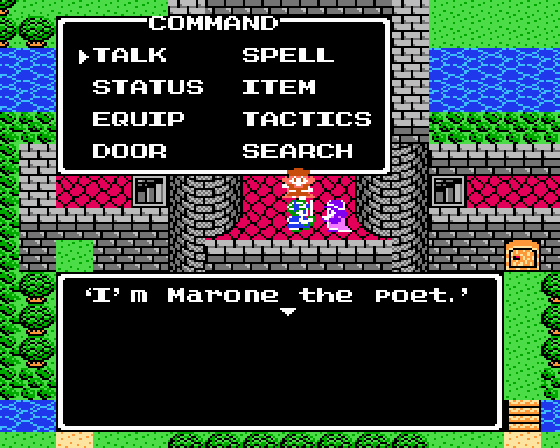 : Blue Sky, Wandering Clouds, La, La, La...

: Huh, okay, not bad.

: It's not even his real voice.

: To find out why the people disappeared, Princess Alena is searching for the man called Necrosaro... La, La, La...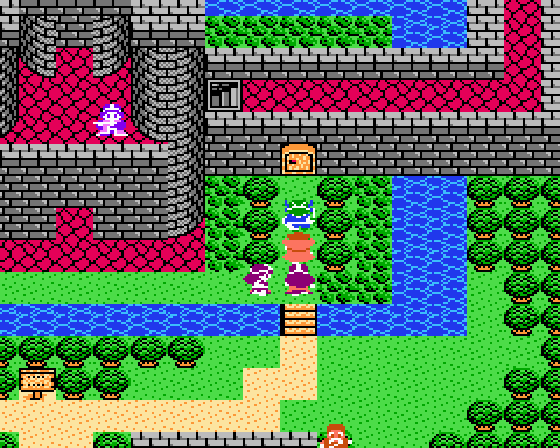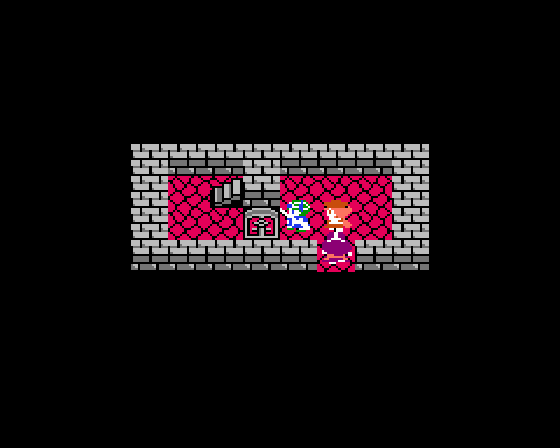 Heh, that's the first Magic Key door we had ever seen.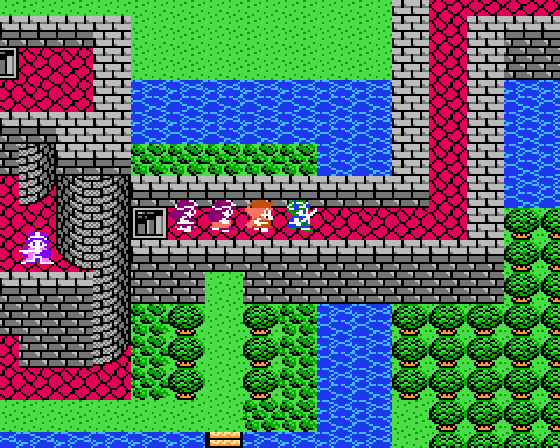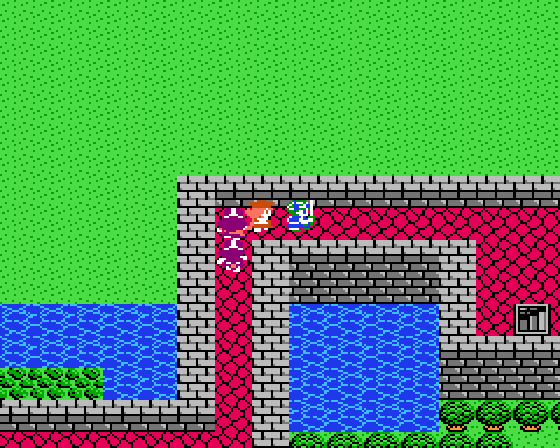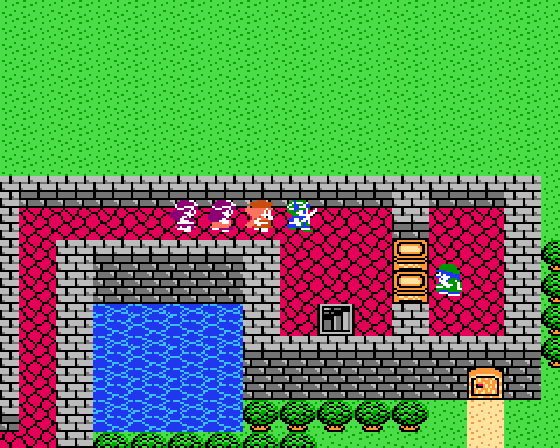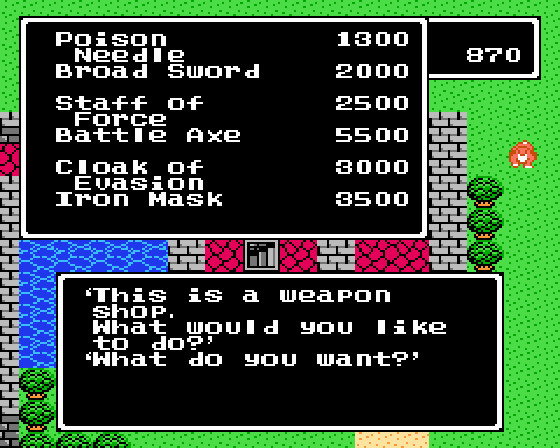 Ah, we haven't seen Poison Needles for sale since Chapter 4! We'll buy one for Brey, and give his Staff of Force to Nara until we can find a weapon for her that doesn't siphon her MP. We're 430 gold short, and I think we have 6000 at the Vault, but we can sell her Morning Star to cover it right now.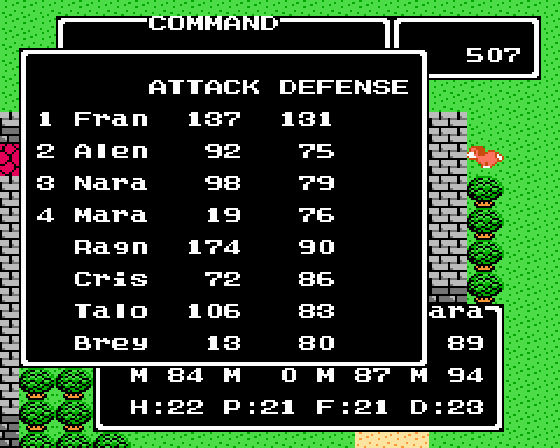 Nara's attack power is now not that far behind Taloon's; not bad.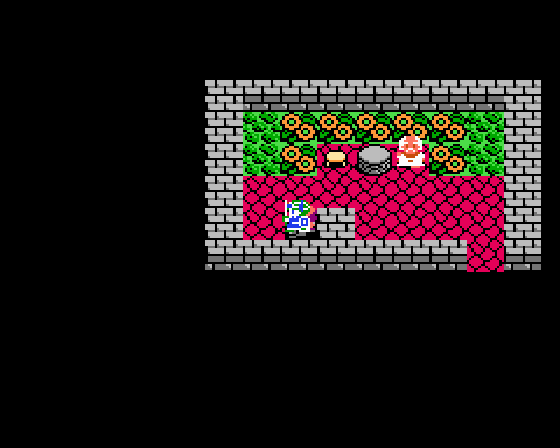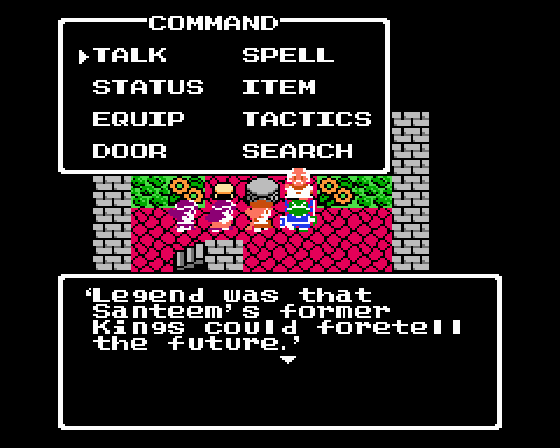 : If that's true, the present King may have that same power.

: Ah, so it's hereditary. Can you-

: Nope.

: Hmm.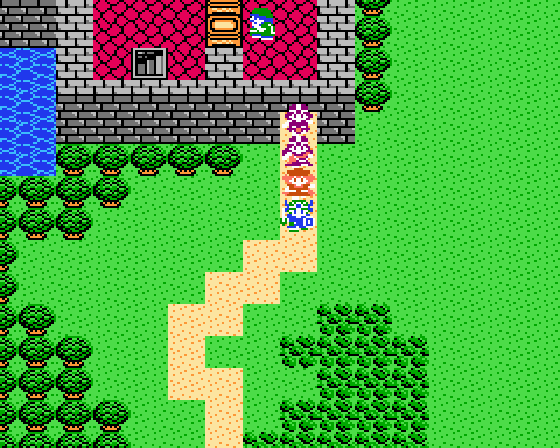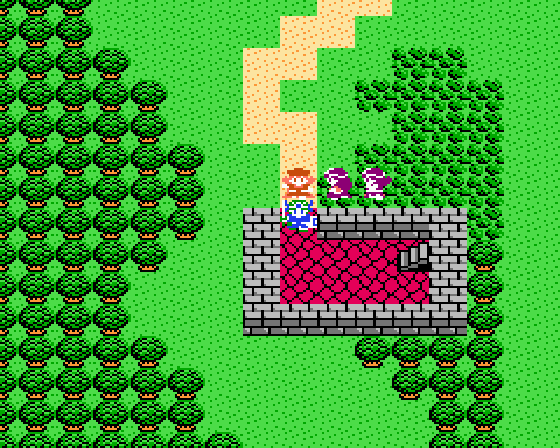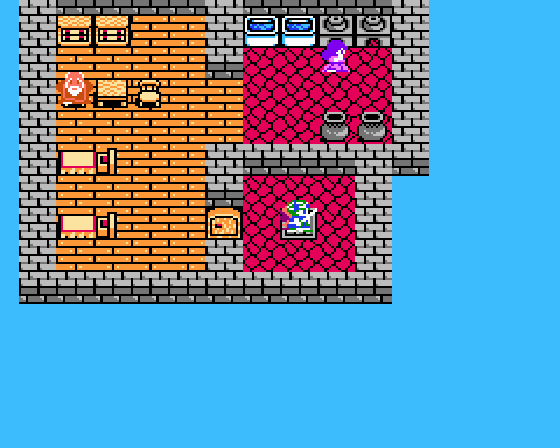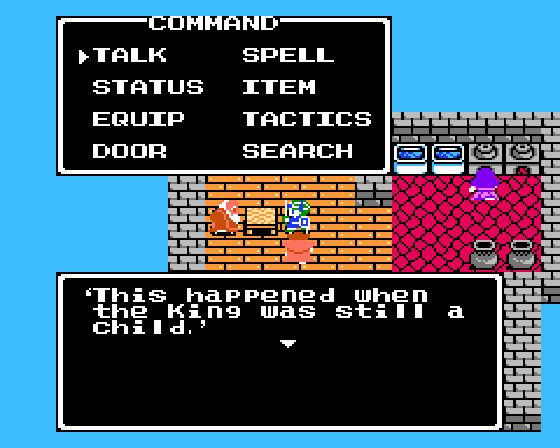 : He woke up in the middle of the night and begged me to put up a signpost to help his daughter who was in trouble.

: When he was a child?

: He definitely saw the future!

: Let me see... where did I put it up? ...what did it say? ...I can't remember.

: We have to find that sign.

: Got it.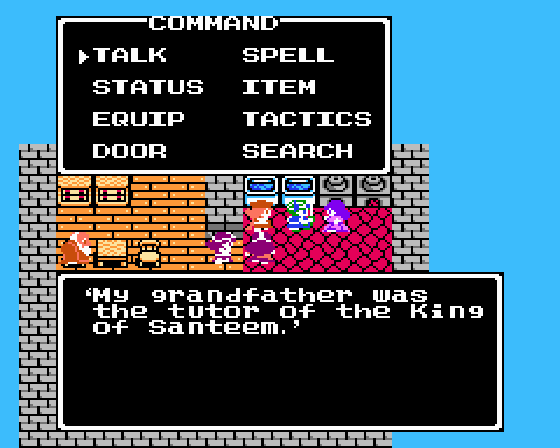 : He's very proud of that.

: And so he should be.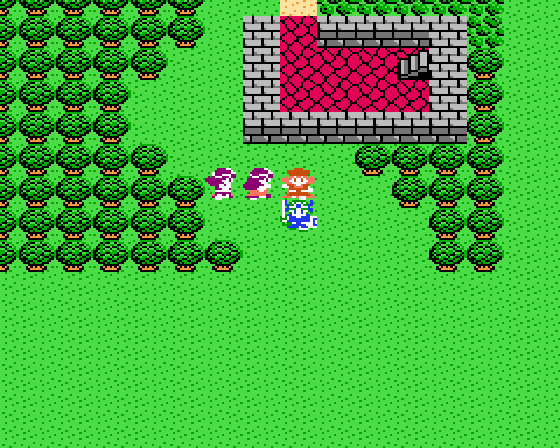 That's definitely the way out. Let's try back north.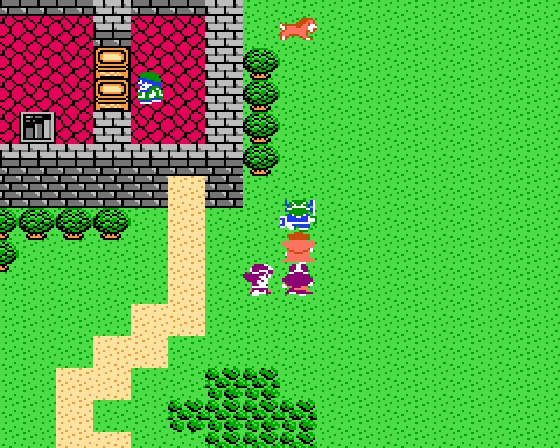 The dog and the bushes in the south extending east past the edge of the building are definitely your clue to investigate here!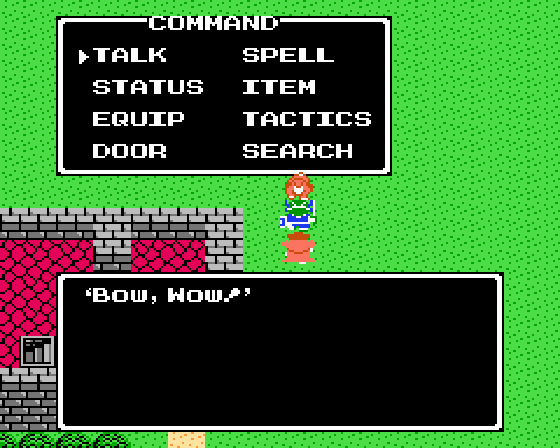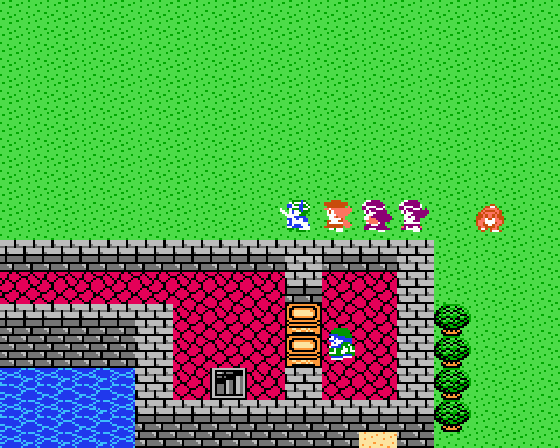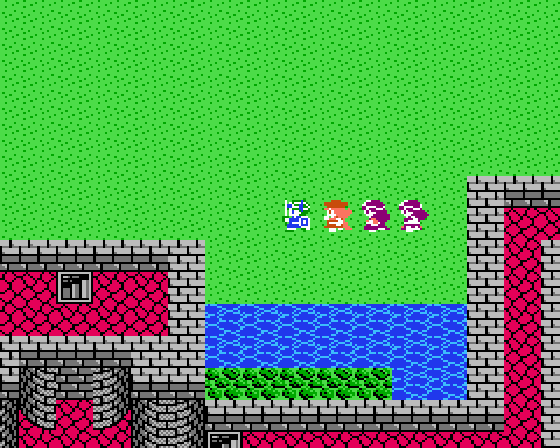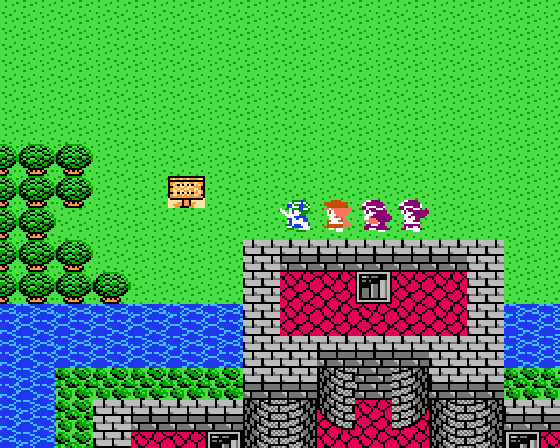 : Sure is a weird place to put it.

: I suppose he had to make sure no one would think to remove it.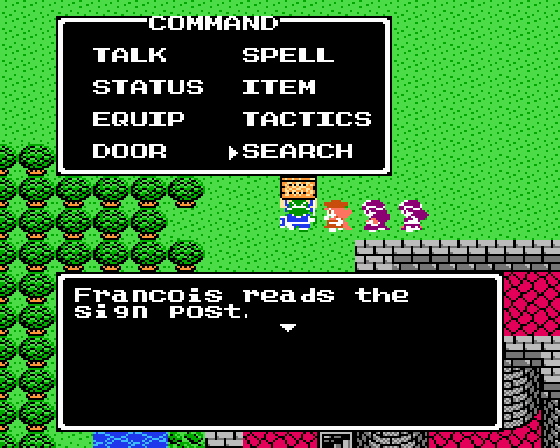 : "Zenithian Castle is high up in the sky. Master Dragon lives there. Master Dragon is so strong. Long ago, he imprisoned the Ruler of Evil in darkness."

: In darkness? That's pretty vague.

: "I think the people of Stancia in the northern sea can tell you more about Zenithian Castle."

: Huh.

: They did know about the Zenithian gear, but we still don't know how to get there.

: Maybe it will become obvious once we have all the pieces.
That's your clue for the next step on your journey. The game more or less expects you to go clockwise around the world starting from Konenber. There is someone in Stancia who talks about the Zenithian Shield having once been in Burland, so that's where the trail picks up afterwards. In that sense, you're expected to find the Zenithian Armor, the Medal King and Rosaville after you've visited every other region, but as we've seen, our itinerary was definitely not on rails.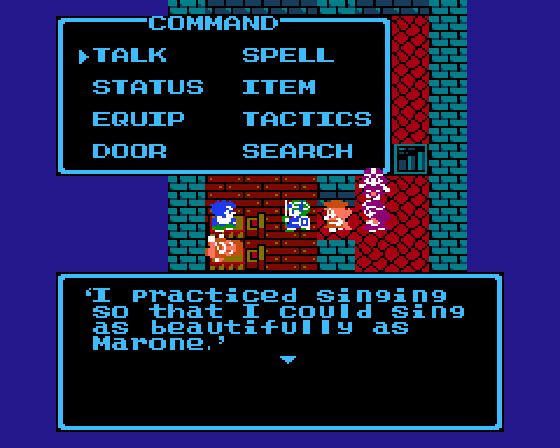 : I don't think that'll-

: Ready? Here it goes...
The "you've equipped a cursed item" jingle plays.

: Eugh.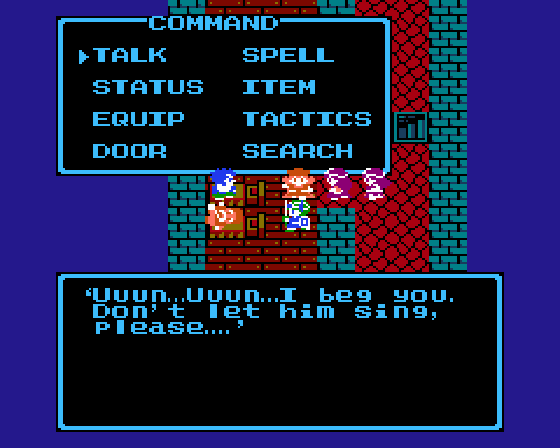 : Oof, sorry, that's not the kind of evil we're here to fight.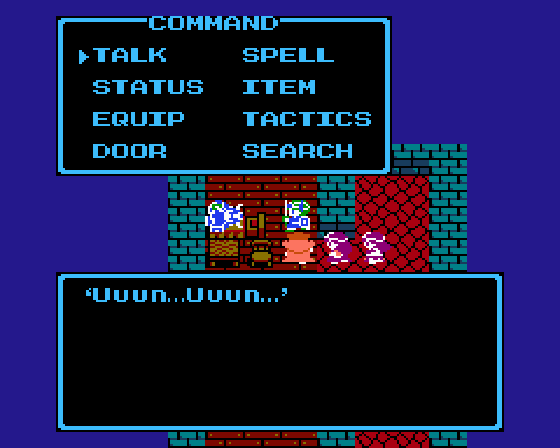 That singing isn't doing the other occupants any favors either.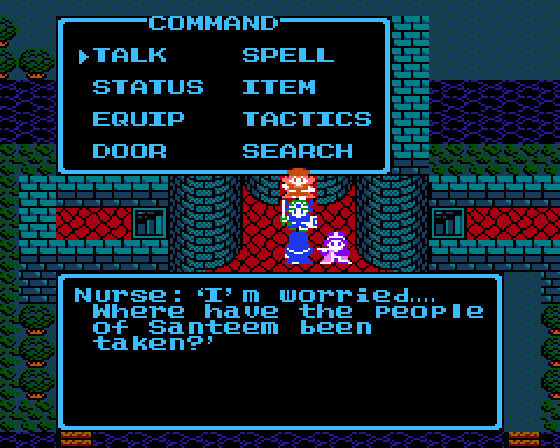 : If they're still around, we'll find them.

: ...yeah.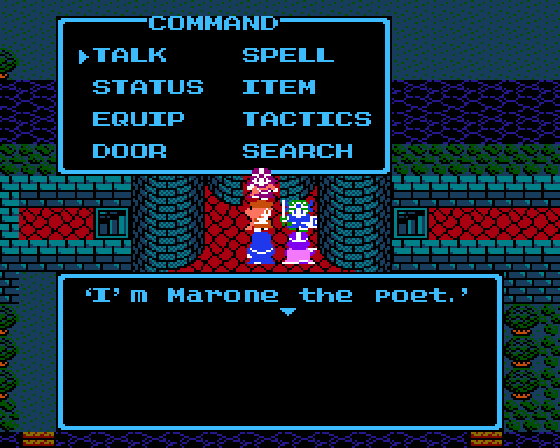 : I dedicate this requiem to the vanished people of Santeem.
The Aktemto elegy starts playing.

: Now wait a minute here, that's a little much!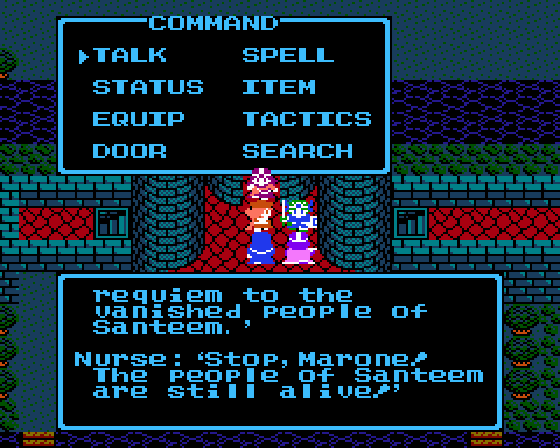 : I'm sure not giving up on them, so cut out the funeral crap, okay?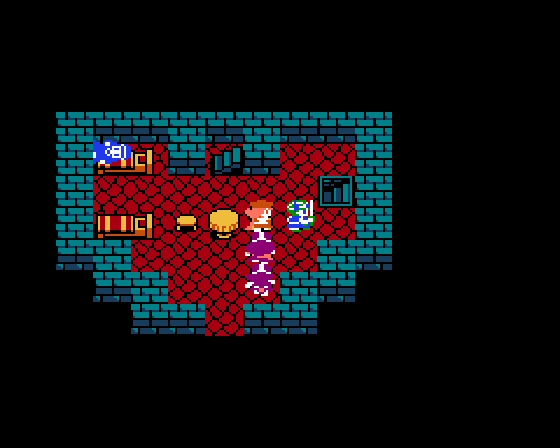 The music keeps playing.
No one else has anything new to say, so we rest up at the inn, and get ready to raid Santeem Castle.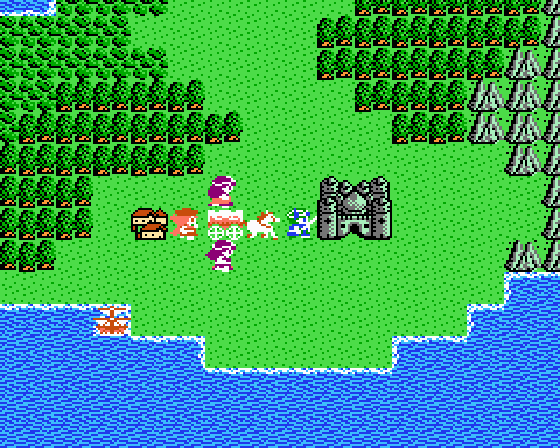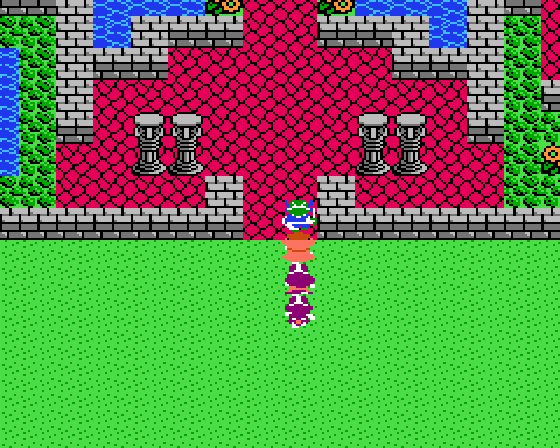 The castle music is playing again in here. It looks like Balzack has delusions of royalty again. Some people never learn.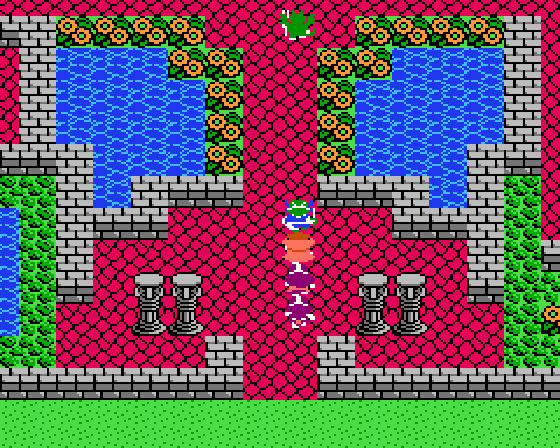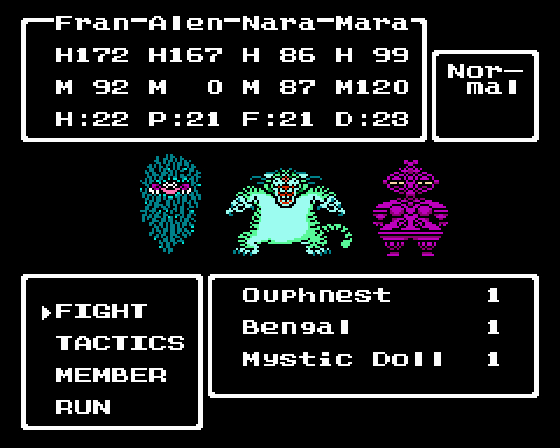 Welp, monsters. These are Monbaraba/Keelon region critters, but we haven't seen Ouphnests yet. They have 25 HP, 60 attack, 130 defense, and 5 agility; they can roll crits, paralyze with a normal attack or with a breath, cast Upper, and waste a turn assessing the situation. That's a lot of mischief they can cause while being whittled down through that ludicrous defense. Ouphnests are highly resistant to most magic, except an immunity to Expel, slight resistance to Blaze, and vulnerability to lightning, RobMagic, StopSpell, and Sap. I catch myself wishing Alena still had her Iron Claw for this, but Francois and Mara are up to the task here.
Francois gets paralyzed, but...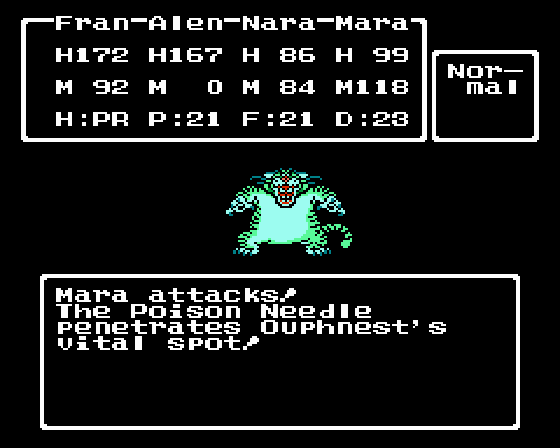 ...no problem.

: Hey! HEY YOU!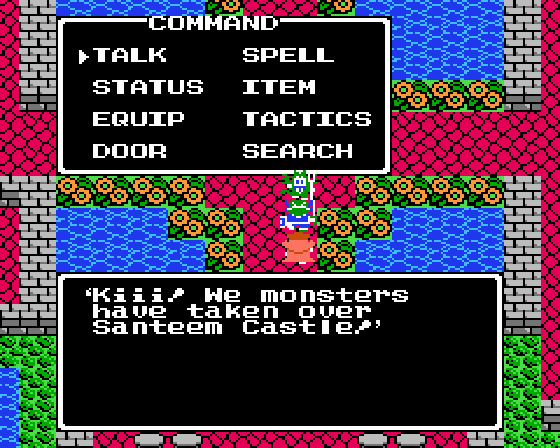 : The King of this Castle is Balzack!

: Ugh, out of my way!
Surprisingly, the imp does not attack us.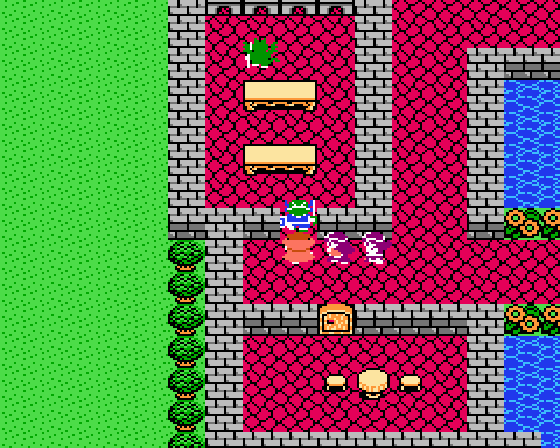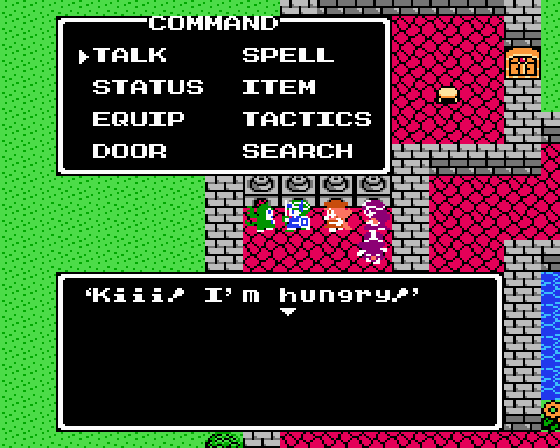 : Should have let the kitchen staff stay then, you idiot.

: That Balzack drives me hard. Blame him, not me! Kiii!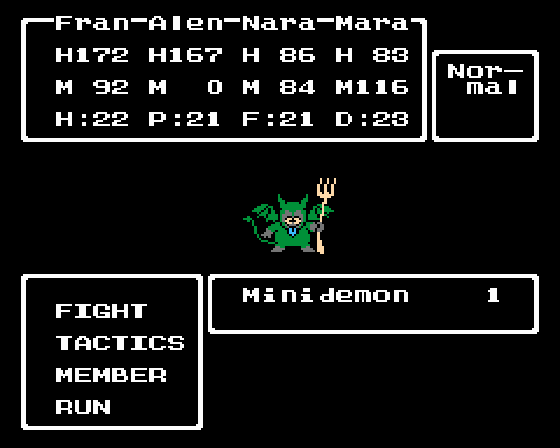 This one does attack us, but we're more than equal to the task of dispatching a single Minidemon. In fact, Alena rolls a crit.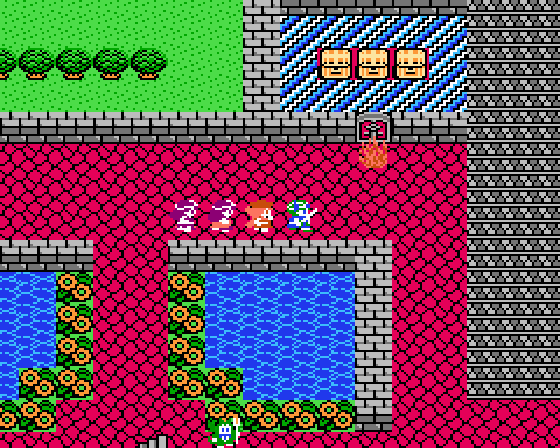 : Gah, of course they took over my treasury!

: What's in there?

: I have no idea.

: Seeds, probably.

: Hmm-mmm.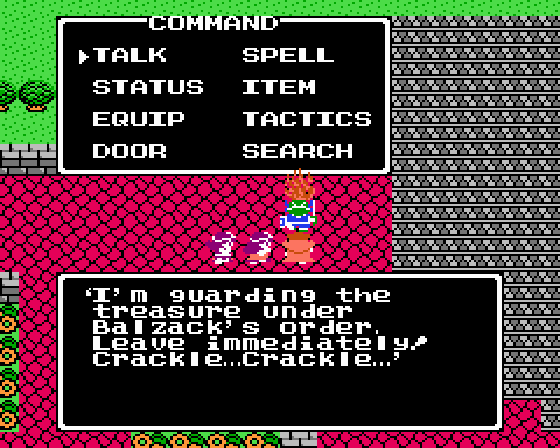 We can't attack this fire creature at this point; presumably Balzack will have to fall first.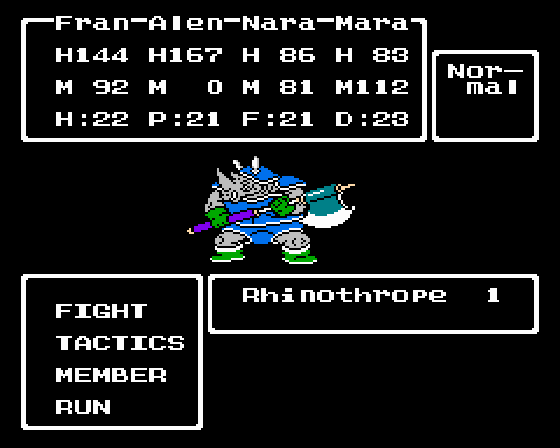 Ah, and that's a Seaside Village monster, no sweat. Blazemore one-shots it.
We run into many more Mystic Dolls, and I'm still enormously glad that nearly everyone is wearing a Golden Barrette.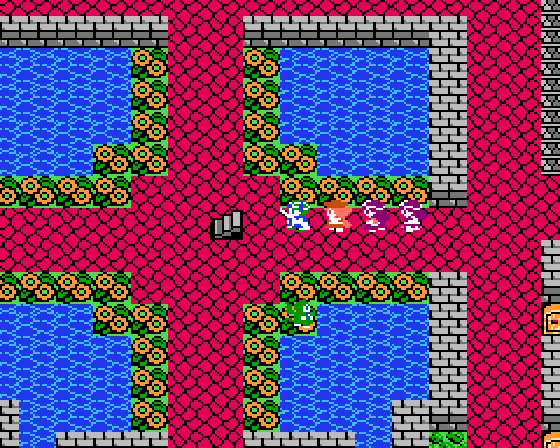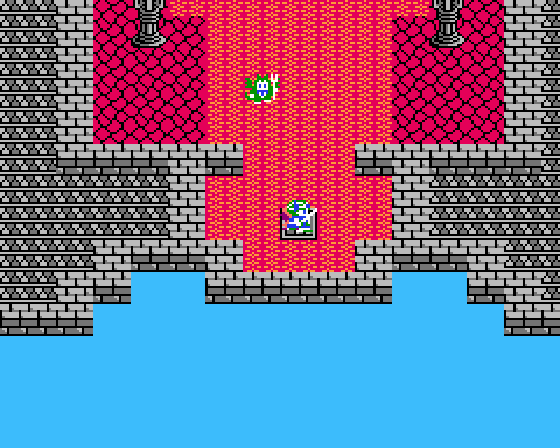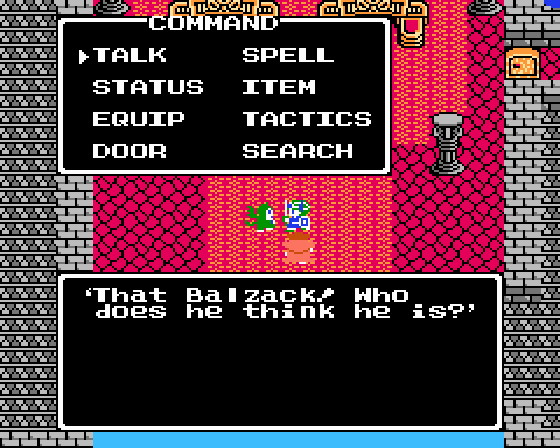 : Even the monsters hate him! What's going on?

: He's just that kind of dirtbag, I guess.

: I will never understand why dad took him in.

: I wouldn't work for him if it wasn't for Necrosaro's order. KiKii!

: Wait, isn't Balzack human? It'd explain why the monsters hate him, but not why Necrosaro entrusted him with a castle.

: I... wouldn't say he's a human anymore.

: You'll see.
Francois levels up against a pair of Phantom Messengers, for 3 Str, 1 Agi, 4 Vit, 2 Int, 3 Luc, 8 HP, 5 MP, and the Boom spell. It's of course the upgrade to Bang, dealing explosion damage to all enemies on screen for 8 MP. He typically learns it at about the same level as Mara will (but not always, seeing as she's level 23 too and she doesn't have it yet), so that's definitely another demonstration of his unusual magic power.
Alena also gains a level, for 8 Str, 8 Agi, 5 Vit, 1 Int, 5 Luc, and 12 HP. Holy crap.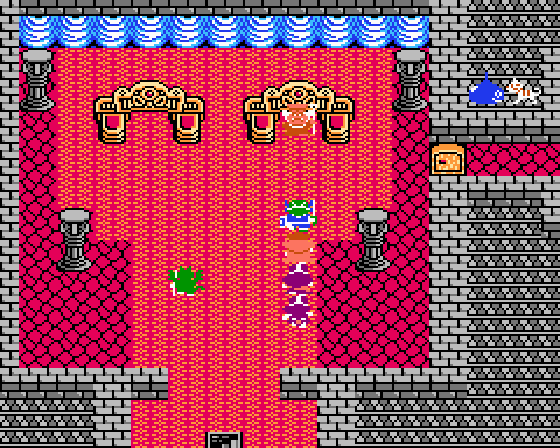 The top floor is unoccupied, and if we drop down from there again...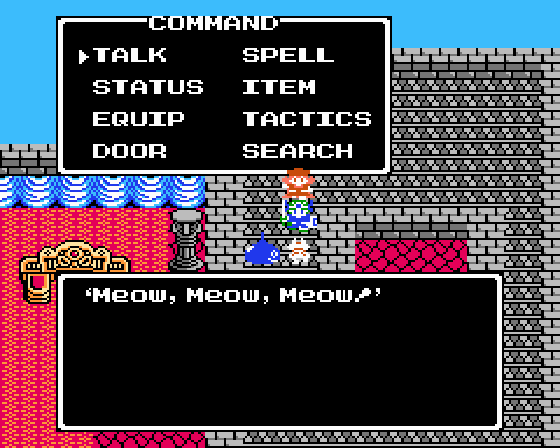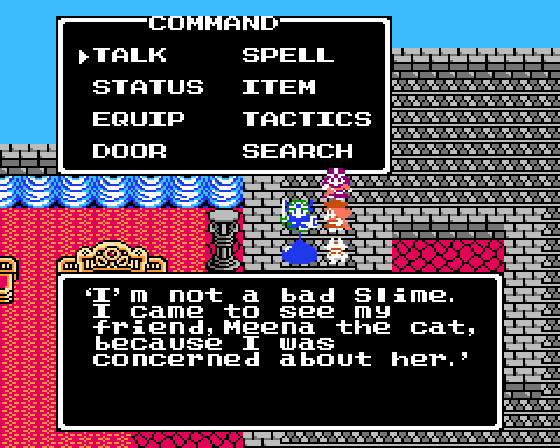 : Huh. Ooookay.

: Meena says the King of Santeem had a strange power. She says you should talk to a person in Surene who can tell you more.

: Well, thank you Meena.
Back to the throne room...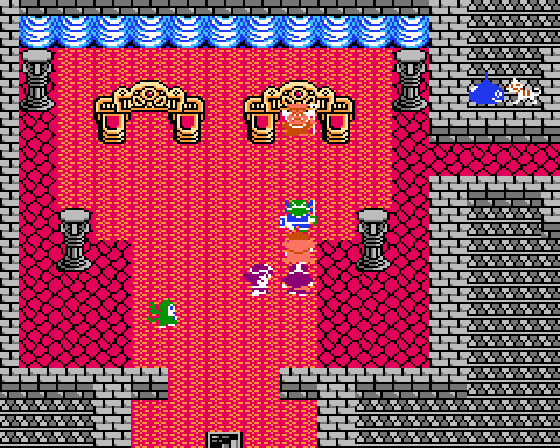 : Guess who's back?

: Remember us?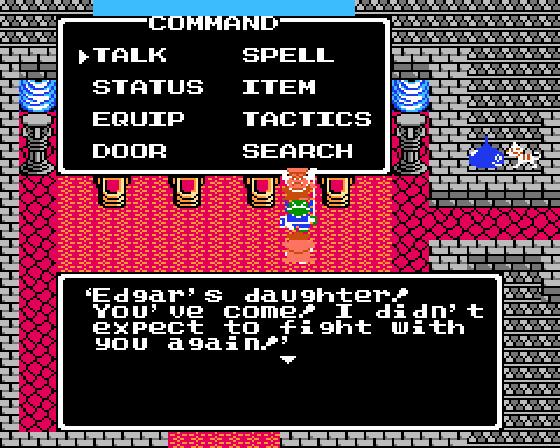 : Keeleon's not coming to your rescue this time.

: We made sure of that.

: Look at me! I've changed beyond recognition, haven't I? I'm Balzack!

: It doesn't matter how much you twist your body. We will always know you, as long as you live.

: Even Necrosaro the Master... not that Necrosaro is no match for me.

: Ugh, shut up. Nobody cares. Let's get this over with.

: Come! You foolish, weak humans!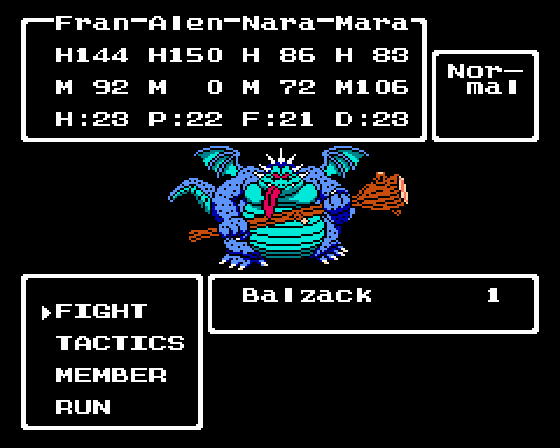 Welp, it turns out there's no law that says you can't use the Secret of Evolution multiple times!
Keeleon may have had one too many sips of weak sauce between chapters, but Balzack definitely got a lot tougher since the sisters taught him a lesson way back when. He has 500 HP (up from 240), 150 attack (up from 80), 100 defense (up from 43), and 14 agility (down from 22). He no longer emits fireballs, or casts Firebal and Healall, but he always acts twice, and he can emit freezing wind and cast Snowstorm. He also most likely regenerates a bit of HP every round.
Balzack is now immune to all non-damage magic and to ice, but vulnerable to all non-ice magic damage. (The Sword of Lethargy can still put him to sleep, though.) Bringing Mara along just makes sense because Blazemore is a boss killer, but Brey can drop a Bikill or two as well, so his ice spells being no-go hardly disqualify him from the fight.
It's worth noting that Balzack's ridiculously low agility almost guarantees that your entire team acts before he does (except maybe Ragnar), which helps a lot with survivability when comes healing time.
If you follow the "default" progression, which is to say Recruit Taloon -> Recruit Alena -> Recruit Ragnar -> Liberate Santeem, this battle is easily one of the toughest in the game. If you bring Ragnar along, he's likely very underleveled, and if you don't have the Zenithian Armor, your Hero can't tank those 150 attack power hits for long. Even with the party we have now, with two pieces of Zenithian gear and having traveled almost everywhere around the world, Balzack definitely didn't just lie down and take it.
As a reward, Nara levels up, for 2 Str, 2 Agi, 2 Vit, 2 Int, 4 Luc, 3 HP, and 2 MP. Mara follows, for 1 Str, 1 Agi, 4 Vit, 4 Int, 5 Luc, 10 HP, 8 MP, and her own Boom spell.
Seeing as this is a castle map just like in Keeleon, the wagon crew shares in the booty. Ragnar gains 3 Str, 1 Agi, 5 Vit, 1 Int, 1 Luc, and 11 HP. Cristo gets 2 Agi, 2 Vit, 2 Int, 3 Luc, 4 HP, and 4 MP. Taloon gets 2 Str, 2 Agi, 3 Vit, 2 Int, 2 Luc, and 4 HP.
Oh, and... I gotta say that Balzack's sprite is easily among my favorites in the entire series. This is what the man who murdered Edgar the Alchemist thinks peak performance looks like. Now I know the massive, fat, brutish, horned, winged, tailed, club-wielding demon look is a bit of a trope, but still, somehow today it seems... weirdly familiar...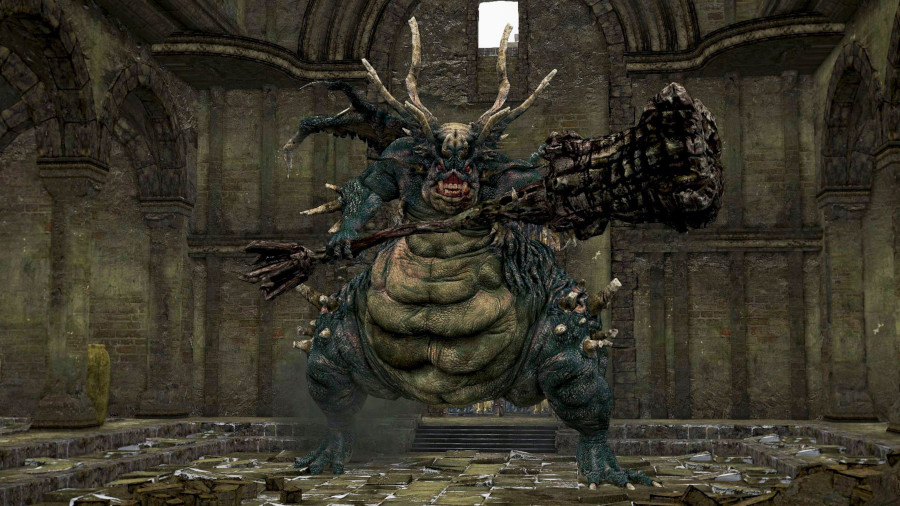 Huh. Welp. Moving on.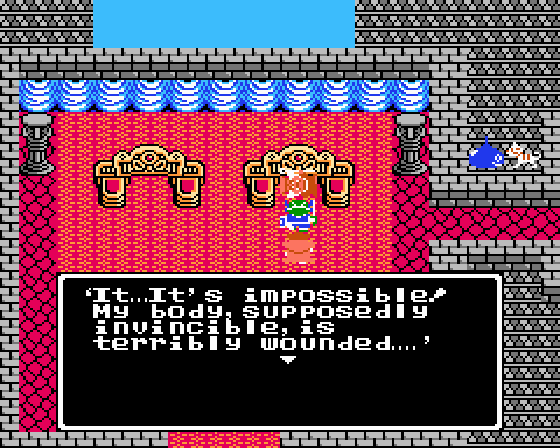 : You idiot, we have the Hero with us. No monster is invincible anymore.

: You're not even a true monster. You threw away your humanity. And now you are nothing.

: But as long as the Secret of Evolution exists, I will never fall... I will... I will...

: We've just met and I'm already sick of you! I will have QUIET in my THRONE ROOM!

: Gasp!

: ...

: ...

: ...

: It's... it's done.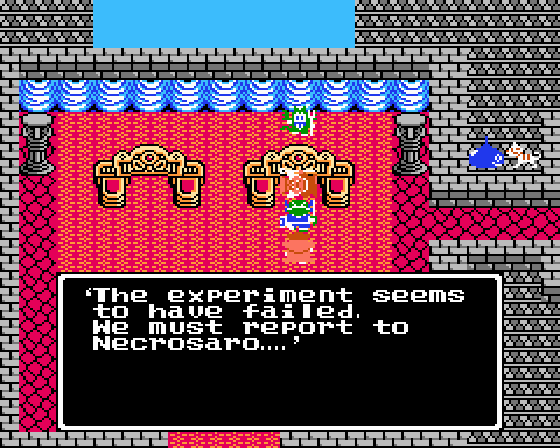 : What? The experiment?

: That explains a lot.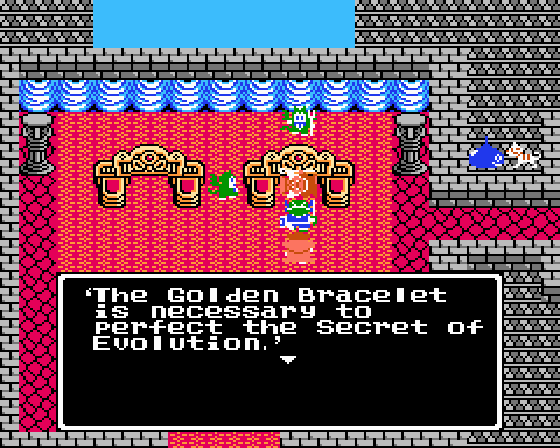 : ...aw crap.

: It's said that the Golden Bracelet amplifies the evil force!

: Oh no.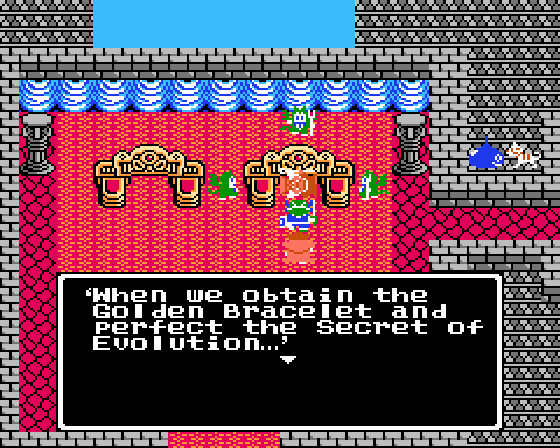 : ...our time, the time of the evil force, will come! Ha, Ha, Ha!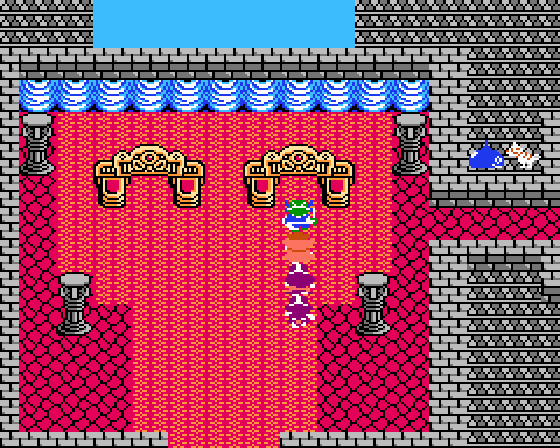 The imps vanish, taking Balzack's corpse with them.

: Wait, didn't we hear that the monsters have that Bracelet already?

: Maybe they're still carrying it somewhere. There's still time.

: ...

: Alena, are you alright?

: N-never better. Let's go.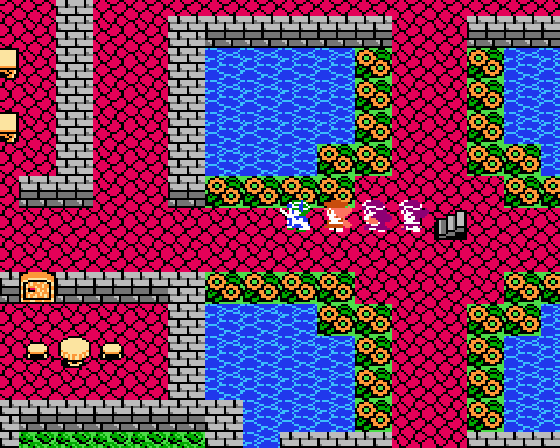 There are no more visible monsters around, but we still get into random encounters.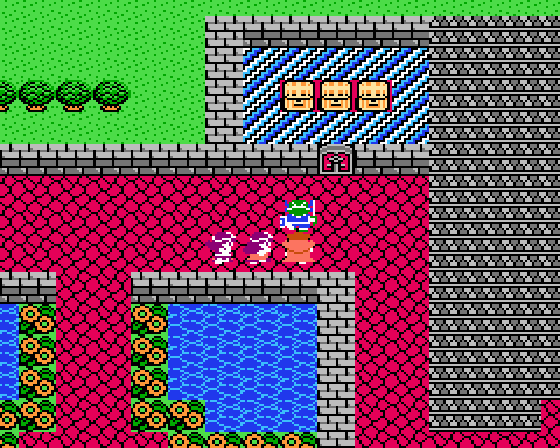 That flame creature is definitely gone, though!

: May we...?

: Heh, whatever's in there, you can use it for a while.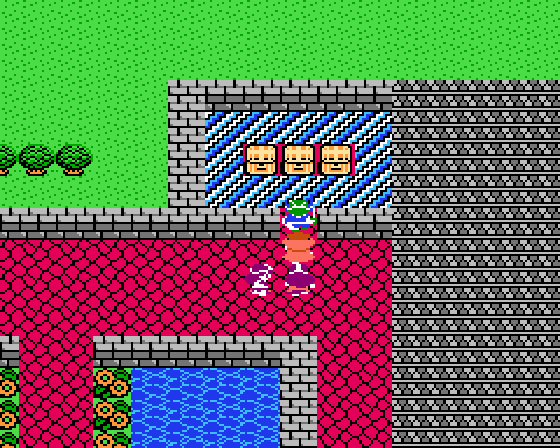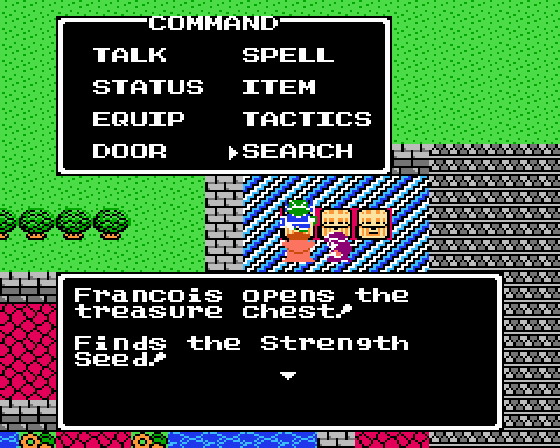 : Yyyup.

: Hmm-mmm.
I think Cristo had the last one, so Nara gets this one, for a single point.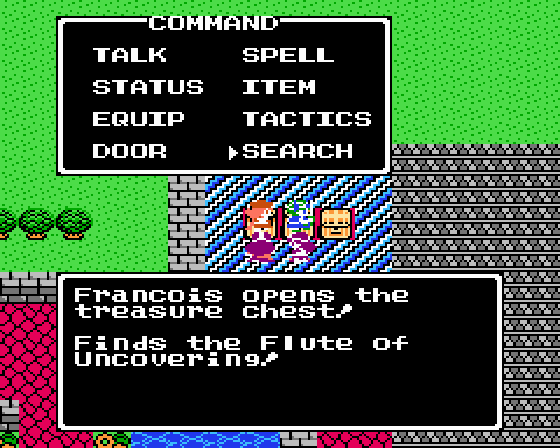 : Huh.

: That flute...!

: Did Necrosaro store it here?

: Here, hand it over.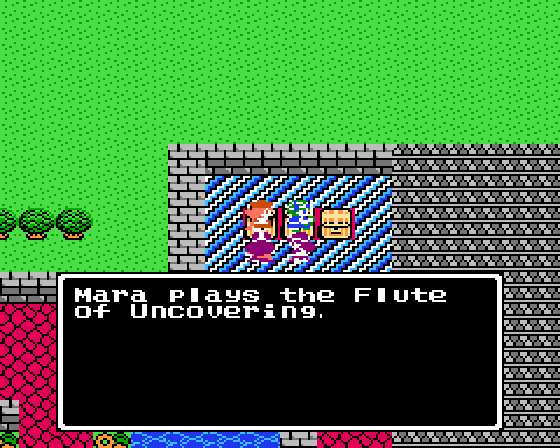 Mara plays the same melody we heard in Rosa's dream message. That said, we didn't need to witness the dream to know the melody; the flute always plays these notes no matter what.

: If it's not the same, it sure sounds the same.

: We have our way in, then.

: Necrosaro's not going to like that.

: Good.

: Whoa!

: Well I'll be.

: Didn't I tell you we'd find a bunch of the artifacts we need before long?

: Not complaining!
The Magma Staff is not just a key to get into Gardenbur, it's also a +63 weapon that Brey, Cristo, Nara and Mara can equip, and it'll cast Bang on command. Seeing as it's 8 points stronger than the Staff of Force, we'll let Nara have it so she can keep her MP. The Staff of Force will go to Cristo, but he'll hang on to his Staff of Punishment to keep his free wind damage, and we'll have to trust him to make smart choices. I'm well comfortable with letting Mara and Brey keep their Poison Needles, since they don't need help in the damage-dealing department otherwise.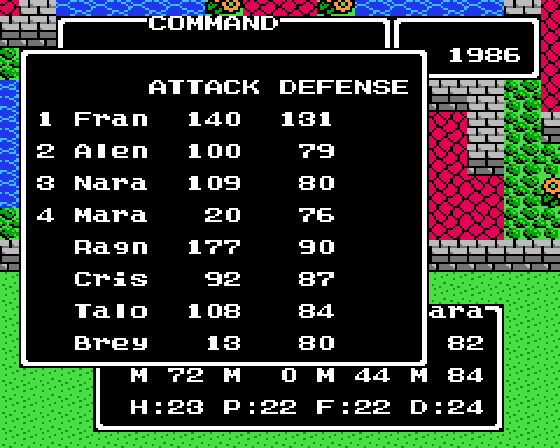 Nara now hits harder than Taloon!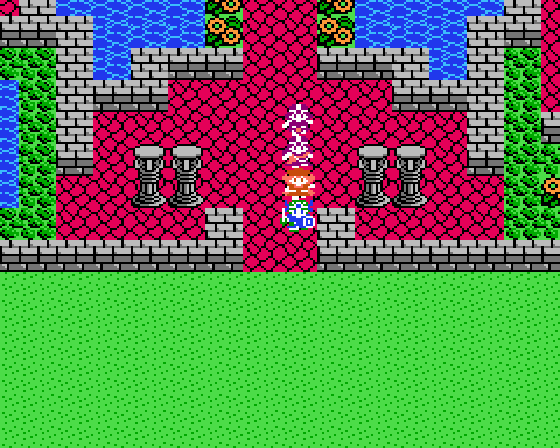 We experience no great difficulty in leaving the castle.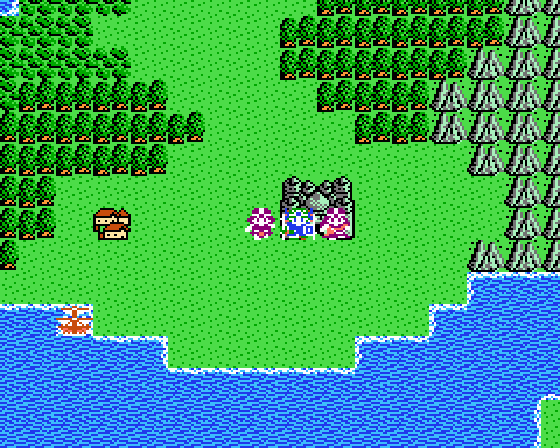 : It's done.

: Balzack will stain this world no more.

: Well, you'll have to clean his ashes off your throne at some point.

: Glorious!

: Ah, good, good.

: So now we go after his master's master.

: Brey, why didn't you tell us we own the Magma Staff?

: Oh! That would be because I didn't know.

: Huh. And now I wonder why dad didn't tell me.

: It's probably because he was rather fond of his castle and didn't want to see you destroy it any more than you already did.

: Very funny.

: It turns out Necrosaro kept his flute here too, for some reason. We should be able to meet Rosa now.

: I don't know why she would have kept vital information to herself if she could communicate through dreams, but it can't hurt to make sure.

: Um, Francois, before we go...

: What's on your mind?

: There are still more towns in my realm. I want to check up on them while we're here. It's... it's probably the least I can do.

: Right, there's no telling what harm Balzack did while he was here. I'm with you, let's go.