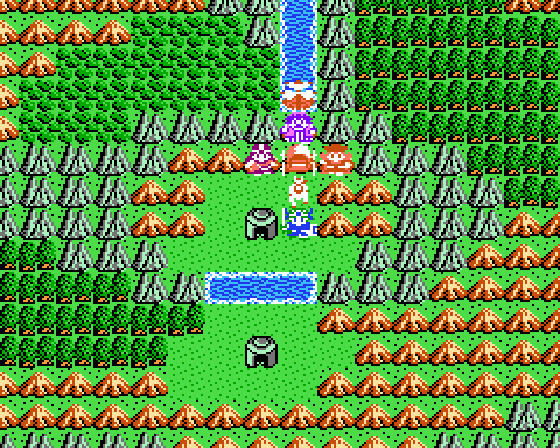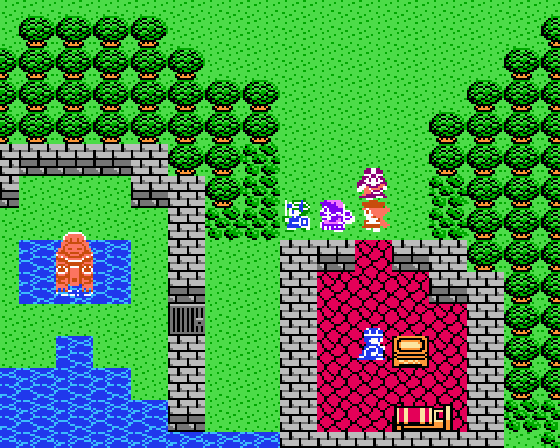 : We'd better hope that statue really can cross the river, or we'll be up the creek.

: Or down the creek.

: Just on whichever side of the creek we don't want to be on.

: What's a creek, again?

: A creek is the part of a stream that's close enough to the sea to be affected by tides.

: Oh. Hmm! Thanks.

: Don't tell Brey I remembered that, it'll go to his head.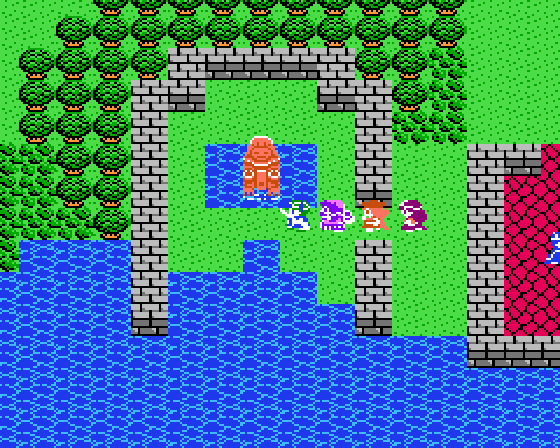 : So do we climb, or...?

: There could be an entrance.

: That'll be some story to tell my son right there. "And then we started looking for the statue's butt."

: Maybe consider skipping that part.

: I think I'll start with it.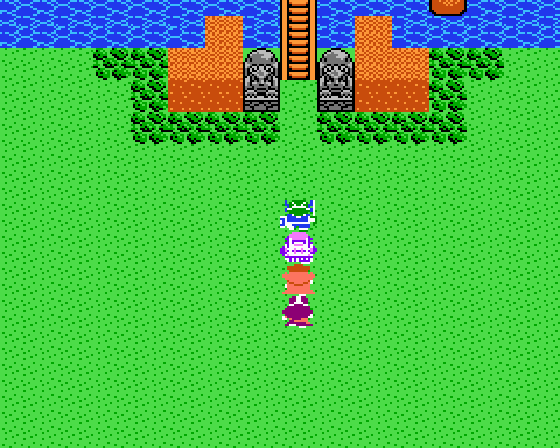 The crypt crew got a bunch of levels off Metal Babbles, so the others have serious catching up to do. Taloon, Alena, Nara and Brey are our lowest, at 25. I often go for hero/melee/healer/wizard, so I figured we could switch things up here and leave Brey behind for now.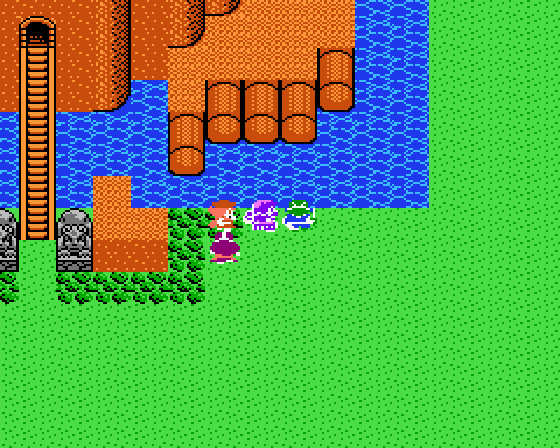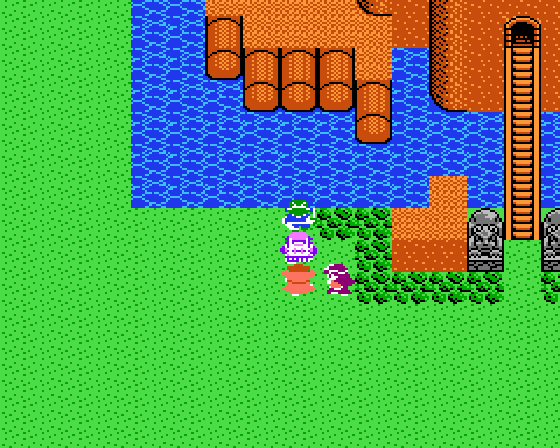 Ah, thank goodness for this 1024 kilobyte cartridge having enough space in its tilesets for the individual toes on a colossal statue.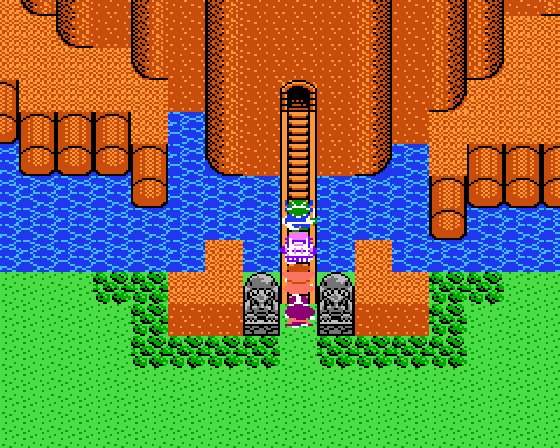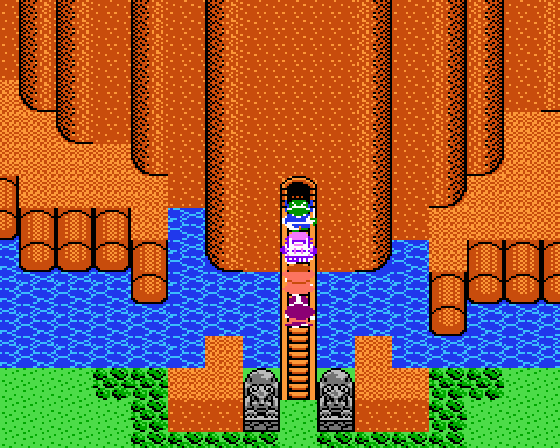 : Not the butt, then.

: Maybe that would have been better.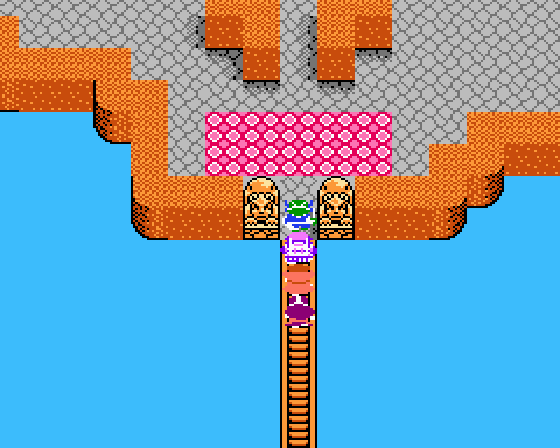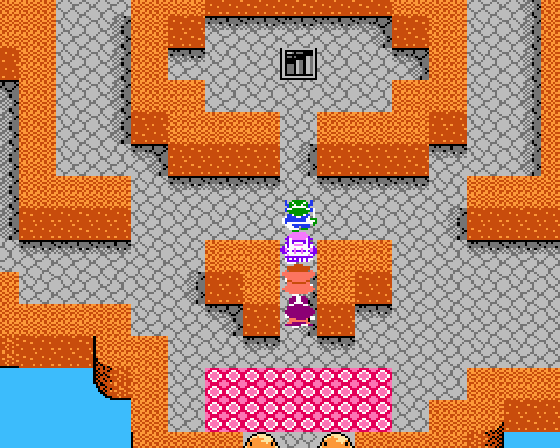 : Do we want to go down, or up?

: I'm not sure we have a choice yet. Let's just explore this floor first.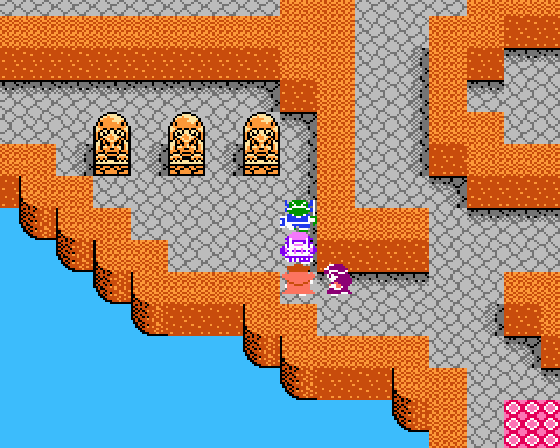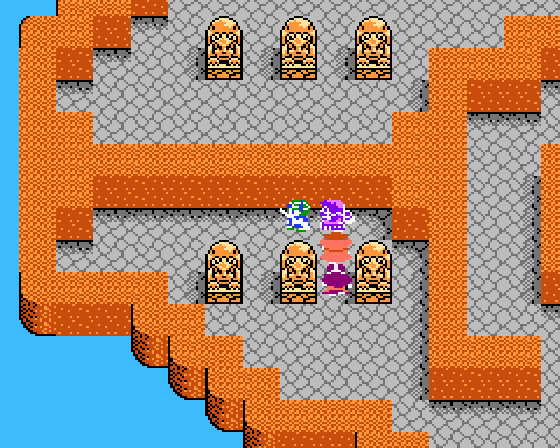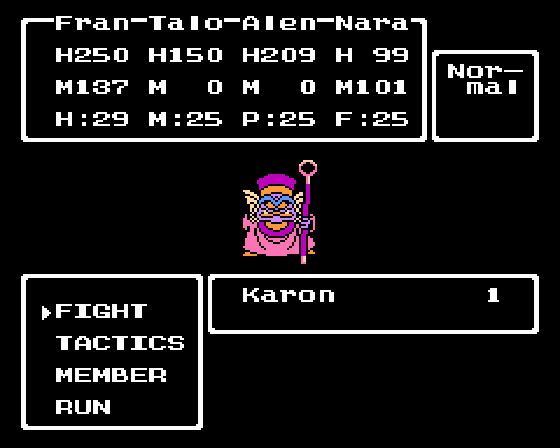 Karons have 110 HP, 83 attack, 75 defense, and 50 agility; they can cast Vivify, and they also happen to carry a good old Staff of Thunder! They can use it to cast Firebane at will, and you can't use StopSpell, FendSpell or Bounce effects to protect yourself from it. They're slightly resistant to most magic, except for an immunity to Beat and to Sap, and high resistance to Blaze, Surround, RobMagic and StopSpell.
Sleep and magic damage are usually good bets, but against just this one, physical attacks will do. Alena and Francois make short work of it before it can do anything.
Strangely enough, their item drop is a Wizard's Ring, not their Staff of Thunder. It would still be welcome, though.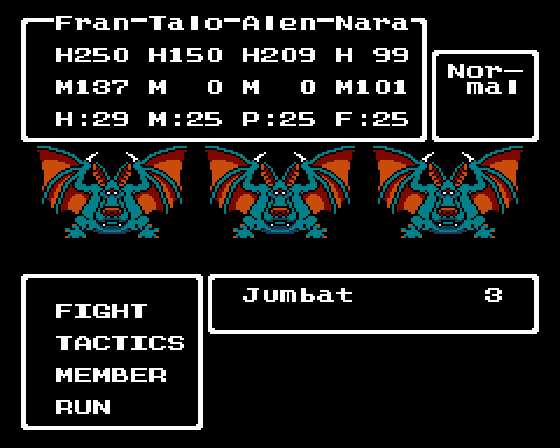 We've fought Jumbats before, in the Riverton forests. They're a lot less threatening to us now than they were back then, but we always have to watch out for their sleep effects and crits.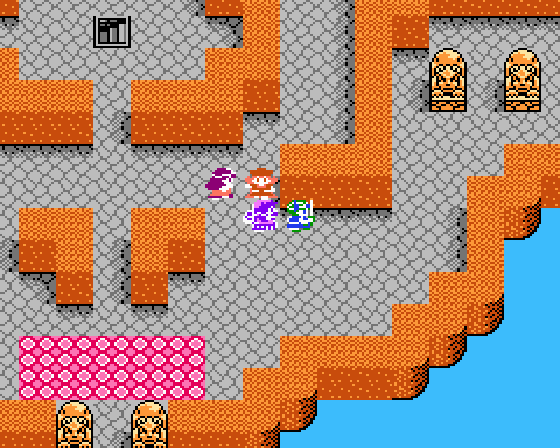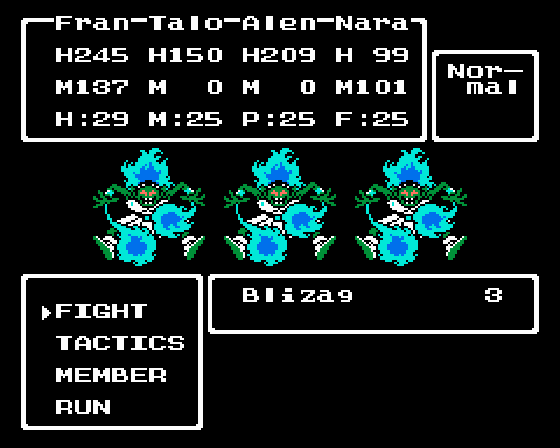 Blizags have 85 HP, 50 attack, 40 defense, and 47 agility; they can emit freezing wind, as well as cast Beat and Defeat. Yyyyyeah, ouch. I suspect they're meant to reference the Blizzard monsters in DW2's Rhone. These ones might as well be made out of wet paper in comparison, though. They're immune to ice, highly resistant to Beat, Expel, Surround and StopSpell, slightly resistant to Bang, lightning and Sap, and vulnerable to Firebal, Blaze, wind and RobMagic.
Francois could try the Sphere of Silence here, but seeing as they're so feeble, it's best for him to just cut them to pieces. In fact, he one-shots the first, Alena tears up the second, and Taloon trip-crits the third. We only take one freezing wind, no biggie.
Taloon levels up from this, for 3 Str, 1 Agi, 3 Vit, 1 Int, 1 Luc, and 6 HP.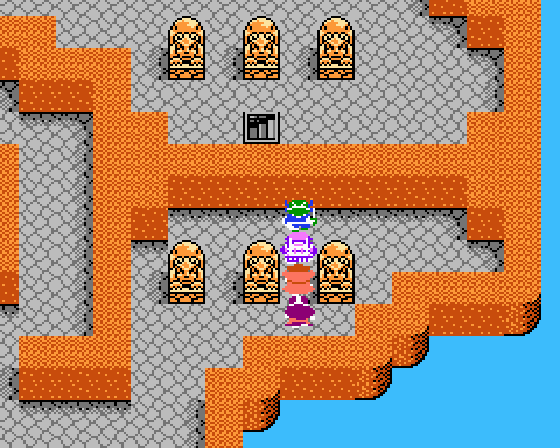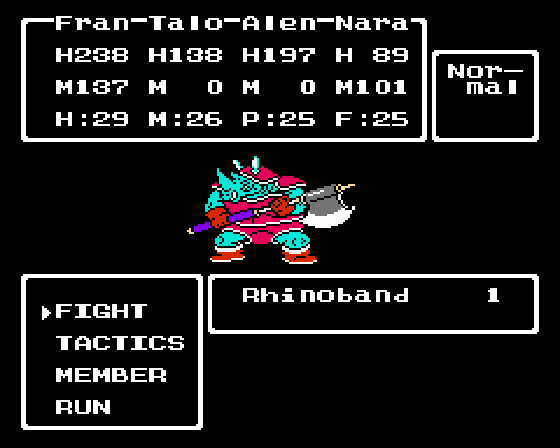 Yup, more Riverton enemies, makes sense. It opens up with Upper, but Zap and Fire Claw blasts take it down quickly anyway.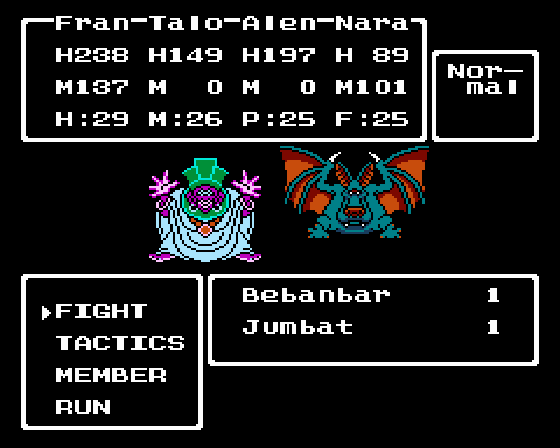 Aaaand Bebanbar make another appearance of course. They're still definitely a priority target. This one tries Firebane at the top of the round, but Taloon covers his mouth, and Alena swoops in for the kill. Feels good!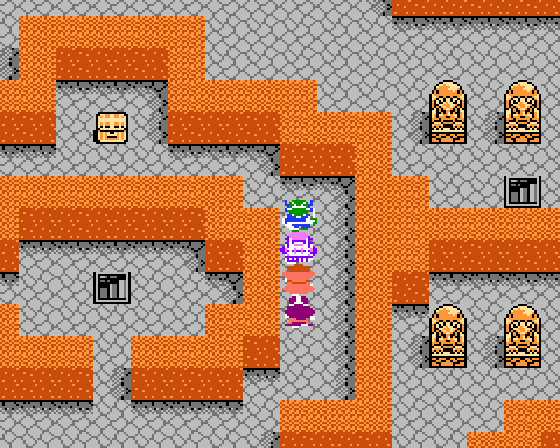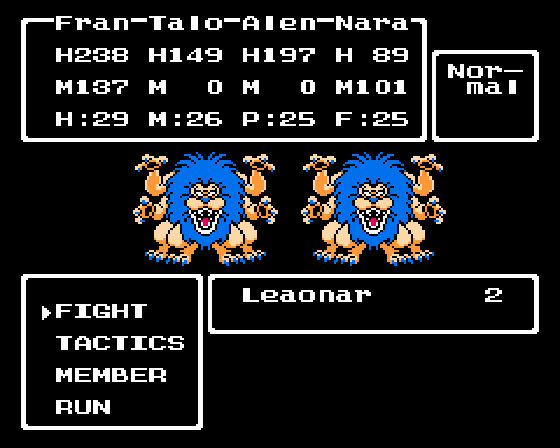 Oh hey, a Keeleon-type critter already. Leaonars have 150 HP, 94 attack, 80 defense, and 45 agility; they always act twice per round, and they can build up power. That's a recipe for disaster right there. They're weak to ice, slightly resistant to Bang, lightning, wind, and Beat, immune to Expel, and highly resistant to everything else.
This is one of those situations where their resistances are generally high enough that it's better to buff ourselves than to try and disable them otherwise, but Cristo's death spells and Brey's ice magic are very much worth using if you happen to have them with you.
This time around, we get lucky: Alena crits one, and Taloon, Francois and Mara bring down the other before it gets to act.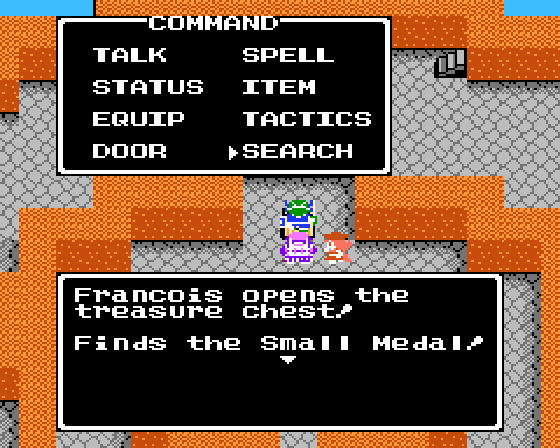 It was definitely worth having a look around this floor, but we really have no choice but to go down first.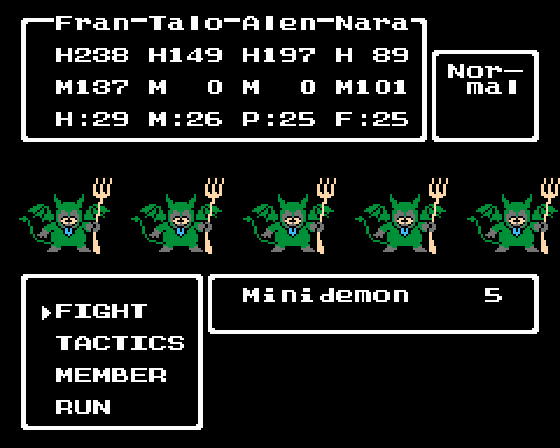 Oof; Minidemons are not too dangerous by now, but that's a few too many potential Blazemore casts for comfort. They're weak to lightning and wind, so we go on Offensive and get to castin'. DW3's version of Zap used to cost 8 MP, where it's only 4 now. Man, that makes it so much more usable.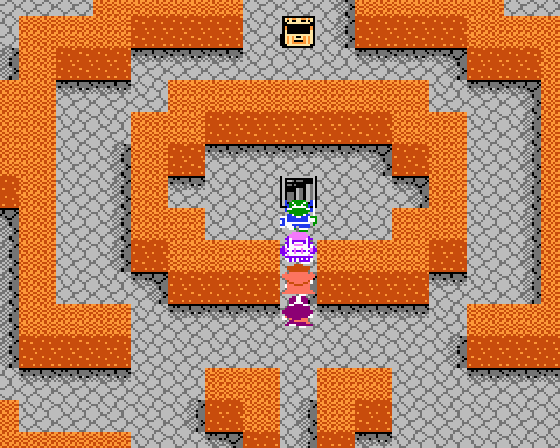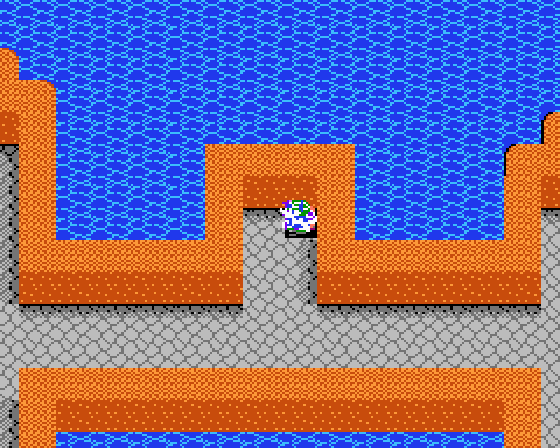 We've seen a down staircase in the eastern side of the northern section of the floor above, so let's explore to the west first. Alena levels up here, for 5 Str, 7 Agi, 5 Vit, 1 Int, 7 Luc, and 11 HP.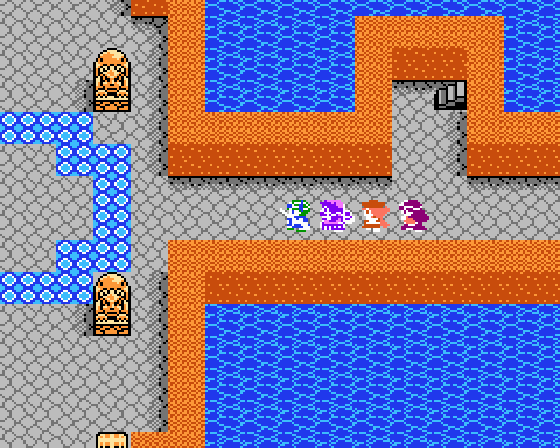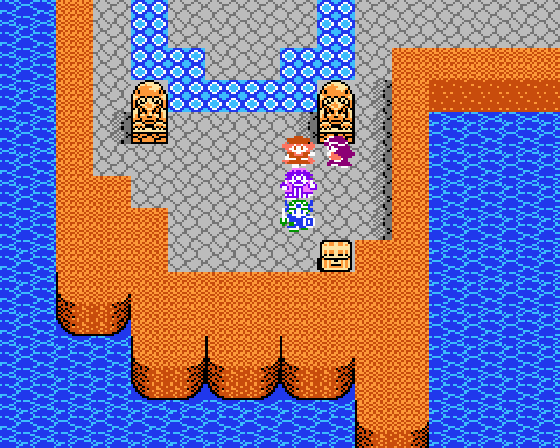 We're obviously in the statue's right foot. Dang, that's so neat.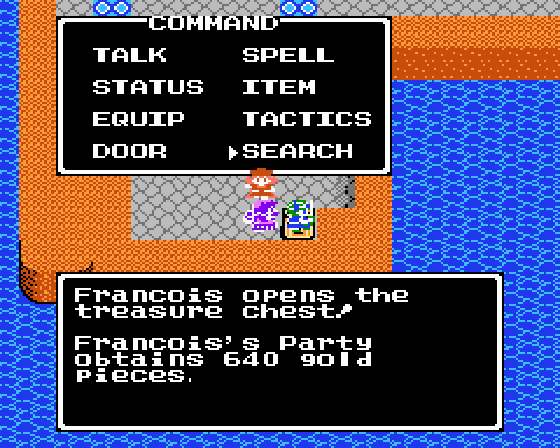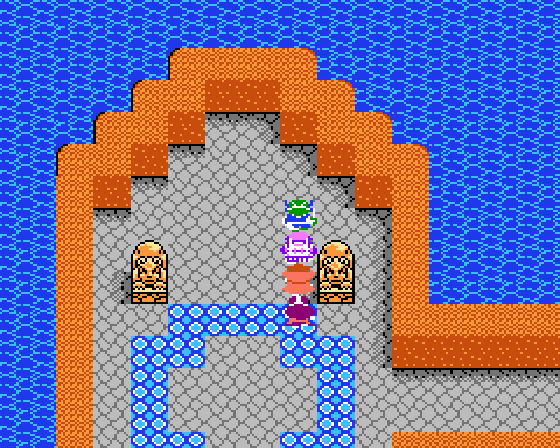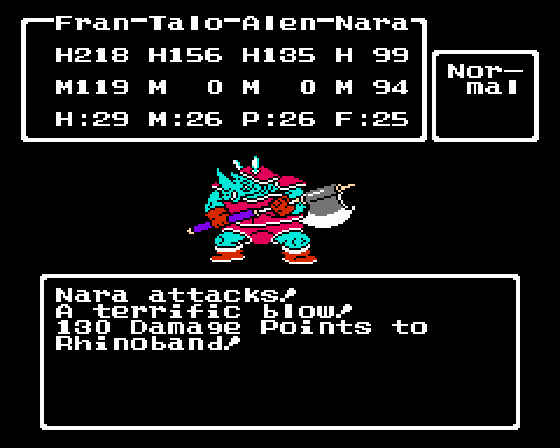 That Magma Staff doesn't take prisoners.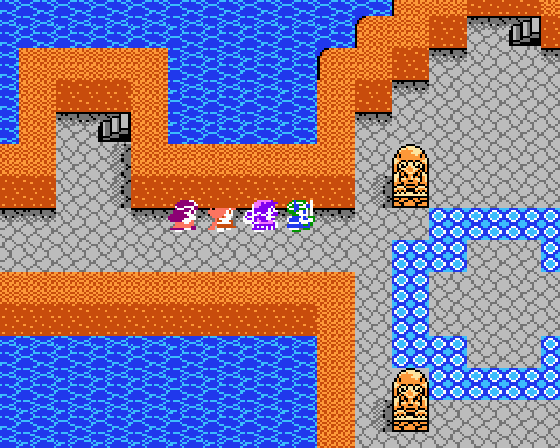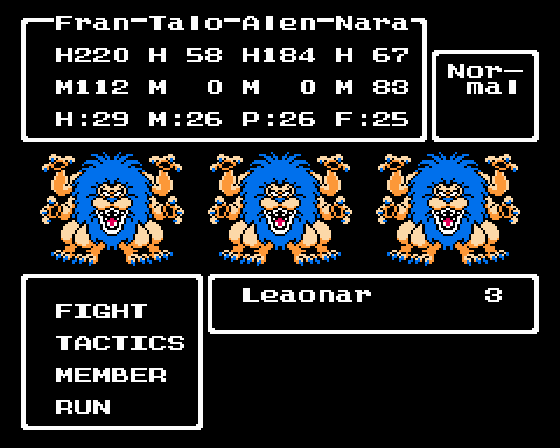 We get ambushed here and take a bunch of hits; fortunately Francois and Taloon get most of the damage, which their excellent armors reduce to almost nothing.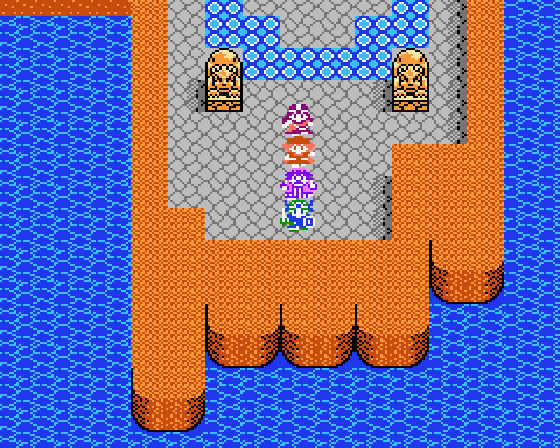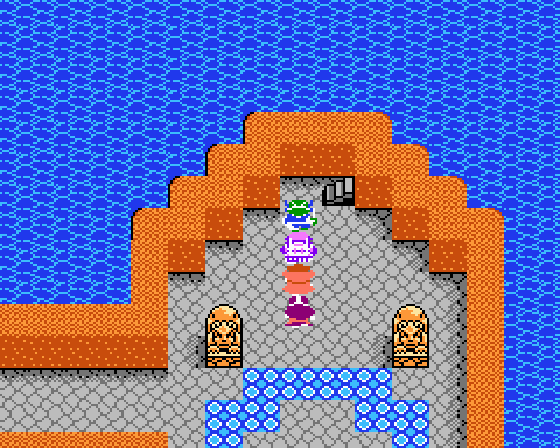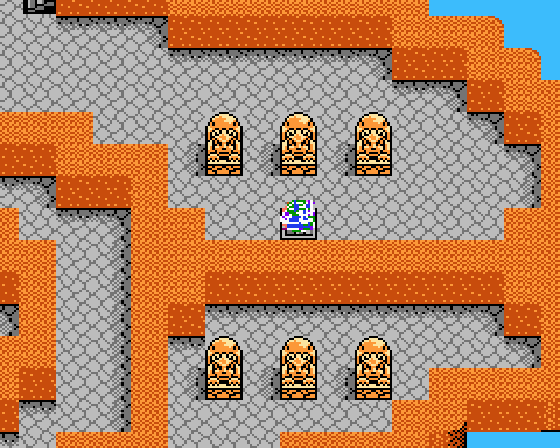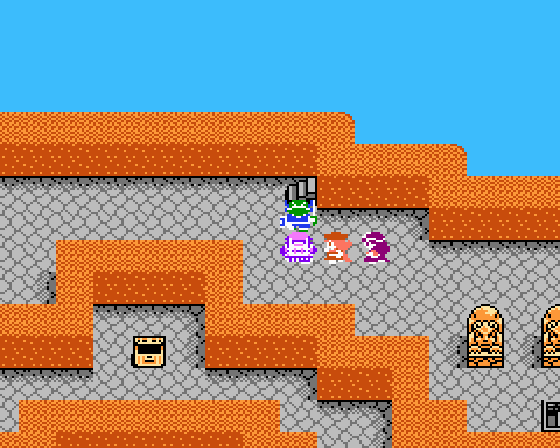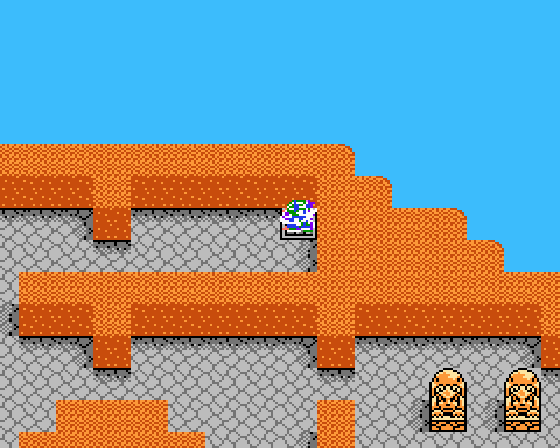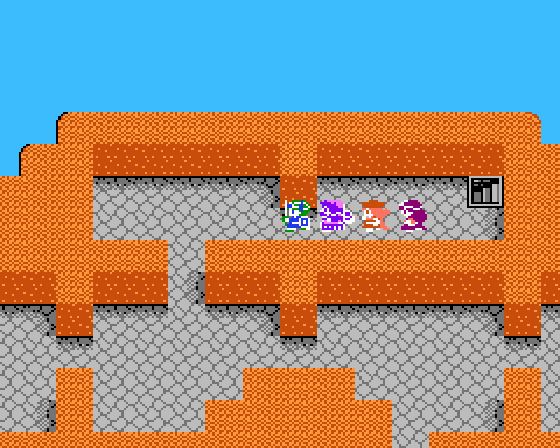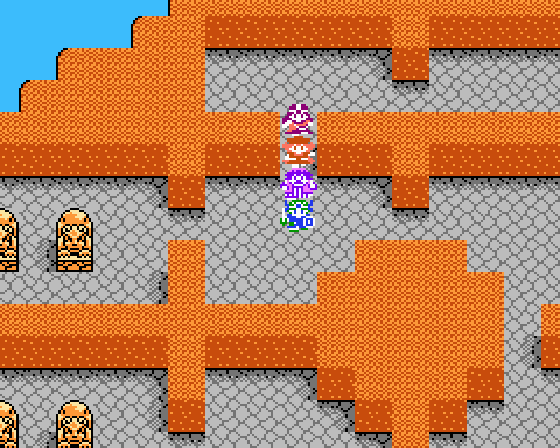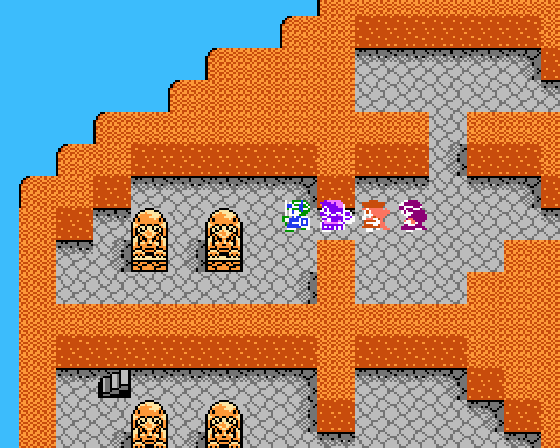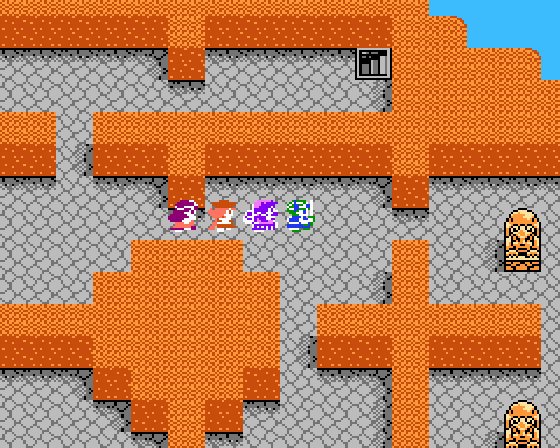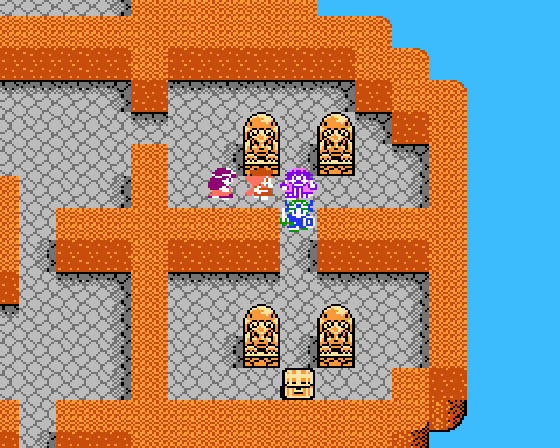 A pair of Karons try to stop us here. One manages to Vivify the other once, dies, then fails to get revived by the other. They don't even get to hurt us.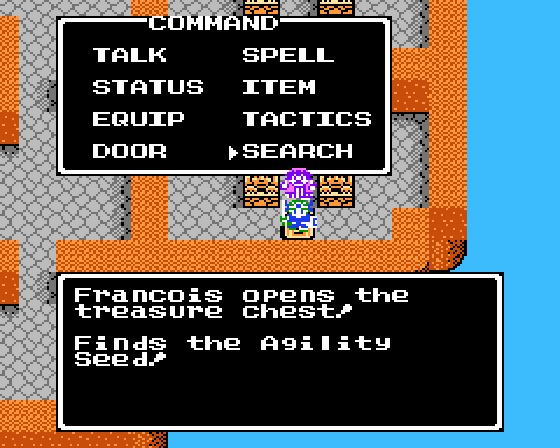 Another we're saving for Ragnar.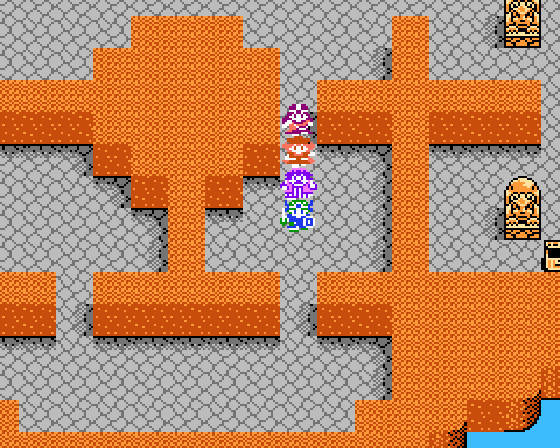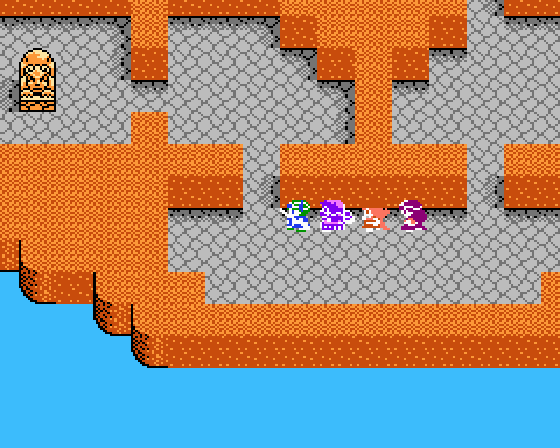 Nara gets to level 26 here, for 2 Str, 2 Agi, 2 Vit, 2 Int, 3 Luc, 4 HP, 4 MP, and the Healall spell. She's the last among us to break the 100 HP barrier.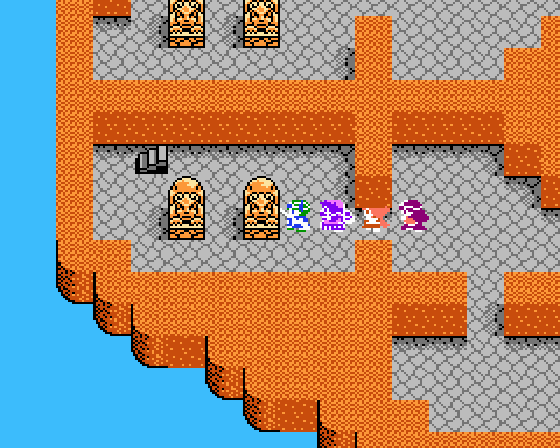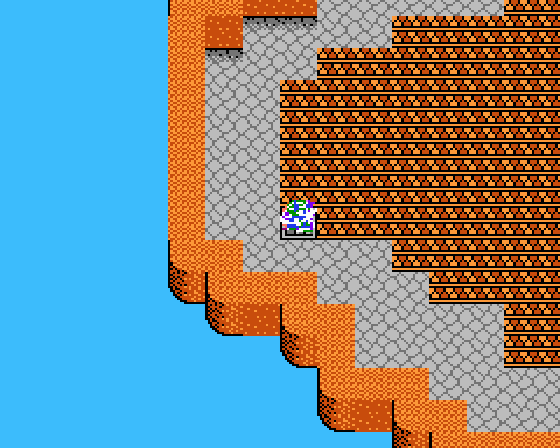 There's probably a hidden passage to this central room here; we'll go around and check every tile.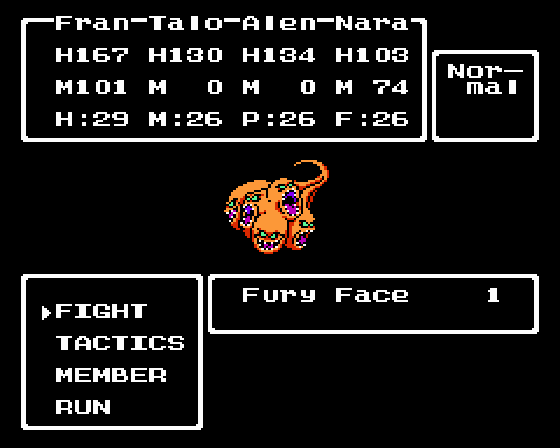 Whuh-oh, we know these guys from the Zenithian Armor cave. It's only a matter of time until the game starts throwing Dragon Riders at us gain. Francois takes a lungful of poison gas; only Cristo knows Antidote, and nobody in this party carries Antidote Herbs. We'll just have to tough it out.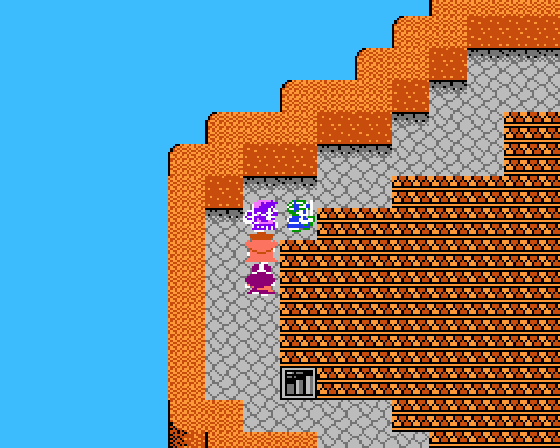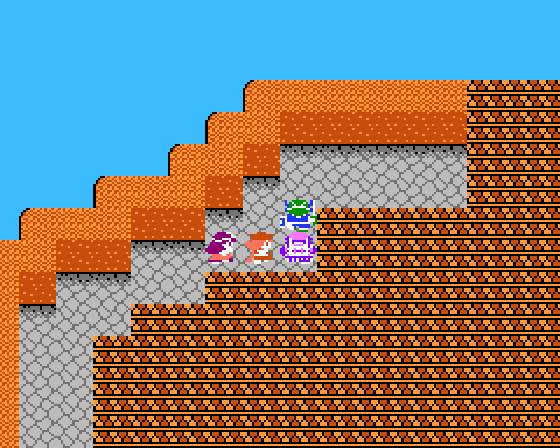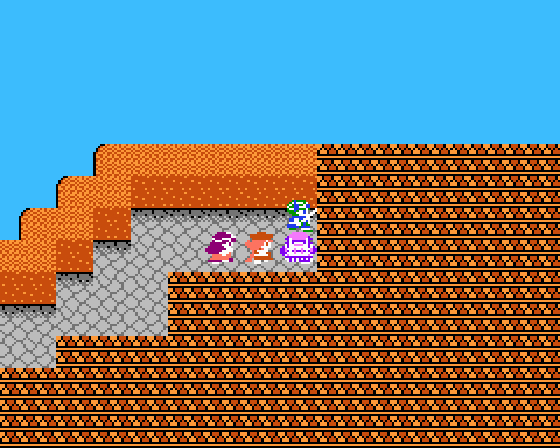 That's a dead end. Let's go around the south side. Francois levels up off Leaonars here, for 4 Str, 2 Agi, 4 Vit, 2 Int, 2 Luc, 8 HP, 8 MP, and... the Transform spell. It costs 5 MP this time around.
Just like in DW3, Transform turns you a copy of one of your allies, giving you their combat stats (including attack and defense power), and replacing your spell list with theirs (if they have one), though you keep your current HP, MP, and inventory. If you've managed to win a Mirror of Ra at the Casino, you can use it to revert to your original form anytime; otherwise I believe it lasts until the end of the fight.
This used to be a Wizard spell, but now it's exclusive to the Hero. That's notable for two reasons. Of course, it allows you to use your allies' spells without needing to rely on their AI. Nothing stops you from turning into Brey and casting Bikill and Sap at your heart's content, or turning into Mara, going Offensive, and dual-casting her best fire spells, or turning into Cristo and just stacking Increase until you're all immune to physical damage.
The second reason is that there's absolutely a flavor payload involved. The last time Francois saw Transform used... well, you know.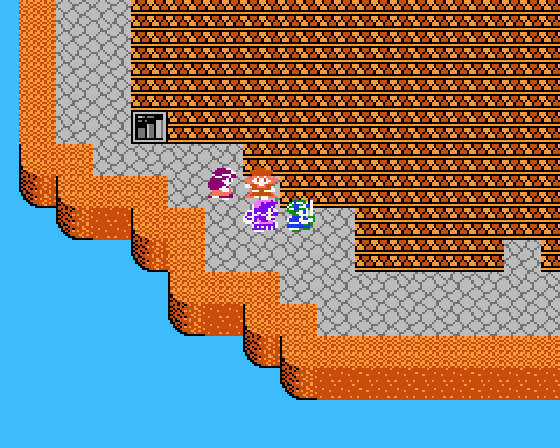 That'll be the entrance. It's not so hidden after all. Taloon levels up off a Leaonar before we can enter, for 3 Str, 2 Agi, 1 Vit, 2 Int, 1 Luc, and 1 HP.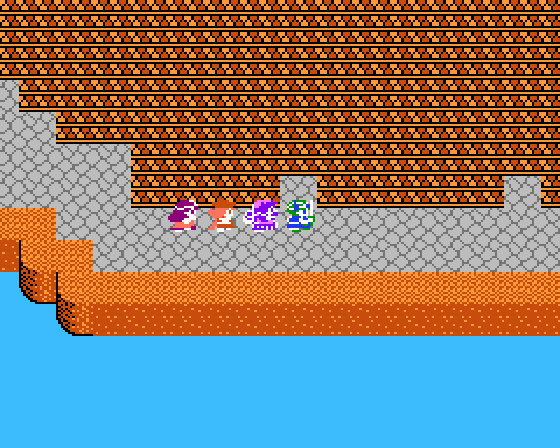 Oh, there are multiple ways in then.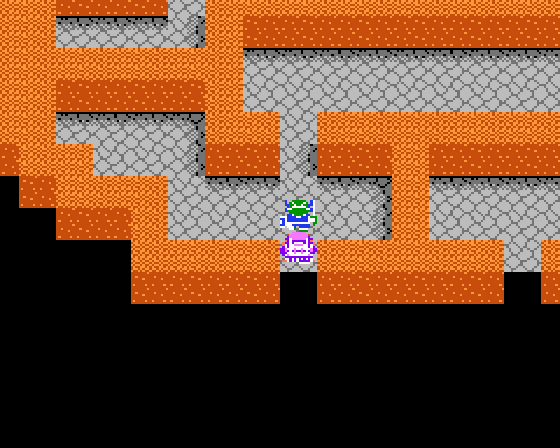 I'm curious about what might be on the east side of the outer portion of this floor, but let's just start with this hallway.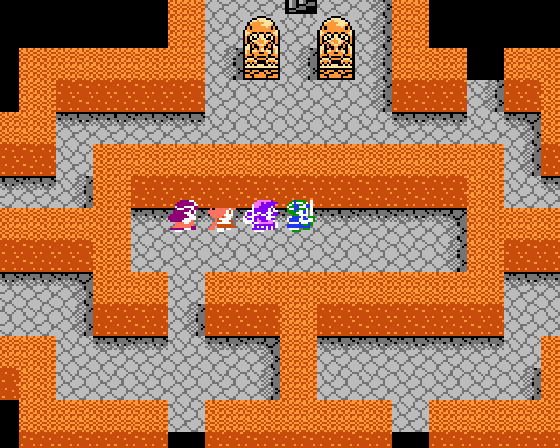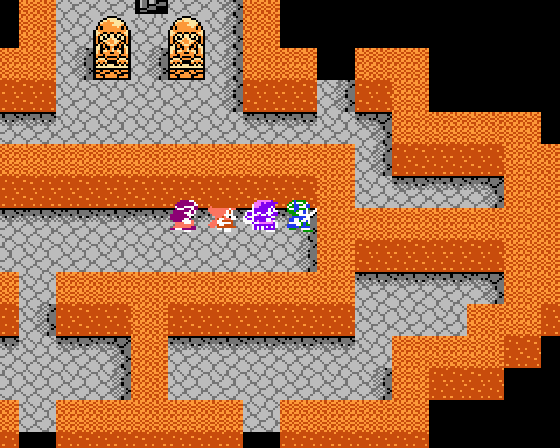 I see what's going on. We'll be making our way around the east side after all.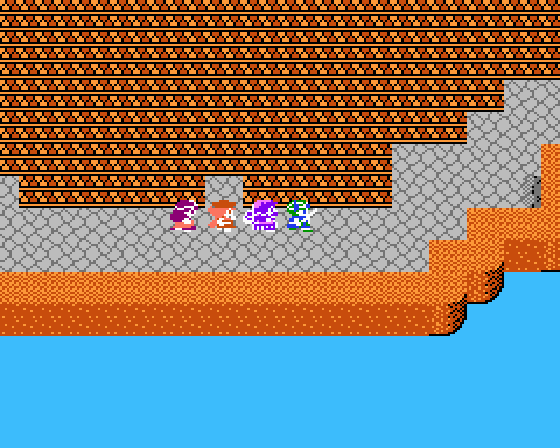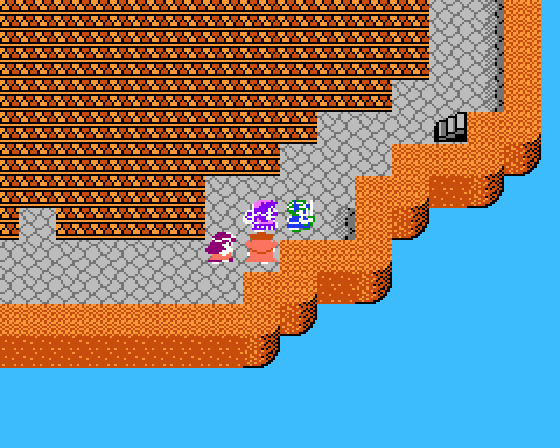 Hmm. These stairs are a little too obvious compared to the ones in the north, but let's just have a look anyway.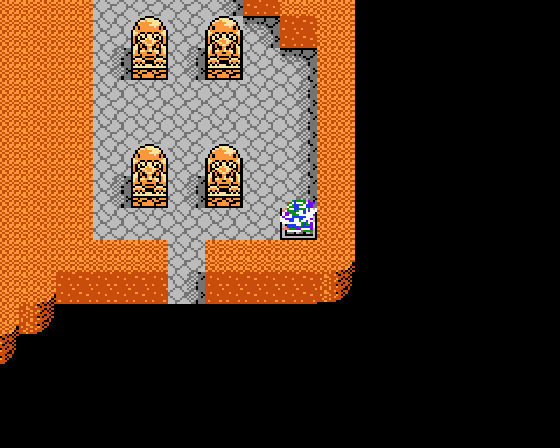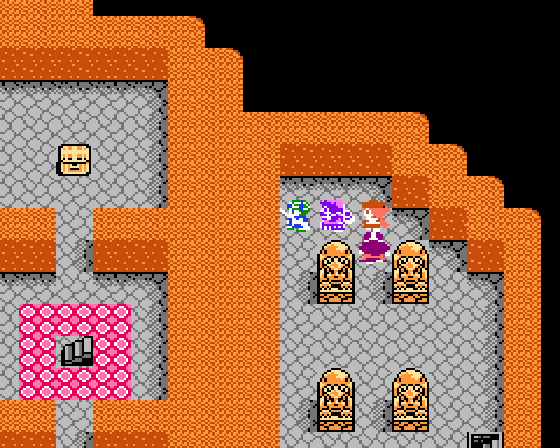 We might have to come from above to get that chest.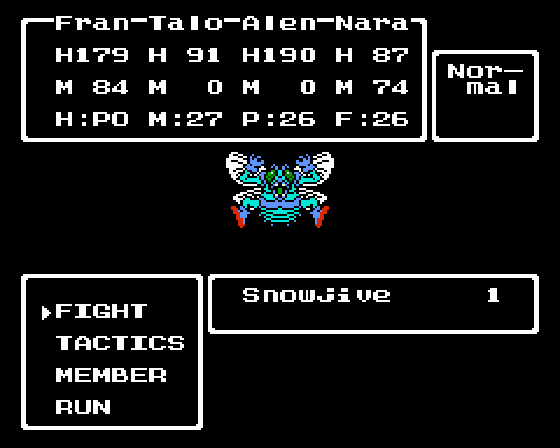 Gah. Just one is no problem, but again, Dragon Riders can't be far.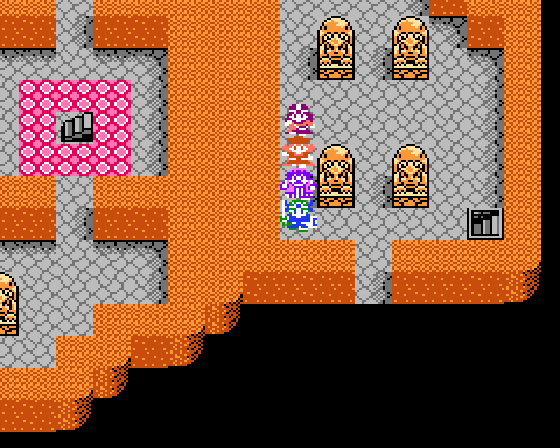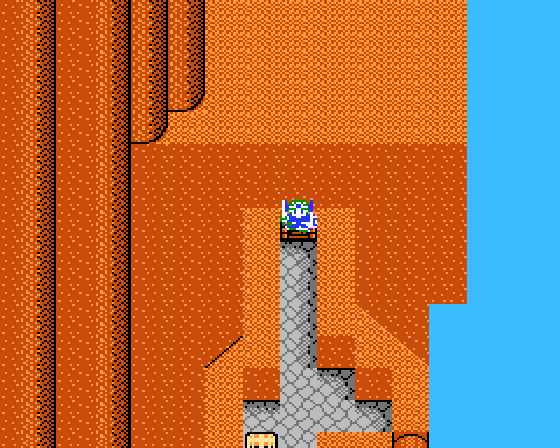 : Whoa.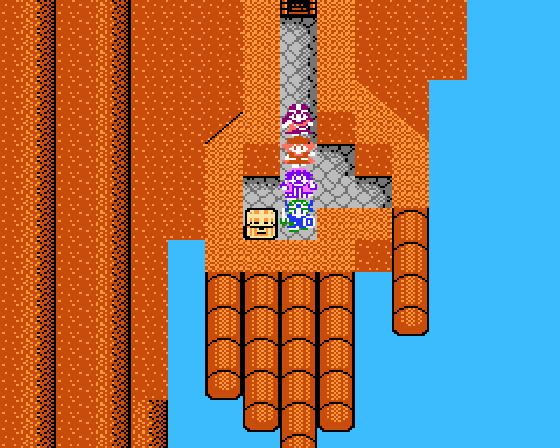 : Well isn't that a sight to see.

: Anatomically, it's not the most accurate, but...

: And this thing is supposed to move?

: That would almost be scary if it wasn't so exciting!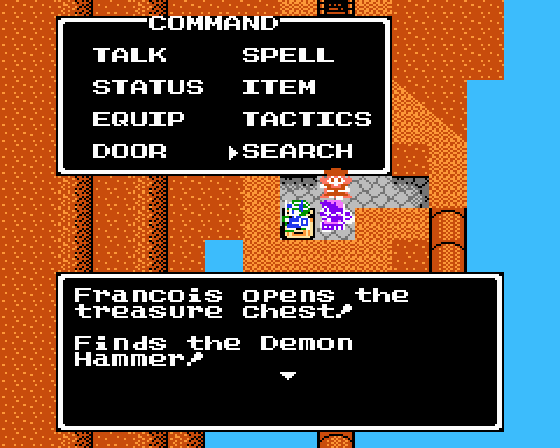 That's the guaranteed location of the Demon Hammer, though you could also get one from a Rhinoband. It's cursed and comes with a very high chance to miss, but when it hits, it crits. It could conceivably be useful for hunting metal enemies, but I'm not too fond of it fot general use.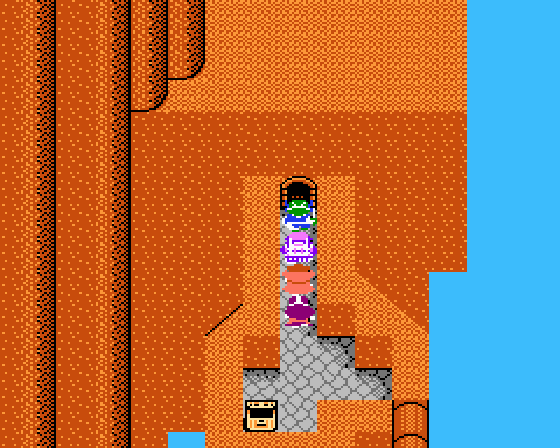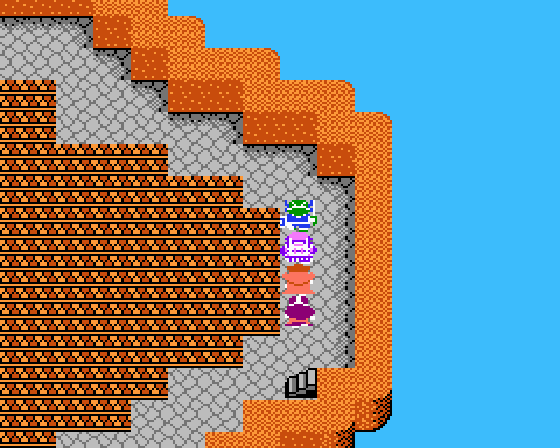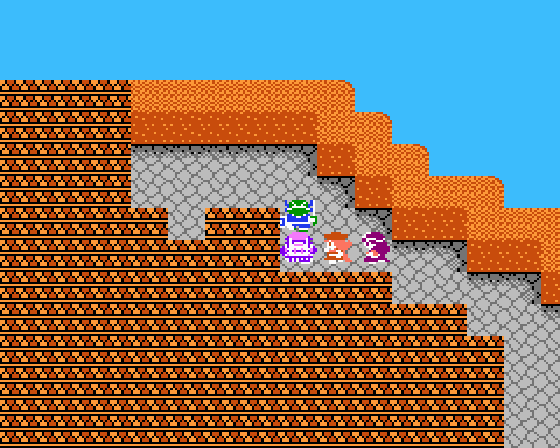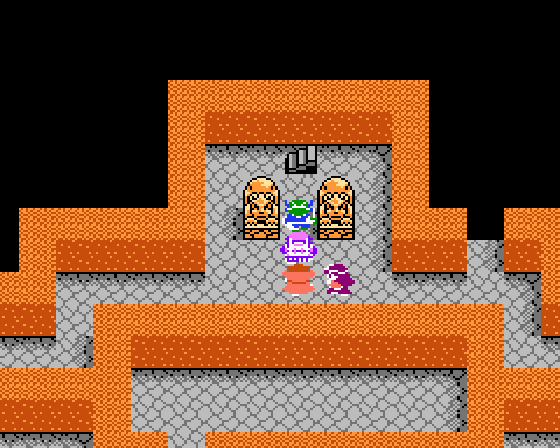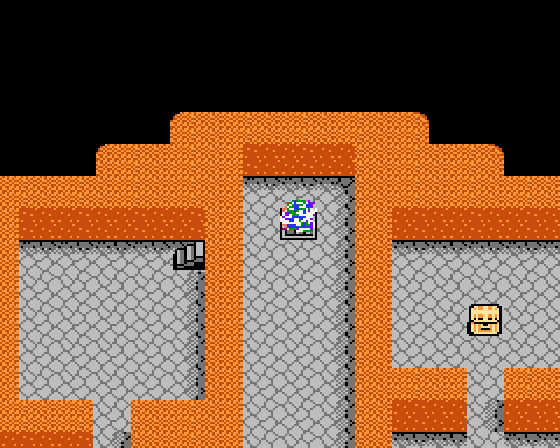 That chest to the east is definitely the one we saw from that other staircase path.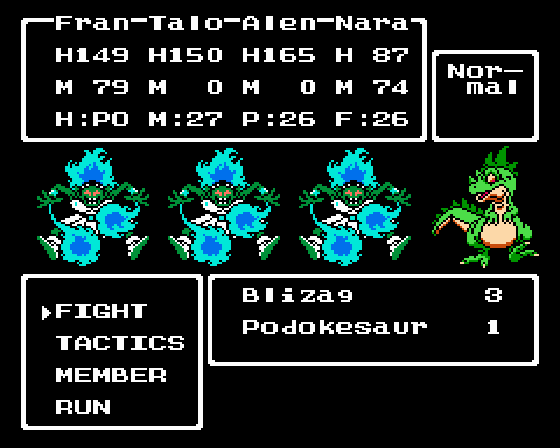 Podokesaurs have 114 HP, 98 attack, 40 defense, and 74 agility; they have a chance to take two actions, and may cast Healus, which heals the entire enemy party by an amount a bit smaller than Healmore. They're immune to Beat and Expel, highly resistant to Blaze, Surround, Sleep, RobMagic and StopSpell, slightly resistant to Firebal, wind, ice, and Sap, and weak to Bang and lightning.
A fight like this can take much longer than I'd like, but with Alena usually being able to take out one Blizzag per round, it should be manageable. Francois will definitely Zap the Podokesaur and hope someone will help him finish it off, though.
Aaaaand Taloon does. Excellent. Alena levels up here, for 6 Str, 9 Agi, 4 Vit, 5 Luc, and 9 HP.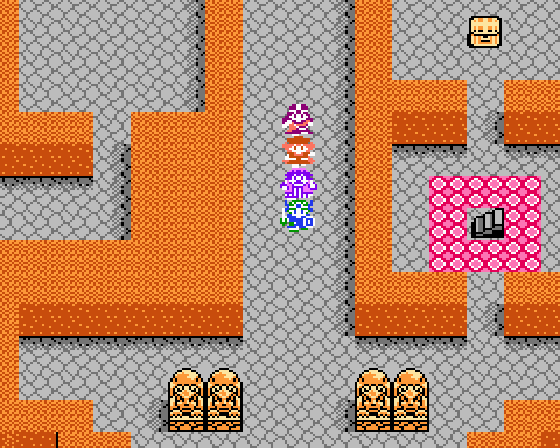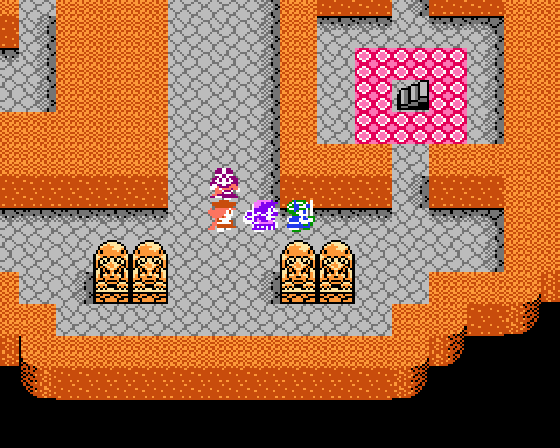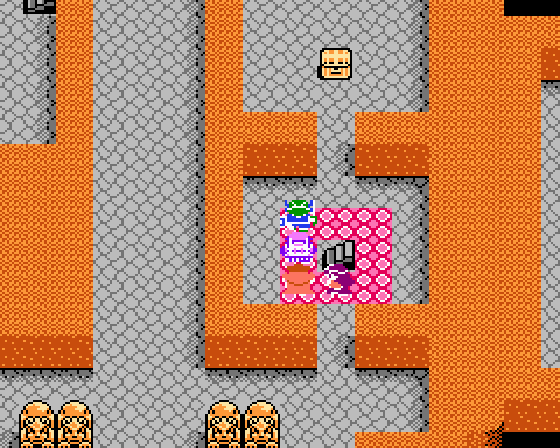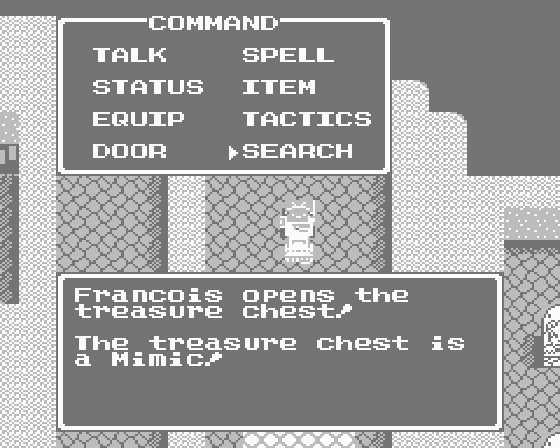 : ...wh-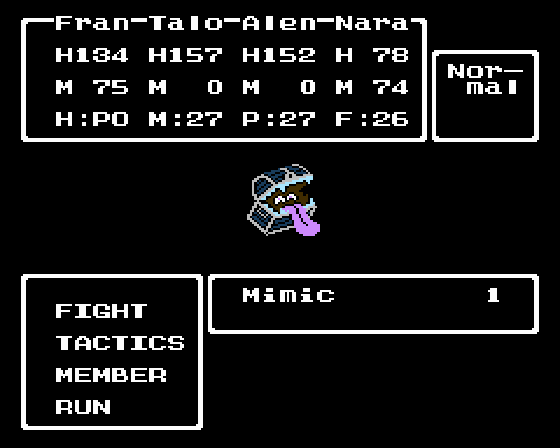 : Ha! Alright then, come and get it!
Mimics have 190 HP, 90 attack, 72 defense, and 70 agility; they always act twice, and can cast Defeat, Blazemore, and RobMagic. They're notably weak to lightning and RobMagic, with a slight resistance to Bang, wind, Surround and Sap, immunity to StopSpell, and high resistance to everything else.
I suspect one Zap cast and physical attacks from everyone else will take it out in a single round, but it's all a question of what it might have time to do before it goes down.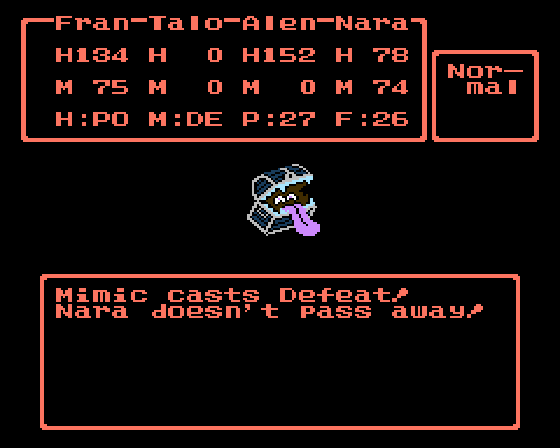 Taloon gets Defeated, but Nara immediately brings him back; Alena ends the fight at the top of the second round. Whew!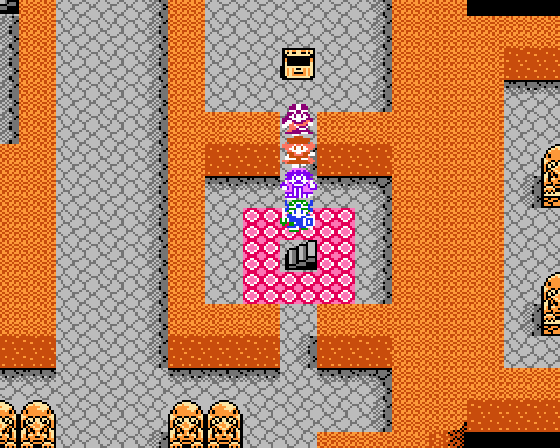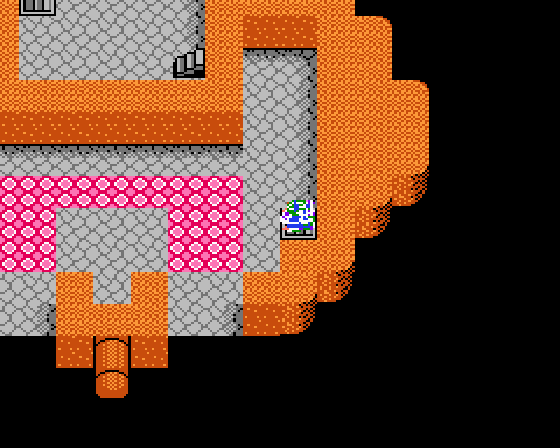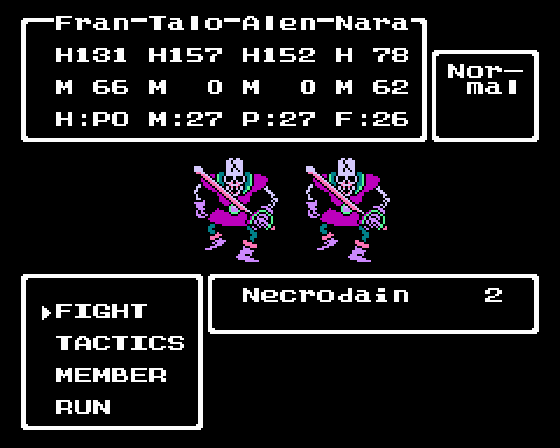 More armor cave enemies, but far from the most dangerous.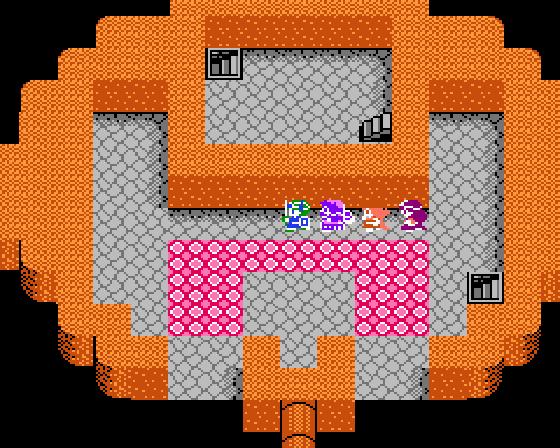 : Is that... Are we in its head?

: Two eyes. Looks like it!

: There's nowhere else to go, though. Did we miss a path somewhere?

: "The great ones catch teardrops in their hands."

: Hmm?

: This is it. That's what it means. We have to jump out.

: Oh dear.

: Haha, this is the best! Which one?

: Does it matter?

: We already found the Demon Hammer in its left hand.

: Right eye, then?

: Right eye!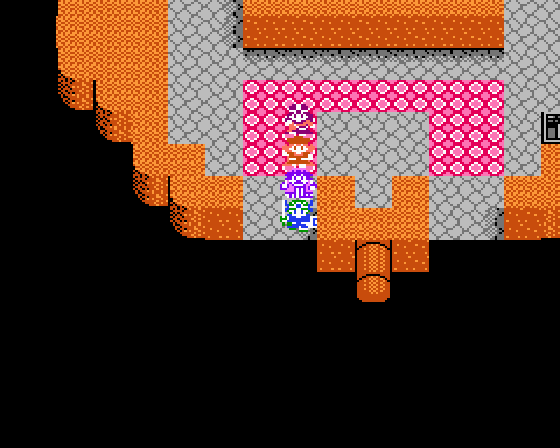 : I'm so glad I quit my job you guys.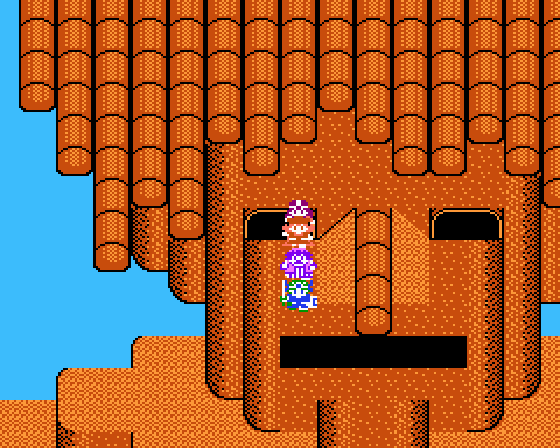 : WOOOOOOO!

: WOOOOOOO!

: WOOOOOOO!

: WOOOOOOO!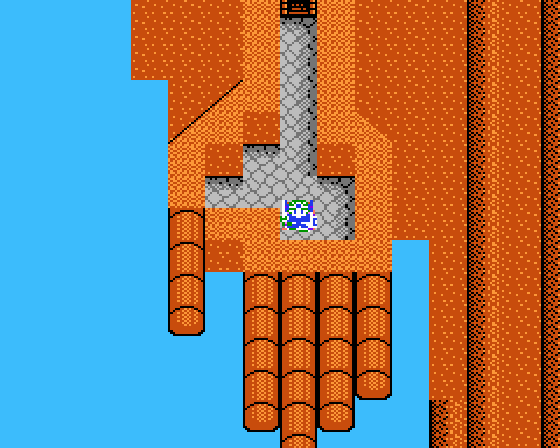 Dang, is this dungeon rad or what?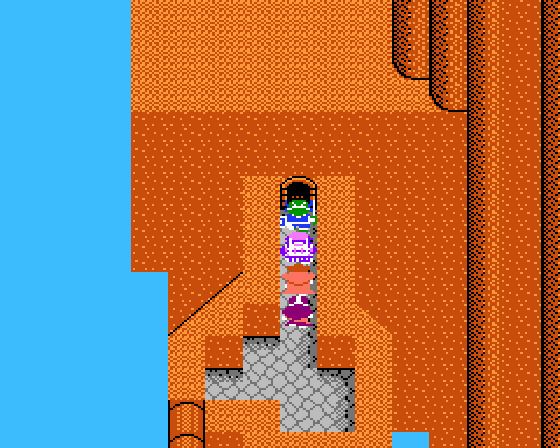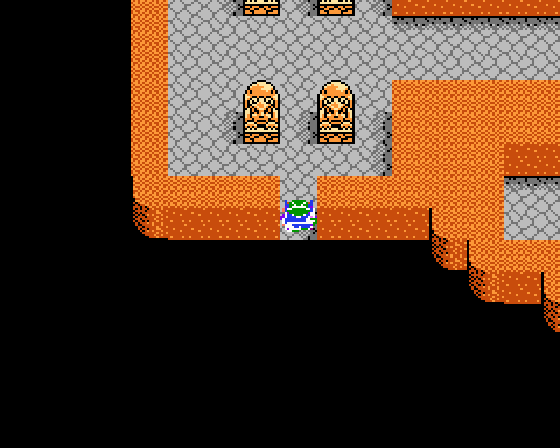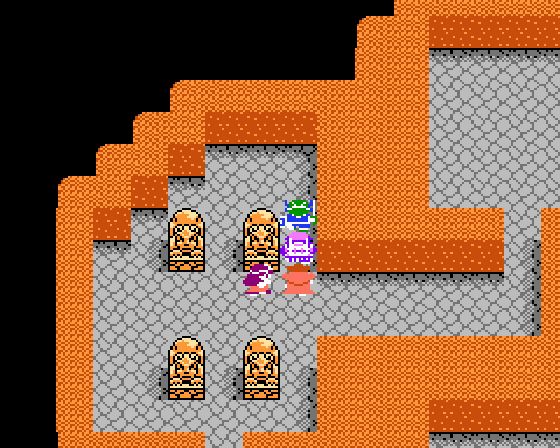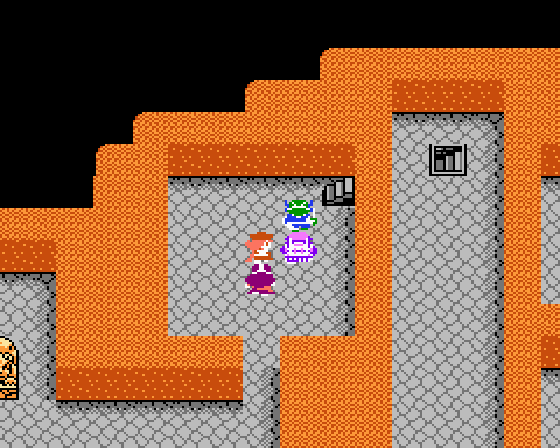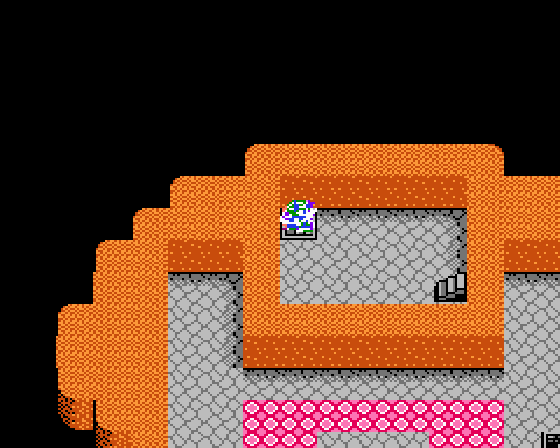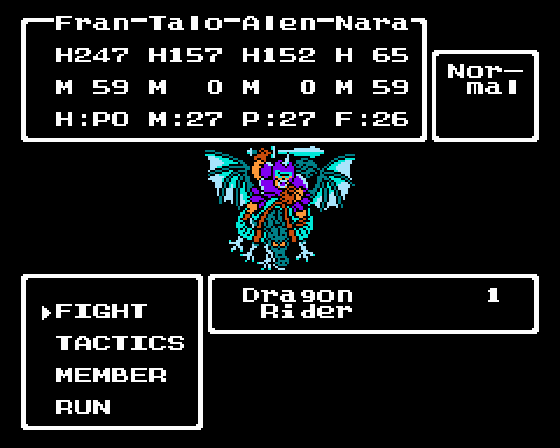 Welp, there it is.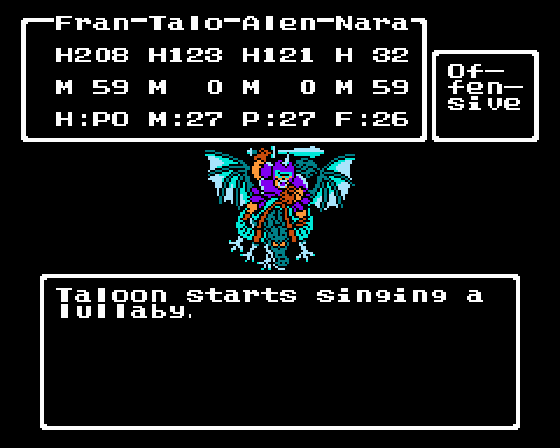 Aaaaand both dragon and rider are put to sleep. Heheh. Ah, Taloon.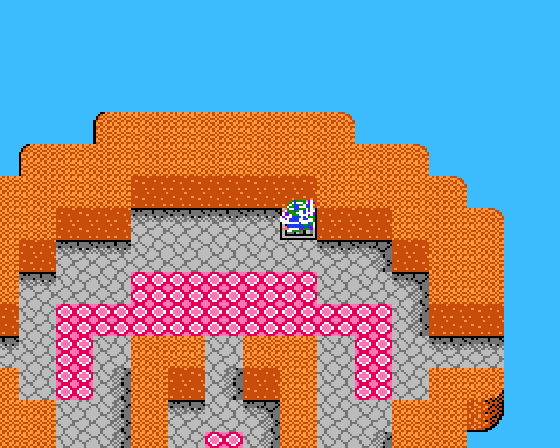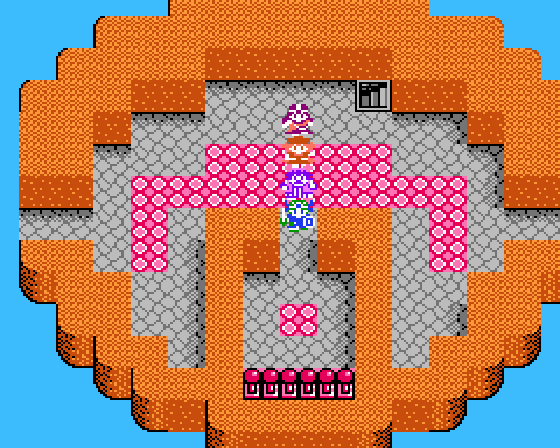 : Hello, what's this?

: What strange contraptions.

: Ooooh! Can I? Can I can I can I?

: Be my guest, Your Highness.

: I knew I joined you for a reason.
(Never mind those red flashes, they happen because Francois is taking poison damage!)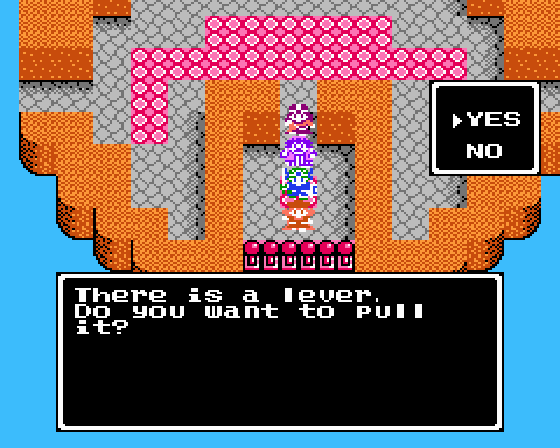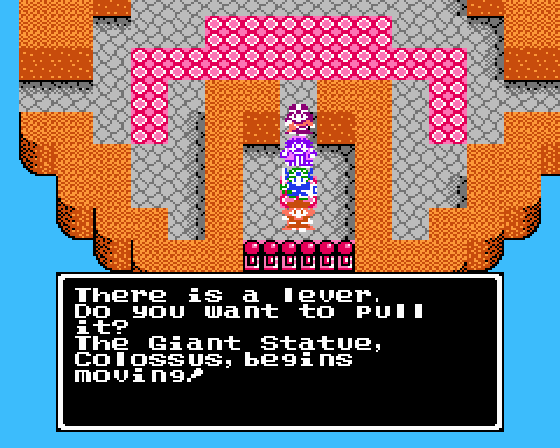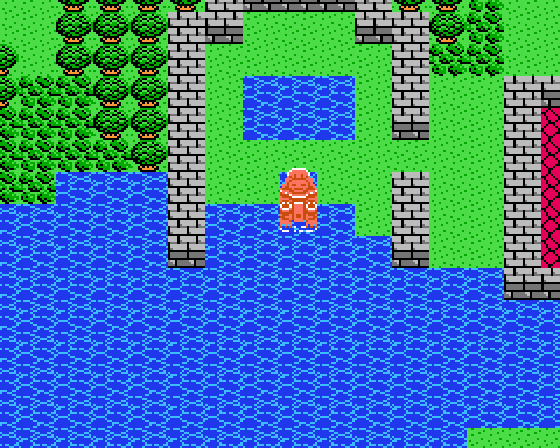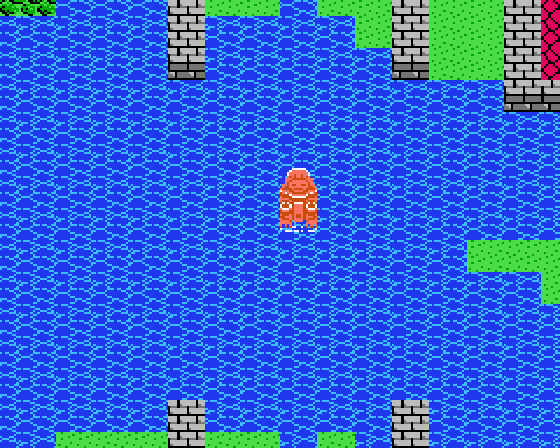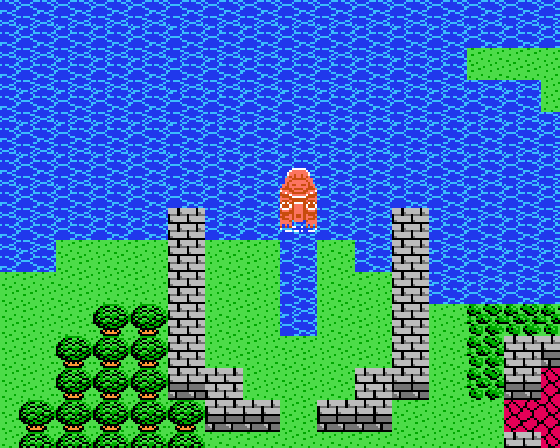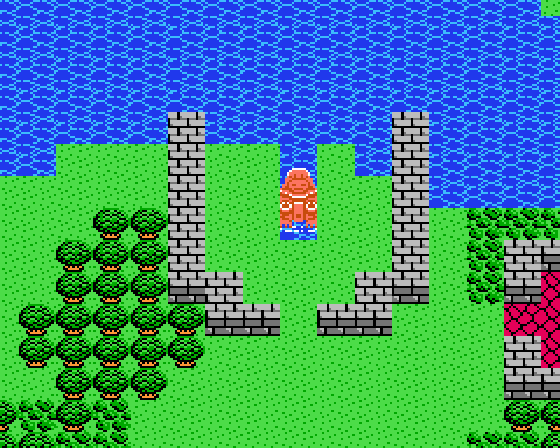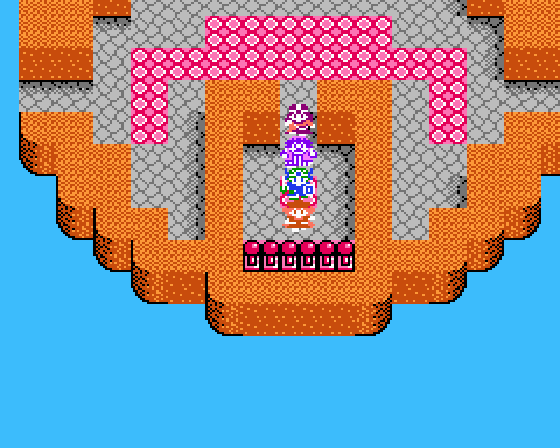 : Well. That was amazing.

: Hmm-mmm!

: So... how do we get out?

: Ear holes.

: Ear holes.

: Hmm-mmm.

: ...of course.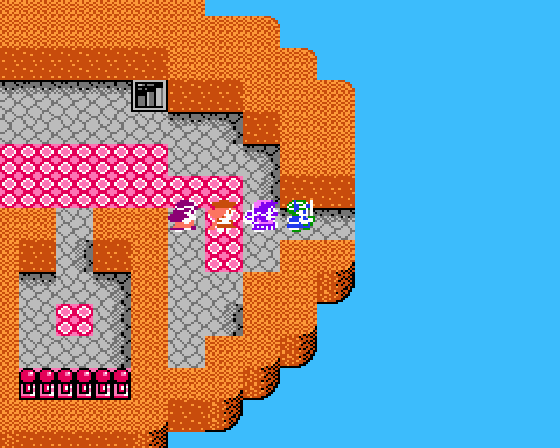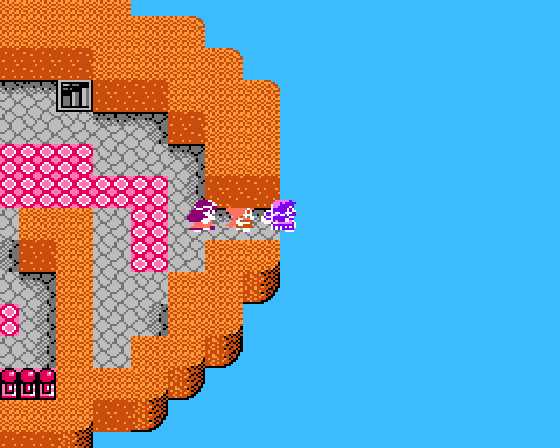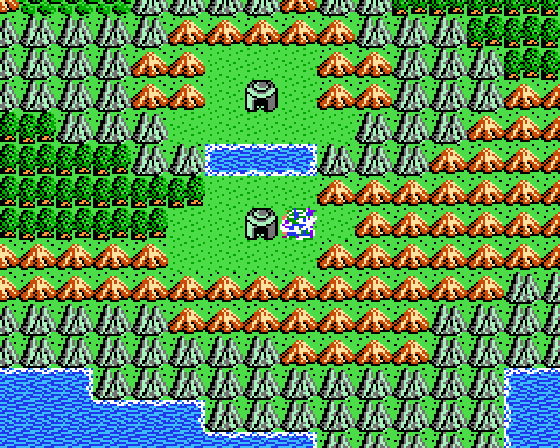 Man, the Colossus is a dungeon and a half, isn't it? It's not the longest or the hardest to navigate, but it's cleverly made and thematically it's like nothing we've seen before.

: Oh. Um. Everyone else is on the other side.

: Eh, we can keep going without them a bit further.

: Uhhhh... Mara has the Staff.

: ...

: Oops.

: Oh no, we're going to have to kick down the front door of the monster castle. What a tragedy.

: ...maybe we can send them a signal or something.
If we enter the shrine on this side...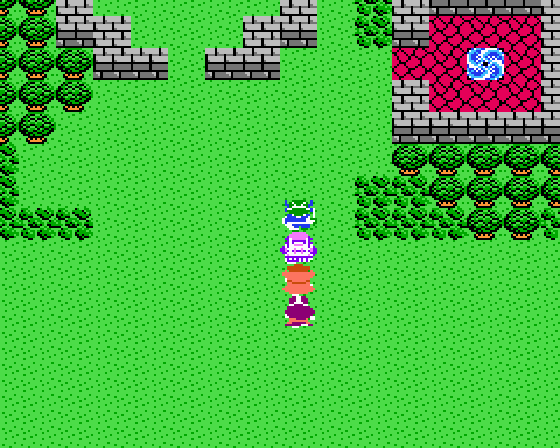 The statue returned to its initial spot, and this Travel Door is accessible.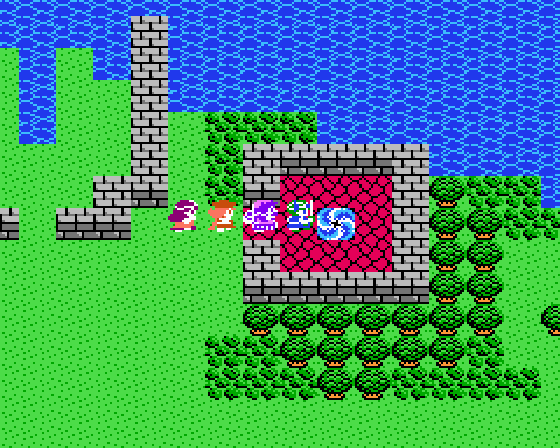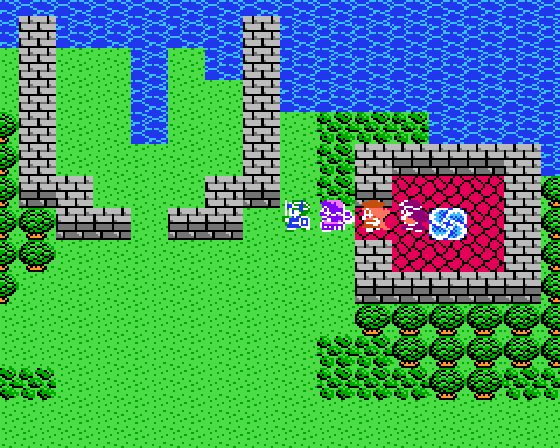 It looks like it only leads to itself, since we're still south of the river when we come out. However...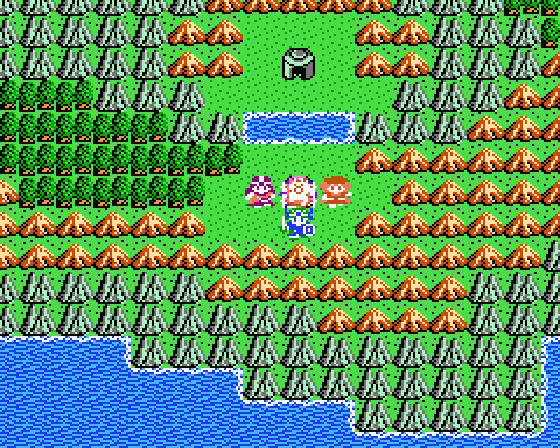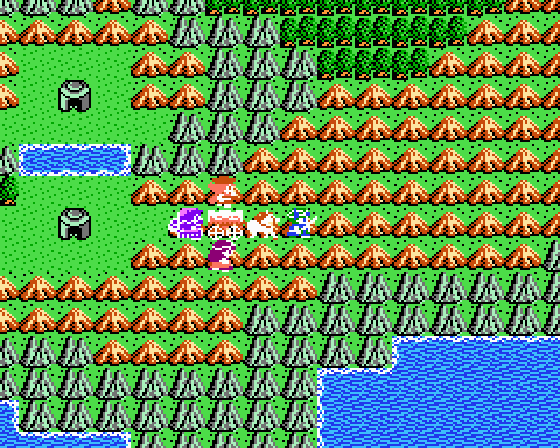 ...we now have the wagon with us! The game has a mechanic where entering a Travel Door sends the wagon outside of the Door's destination, so you can use them to teleport without leaving your party behind. This occurs even when the Door just "teleports" us back to itself. We can finally get Cristo to cure Francois' poison!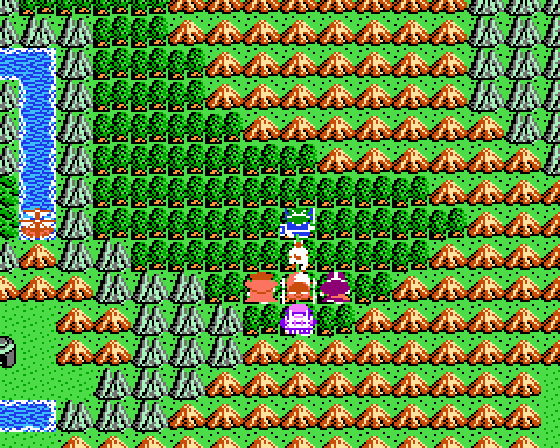 : Sooo how did that happen, again?

: I'm not... entirely certain.

: It was indescribably strange.

: Y-yes. Let's not talk about it.

: Welp, fair enough.

Maskans again, dang. Ragnar levels up here, for 5 Str, 6 Vit, 1 Int, 1 Luc, and 13 HP. Another Maskan fights gets Mara another level, for 1 Str, 3 Agi, 4 Vit, 2 Int, 3 Luc, 6 HP, and 9 MP.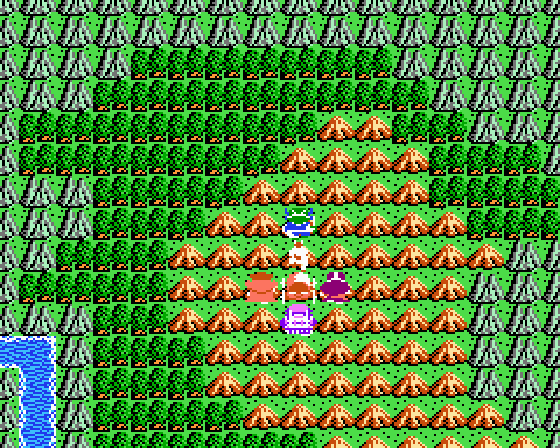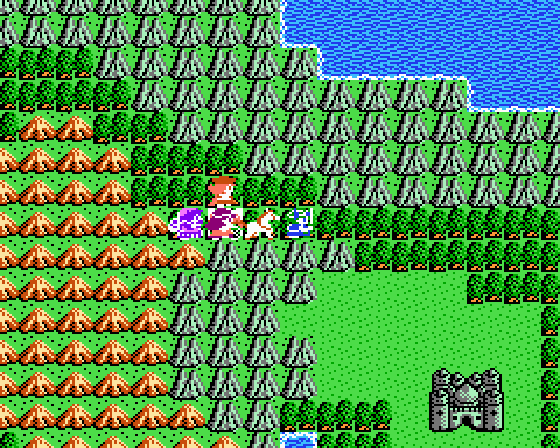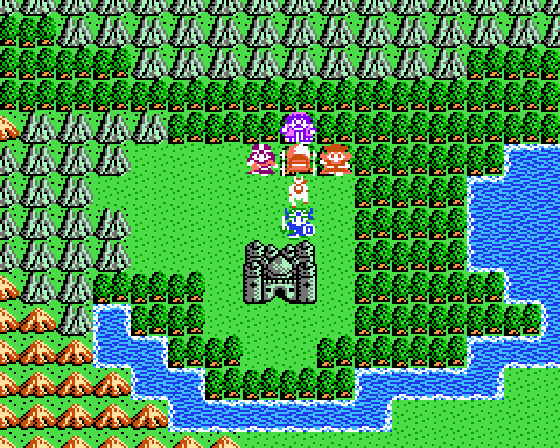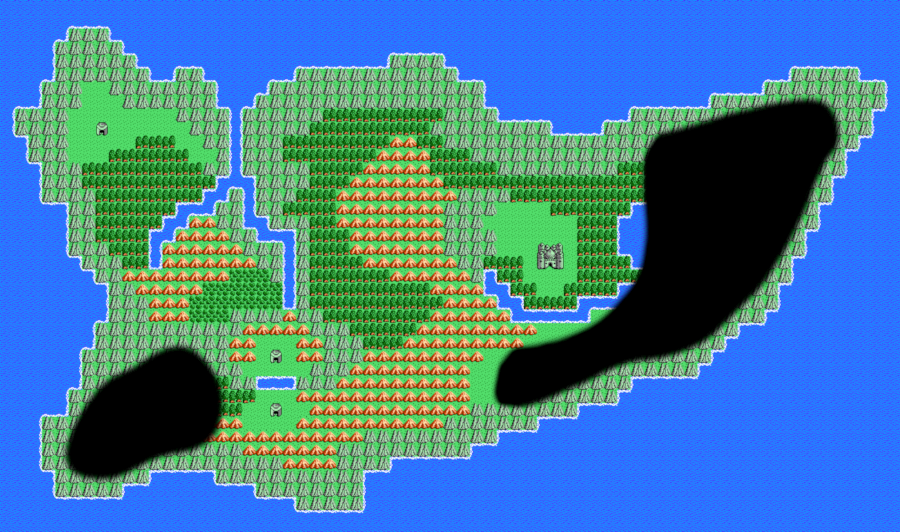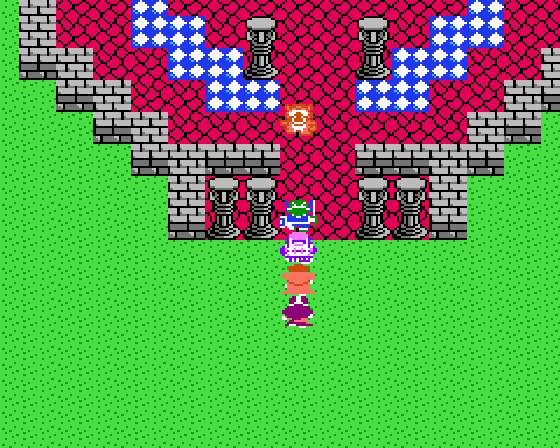 : Hmm... Staff or not, we're in pretty bad shape to be raiding this place.

: You can't be thinking of turning back after all this way!

: We might not have to. Let's see...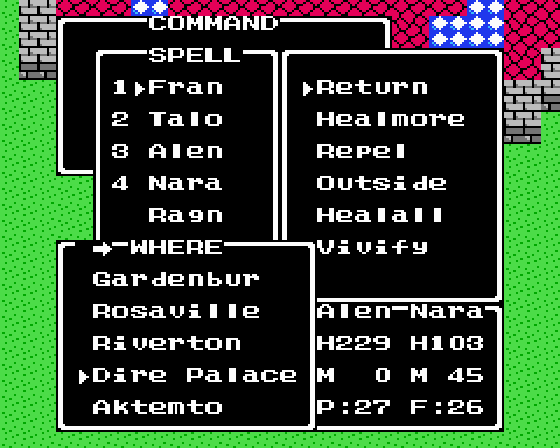 : We can Return here now.

: What, really?

: Absolutely.

: So... we're getting a warm bed tonight?

: Yup.

: Magic is wonderful.

: You've all done good work today. How about you take it easy in the wagon while the others help us explore the rest of the island for now?

: I can go for that.

: Nah, you're not putting me in the wagon yet.

: Ha, deal. Come on, this castle stands for just one more day.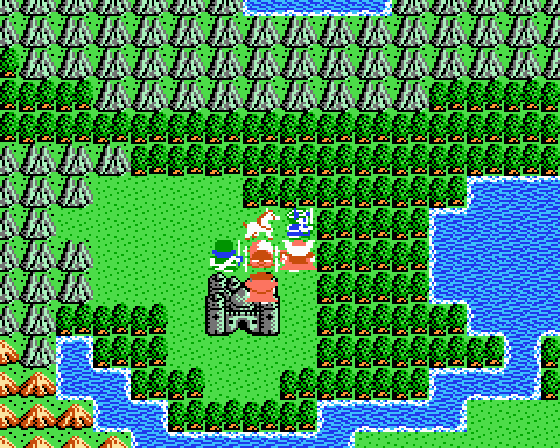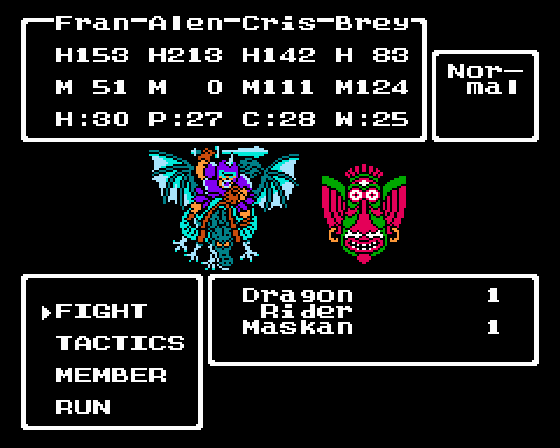 Riders in the daylight! This region is rough chuckles. Cristo levels up, for 2 Agi, 3 Vit, 2 Int, 2 Luc, 4 HP, and 4 MP. Taloon follows, for 3 Str, 2 Agi, 1 Vit, 2 Int, 2 Luc, and 1 HP.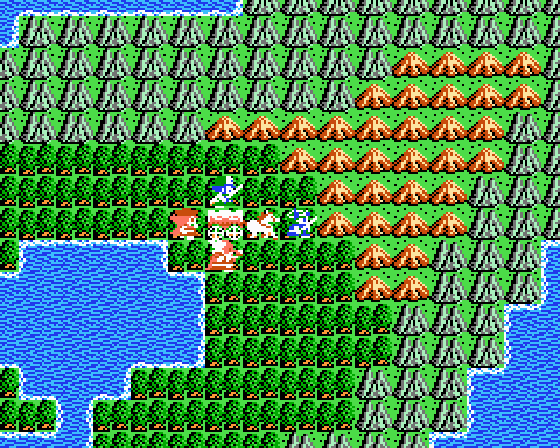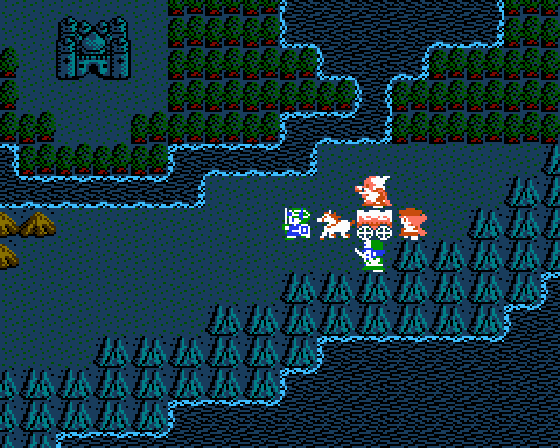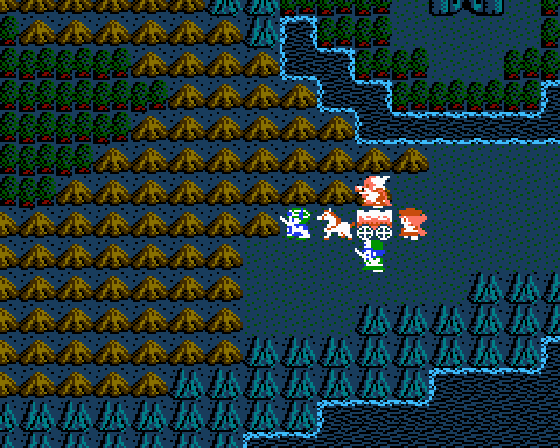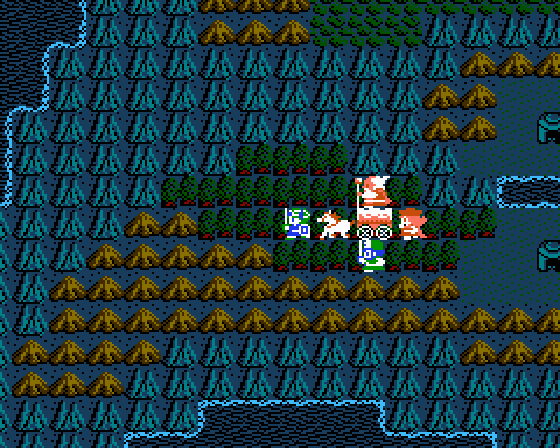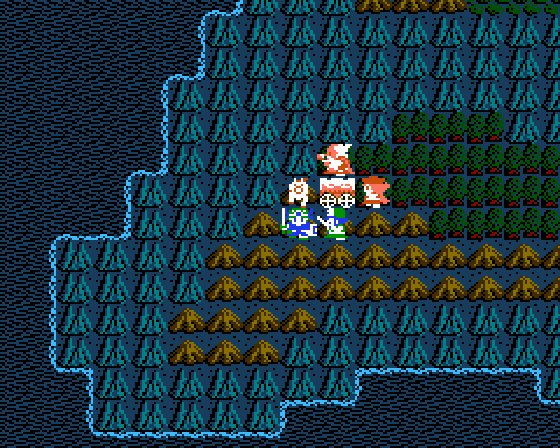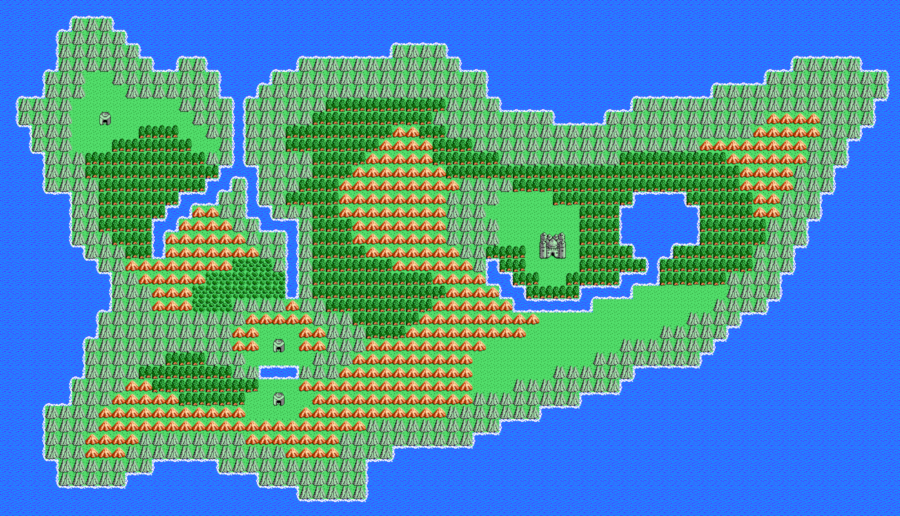 There's nothing else of note here. We Return to Endor, store the Demon Hammer, give Ragnar his Agility Seed (three points!) and rest up.
Next time: the raid on Dire Palace!