Thad wrote:[Tom King's] latest, with artist Greg Smallwood, is Human Target, a neo-noir murder mystery set against the colorful backdrop of the JLI era. The hook: Christopher Chance (whose deal, for those who don't know, is that people who are under some kind of threat hire him to impersonate them) does a job for Lex Luthor, and he fails: he (Chris) gets poisoned and is given twelve days to live. He decides to use those twelve days to solve his own murder. Not an easy task, as the list of people who'd want to kill Lex Luthor is a long one, and includes everybody in the Justice League.
I forgot to mention a key piece of the conceit: it's a twelve-issue miniseries. Twelve days to live, each issue takes place over the course of a day. It's a bit like 52, the weekly series where each issue took place over the course of a week.
#5 is a bit of a puzzlebox and I think it's really well-put-together. It intercuts a bunch of different scenes from different times -- Chris is at dinner with John Jones, passing the salt; then he's a child witnessing his father's murder; then it's the present day again and he's in bed with Ice; then it's some earlier time when he's a young man flirting with a beautiful woman in Bordeaux. It's unclear what these four narratives have to do with one another at first, but it clicks about halfway through the issue:
The young woman is Saturn Girl, who taught him how to deal with having his mind probed by a telepath. She told him that in the time it takes you to pass the salt, a telepath can read everything in your mind. And that's just what J'onn is doing; as Chris passes him the salt, he's reading Chris's mind -- but what he doesn't expect is, Chris is also reading his.
I think it's a good little mini-mystery within the larger mystery; it's intricately designed and the mystery and its resolution reveal themselves through that design.
And speaking of design:
Here's Smallwood's cover for Human Target #4, in all its '60s-and-'80s-retro glory:
And here's the cover for #5, where he goes in a completely different direction with a Robert McGinnis pastiche: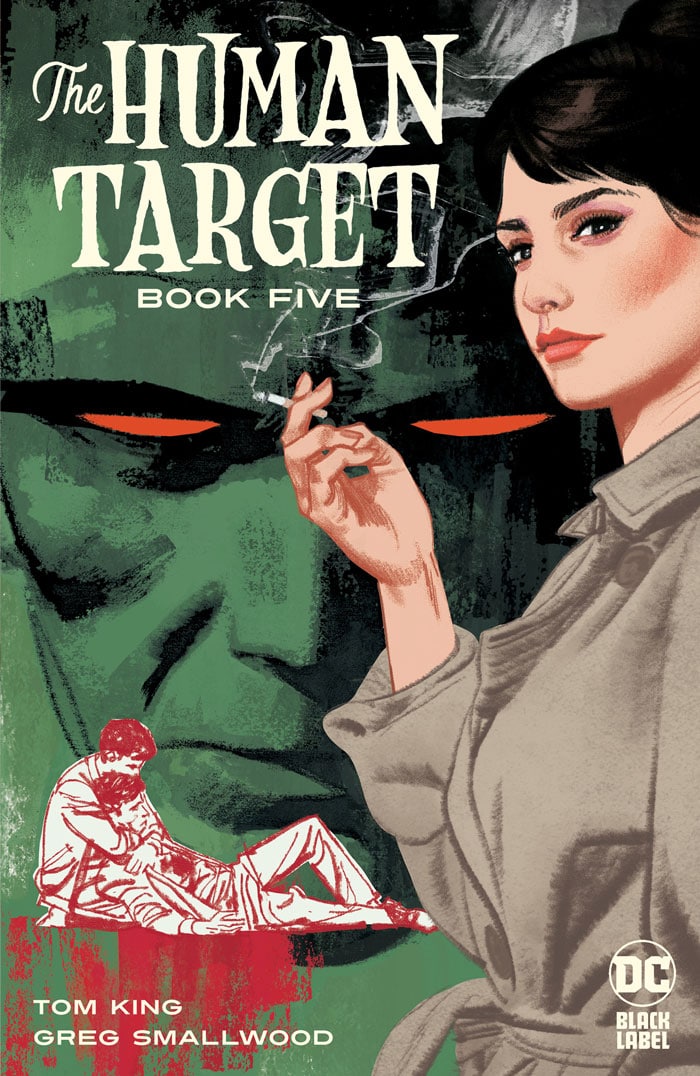 Man
this guy's good.