Posts: 359
Joined: Sun Aug 16, 2015 10:54 pm
Location: The Fabled Canadas
Contact:
---
Whoa. That is tight.
---
This is the first level track for Drakengard, one of the few games I've played that I actually hate. I'm sure you'll note that it is trash garbage. It is trash garbage that loops a great many times over missions of repetitive combat against repetitive enemies that last
forever
. Exception made for a scant few instants of fleeting brilliance, the game's art direction, in terms of visuals, music and moment-to-moment interactivity, alternates between ugly, dull, and simultaneously ugly and dull.
I'm only posting this because I gotta say I'm still glad it sold enough to let Yoko Taro keep his job and proceed to make games that sound like this.
I still have a preference for...
...but if I gave it any thought, I'd probably find out my pick between the two varies by season.
---
Posts: 359
Joined: Sun Aug 16, 2015 10:54 pm
Location: The Fabled Canadas
Contact:
Journey to Silius is hard to beat.
This track from the Gameboy Color game Star Ocean: Blue Sphere is pretty rad.
It's called Civilization Keeper and was composed by Motoi Sakuraba who composed music for a ton of games - too many to name - but among them Arcus II: Silent Symphony which is an other fave of mine when it comes to chunes.
http://66.90.93.122/soundfiles/gameboy- ... Keeper.mp3
---
Posts: 359
Joined: Sun Aug 16, 2015 10:54 pm
Location: The Fabled Canadas
Contact:
---
There was an MSX game released in 2007?
---
Posts: 359
Joined: Sun Aug 16, 2015 10:54 pm
Location: The Fabled Canadas
Contact:
and for the Colecovsion ADAM, which I actually had.
---
Posts: 359
Joined: Sun Aug 16, 2015 10:54 pm
Location: The Fabled Canadas
Contact:


In 1991 I composed this track (during the military service) for a game about "El Zorro" which was never released. If I remember correctly this was my second Game Boy track after Pop Up / Cool Ball, which was also composed during that time. Bomb Jack soundtrack for Game Boy followed this one.

Some seconds of the intro are based on the intro of another song named "Aire" by the Spanish group Mecano (loved that one!). I would change that part later, but since the song was never used it still has that part on it.

-Alberto Jose González
---
Posts: 359
Joined: Sun Aug 16, 2015 10:54 pm
Location: The Fabled Canadas
Contact:
Games gots music, Konami makes good ones.
-
Well they made a series of top-down view racing games starting on the MSX that is sometimes called the "F-1 Spirit" series. The original was called
F-1 Spirit: The Way to Formula-1
and was based on their existing
Road Fighter
game. But Road fighter was more of a spy hunter type game where you just drove forever upwards, crashing into some cars intentionally while avoiding others. F-1 Spirit was an actual proper racing game built on the visual presentation of Road Warrior but with somewhat abstracted none the less coherent circuits as its tracks and with all the other racing accouterments like pit stops and car upgrades.
They would go on to make couple more sequels for the MSX, including one that featured more of a from the rear, Pole Position sorta view and then eventually they made one for the Game Boy. It was called
World Circuit Series
in NA and more poetically
The Spirit of F-1
in Europe, but in Japan it was still just called F-1 Spirit like the MSX games.
This decidedly unhip Spanish Indie developer (
Brain Games
) made a remake of Road Fighter and F-1 Spirit in the eariler 2000s; both with online leaderboards which is interesting.
BUT ANYWAY
The music in the Game Boy game is
TIE-EAT
. Here are a couple of my favs:
BGM #02
BGM #08
---
Hey Geo, you don't get a lot of feedback in this thread because there are only so many ways to say "Cool find, thanks for sharing," but cool finds, thanks for sharing.
And now for a small contribution of my own. The music in this:
Thad wrote:
sounds to me like a major-key version of this:
---
Posts: 359
Joined: Sun Aug 16, 2015 10:54 pm
Location: The Fabled Canadas
Contact:
I'm just always surprised that I'm still able to encounter new stuff from the 8-bit to 16-bit era that is both something I've never heard before, and also just a really good track. I mean, a lot of it is from Japanese games that never saw western releases or from unreleased games in general--but still.


Also, I never liked any of the Alien 3 games--they made one for every damn system--but the title track from the Master System and Genesis versions is pretty cool. The
Genesis version
is probably the better of the two. I really like that it has a break down that's more of a
siphon up
in that notes literally get SUCKED away in the track. It's pretty funny.
---
As it happens I just watched Alien 3 last week.

Man, there sure used to be a lot of licensed side-scrolling platformers based on properties that had no business being side-scrolling platformers.

I suppose Alien 3 could have worked as a 2D platformer if it was...pretty much an entire game made up of the SA-X sequences from Metroid Fusion.

I never got around to playing Isolation but it seems to have been generally well-received, and seems like the best possible kind of game to make based on the Alien/Alien 3 formula. (Aliens is, of course, altogether different.)
---
I've heard extremely good things about Aliens Infestation as well, basically being an Aliens Metroid game for the DS made by WayForward. I loved the tiny bit I played of Isolation and keep meaning to get back to it.
On topic, Retronauts just had a blog post go up about the composer of the basically buried-by-the-iPhone-release late feature phone Castlevania game having its original soundtrack put up on Soundcloud. And
it's not bad!
---
Niku wrote:I've heard extremely good things about Aliens Infestation as well, basically being an Aliens Metroid game for the DS made by WayForward.
Yeah, I've heard good things about it too. But, like I said, making a good Aliens game is fundamentally different from making a good Alien/Alien 3 game (and easier to implement as a 2D platformer -- hell, to a large extent that's already what Metroid
is
). Alien and Alien 3 are about ill-equipped people trying to survive a single alien; Aliens is about a heavily-armed Marine squad taking on a whole nest of them.
In Alien, the goal is "kill it and survive"; in Aliens, the goal is "kill them all and survive"; in Alien 3, it's "kill it
and survive
".
---
Posts: 359
Joined: Sun Aug 16, 2015 10:54 pm
Location: The Fabled Canadas
Contact:
I've played all the way through Infestation.
It
really should have been a great game. It has everything it needs to have been an awesome little game. But they clearly just ran out of time and couldn't actually finish it which is a real shame. And I mean CLEARLY; in the last section in the game, all of a sudden the detail of the backgrounds takes a nose dive; the last boss plays like the first mock up of a boss with one set of place holder sprites that they never got the rest of to try and animate it with.
It. Is. Horrible.
The game starts out so fun too. It's got this whole _collect all the marines_ thing going on that I wish had more mechanical significance but--again--ran out of time. It ends up just amounting to the marines you find being your extra lives and being different palette swaps of the same two sprites. Also their dialogue will be different when you get talky scenes.
A lot of them are classic tropes or clearly inspired by Alien and Aliens characters (There's a simple minded yokel guy who responds with the same, flip, one word response to most questions; an
african-american
, female marine who's a real hard chargin' tomboy; a natural leader Corporal; a warrant officer nick-named "rook" who seems suspiciously like an android; etc). But there's enough extra life-pickups/marines that they get to have some fun and put in some silly, almost anime style characters too. One of the marines is basically a proto D.va+Mei in one character.
It starts doing some neat world building too when they introduce an other human faction that opposes the USCMC and Weyland-Yutani called the Union of Progressive Peoples (U. P. P.). They are a decidedly dated U.S.S.R. analog but they were actually a part of William Gibson's early Alien 3 script that never got made into a movie and that's where Wayforward got the concept for them from. You'd think it was good that in this dystopian, corporatist future where power and profit are so important that constant risk of exposure to a dangerous alien life-form is constantly deemed necessary, that there's a faction of communist comrades to oppose it; but nope, the U.P.P. is just in a coldwar-esque alien arms race with Weyland-Yutani. Will people never learn?
But yeah, there's a lot of bright spots. After beating a queen our plucky marines stage an APC escape from an alien infested area but crash right into the derelict from Alien, landing in the middle of the pilot section. Only this time, they encounter the fully formed alien that once burst from the chest of the space jockey. This is before Prometheus
RUINED ALIEN FOREVER
and so the resulting xeno has a big, fun elephant trunk that can spray out acid.
TLDR
: Alien Infestation is cool, but clearly unfinished and that sucks.
But anyway, THREAD DERAIL OVER.
-
William Gibson's script has a neat jump scare in it where there's a face hugger lurking inside of Bishop's fucked up mangled remains. Someone from the U.P.P. gets attacked by it when they are pokin' around inside him trying to salvage him or whatever.
---
Posts: 359
Joined: Sun Aug 16, 2015 10:54 pm
Location: The Fabled Canadas
Contact:
This tweet intrigued me so I looked into it.
Tombs & Treasure (Asteka II: Templo del Sol)
was a weird NES/Famicom game that I've never heard of before. It was originally a Japanese computer game that saw ports to lots of platforms like the Saturn and even Windows PCs, so not just the NES. The game is essentially a point and click adventure game along the lines of Shadowgate or Deja Vu, but what makes the NES version interesting is that it adds a lot of RPG elements to the game that aren't present in the older PC-88 and MSX versions. The combat is very binary and inflexible though, all that really seems to matter is what experience level your characters are at, a stat that is raised by gaining points the way you would in most adventure games. So if you lose a battle, it's essentially an indirect way of the game telling you when you've missed or forgotten to do something prior to encountering that boss or whatever.
Anyway, I was delighted to discover that some of the music in Tombs & Treasure is pretty cool. I dig the title track's gentle, nostalgic quality.
Title - Tombs & Treasure - NES
Also, my buddy down in Rochester, Peter Lazarski (creator of Halloween Forever), turned me on to this track from a childhood favourite game of his:
Bubble Ghost
. I really like it once it gets going; it reminds me of the main background track from Mr. Do's Castle, but it's much more sophisticated in a pleasing way.
Main Theme - Bubble Ghost - Game Boy
---
Posts: 359
Joined: Sun Aug 16, 2015 10:54 pm
Location: The Fabled Canadas
Contact:


A complete feature on Tim Follin. A lot of the early ZX Spectrum stuff is really interesting. These guys were programming the shit out of that thing.
---
I love Tim Follin and I love early programming hacker shit so thanks SKELETON WHO IS CANADIAN MAN
---
Posts: 359
Joined: Sun Aug 16, 2015 10:54 pm
Location: The Fabled Canadas
Contact:
IN A.D. 2002
POKEMON WAS BEGINNING.
Actually, it had already begun by then. But by the early 2000s, its influence was being felt in force and what did that mean? It meant it was time for every game made for the kiddies to have two versions of course. Sometimes companies would get real clever and disguise their cynical,
me too
design decision by calling the two versions something like "totally not blue" and "absolutely not red" like those bad Capcom foisted Zelda sequels (They were bad guys, I'm sorry. Fucking play them for any length of time and you'll be surprised how quickly you're bored out of your mind by pointless, long cutscenes and front loaded gimmick explanations; especially in comparison to how seamlessly excellent Link's Awakening was).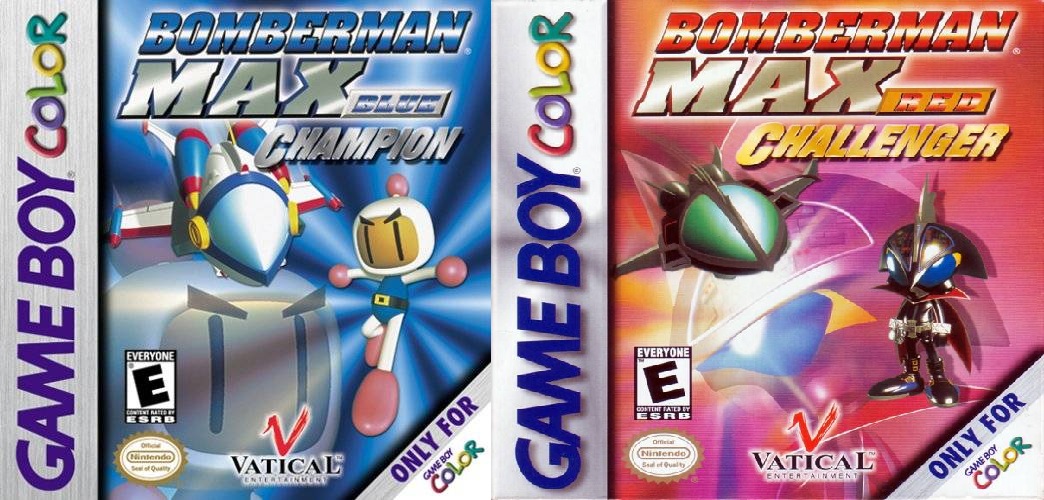 Well Hudson wasn't going to be left out, and they at least had the integrity to call their games Bomberman Max: Blue Champion and Bomberman Max: Red Challenger to be totally opaque about what they were doing. I dunno if these games were any good, but some of their music was.
Zaurus Star - Bomberman Max: Red Challenger - Composer Unknown - Hudson
---
Posts: 359
Joined: Sun Aug 16, 2015 10:54 pm
Location: The Fabled Canadas
Contact:
---
Who is online
Users browsing this forum: No registered users and 1 guest