---
That is a great reaction and a great team moment and you never want to belittle a first carrier hit but at 10 to 1 he's probably hitting off the relief 1st baseman or something.
---
Oh sure. Young, developing guys in any major league sport are usually going to get thrown in the shallow end to start off.
---
HOLY SHIT SUUBBBBBAAAANNNNNNN



YOU'RE KILLING ME SUBBAN

KILLING ME
---
Deadspin:
Mark Davis Travels 500 Miles To Look Like That
Why? Does that particular barber do a particularly good job of this bowl cut? What does that even mean? The best you can do when a grown man asks for a bowl cut is to convince him to turn himself in to the fucking police. That barber is a goddamn sociopath!

---
Pretty sure Jose Bautista just saved Toronto's downtown from being razed. Uh, I'm not even really kidding about that.
---
Amusing Tales of A-Rod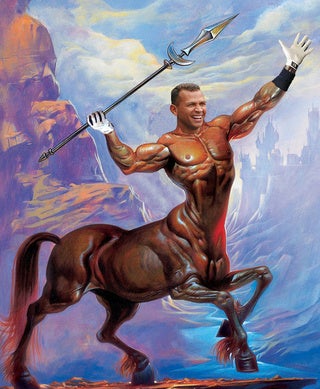 "He was so vain," his ex tells Us Weekly. "He had not one, but two painted portraits of himself as a centaur. You know, the half man, half horse figure?"

Adds the ex, "It was ridiculous."

---
That is absolutely amazing and my life is better for knowing that. Thank you.
---
There are also some amazing Jeter stories that came out around the same time, like sending women home with gift baskets of autographed Jeter memorabilia.
---
Mainly for this comment: "Is that an old spice ad?"
---
See this is actually an example of why I think baseball is way too fucking grounded in old unwritten rules and shit.

That fucking fight actually happened because Bautista hit a home run THE PREVIOUS season and flipped his bat when he was running the plates. So they held a fucking grudge for the entire rest of that season AND the entire off season and then hit him with a pitch. And so because they disrespected him he slide in hard on second base to prove that he could hurt one of their guys if he wanted and that started a fight.

Like that kinda shit is just bonkers bullshit to me.

And all of that shit happened because apparently pitchers are such delicate flowers that if you even fucking acknowledge that you hit a home run before it leaves the field you're an asshole. Now don't get me wrong, when I played little league you were always taught that every time you make contact with the ball you beat that shit to first base. Even if its a pop up, even if its going in the stands, because people might drop the ball, you might have estimated how hard you hit it wrong and it might land inside. I'm not saying that not playing every ball like a fair ball is wrong. I'm just saying that the whole 'you disrespected my pitcher' is fucking bullshit.

A few years back a rookie got in a lot of heat for 'watching' his first home run go out of the park. Like, dude worked his whole life to get to that point, finally makes it to the show, takes his lumps and finally gets into the rotation AND finally hits his first homer. So he gets a little caught up in the moment and watches his hit a little too long and every fucking baseman and the catcher gives him shit the entire time he comes around the bases and it almost starts a fucking brawl at home plate and then for the next few days every fucking sports show is having debates about whether or not it was disrespectful. Actual grown ass men in suits arguing if its OK to start a fight because some fucking 23 year old accidentally disrespected a fucking pitcher by getting caught up a little in what is probably the greatest thing he's ever done up to that point in his life.

All because it might have been disrespectful to the pitcher.

That shit is maddening as fuck.
---
Aside from the laughs, this is all so weird. In over 20 years, this is the first time the Raptors ever made it to the third round - and only the second time they even made it to the second round.
---
Wow three posts in this thread in as many days... if I'm not careful people will think I like sports @__@


im dying
---
That may just be the worst thing to have happened to England in three whole days.
---
---
I don't watch a lot of sports, but man, game 7 was fucking fantastic.

Calling myself a "Cubs fan" would probably be an exaggeration, but I like them. Before we had the Diamondbacks, the Cubs were the closest thing we had to a home team, because their spring training is in Mesa. The first baseball games I ever went to were Cubs games, and that's true of a lot of Arizona natives of a certain age.

So yeah, I'm happy to see them pull it off. And even if they weren't a team I liked, it doesn't really get any more exciting than winning by one run in the tenth inning of game 7.
---
The last time the cubs won the world series, the Cleveland MLB team still had a racist mascot.
---
---
Tomorrow's main game is Redskins vs. Cowboys.

Good job, everyone.
---
In fairness to statistics the Dallas Cowboys host one of the Thanksgiving Games every year so they're bound to play the Redskins at some point.
---
Who is online
Users browsing this forum: No registered users and 1 guest