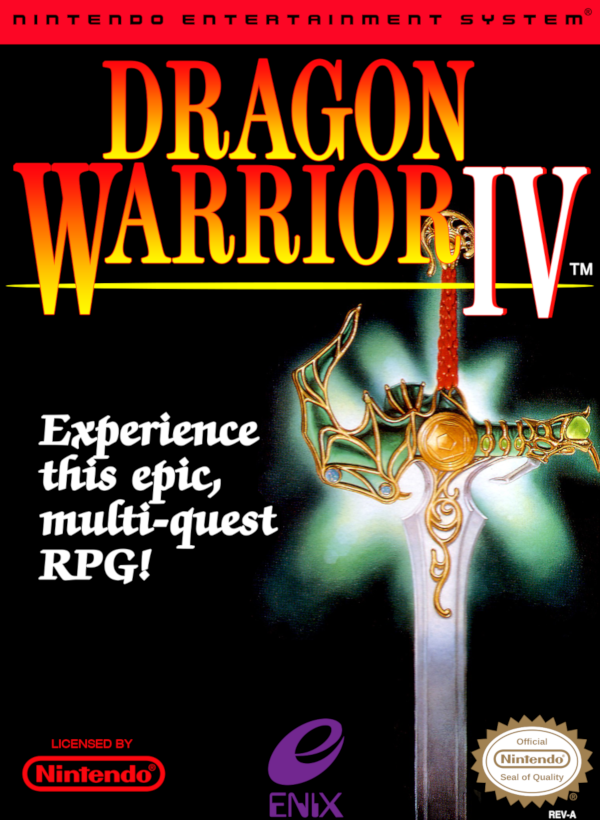 After Dragon Quest III's unmitigated triumph, Yuji Horii and his team were faced with the two questions that almost inevitably follow success. "Can we do better? And if it can be done, then how?" Dragon Quest IV attempts to answer these questions, and whether it does so or not seems to depend on who you ask. Whereas you can draw a direct line from progress from I to II to III, IV almost feels like a side-grade, a different evolutionary path, taking a step back in one aspect in a bid to take two in another.
Of course, as always, the question is made more complicated by context, especially considering the timing of the North American releases. Let's look at a release timeline for Dragon Quest, Phantasy Star and Final Fantasy games of the era.
- February 1988: Dragon Quest III is released for the Famicom in Japan.
- March 1989: Phantasy Star II is released for the Sega Mega Drive in Japan.
- February 1990: Dragon Quest IV is released for the Famicom in Japan.
- March 1990: Phantasy Star II is released for the Sega Genesis in North America.
- April 1990: Both Phantasy Star III (Mega Drive) and Final Fantasy III (Famicom) are released in Japan.
- July 1991: Phantasy Star III is released in North America, and Final Fantasy IV (Super Famicom) is released in Japan.
- November 1991: Final Fantasy IV is released for the Super Nintendo in North America.
- March 1992: Dragon Warrior III is released for the NES in North America.
- October 1992: Dragon Warrior IV is released for the NES in North America.
DW4 wasn't just released near the end of the NES generation: by the time of its NA release, it was competing with massive, high-quality 16-bit JRPGs on superior consoles. In that sense, it's no surprise that it ended up being the last Dragon Warrior game released in America for eight years, until Dragon Warrior Monsters for the Gameboy Color in 2000 and Dragon Quest VII for the Playstation in 2001. Looking at it in another way, in Japan DQ4 didn't have to suffer from being stacked up against FF4.
To sum up the release craziness, imagine a triple-A company releasing a big-budget main installment of its flagship series on the Playstation 3 two years into the Playstation 4's life cycle. Talk about a different era, eh?
Alright, here are a few more things I'd like you to keep in mind before we start.
First off, in case you're new to this LP series, I've just completed playthroughs for Dragon Warrior I through III, which you can find
here
,
here
and
here
. Dragon Warrior IV's storyline is not meaningfully connected to the previous games so it's not as important to get caught up as it used to be, but hey, it's nice to have context sometimes. On top of that, I like to have characters from the series pop in from time to time to offer color commentary, and it might not make much sense to you if you haven't met them yet.
Just to be clear...
These folk are from DW1:


These are from DW2:



Aaaand this is the DW3 crew:







In terms of exact mechanics, as far as I know DW4 hasn't been "figured out" nearly as much as the previous games were. For example, I won't be able to go into individual monster AI routines or spell resistances or exact ranges of magic damage as I did in the previous LPs, and I'll have to make educated guesses on some topics based on a combination of personal experience and assumption that 4 does things roughly the same way 3 did.
In terms of characterization, I know that some of the game's remakes incorporate a "party talk" option, where characters can have conversations among themselves about various topics depending on plot progression and such. I've never played any version of DQ4 where party talk was included, so while I have a fairly good grasp of everyone's basic personality, my interpretation may (and likely will) differ in various details from established canon. I'll only play around with what the NES release gave us, because it's the one I'm familiar with, and I dare hope this doesn't cause too much distress to veterans of later versions!
Okay then, that'll do. The labors of Erdrick's bloodline may be accomplished, but we're not done Warriorin' Dragons yet. Let's do this.